2020 Thanksgiving Recipe Round-Up: Vegan Family Favorites
Get Started Creating Your Own Thanksgiving Menu!
Thanksgiving is a notoriously challenging holiday for anyone looking to eat healthier. We're rewriting tradition with this roundup of tasty whole-food vegan Thanksgiving recipes that are sure to delight vegans, vegetarians, and omnivores alike. Browse recipes by category and use the "Add to Menu" feature to build a custom Thanksgiving menu you can email to yourself.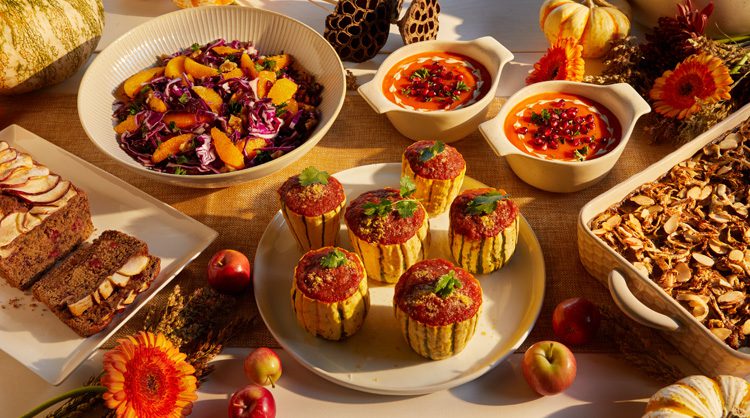 Appetizers
If the phrase "healthy Thanksgiving appetizers" strikes you as an oxymoron, think again! Get your Thanksgiving party started with one or two of these appetizers and dips, which are plant-based and free of oil.
Soups
Don't forget to add one of these hearty soups, stews, or chilis to your Thanksgiving menu. Tip: Soups are easy to reheat, so consider making yours a day ahead of time, which also allows a soup's flavors to deepen.
Salads
Being vegan isn't just about eating salads, but salads are cornucopias of flavor and texture. We've hand-picked a selection of fall-flavored salads that will make a colorful addition to your plant-based Thanksgiving tablescape. 

Get a Meal Plan Every Week
Meal planning help doesn't have to be just around the holidays. Sign up for a free trial and plan all of your weekly meals with us.
Mains
Break from tradition with one of these showstopping vegan Thanksgiving entrees. Tip: Make your preparations easier by choosing a main dish and sides that share one or two of the same ingredients—chop once, eat twice!
Sides
You should already be familiar with many of these Thanksgiving side items. We just made a few plant-based tweaks to traditional Thanksgiving recipes. This way, they're not just better tasting; they're also better for you!
Desserts
You and your guests are guaranteed to gobble up these vegan Thanksgiving desserts. Tip: Don't be afraid to add one or two of these to your menu; leftover goodies can make for a great, quick breakfast the next morning.
Thank You! Your menu has been sent.