Common Plant-Based Substitutes and Dairy-Free Alternatives
Your first thought when it comes to veganizing a recipe might be to reach for one of the many faux meats or cheeses that are on the market today. But if you're looking to improve your health, we encourage you to steer clear of highly processed products and instead make a recipe vegan and healthy with simple substitutions for these common non-vegan ingredients. 
Read on for our complete list of healthful vegan ingredient swaps.  
Vegan Egg Substitutes
Swapping out eggs for one of these vegan substitutes is a great way to reduce your cholesterol. Here are our suggestions for replacing eggs with plant-based alternatives.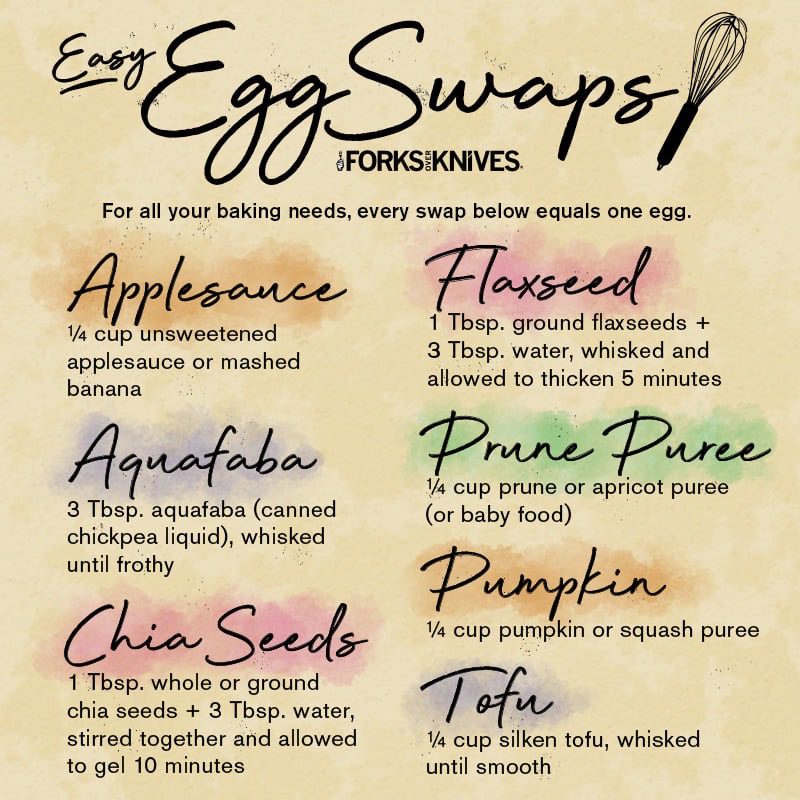 Egg Swaps for Baking
Eggs primarily function as binders in baked goods, so you can't just omit them or replace them with water or liquid. But you can use one of the following alternatives to hold batters and doughs together in place of eggs. The amounts in the list below equal one egg. 
Egg-Free Breakfast Recipes
Looking for egg-free breakfast ideas? Check out our archive of plant-based breakfast recipes, or try one of these favorites: 
Vegan Butter Substitutes
Vegan butters and margarines that you'll find at the store are made with vegetable oils—which, despite popular misconceptions, are not good for you. Luckily, there are plenty of other options, whether you're looking for something to cook with, add to batters and doughs, or simply slather on toast. 
For Topping Toast or Rolls
Homemade fruit compote, mashed avocado, nut butters, and bean purées like hummus make flavorful alternatives to butter or buttery spreads. Plus, these nondairy options are a lot more filling and nutritious than high-fat butter. For more ideas, see Beyond Butter: 8 Healthy Ways to Top Your Morning Toast. And for those times you want a buttery spread that's great with dinner rolls, try our Creamy Corn Butter.
In Sauces
For luscious "buttery" sauces, these four tricks have got you (and your favorite foods) covered:
For Cooking 
See our expert tips for cooking without oil or butter. 
Vegan Milk Alternatives
Plant-based milk options abound at grocery stores. When shopping, opt for unsweetened, plain varieties with short ingredient lists; they're healthier, and their neutral flavor also makes them more versatile. (Vanilla may not be a flavor you want in your pizza crust!) Most plant-based milks are interchangeable in recipes, but here's a quick rundown of recommendations from the FOK test kitchen:
Almond milk
Lower in fat than other nut milks (and soy milk), almond milk is a great all-purpose plant milk option. Just be sure not to boil it; almond milk can burn and separate when exposed to high direct heat. Want to make your own from scratch? Try our Sweet Vanilla Almond Milk recipe.
Other nut milks
Cashew, hazelnut, macadamia nut…and the list goes on. These nut-based milks get their creaminess from a higher fat content, which helps keep baked goods tender and sauces thick. Want to make your own from scratch? Try our Basic Nut Milk recipe! Note: Some nut milks, such as hazelnut, have distinctively nutty tastes.
Oat milk
Sweet, creamy, and mild, oat milk is a good choice for baked goods and sauces. Just be sure to choose a brand that doesn't have added vegetable oil, or make your own. To do so, soak 1 cup oats in 3 cups cold water overnight. Blend until smooth, strain the liquid, then store in the refrigerator.
Rice milk
Sweet and almost flavorless, rice milk is higher in total sugars than other plant-based milks, but that's fine as long as they aren't added sugars, which you can determine by checking the Nutrition Facts label. It's ideal for pizza crust and breads.
Soy milk
A nutritional profile that's similar to low-fat cow's milk makes soy milk an excellent substitute in most baked goods. For stovetop recipes, heat the soy milk just to the boiling point to keep it from curdling.
Vegan Yogurt
Try our simple recipe for healthy homemade vegan nut yogurt. It's easier to make than you'd think!
Vegan Meat Substitutes
Highly processed vegan faux meats, such as Beyond Burger and Impossible Burger, may be better for animals and the environment, but they aren't great when it comes to your health. Not to worry, though! There are so many delicious plant-based alternatives that offer meaty satisfaction—and we've got the easy recipes to go with them. 
Beans
All members of the legume family are packed with fiber, and they are the superstars of the meat substitute world. We've put together a handy guide on How to Use Beans for Meat in Any Recipe, which tells you ways to swap lentils for ground meat, use chickpeas in place of chicken, and more. And if you're looking for full recipes, try: Lentil "Meatballs" with Marinara or Quick Chickpea Bolognese.
Tofu 
Creamy blocks of tofu have been used as meat substitutes in Asia for thousands of years because they can take on so many different flavors and textures. Crumbled, tofu can be used like ground meat. Cubed, it can be roasted or sautéed until firm and crispy. Pressed and/or frozen, it takes on a satisfyingly chewy consistency. And since tofu absorbs whatever flavors it's paired with, you can use it as a beef, chicken, pork, seafood, or egg substitute. One thing to note is that tofu is relatively high in fat, so Forks Over Knives recommends eating in moderation. For more detailed instructions on how to use tofu as a meat substitute, get the full rundown in our guide Ingredient IQ: Tofu.
Tempeh
Made from fermented soybeans, blocks of tempeh have a hearty, chewy texture. Like tofu, tempeh soaks up flavors from marinades, sauces, and cooking liquids. Cubes and slices of tempeh can be sauteed, baked, roasted, steamed, or added to stews. Crumbled or chopped tempeh makes a tasty stand-in for ground meat in chili, burgers, and taco fillings. Because it is made from soybeans, tempeh is relatively high in fat so it's best to enjoy it in moderation.
Veggies
From cauliflower steaks to carrot dogs and portobello burgers, veggies make for stunning centerpieces in traditionally meat-centric dishes. For maximum satisfaction, keep the veggies large and chunky. Check out the following ideas for inspiration.
Vegan Cheese Alternatives
Cheese made from dairy is addictive, but kicking the habit is well worth the effort: The high saturated fat in most dairy cheese is associated with increased risk of heart disease, diabetes, and certain types of cancer. Vegan cheese may sound like a better option, but most brands are highly processed and/or loaded with oil and fat.  
The good news is, you don't need either to get your cheesy fix. Many FOK recipes include smart substitutes that have all yeasty, tangy flavor of dairy cheese.  Here are a few of our favorites—and what they're good for.
More Cheesy Recipes to Try
How to Make Vegan Buttermilk
Many batters and doughs rely on the acid in buttermilk to help activate leavening agents (baking powder and baking soda) and tenderize the final product. Whipping up a plant-based version is as easy as  pouring 1 tablespoon lemon juice or vinegar into a 1-cup measuring cup, then stirring in enough plant milk to make 1 cup. Let stand 5 minutes to allow the mixture to curdle, then use according to recipe directions. 
The Best Vegan Gelatin Substitute
Agar powder is a natural gelling agent made from red seaweed, and it can generally be substituted for gelatin in equal amounts. Here's a simple recipe for panna cotta that demonstrates how to use agar in place of gelatin.
Panna Cotta
In a medium saucepan, combine 3 cups unsweetened, unflavored plant-based milk and 2 to 3 tablespoons pure maple syrup. Bring mixture just to a simmer over medium heat, then reduce heat to low and whisk in 1 teaspoon agar powder, 1 teaspoon pure vanilla extract, and ¼ teaspoon almond extract. Cook over low heat 3 minutes to dissolve the agar, whisking constantly. (Don't let the liquid boil.) Strain the mixture into ramekins, and chill 8 hours. Unmold, and serve with fresh fruit.
More Tasty Recipes Thickened with Agar
How to Make Vegan Ice Cream
With some peeled, ripe bananas in the freezer, you can get a healthy vegan ice cream fix anytime you get a craving for the icy treat. Check out our Ultimate Guide to Nice Cream for instructions. 
Our favorite nice cream recipes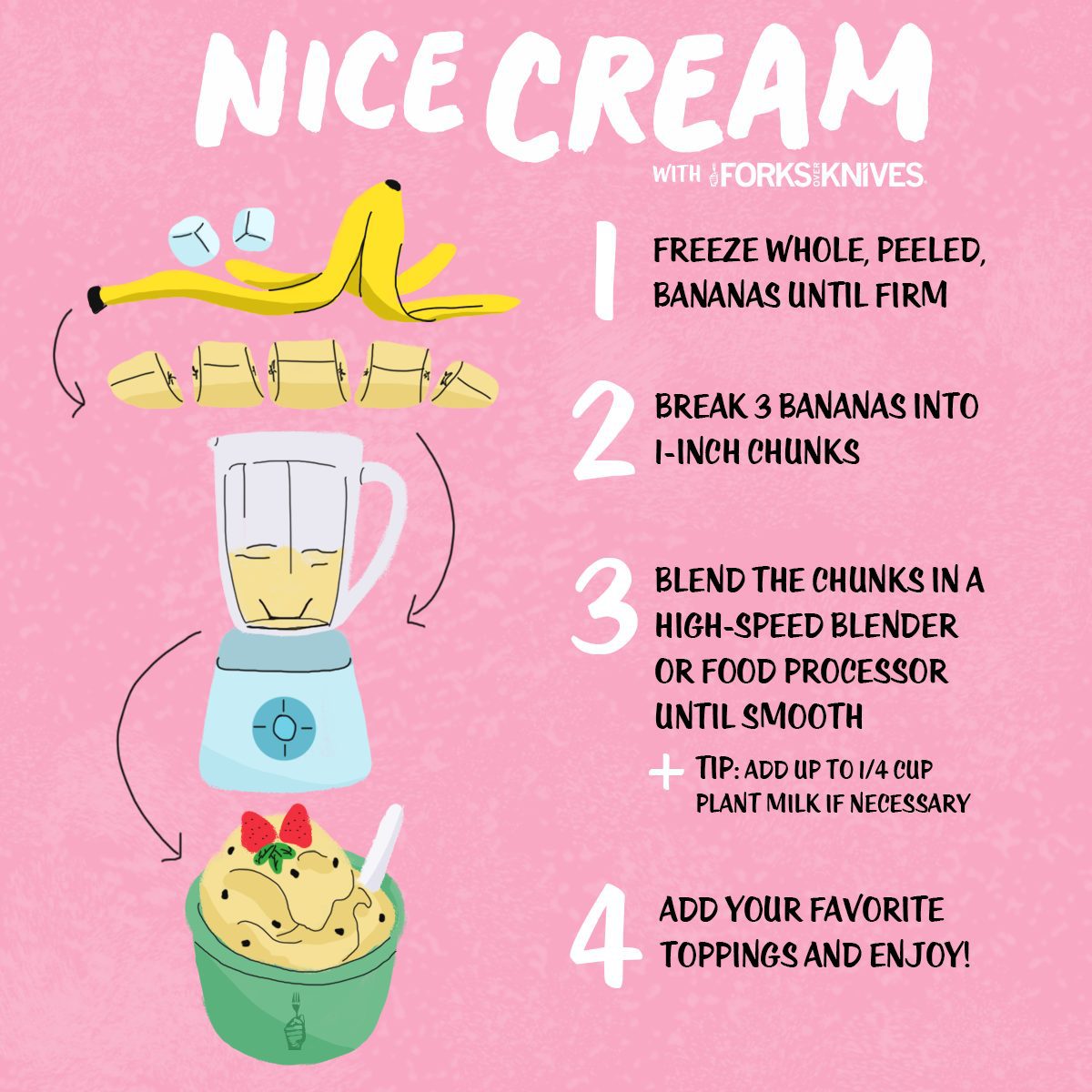 More Vegan Sauce and Condiment Alternatives
Don't let non-vegan sauces and condiments in recipe lists throw a wrench in your dinner plans! Here are a few non-vegan condiments that pop up often in recipes–along with their plant-based alternatives. 
Fish Sauce Substitute
Fish sauce isn't really about the fish; it's about adding a umami element that takes a dish to the next flavor level. It can simply be omitted from the recipe, or it can be replaced by soaking liquid from dried mushrooms. Simply place dried mushrooms in a bowl and cover with very hot water for 10 minutes. Drain, and use the liquid in place of fish sauce. Reserve rehydrated mushrooms for another use. Note: Extra soaking liquid will keep in the fridge up to a week and can also be frozen.
Whipped Cream
Whipped cream is less about the cream and more about the decadently foamy texture. Get the same consistency using aquafaba (the liquid from a can of chickpeas), beaten with a sweetener and some cream of tartar using our easy recipe. 
Sour Cream
Love the tangy lusciousness of sour cream on a baked potato or in a hearty casserole? Make your own in just five minutes with our three-ingredient recipe. 
Mayonnaise
For a quick vegan mayo, blend ¾ cup silken tofu with 1 teaspoon vinegar or lemon juice and ½ teaspoon Dijon mustard. The mixture will keep 3 to 5 days in the fridge.
Pesto
This traditionally basil-based sauce doesn't need cheese or oil to be absolutely delicious. And it doesn't need basil, either! Here are a few of our plant-based takes on the sauce/spread/dressing.
Interested in learning more plant-based cooking hacks? Check out the Forks Cooking Course!