With their meaty texture and mouthwatering flavor, mushrooms are a plant-based cook's best friend—and we have the recipes to prove it!  Here's everything you need to know about cooking with mushrooms, including how to buy, store, and prepare the most common varieties. 
Jump to a Variety
White (Button)
Baby Bella (Cremini)
Portobello
Shiitake
Maitake
Enoki
Oyster
King Oyster
Chanterelle
Morel
Lion's Mane
Beech
Types of Mushrooms
Here's a cooking tip that may surprise you: Most mushroom varieties are interchangeable in recipes. That means unlocking the wide variety of flavors and textures mushrooms have to offer is as easy as knowing each type's distinctive qualities. Photos for all mushroom varieties (except lion's mane, morel, and chanterelle) are courtesy of the Mushroom Council.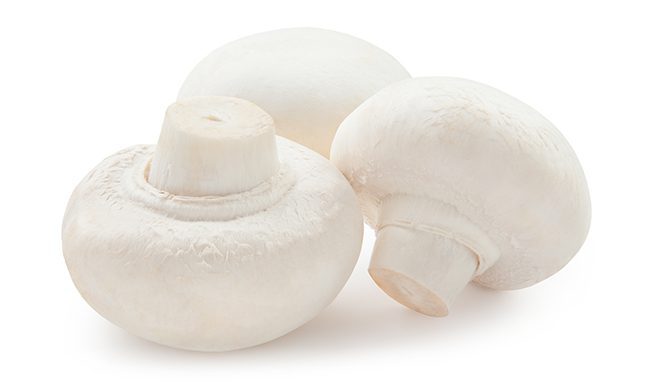 White (Button) Mushrooms
Round, plump, mild-flavored button mushrooms have been a mainstay in kitchens around the world ever since they were first cultivated in France in the 18th century. 
Selection
Look for creamy white mushrooms with tight caps and no dents or blackish-brown spots.  
Preparation
Rinse well and pat dry. Trim brown ends from stems before slicing or chopping. 
Cooking
Button mushrooms can be used raw in salads; sliced or quartered for soups and sautés; halved for roasted vegetable medleys; strung whole on grilled kebabs; and finely chopped for stuffings, fritters, and veggie burgers. And don't forget sliced button mushrooms for pizza toppings!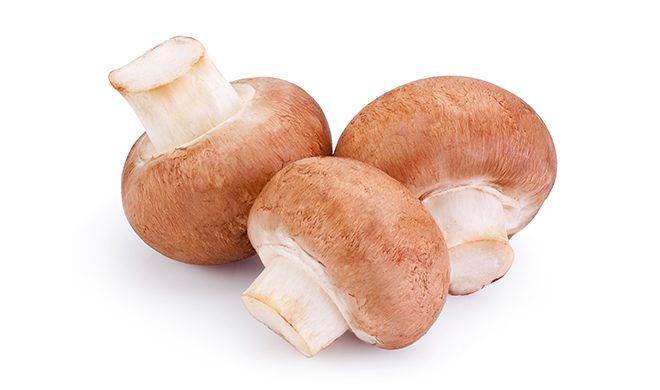 Baby Bella (Cremini)
Tan-capped "baby bellas" belong to the same Agaricus bisporus species as button mushrooms but are harvested later, after they develop their distinctive color and a richer flavor profile. This means they are generally larger than button mushrooms, with a heartier taste and texture. 
Selection
Choose creminis with smooth, plump caps and dry-looking stems. 
Preparation
Rinse well and pat dry. Trim brown ends from stems before slicing or chopping. 
Cooking
Use buttons and creminis interchangeably, or try a half-and-half combo to maximize the mushroom flavor of a recipe. Creminis' larger size makes them ideal for stuffing.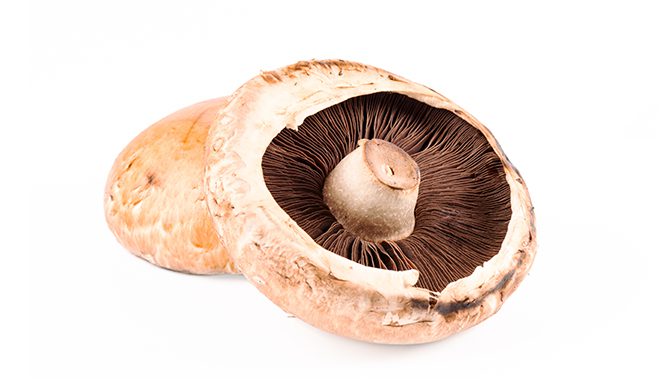 Portobello Mushrooms
Portobellos are the grandaddys of the Agaricus bisporus species. Bigger and firmer than buttons and creminis, portobellos are harvested when they're mature and have developed a pronounced, earthy flavor. 
Selection
Select large, flat-capped portobello mushrooms with no dents or black spots. Check the gills to make sure they look dry and firm.  
Preparation
Rinse well, pat dry, then remove the stem and scrape off the black gills underneath the caps. The gills can develop a bitter taste over time.
Cooking
Grill or roast whole portobellos for delicious burgers, or try them as a meat substitute in stews like a hearty stroganoff.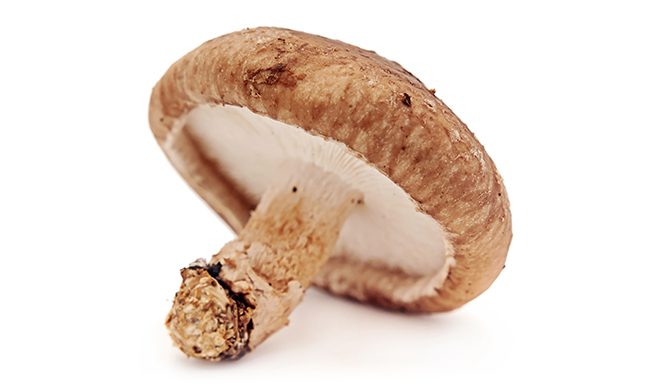 Shiitake
Ultra-flavorful shiitake mushrooms originated in Asia, where they make their way into soups, stews, and stir-fries. 
Selection
Choose shiitake mushrooms with firm caps and stems that look tender and fresh, not woody. 
Preparation
Rinse well; pat dry. Remove the tough stems with your fingers or a small knife before using. 
Cooking
To make lip-smacking shiitake bacon, toss 4 cups shiitake mushroom caps with 2 tablespoons reduced-sodium soy sauce and ½ teaspoon smoked paprika; place on a parchment-lined baking sheet and roast at 400˚F for 20 to 25 minutes or until crisp.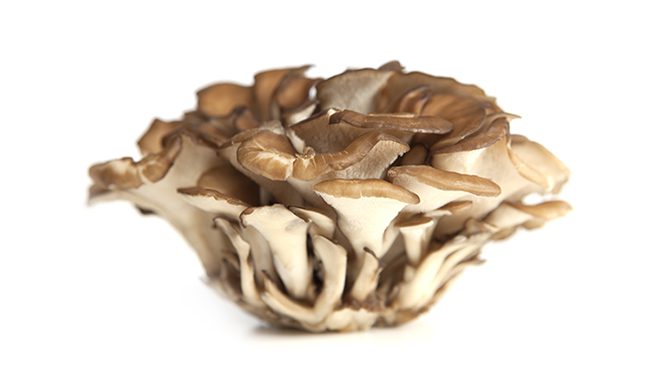 Maitake Mushrooms
Also called hen-of-the-woods, maitake mushrooms grow in big, ruffly masses. Their texture is similar to shiitake mushrooms, but their flavor is more intensely woodsy. 
Selection
Buy small heads or bunches of maitake mushrooms that show no signs of discoloration. Larger maitake bunches can develop an overly strong flavor. 
Preparation
Pull maitake bunches apart, then rinse well and use a brush to remove any dirt or debris between the flouncy "caps.' Pat dry.
Cooking
Use maitake mushrooms in place of shiitakes, or combine with button mushrooms to boost their flavor. Maitake mushrooms are especially good in soups and stews that let their tender-chewy texture shine. You can also pan sear maitake mushrooms in a dry skillet until brown, and serve them as a side dish.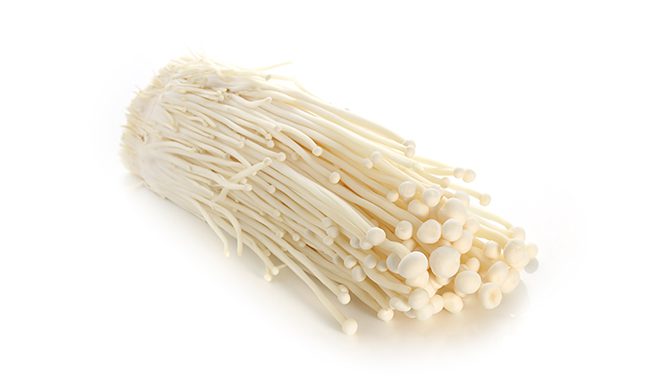 Enoki
With a mild, lightly sweet flavor, enoki mushrooms grow in long-stemmed bouquets. The bright white fungi have a unique crunch that enhances both cooked and raw dishes.
Selection
Enoki mushrooms should be perky and completely white, with no signs of browning or discoloration. 
Preparation
Give the enoki bunch a quick rinse; then trim its base to release the individual long-stemmed mushrooms.
Cooking
Use raw in salads, sandwiches, spring rolls, and sushi. Or cook in sautés, risottos, and stir-fries.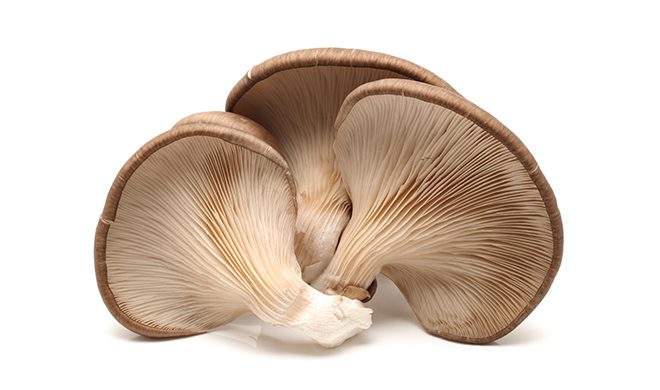 Oyster Mushrooms 
Oyster mushrooms first gained popularity in Germany during World War I, when they were cultivated during food shortages. Today, they are farmers market favorites, thanks to their complex, umami-rich flavor.
Selection
Look for pale, gray-brown oyster mushrooms that have not begun to wilt or sag. Avoid mushrooms that look wet or slimy.
Preparation
Brush or rinse away any dirt or debris. Trim just the ends, and then slice the fan-shaped caps.
Cooking
Oyster mushrooms' velvety texture works especially well in soups, stews, and casseroles.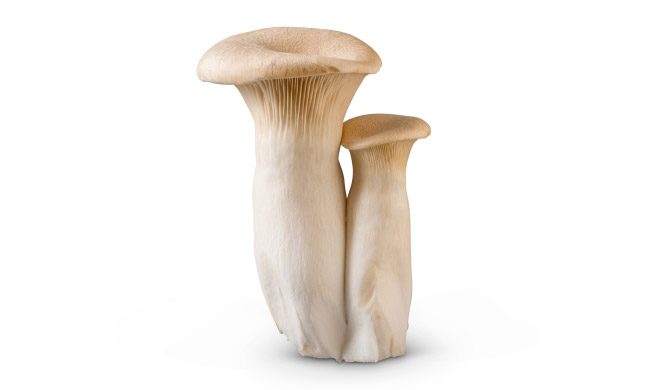 King Oyster
Massive and meaty, king oyster (or king trumpet) mushrooms have firm caps and stems and a mild, earthy flavor. They are native to the Mediterranean but have been cultivated on a large scale throughout Asia for decades. 

Selection
Look for caps that are intact and stems that are unblemished. Smaller king oyster mushrooms can be sliced and eaten raw; larger mushrooms are best cooked. 
Preparation
Brush or rinse away any dirt or debris. Trim just the ends. Then slice lengthwise to showcase their shape.
Cooking
Roast, grill, or air-fry king oyster mushroom slices 3 to 5 minutes per side.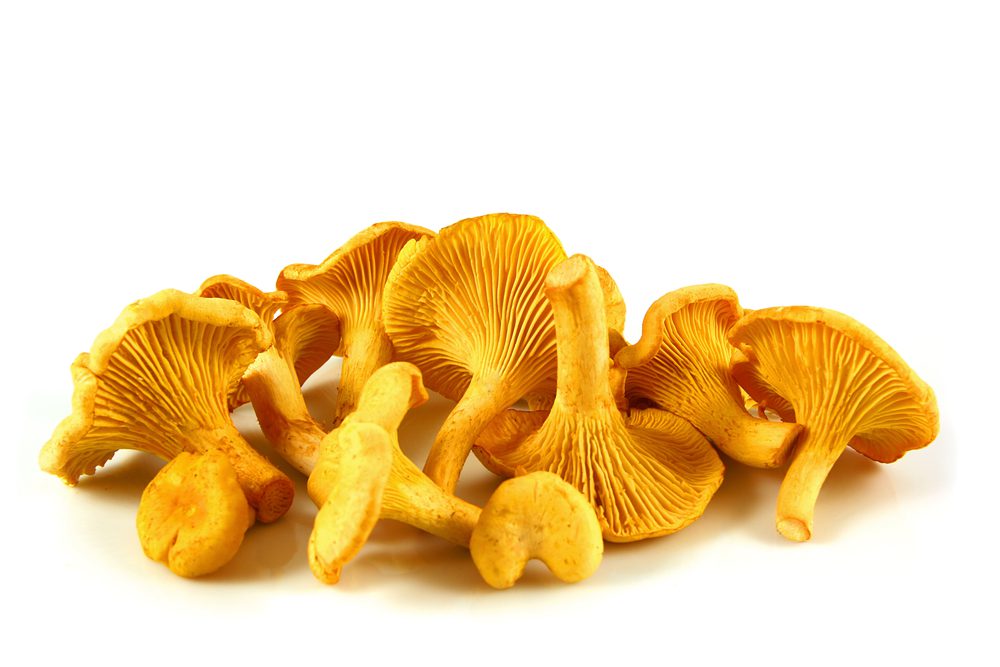 Chanterelle
Chanterelle mushrooms have long been considered a delicacy because of their deep, woodsy flavor and stunning golden color. Ever since the sunset-hued fungi were successfully cultivated in the 1990s, they have become increasingly available to home cooks.
Selection
Select chanterelles that are bright and firm, with no signs of withering. (The small fungi dry quickly once picked.) Give them a quick sniff; they should have a rich, earthy scent.
Preparation
Chanterelles have a tendency to cling to dirt and grit. Carefully brush any debris from the caps and stems, or dunk them in a large bowl of water, swirl them around to loosen dirt, and pat dry before using.
Cooking
High-heat stovetop cooking is best for chanterelles, so use them in sautés and stir-fries.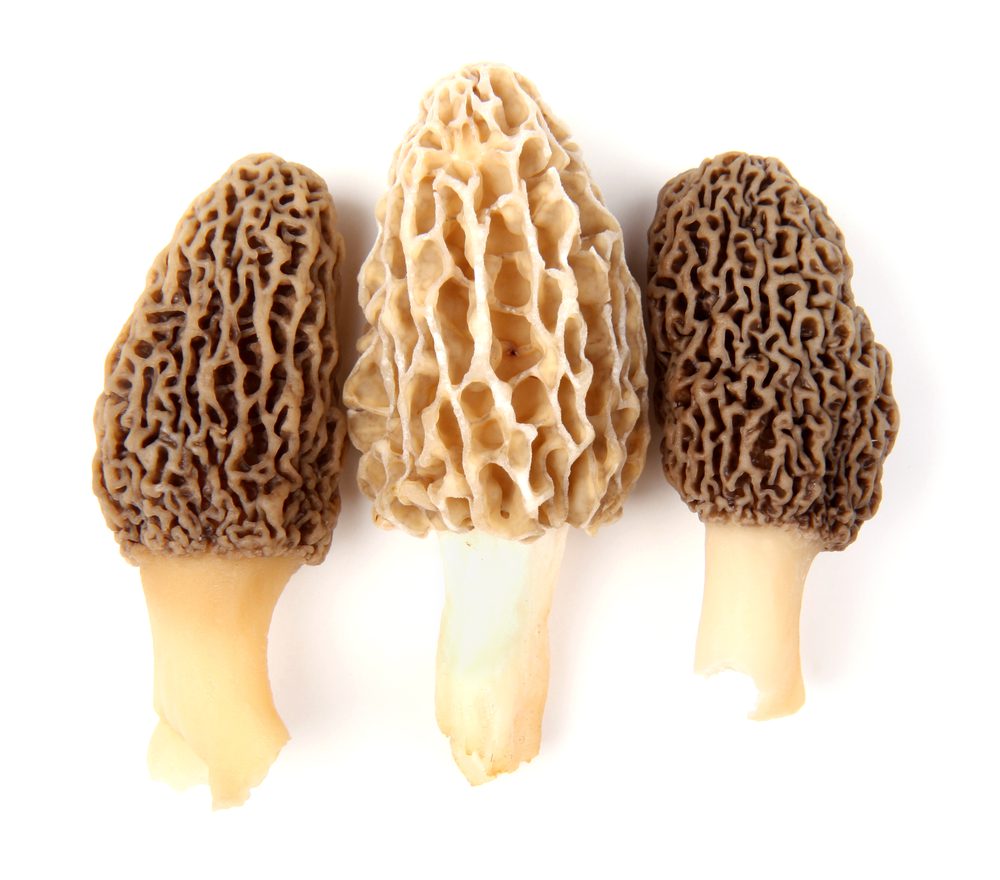 Morel
Wild morel mushrooms are foraged in the spring, which is when you can find the robust-flavored fungi at farmers markets and in specialty stores. Dried morels are easier to come by and can be rehydrated and used like fresh. 
Selection
Look for fresh morels that are moist and springy with a strong, earthy fragrance. 
Preparation
Soak morels in a large bowl of cool water for 10 minutes to loosen dirt and grit. Gently swish them around in the water. Pat dry before cooking.
Cooking
Morels are best in dishes that let their flavor play a starring role, such as stews, risottos, and frittatas.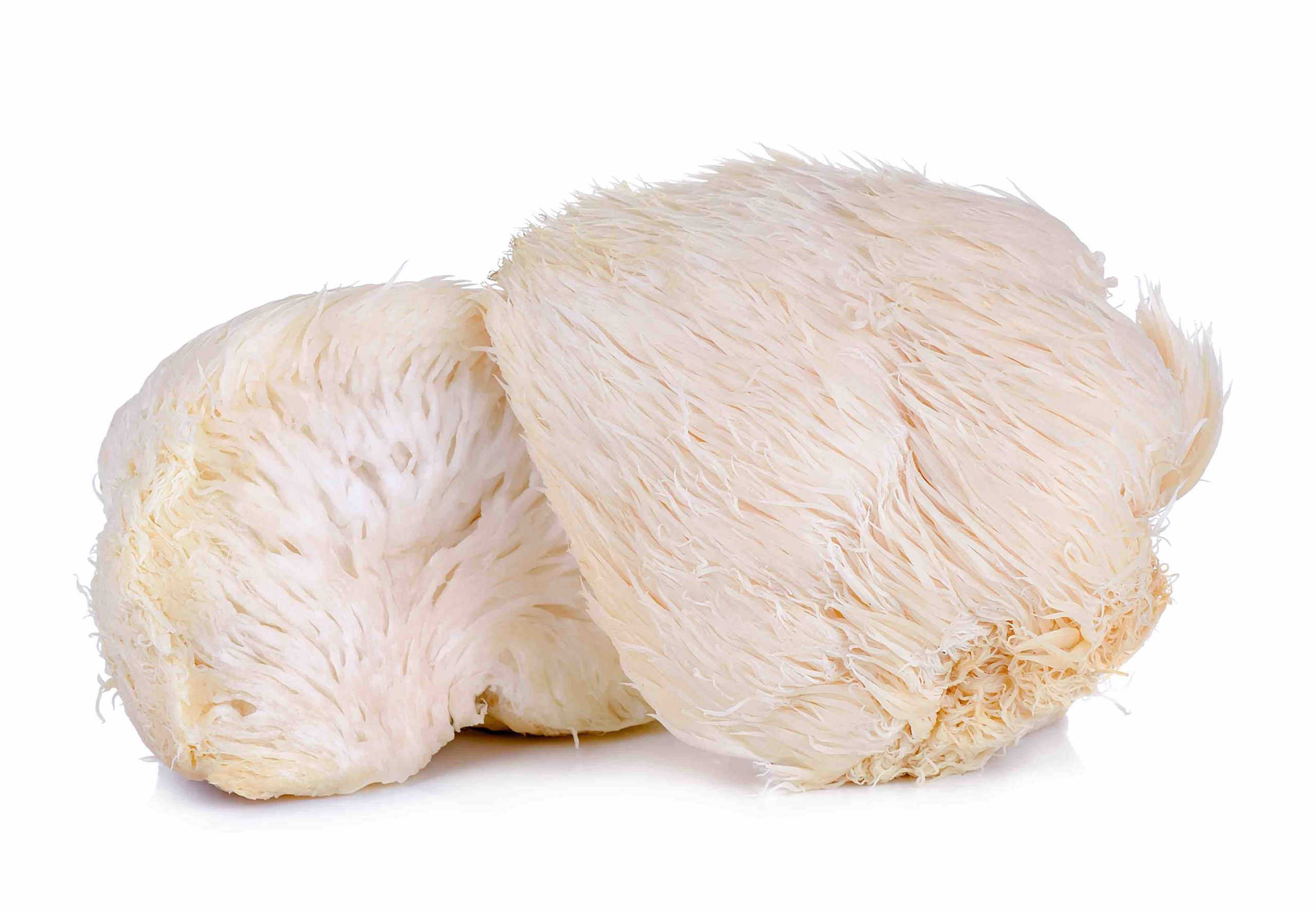 Lion's Mane
Fluffy and stringy, with a texture that has been compared to crab, lion's mane mushrooms have a mild taste that lets them take on the flavors of the foods they are cooked with.  
Selection
Look for fluffy, white mushroom heads with no signs of moisture or discoloration.
Preparation
Pull the bunch apart into bite-size pieces. Cook them in a dry skillet to remove excess water.
Cooking
Use dry-sautéed lion's mane mushrooms as a meat- or seafood-like add-in for plant-based stews and sautés.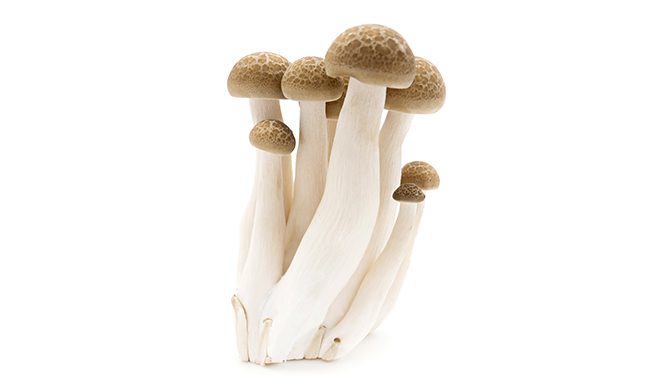 Beech
These long, brown-capped "bouquet" mushrooms get their name from the beech trees on which they grow. Their flavor is sweet and nutty, and they look spectacular in soups and stews.
Selection
Select beech mushrooms that look plump and fresh and are still attached to their base. 
Preparation
Rinse and pat dry. Trim away the base. 
Cooking
Use whole in soups and stews. Add beech mushrooms at the end of cooking time so that they retain their distinctive crunchy texture.
How to Store Fresh Mushrooms
Mushrooms need cool, dry conditions to remain fresh and plump in storage. Keep your purchases in their original packaging, or transfer them to a clean paper bag, which will allow air to circulate and prevent moisture buildup. Store in the crisper drawer of the fridge to avoid exposure to extreme cold. 
The best way to freeze mushrooms is to blanch them in boiling water 2 to 4 minutes first. Transfer the blanched mushrooms to a large bowl of ice water to stop cooking, then drain well, and freeze on a parchment-lined baking sheet. Store the frozen mushrooms in freezer containers or resealable plastic bags. You can also skip the blanching step and freeze them raw, but this may affect their color and texture once thawed.  
How to Use Dried Mushrooms
Shiitakes, morels, and chanterelles are just a few of the mushrooms that are also available dried. Their flavor is more intense than fresh, and cooking with them is as easy as rehydrating them in boiling water. 
To rehydrate dried mushrooms, place them in a  heat-safe bowl; then add enough boiling water to cover. Set a plate or lid on top of the bowl to trap in heat and steam, and soak 20 minutes. Drain. (Reserve the soaking liquid for use in vegetable stocks, or as a 1:1 replacement for fish sauce in curry recipes.) Trim away any tough stems, then use in stews, casseroles, rice dishes, and soups, such as our Wild Mushroom Vegan Pho.
Dried mushrooms can also be ground to a powder and used like a seasoning, as they are in this Morel Mushroom and Apple Salad. 
How to Tell if Mushrooms Are Bad
Brown spots, dark patches, and blackened edges are all indications that mushrooms are past their prime. All mushrooms are sensitive to excess moisture, extreme temperatures, and long storage times. Avoid or discard mushrooms that look wet, feel sticky or slimy, or emit a strong odor. 
Mushroom Nutrition
Despite their low calorie content, mushrooms boast an impressive nutritional profile. All types are excellent sources of B vitamins, selenium, and copper. Fun fact: Like people, mushrooms can synthesize vitamin D when exposed to sunlight. Commercially produced mushrooms are usually grown in the dark, but wild mushrooms can be rich sources of the vitamin. Some producers now treat button, cremini, and portobellos with UV light to boost their vitamin D content.
Mushroom Recipes from Forks Over Knives
Ready to get cooking? Try one of these delicious, nutritious mushroom recipes from Forks Over Knives.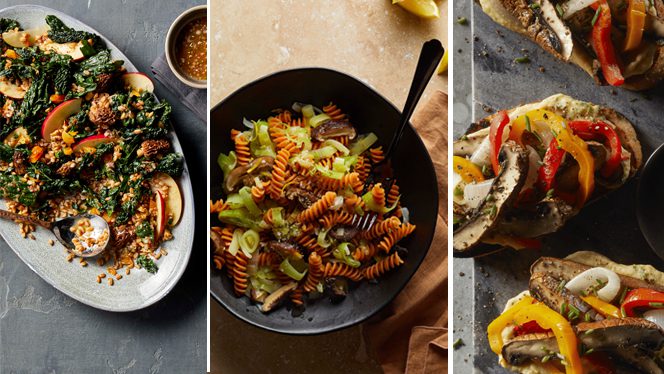 For more guidance in healthy cooking, check out Forks Meal Planner, FOK's easy weekly meal-planning tool to keep you on a plant-based path. To learn more about a whole-food, plant-based diet, visit our Plant-Based Primer.
This article was originally published on Oct. 1, 2021, and has been updated.