Beets, aka beetroots, are a highly nutritious root vegetable related to Swiss chard. Grown for both the edible leaves and root, they have a sweet, earthy taste that becomes sweeter when cooked. Read on for information about beet nutrition, varieties, preparation methods, seasonality, and more. 
The Benefits of Beets
Beets have been around for many centuries and are well known for their health benefits. Both the beetroot bulb and beet greens are rich in antioxidant vitamins (especially vitamin C and beta carotene) and phytonutrients, as well as other micronutrients including folate, potassium, calcium, magnesium, and iron.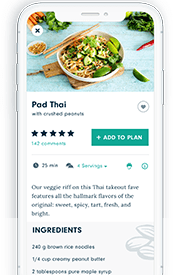 Try Our Award-Winning Meal Planner For Free!
Healthy eating has never been so easy.
Beets may also help to lower blood pressure, as they are rich in nitrates, natural chemicals that are converted in the body to nitric oxide. Nitric oxide helps blood vessels to expand and ensures a sufficient flow of blood from the heart to all body organs. 
Types  
Red beets are the most commonly available beet, but there are many different types. Candy cane beets (Chioggia) and golden beets are both beautiful and slightly less sweet than their red counterparts. Sugar beets are not eaten; instead they are grown and processed for sugar. 
When Are Beets in Season? 
Beets are readily available nearly year-round, as they are grown in more than 30 states throughout the year. The peak season, however, is June through October, making them commonly available at local farmers markets throughout the summer and early fall.
Selection
Look for brightly colored, firm beets that still have the taproot and greens attached. The greens should look fresh. The skin of the bulb should be free of blemishes and cuts.
Storage
When storing beets, the goal is to prevent the loss of moisture and flavor. Remove the leaves, leaving about ½ inch of the stem attached and keep the tail of the root intact. Store beet bulbs, unwashed, in a zip-top plastic bag and keep them in the crisper of the refrigerator for up to three weeks. Store greens, unwashed, in a zip-top plastic bag in the crisper drawer for 2–3 days maximum. (It's ideal to eat the greens as soon as possible, as they are highly perishable and only keep for a short time.)
Can You Eat Them Raw?
Both the beetroot and greens can be eaten raw. Trimmed, washed, and peeled raw beets are often used in salads, slaws, and Russian borscht (a traditional cold beet soup). Washed and chopped beet greens can be used in salads or pureed for smoothies. 
Avoiding Beet Stains
If staining is a concern, opt for golden or striped Chioggia beets. Red beet juice, raw or cooked, will stain surfaces, hands, and textiles. Peeling raw red beets will result in less staining from the juice, although if planning to cook the beets, it is better to keep the skin on to minimize the color release. You may want to avoid using a wooden cutting board when cutting red beets. 
How to Prep and Cook Beets 
When cooking the beetroot (bulb), be sure the leaves have been cut off first. Trim off the "tail" of the root and wash beets well. Keep the peel on and remove it after cooking to retain its color and to help lessen or prevent stains from beet juice. Once cooked, run them under cold water and then remove the peel. Cooked beets can be cut in large chunks, quartered, sliced, diced, cut in long strips, or, if they are very small, used whole.
Experiment with different cooking methods:
1. Boiling
This is the most common cooking method for beets. Place beets (with peel on) in a pot of water, bring to boiling, reduce heat, and let simmer for about 40 minutes or until tender.
2. Steamed
Place beets (with peel on) in a steamer basket in a saucepan. Add water to saucepan to just below basket. Cover pan and steam until tender, about 30 minutes. 
3. Oven-Roasted/Baked 
Dry roasting beets in the oven with peels on locks in their natural sweetness. Bake whole beet bulbs on a parchment-lined baking sheet at 375°F for about 50–60 minutes, testing for tenderness with a knife.
How to Cook the Greens
Beets are in the same botanical family as Swiss chard, and beet greens are very similar to and can be cooked in the same ways as Swiss chard. You can also serve them as a simple side dish, on their own or mixed in with a cooked grain. Blanched or steamed greens can be turned into a pesto or other sauce. Beet greens also make a wonderful addition to soups and stews. 
Be sure to wash them well before cooking to remove residual soil, which can make their texture gritty. 
To blanch greens: Submerge in boiling water 2 minutes; then dunk in an ice bath. 
To sauté greens: Heat a few tablespoons of vegetable broth in a pan over medium. Add beet greens and saute until wilted and tender, about 5 to 8 minutes, adding more broth, 1 or 2 tablespoons at a time, as needed to prevent sticking. 
To steam greens: Steam 2 minutes in a vegetable steamer until just tender. For stovetop steaming: Place greens in a steamer basket in a saucepan. Add 1–2 inches of water to saucepan below basket. Cover and cook over medium-low heat about 5 minutes or until just tender. 
Recipes
Recipes courtesy of Susan Greeley, MS, RDN, and chef-instructor at the Institute of Culinary Education.
Can't Beet This Pasta
½ cup raw cashews

3-4 whole beets with greens

8 ounces whole grain penne or rotini pasta

3 cloves garlic, peeled

¼ teaspoon salt

Chopped fresh parsley or basil, for garnish

Sea salt and freshly ground black pepper, to taste
Place cashews in a small bowl and cover with 1 cup water. Let soak uncovered 12 hours. Drain and transfer cashews to a blender; add another ¼ cup fresh water. Set aside.

Heat a large pot of water over medium-high.

Cut tail and leaves off beets. Thoroughly wash leaves and stems, and chop into 1-inch pieces. Peel beetroots. Cut into large chunks. 

Add stems and leaves to water, lightly salt, and bring to boiling. Reduce heat; add beets. Simmer about 15 minutes or until stems and beetroots are tender.

Using a ladle or large slotted spoon, transfer stems, leaves, and beetroot pieces to a colander to drain. (Leave cooking water in pot.) Transfer drained beets, greens, and stems to large serving bowl. 

Return cooking water to boiling and add the penne. Cook 8 minutes or until al dente.

Meanwhile, add garlic and salt to cashews and water in blender. Blend on high until smooth and creamy. 

Drain pasta; add to bowl with beets. Toss with garlic-cashew sauce and stir well to combine. For serving, garnish with fresh herbs and season to taste with salt and pepper. Serve immediately.
More Beet Recipes
Try one of these plant-based beet recipes from Forks Over Knives!