Use Up a Can of Jackfruit with These 11 Vegan Jackfruit Recipes
Two feet long, weighing up to 40 pounds, and covered in bumpy green skin, jackfruit is the largest (and perhaps strangest-looking) fruit in the world. But don't be fooled by the offputting exterior: The fruit contains tasty, pod-like flesh that's a favorite meat substitute among plant-based eaters due to its hearty texture and ability to absorb flavor. Fortunately, you don't have to lug the gigantic fruits into your kitchen in order to enjoy cooking with it because many stores carry chopped jackfruit preserved in brine or water. Check out our Ingredient IQ: Jackfruit for the full rundown, but the most important thing to know before hitting the supermarket is that jackfruit's taste changes drastically based on its ripeness. When unripe (usually stored in a can), jackfruit has a neutral, slightly savory taste perfect for using in main courses, and when it's ripe (often in the fresh produce section), it transforms into a sweet, tropical fruit ideal for including in desserts.
All of our vegan jackfruit recipes skew savory, but as you get more comfortable with this tasty ingredient we hope you feel empowered to experiment with its different iterations. From meaty sandwiches to veggie-packed stews and fantastic flatbreads, this delicious collection of recipes is bound to turn you into a full-on jackfruit fanatic!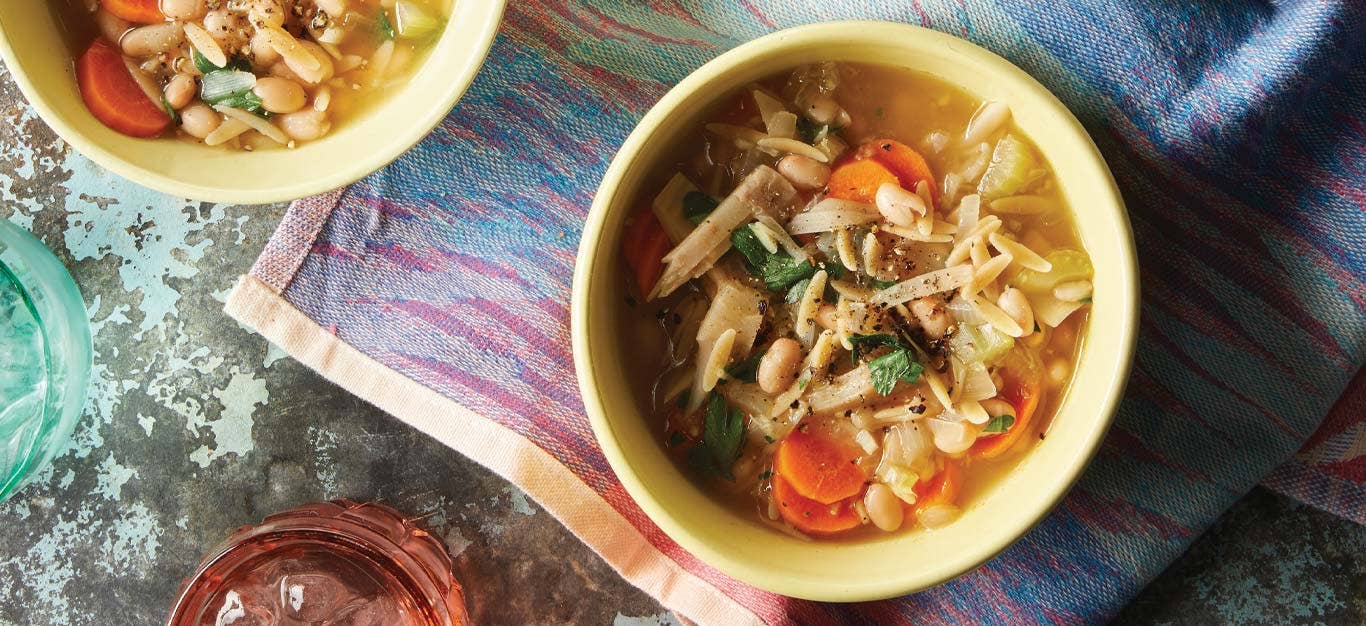 Shredded jackfruit soaks up the bright lemon flavor that's laced throughout the slurp-worthy broth of this comforting soup. Earthy carrots and creamy white beans complement its hearty texture, while whole wheat orzo adds hunger-busting substance. Parsley elevates the fresh flavors with subtle herbaceous undertones that take each bowl to a whole new level of yum. Finish it off with a crack of black pepper, and dig into this totally tasty meal.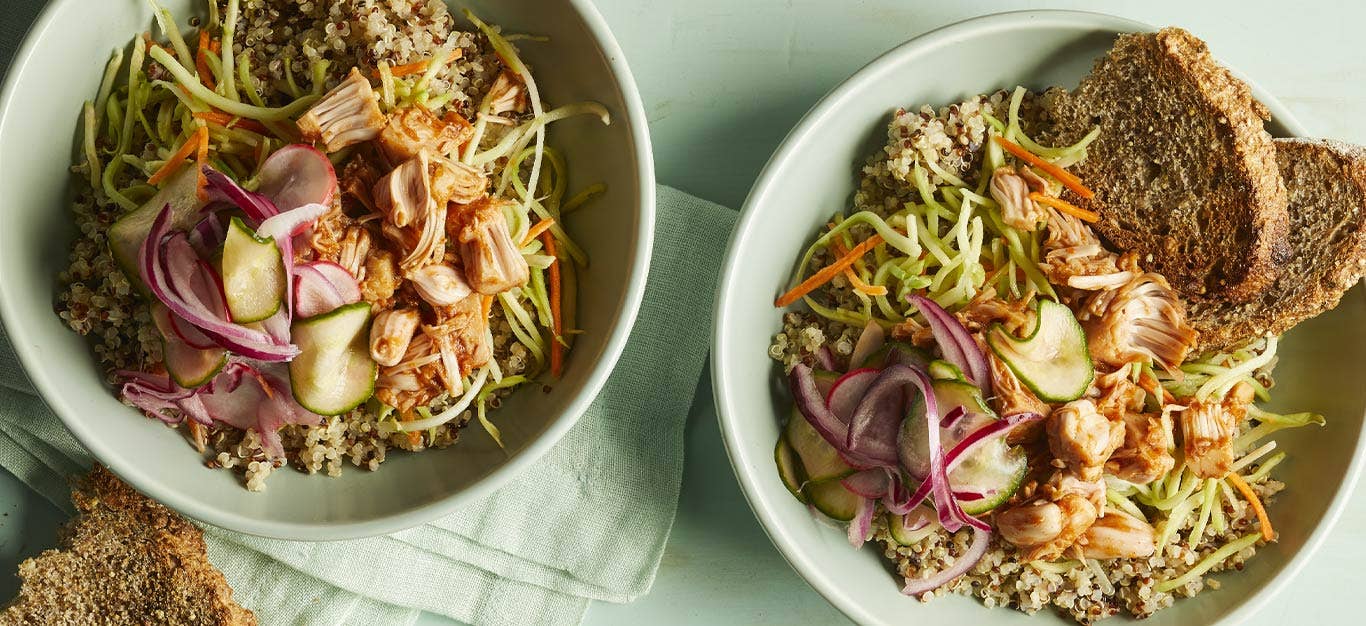 You don't need to fire up the grill to have a delicious BBQ dinner thanks to this flavorful jackfruit bowl. Chewy quinoa creates the perfect base for a crunchy broccoli slaw, pickled veggies, and meaty jackfruit morsels drenched in a savory-sweet BBQ sauce. While you can enjoy it just like that, we love adding a side of garlicky toast to scoop up the delicious medley like an edible utensil. If you buy jackfruit preserved in brine, be sure to thoroughly rinse it so the BBQ flavors shine through.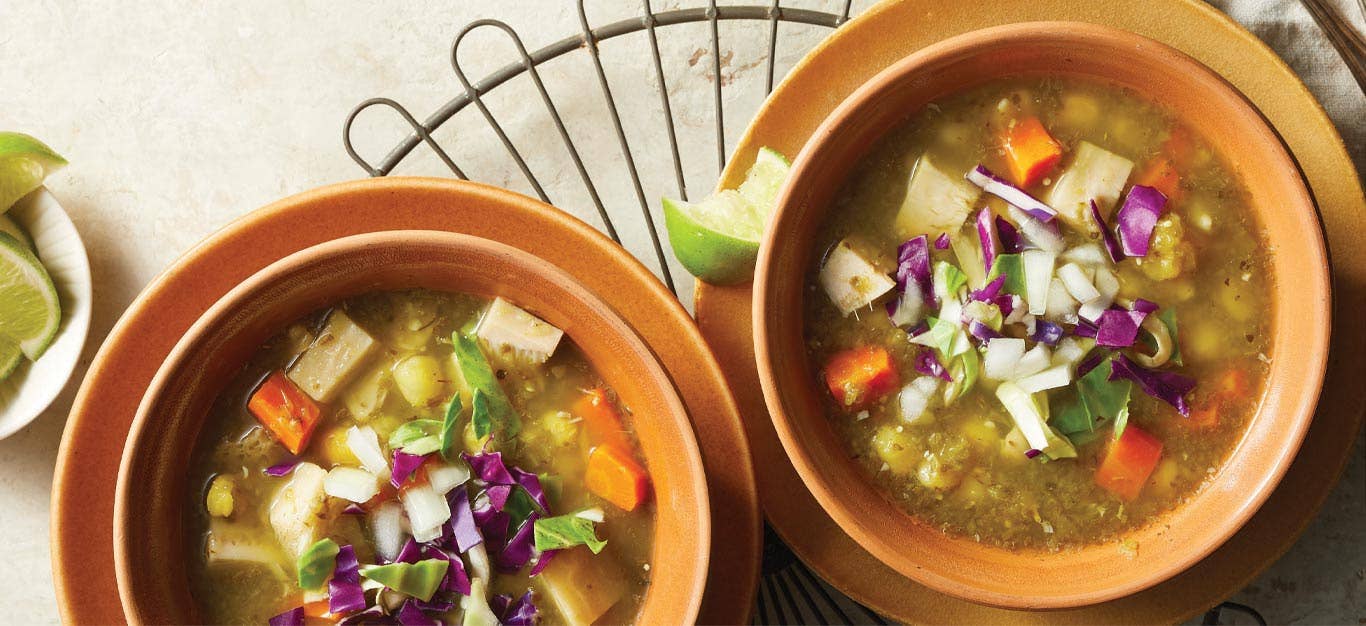 While jackfruit isn't a traditional ingredient in Mexican pozole, this fabulous fusion dish proves that you can unlock amazing new flavor combinations by combining different cuisines. It all starts with blending together a savory mixture of onion, poblano chile, tomatillos, and jalapeño to create a spicy, savory base. Carrots, hominy, and jackfruit are simmered in the delicious broth, and Southwest spices infuse everything with lip-smacking scrumptiousness. Each bowl is topped with a crunchy cabbage slaw, fresh cilantro, and a squeeze of fresh lime juice to create a winning recipe you'll return to over and over again.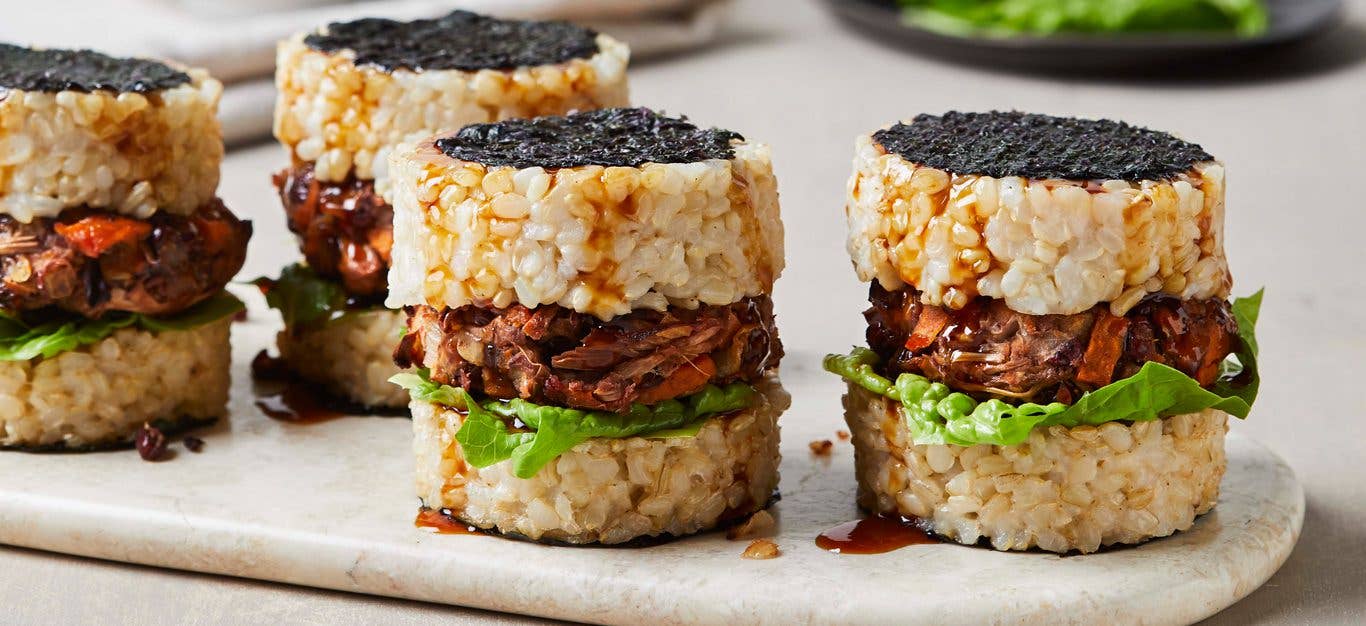 Halfway between sushi and burger sliders, these incredible jackfruit stacks are just as much a feast for the eyes as they are for the stomach. Hearty, tangy teriyaki jackfruit patties that have been baked to tender perfection are sandwiched between rounds of rice topped with salty nori. Sweet potatoes and adzuki beans add extra substance to the mini burgers while romaine lettuce adds a crisp crunch to balance everything out. Feel free to add a little extra teriyaki sauce before digging into this finger-licking-good vegan jackfruit recipe.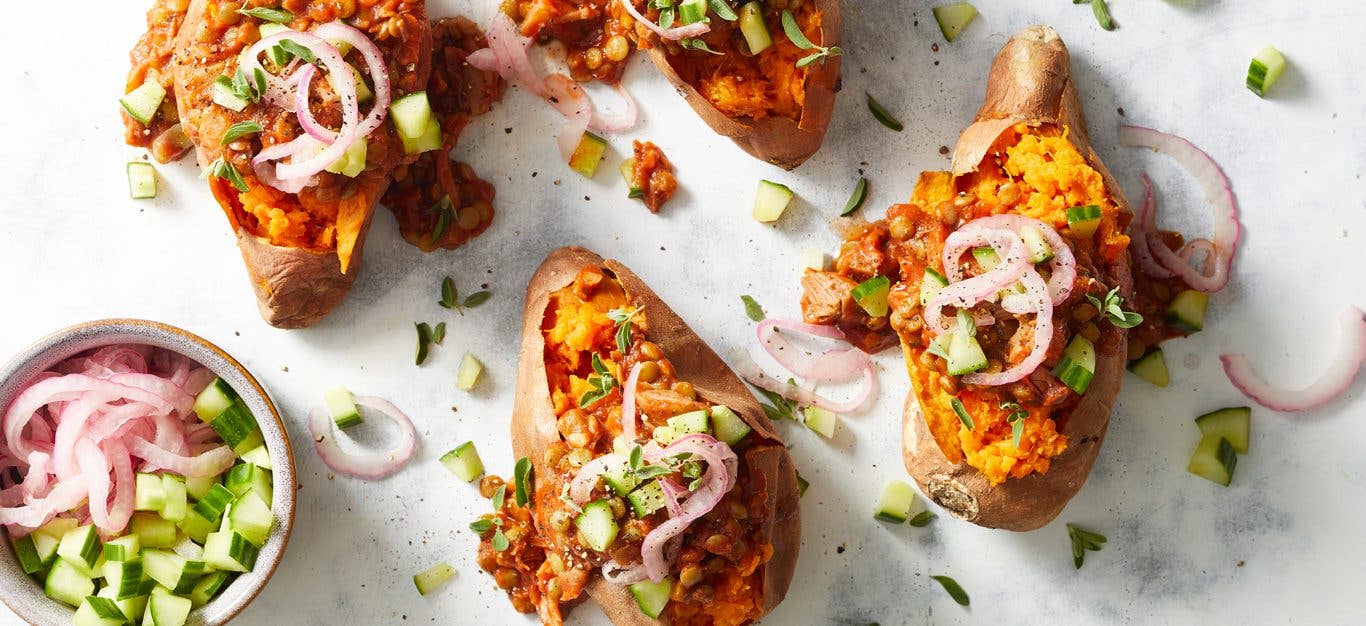 Use up an extra can of jackfruit by simmering it in a symphony of spices and transforming it into the perfect sloppy Joe-inspired stuffing for baked sweet potatoes. Nutrient-dense lentils add extra substance to the filling, ensuring you're totally satisfied at the end of your meal. Tangy pickled red onion and crisp cucumbers serve as the perfect toppings to bring harmony to the savory-sweet flavors of this nourishing dish. If you have sloppy Joe leftovers that can't fit in the potatoes, use them as a sandwich filling!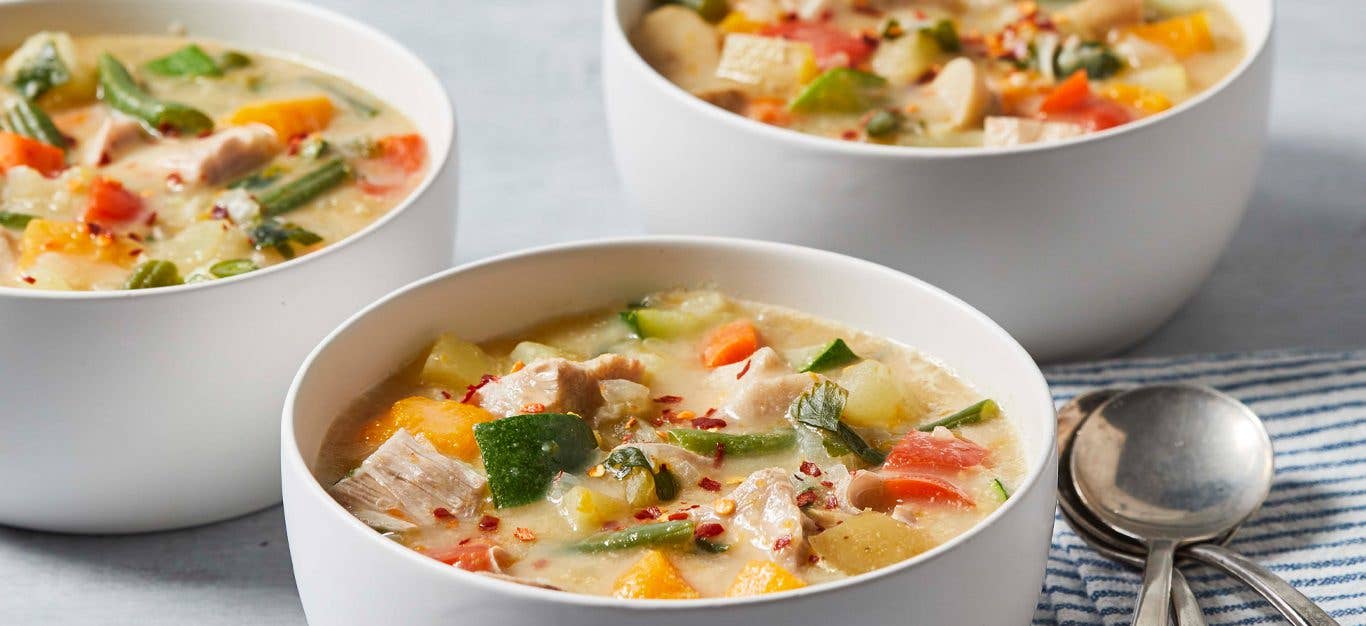 Looking for a dish that warms you up from the inside out? This cozy jackfruit chowder is bound to do the trick. Potatoes, butternut squash, and trumpet mushrooms soak up the herb-infused broth while green beans and zucchini add a garden-fresh taste to each spoonful. A slurry of plant milk and oat flour creates a thick, creamy texture that transforms as simple soup into a decadent meal. One happy reader writes, "This was my first time cooking with jackfruit and this recipe did not disappoint!"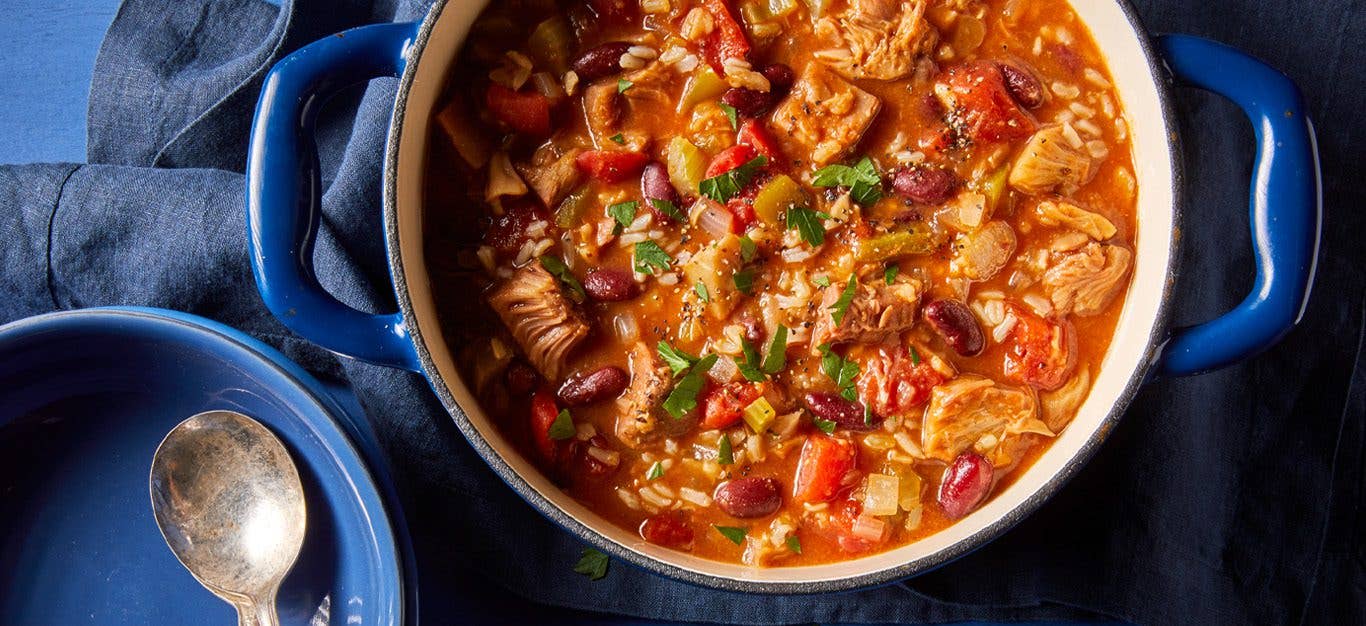 There's just a single reason this dish is one of our most popular stews ever: It's delicious! Celebrate the sensational seasonings of Southern cuisine with this vegan version of a classic Creole jambalaya. Jackfruit stands in for meat and expertly absorbs the spicy flavors while kidney beans and rice bring extra substance. Adding a drizzle of lemon juice and parsley infuses everything with brightness that leaves you licking the bowl for every last drop. One reader raves, "The best Jambalaya I've ever had!"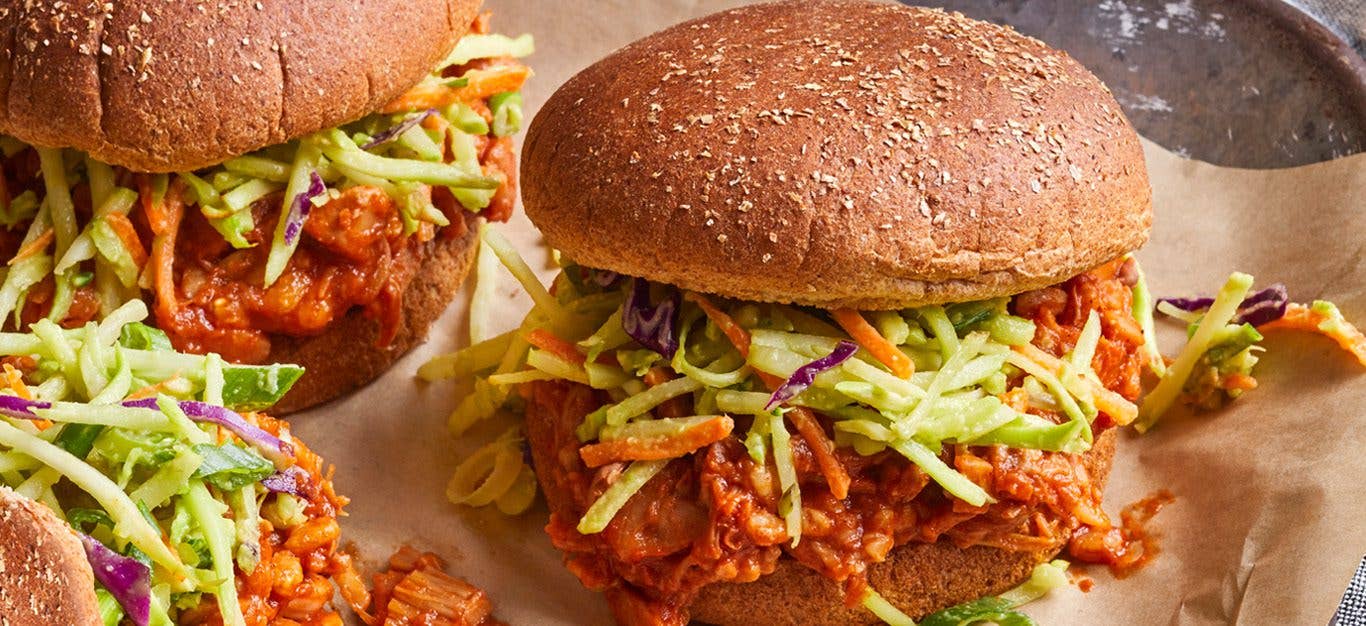 Whip up these wonderful jackfruit barbecue sandwiches for your next plant-based cookout. The shredded fruit is mixed with farro to create a sensational meat substitute that looks and tastes similar to pulled pork. The savory-sweet sauce is balanced with a crunchy broccoli slaw and slices of creamy avocado. Sandwich everything between two whole wheat buns, and you've got an undeniably delicious meal that even the most ardent carnivore will appreciate.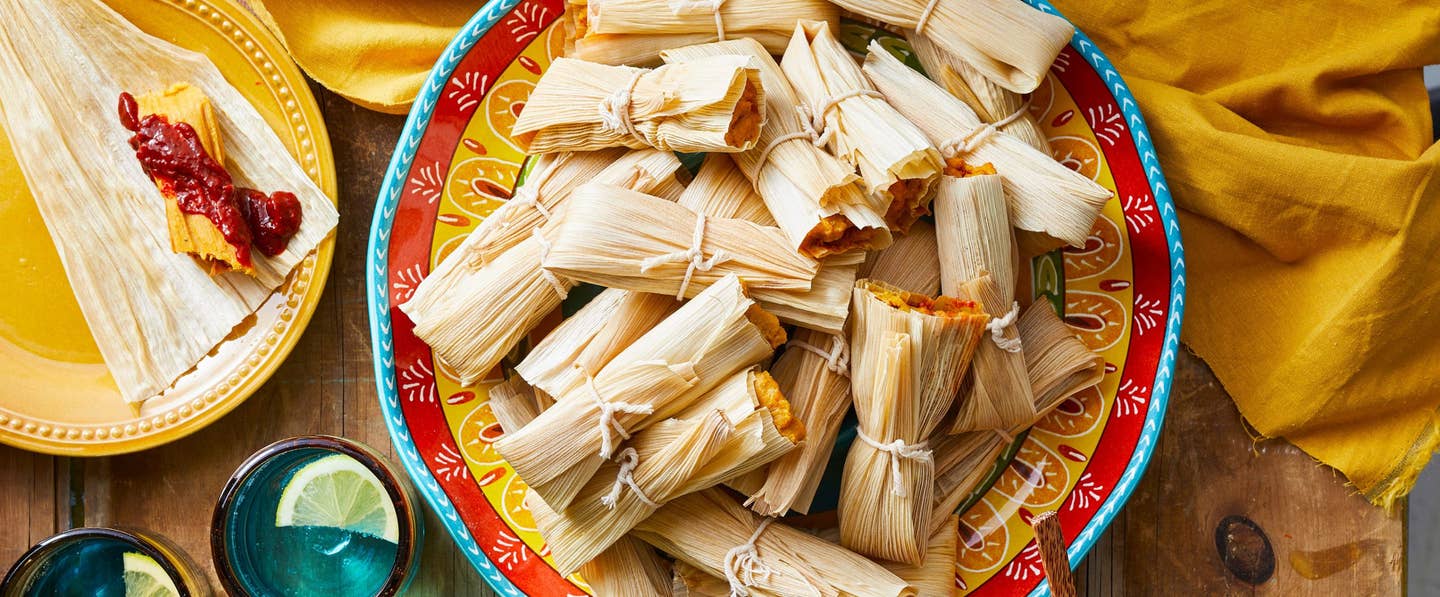 It may take a little bit of elbow grease, but this vegan jackfruit tamales recipe is everything you want in a nourishing meal. Canned pumpkin works as a binding agent for the masa casing and lends a subtle sweetness to the ground corn. Chopped jackfruit is coated in a savory chile sauce infused with oregano, cumin, and garlic so each perfectly spiced bite balances out the soft casing. Roll the tamales up in a corn husk to steam, then get ready to unwrap these tasty presents for an unforgettable meal.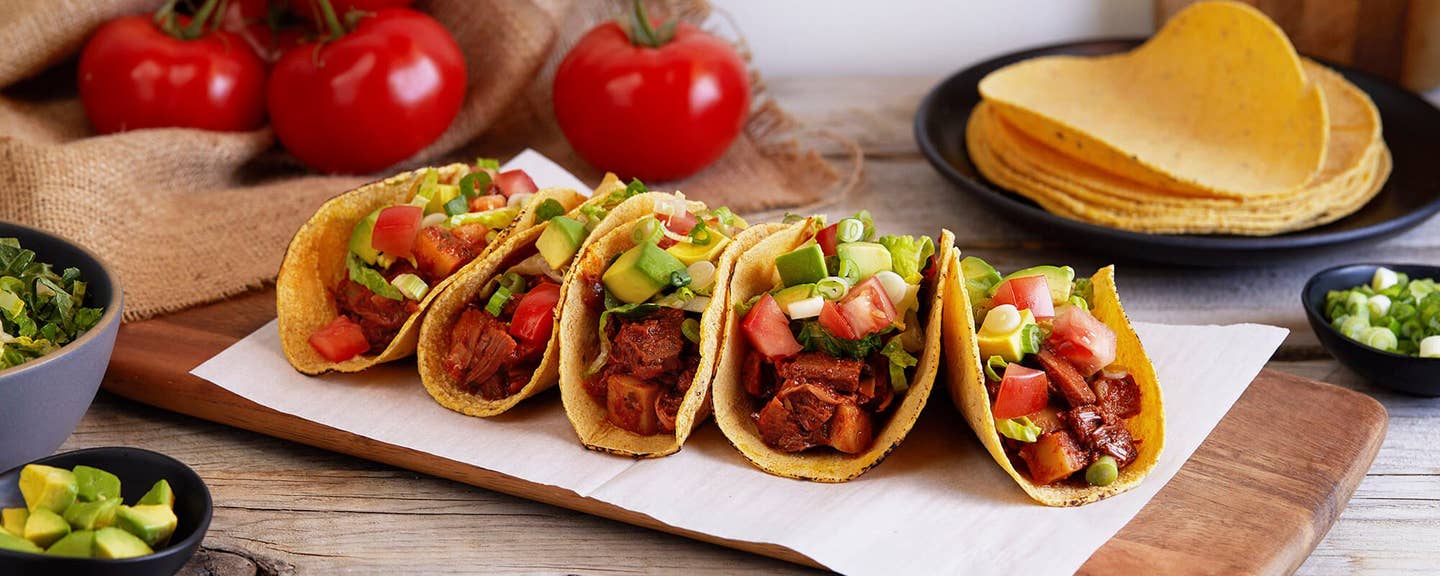 Take your Taco Tuesday feast to the next level with these yummy jackfruit tacos. Potatoes, onions, and jackfruit are stewed in a spicy chipotle sauce (feel free to add less taco seasoning if you aren't a fan of heat) that transforms the fresh produce into a meaty Mexican filling. Spoon it into warm corn tortillas and top off each taco with shredded lettuce, tomato, and avocado for the perfect plant-based finger food. One happy reader raves, "This recipe is quick, easy, and delicious."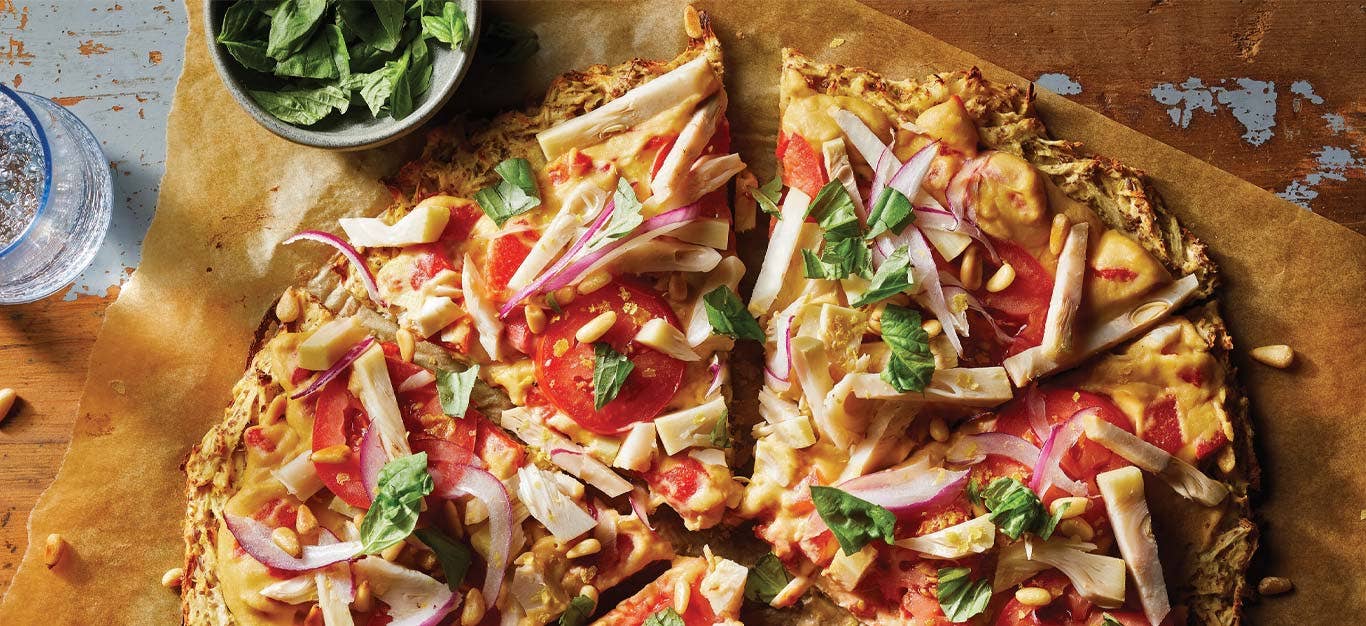 Jackfruit may seem like an unusual flatbread topping, but its absorbent texture and neutral flavor make it a great sponge for whatever seasonings you dress it up with. In this case, it soaks up the Mediterranean vibes of the tomatoes, basil, and red onion that are piled on top of a base of creamy hummus. The extra thin and crispy parsnip crust adds another level of deliciousness that puts trendy cauliflower crusts to shame. Add a sprinkle of pine nuts on top for a crunchy finish, and dig in!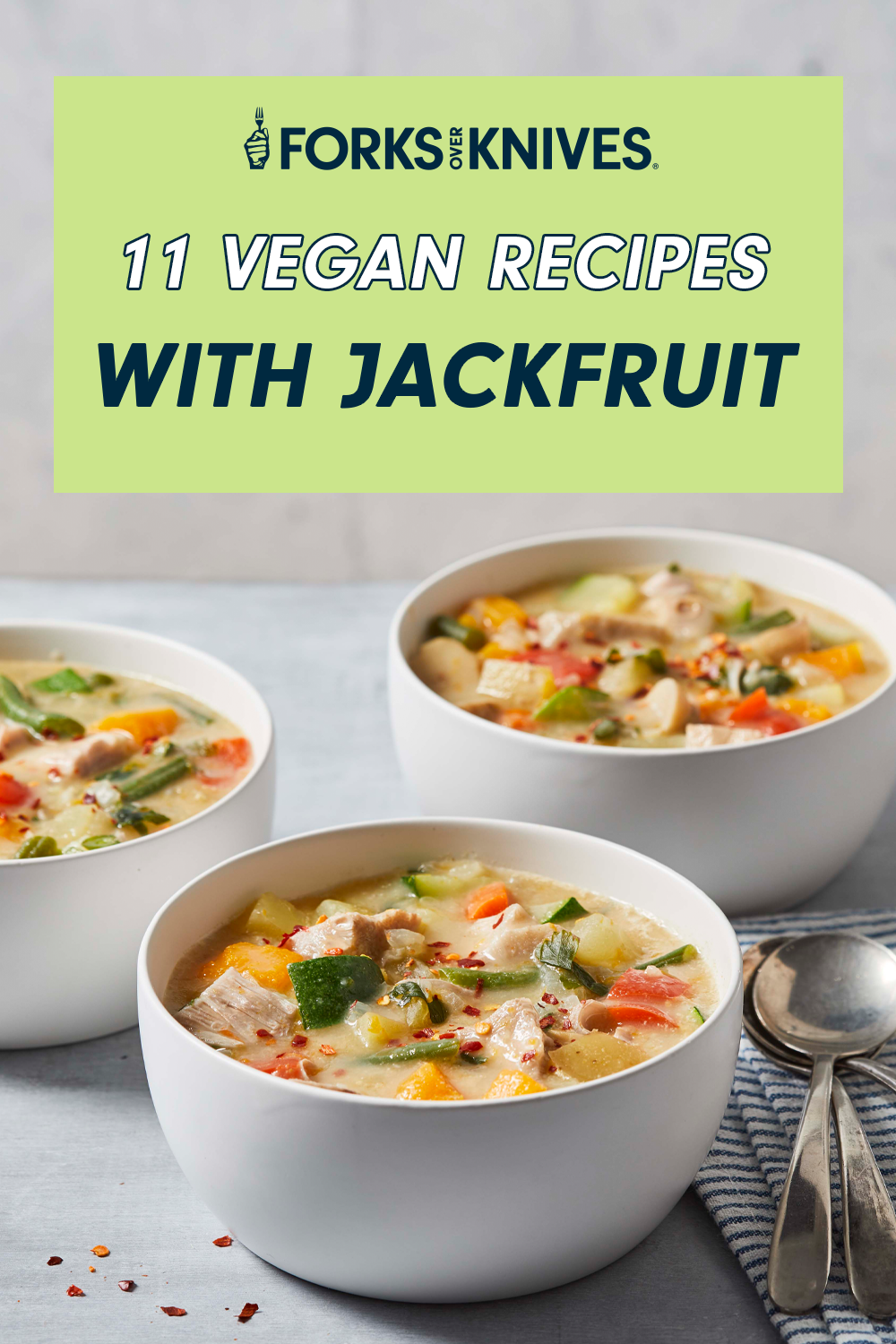 About the Author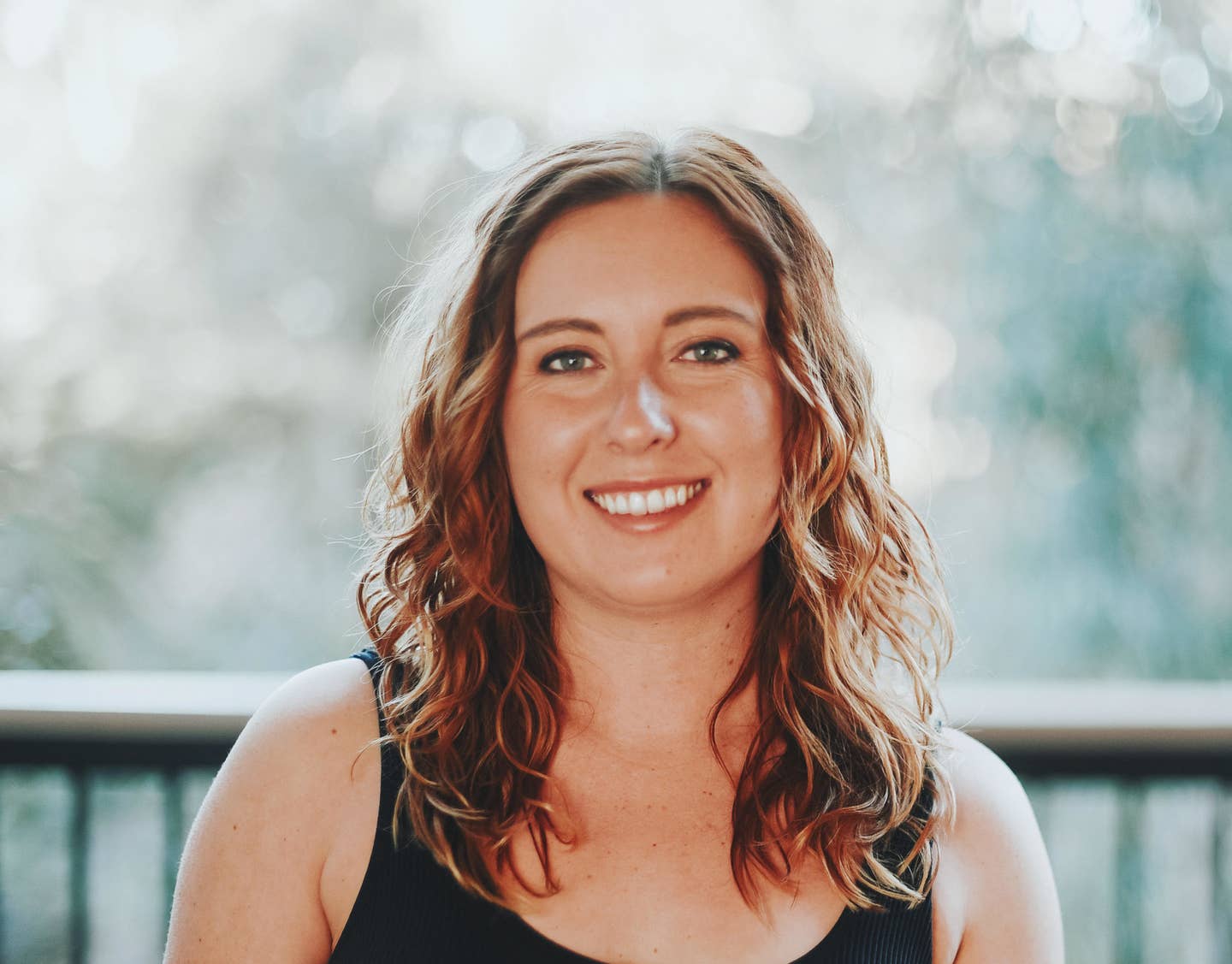 About the Author
Megan Edwards
Megan Edwards is a staff writer and content producer for Forks Over Knives. She is also a certified RYT-500 yoga teacher who is passionate about cultivating holistic wellness through plant-based eating, mindful movement, and meditation. With a background in journalism and marketing, she supports both the online presence and quarterly print magazine for Forks Over Knives.
See More from this Author
Free Download
Free 5-day meal plan!
Get a taste for healthy, fuss-free meal planning with this free five-day meal plan from Forks Meal Planner!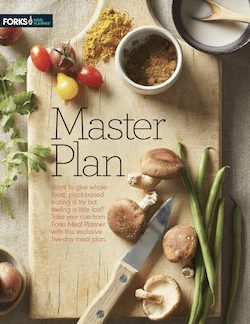 Join our mailing list
Get free recipes and the latest info on living a happy, healthy plant-based lifestyle.