Native to southern India, jackfruit is traditionally used in spicy curries, hearty kormas, and a toffeelike pudding called halwa. In recent years, however, the tropical fruit has started popping up in grocery stores and restaurants all over the United States.
What Does Jackfruit Taste Like?
Ripe yellow jackfruit has a subtly sweet flavor, often described as a combination of banana, apple, and mango. Young green jackfruit, on the other hand, has a neutral flavor and texture similar to shredded meat, making it a popular meat substitute in savory dishes.
Is Jackfruit Healthy?
Naturally rich in potassium and vitamin C and low in fat and calories, jackfruit is a healthful alternative not only to meat but also to highly processed imitation-meat products. One thing to watch out for, though, is sodium: When purchasing canned jackfruit, look for water-packed varieties, as brine-packed varieties can be very high in sodium.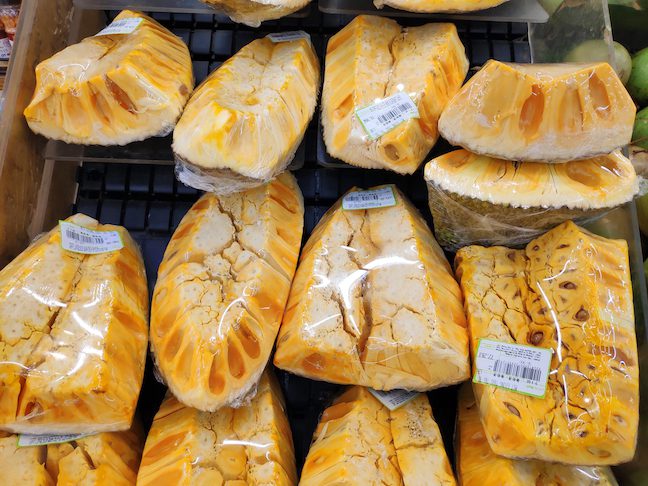 Where To Find Jackfruit In the Grocery Store
You can purchase jackfruit in several different forms. 
Fresh
Look for the fresh fruit in Asian markets or the supermarket produce section. A whole fruit can weigh up to 100 pounds, so grocers often package it in large pieces sold near other precut fruits and vegetables.
Shelf-Stable
Check your supermarket's Asian food section for canned jackfruit, which comes packed in water, brine, or sweet syrup. Skip the syrup versions to avoid unnecessary sugar. Brine-packed will be high in sodium, and even water-packed varieties can have added sodium. Check the label and thoroughly rinse and drain the fruit before using it in recipes. Trader Joe's also offers canned green jackfruit in brine. You may also find it in shelf-stable, vacuum-sealed bags, such as Edward & Sons Organic Young Jackfruit, which is available for purchase online. 
Refrigerated or Frozen
Some stores sell packaged jackfruit near other vegan foods in the refrigerator or freezer aisle. Upton's Naturals Original Jackfruit in the refrigerator case has just one ingredient (jackfruit) and only 15 milligrams of sodium per serving.
How To Cut Fresh Jackfruit
The fibrous flesh of this fruit is quite sticky; it may help to wear gloves. Once you're prepared here's what you need to do:
Slice the fruit in half, and use your hands or a knife to remove the fruit pods from the skin and core. 

Make a slit in each pod to remove the seeds. 

Chop or shred as desired. 
Tip: Slice any extra fruit into manageable wedges. Freeze them in freezer bags for up to six months
How to Eat It
Use the fruit to add heartiness and texture to a wide range of dishes, from sweet to savory. Here are just a few examples to get you started. 
Sandwiches: Sauté shredded green jackfruit with

barbecue sauce

for vegan pulled pork-style sandwiches.

Tacos: Substitute shredded jackfruit for chicken in tacos.

Casseroles: Use chunks in place of chicken.

Sweets: Add sweet ripe jackfruit to puddings, stir into oatmeal, or puree with frozen bananas for nice cream.
Can You Eat Jackfruit Seeds?
Yes, you can also eat the seeds. Boil the seeds 20 to 30 minutes (or roast in a 400°F oven 20 minutes) until tender. Let cool, then peel and eat.
Jackfruit Recipes
Here are some of our favorite recipes that feature the versatile fruit:
For more guidance in healthy cooking, check out Forks Meal Planner, FOK's easy weekly meal-planning tool to keep you on a plant-based path. To learn more about a whole-food, plant-based diet, visit our Plant-Based Primer.