Polenta is perhaps best known as a northern Italian dish, but it is also a staple in the cuisines of neighboring countries like Switzerland, Bulgaria, Romania, and Serbia, and a favorite side dish in Argentina. And it's a boon to plant-based cooks the world over. Here's everything you need to know to cook with this versatile ingredient. 
What Is Polenta? 
Polenta is the term used to describe cornmeal when it's cooked with a liquid (usually water) to make a hot cereal or porridge.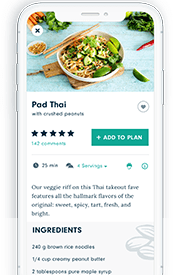 Try Our Award-Winning Meal Planner For Free!
Healthy eating has never been so easy.
Making polenta is similar to making oatmeal, only it calls for more liquid, more time, and more stirring (for the traditional preparation method). The result is a smooth porridge that is unbelievably versatile. It can be served immediately as a creamy base for sauces and stews. It can also be spread in a pan, cooled until firm, then cut into rounds, squares, or cubes and baked, grilled, or (air-)fried. 
Types of Polenta
Because polenta is just another name for cornmeal, you can make it with any type of cornmeal—it doesn't have to be labeled "polenta." The taste and consistency will depend on the type of cornmeal or polenta you use; the cornmeal that is labeled "polenta" or "corn grits" has been ground to yield a porridge-like consistency. Coarse-ground will be thick and textured; finely ground will turn out smooth and creamy.
The traditional method for cooking on a stovetop takes 45 minutes to an hour and requires regular—or constant, according to some purists—stirring. Cooks in a hurry can turn to one of these convenience products for faster results:
Pre-Cooked
Sold in tubes, this option can usually be found in the refrigerated section of the supermarket; you may also find shelf-stable tube-style polenta in the dry pasta aisle. Advantage: It's ready to eat and easy to slice. Caveat: Tube-style usually contains added sodium, so go easy on the salt in the rest of your dish when using it.
Instant
Pre-cooked and dehydrated, instant polenta just needs to be rehydrated with boiling water. Advantage: It's ready in 5 to 7 minutes.
Quick-Cooking
"Quick-cooking polenta" can refer to instant polenta or a fine-grain cornmeal that cooks in less time. Advantage: It tends to have more flavor than instant polenta and a shorter cooking time than regular. 
Grits vs. Polenta: What's the Difference?
Polenta is sometimes called "corn grits," which can easily be confused with "hominy grits," a hot cereal that's a staple in the American South. While both are made from corn, they undergo different processing steps. 
Polenta/cornmeal is made by simply grinding whole or degerminated corn kernels. Hominy, on the other hand, undergoes nixtamalization—a process in which corn kernels are soaked and cooked in an alkaline solution to remove the hulls. (Nixtamalization is also used to make masa harina, the flour used to make corn tortillas.) The hominy can then be dried and ground into a meal that is used to make hominy grits. 
Polenta and hominy grits have similar nutrition profiles. Their preparation instructions are slightly different, but cooked grits can be used in place of cooked polenta, and vice versa, in most recipes. 
Is Polenta Gluten-Free?
It is naturally gluten-free, but cross-contamination can be an issue. If you have gluten intolerance or sensitivity, look for a variety that is labeled as certified gluten-free.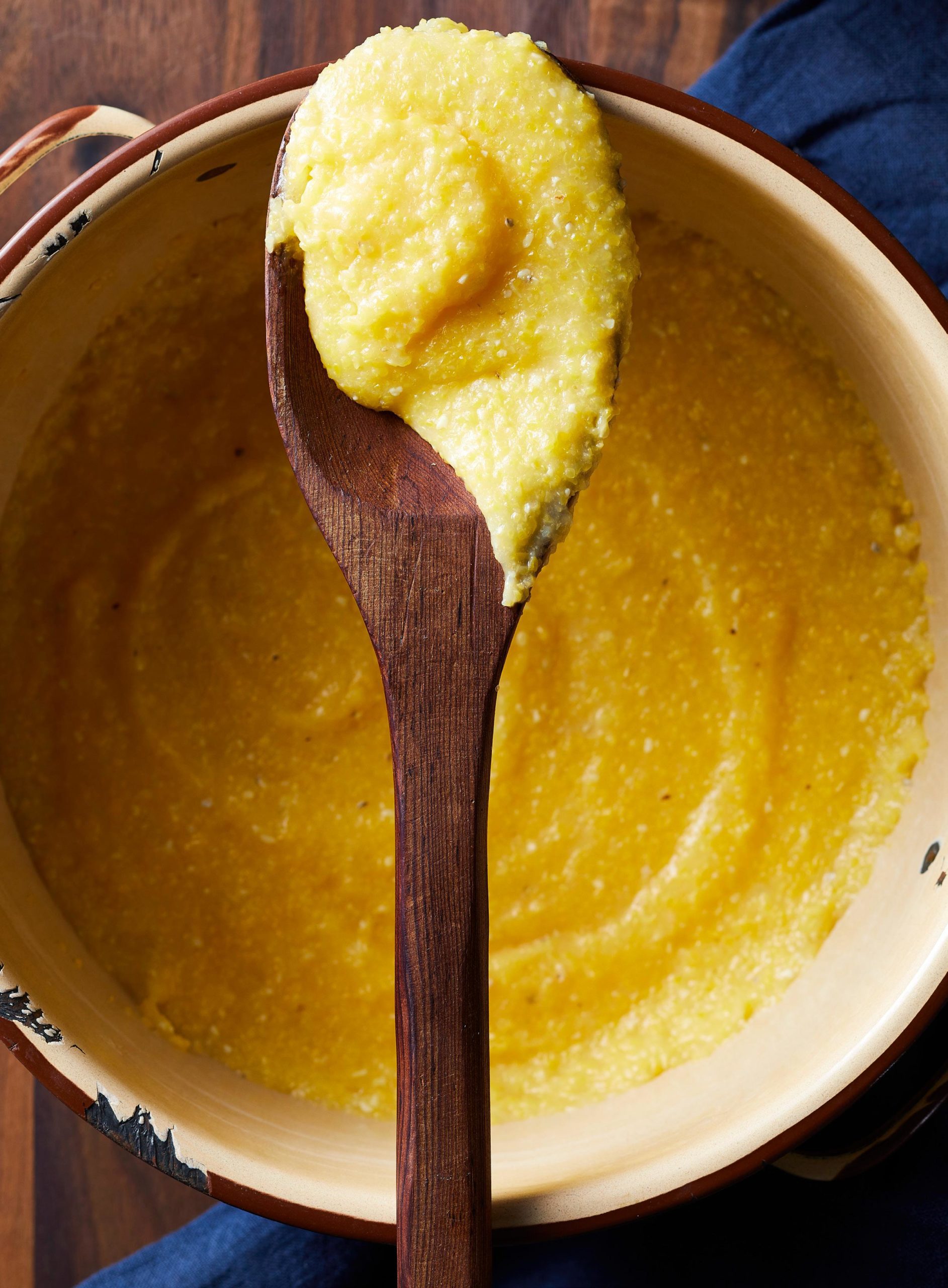 How to Cook Polenta
The basic ratio for cooking is 1 part polenta to 5 parts liquid (water or broth). Once you know that, it's just a matter of choosing the cooking technique below that best suits your kitchen style. 
Stovetop 
The stovetop method is best for controlling consistency and for making large batches. Whisk together 1 cup dry polenta and 5 cups water in a medium saucepan, cover, and bring to a simmer. Cook over low heat 45 minutes to 1 hour, whisking every 5 to 10 minutes. 
Microwave 
If you're making a small batch (e.g., just for two), you can simply use a microwave. Whisk together ½ cup polenta and 2½ cups water in a microwave-safe bowl. Cover, and microwave on high power 7 to 8 minutes, stirring every 2 minutes. 
Instant Pot/Multicooker 
Multicookers offer a no-fuss way to make old-fashioned polenta in a jiff. Whisk together 1 cup polenta and 5 cups water in the insert of the Instant Pot or other multicooker: Seal the lid and pressure cook on high for 15 minutes. Release pressure naturally. 
Slow Cooker 
Known for their set-it-and-forget-it ease, slow cookers make deliciously creamy polenta. Whisk together 1 cup polenta and 5 cups water in a slow cooker. Cook 3 hours on low. 
Things to Do with Polenta
The ultra-versatile grain can be used in virtually any kind of dish, from sweet to savory.
Pasta or rice alternative

: Serve any sauce or stew over a bed of it.

Pie topping:

Use in place of potatoes for pot pie or shepherd's pie.  

Casseroles:

Use as a base or a layer in casseroles.

Pizza:

Spread cooked on a pizza pan, and cool until firm. Bake 20 minutes at 450˚F, or until brown and crispy, then top with pizza toppings and bake 10 to 12 minutes more.

Stuffed vegetables:

Use cooked in place of other grains in stuffed vegetable recipes. 

Hot breakfast cereal:

Serve as a hot porridge for breakfast with fresh or dried fruit for natural sweetness. 

Appetizer base:

Bake polenta rounds (or squares) to use as a base for toppings like sauteed mushrooms or black beans and mango salsa. 

Bowl cuisine:

Use cooked polenta as a bowl's grain component.

Fries, croutons, and cubes

: Bake or air-fry sliced or cubed then serve as fries, add to salads, or fold into hearty stews.

Desserts:

Add dry flakes or cornmeal to baked good recipes, for extra texture and flavor.

Polenta Recipes to Try
These healthy, delicious recipes from Forks Over Knives showcase the grain's versatility. Whether you're craving sweet or savory, there's a dish to suit your mood.