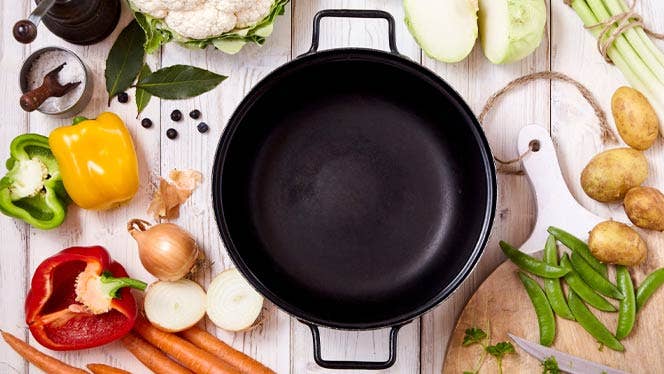 Our Favorite Nonstick Kitchen Tools for Easy Oil-Free Cooking
Eating whole-food, plant-based means cutting out as many processed foods as possible—including oil. Despite popular claims that some oils, such as olive or avocado, are health foods, all oils are a form of processed, concentrated fat that's been stripped of its original nutritional value. To enjoy a diet full of abundance that keeps you satiated without the stress of counting calories, we recommend skipping oil altogether and using oil-free cooking techniques when preparing your meals.
Cooking without oil may seem daunting at first, but it's easier than you think—especially when your kitchen is equipped with the right tools. From nonstick muffin tins that eliminate the need to grease up baked goods, to air fryers that deliver the same crispy results you love sans oil, these essential items will make healthy cooking a breeze. Having a few pieces of oil-free cooking gear ensures your whole-food, plant-based lifestyle is manageable, simple, and oh-so-delicious. Editor's Note: FOK may collect a small share of sales from some of the links on this page, though it doesn't influence our product picks.
A frying pan with a ceramic lining that resists scratching is your No. 1 choice for oil-free sautéing. This frypan is light, easy to clean, and big enough for family-size sautés and stir-fries. Its heatproof handle lets you finish dishes in the oven or under the broiler and features an ergonomic design to make maneuvering the kitchen as easy as possible. The PFAS-, PFOA-, lead-, and cadmium-free coating won't release chemical fumes when heated to high temperatures so you can cook up a storm without worry.
Oven air-frying is made simple with this sleek mesh tray that allows hot air to circulate freely around food so it gets mouthwateringly crisp and golden without any oil. The Signature Copper Crisper measures in at 17.5 inches by 12 inches, ensuring there's plenty of room to spread vegetables in a single layer, which is key to achieving a satisfying crunch. The accompanying pan catches crumbs for a quick cleanup, and the nonstick coating guarantees an easy wash after you've indulged in a tasty air-fried treat.
Say goodbye to greasing baking pans and choose a colorful model made from flexible nonstick silicone. This six-cup muffin pan also comes in handy for freezing broths, sauces, and nice cream in small individual portions. Simply apply a little pressure on the bottom of each cup and watch how smoothly your baked goods pop right out. The silicone material is much easier to clean than traditional metal pans, and the stackable design makes for easy and efficient storage. It's microwave- and dishwasher-safe, and oven-safe at temperatures up to 375°F.
The ultimate oil-free appliance, an air fryer will become your best friend for reheating leftovers and creating healthy versions of your favorite greasy foods. The easy-to-use interface features preset cooking programs so crispy snacks are ready with just a click of a button. Perfect for small- to medium-size households, the compact shape is great for everyday use and cooks your food 150% faster than a standard oven. Plus, the dishwasher-safe parts ensure easy cleanup after enjoying a satisfying meal.
The difference between a good pair of tongs and a great pair? The grip and the tip. Nonstick silicone gives you a tight hold on slippery foods that need to be tossed or flipped without making a mess. These stainless-steel tongs feature the standard scalloped edge, but the silicone ends mean you can safely use it with all the pots and pans in your kitchen without worrying about scratching up your cookware. The handy ring-pull locking system at the base makes these tongs easy to open and close as you switch between cooking tasks.
An electric multicooker dramatically speeds up all the cooking tasks you'd usually do on a stovetop, saving you time on busy weeknights when spending an hour in the kitchen just isn't doable. But the best aspect of this handy appliance is the tight-sealing lid that holds in moisture so oil-free dishes won't stick or burn. This 6-quart Instant Pot is an all-in-one pressure cooker, slow cooker, and rice cooker that's big enough to feed a family of four. If you're new to the world of multicookers, check out our handy Instant Pot guide, which includes basic multicooker how-tos and recipe inspiration.
In addition to making any recipe look spectacular, fluted bundt pans help dense cake batters (many vegan recipes fall into this category) cook all the way through. This high-quality Boxiki pan has a steel frame to keep it from wobbling when filled with batter, while the silicone mold releases the finished cake with ease. The long-lasting material is made from BPA-free and FDA-approved food-grade silicone, making it a great addition to your collection of oil-free baking gear.

A thin, rigid-edge turner is key for flipping delicate oil-free foods and removing tender veggies from roasting pans. Light but sturdy, the OXO turner is shaped to handle both small and large tasks, and its sleek design makes it easy to clean. The nylon material effortlessly slides beneath sticky foods without breaking them apart and the soft non-slip grip handle ensures comfortable cooking.
A shallow tart pan with a removable bottom is a dream for oil-free baking because it provides easier access when unmolding. This Gobel pan is made in France with sturdy PFOA-free nonstick-coated steel so all your pies, vegan quiches, and tarts end up looking just as delicious as they taste. The 9.5-inch size can be used for most recipes that call for traditional 8- or 9-inch pie pans.
This home-baking essential make oil-free layer cakes, including birthday cake, a no-fuss reality. The 100% silicone pan withstands temperatures as high as 500°F and releases finished cakes with ease so they always come out looking pristine. The high-quality silicone will maintain its shape even after hundreds of bakes, and it's safe to use in the freezer, microwave, and dishwasher.
Silicone sheet pan liners aren't just for baking: They can turn any sheet pan into a nonstick roaster for savory foods, as well. The fiberglass mesh built into Silpat mats promotes even heat distribution and makes it stronger than silicone-only liners. Not to mention, the flexible material rolls up into a small tube shape for easy storage.
Dutch ovens are ideal for slow-cooking soups, stews, and sauces, caramelizing veggies, and whipping up homemade loaves of bread. The enamel coating on this classic pot prevents sticking, while heavy-duty cast iron promotes even heating to keep oil-free foods from scorching. The eye-catching color of this model is also great for adding some pizzazz to your kitchen. And don't be fooled by the low price: This Dutch oven performs just as well as versions that cost hundreds of dollars more.
Get perfectly cooked vegetables while locking in all their nutrients when you use this nifty silicone steamer basket. The versatile design works well in stovetop saucepans, microwaves, and multicookers, and the extra-long handles make it easy to lift and lower without spilling food. Made from flexible silicone, it's dishwasher safe and won't scratch nonstick pan coatings.
This practical tool is named for its curved, half-moon shape, which lets you rock it back and forth to slice pizza, baked goods, and casseroles. The rounded edge on this simple, sharp gadget lets you cut food cleanly without damaging your nonstick pans. Heat-resistant nylon makes it perfect for cutting into dishes that need to be portioned straight out of the oven, and the dishwasher-safe material promises easy cleanup.
If a silicone mat isn't your thing, you can line any pan with this reusable parchment paper for an instant nonstick surface and easy cleanup. The professional-grade precut sheets from King Arthur can be tossed immediately or deployed for several uses before making their way to the trash. Perfect for lining cookie sheets, roasting veggies, or rolling out pizza dough on a nonstick surface, these parchment paper liners are a great addition to your oil-free kitchen.
It scrapes! It stirs! It scoops! It spoons! But the one thing the silicone head on this handy utensil won't do is scratch your nonstick cookware. In addition to its multitasking shape, this spoon has a wooden handle that is tough enough to last for decades. Easy to clean and designed for a comfortable grip, your oil-free meals will become infinitely easier to whip up with this special spoon at your side.
Editor's Note: Megan Edwards contributed to this article.
Free Download
Free 5-day meal plan!
Get a taste for healthy, fuss-free meal planning with this free five-day meal plan from Forks Meal Planner!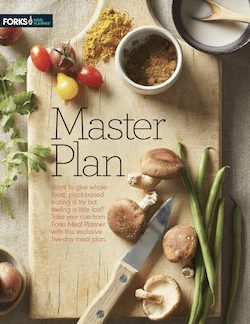 About the Author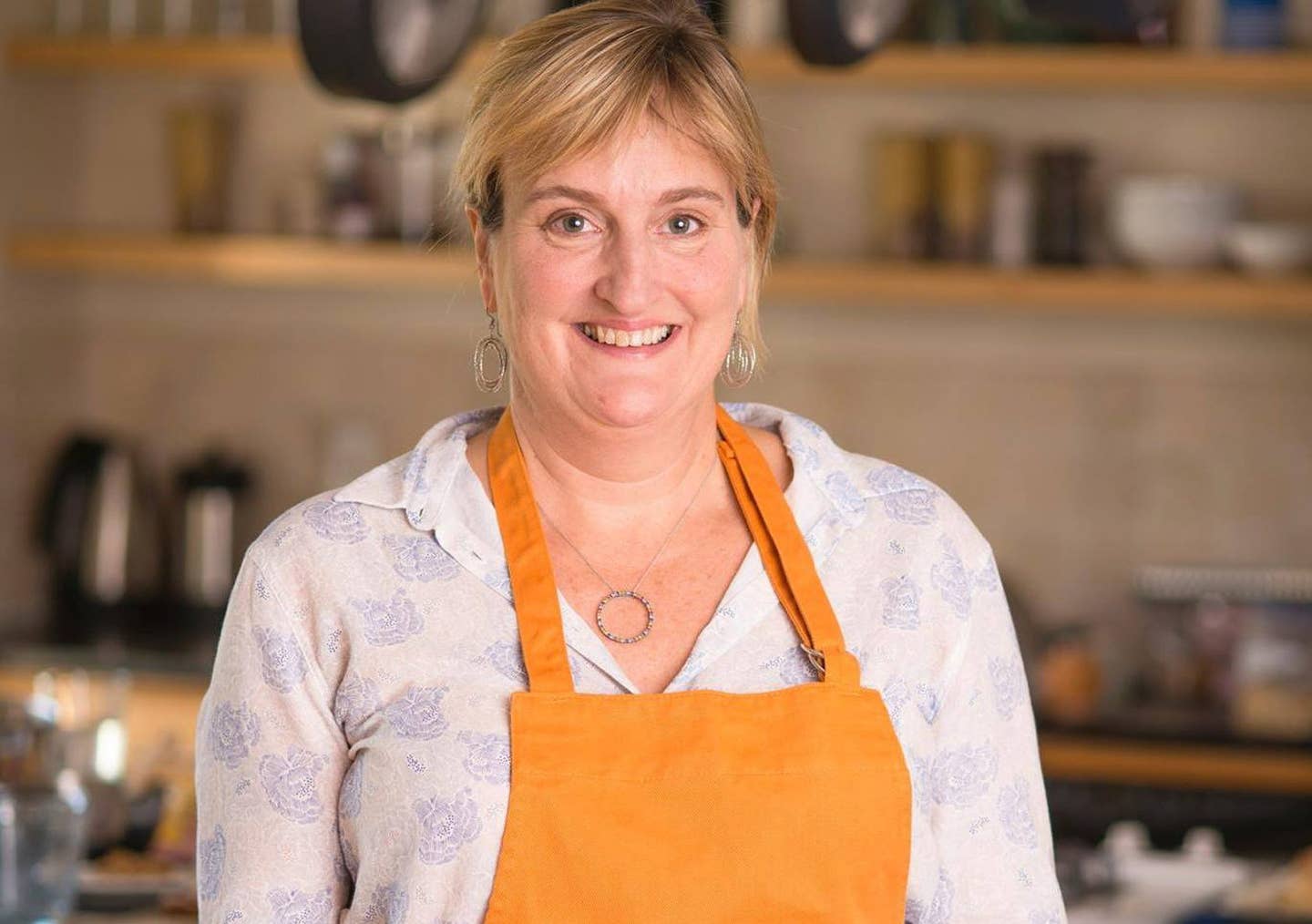 About the Author
Mary Margaret Chappell
When Mary Margaret Chappell first started out in the plant-based food world as a writer, editor, and recipe developer, she was a bacon-loving former pastry chef who didn't think she could ever cook without butter. Fourteen years, four cookbooks, dozens of cooking classes, and hundreds of recipes later, her favorite thing in the world is sharing the tips, techniques, and recipes that show just how easy and delicious whole-food, plant-based cooking can be. The former food editor of
Vegetarian Times
magazine has done away with her dependency on butter and is honing her skills at baking with natural sweeteners. Chappell lives in France, where plant-based eating can often be a challenge, but the fruits, vegetables, grains, and legumes available are simply amazing. Find her on
Instagram
and
Facebook
.
See More from this Author
Join our mailing list
Get free recipes and the latest info on living a happy, healthy plant-based lifestyle.