Asparagus have been a sought-after delicacy since ancient times. Thick or thin, vibrant green or creamy white, these healthful harbingers of spring have a lot to offer. Read on for our tips on selecting and preparing asparagus, as well as plant-based recipes to try.
When Is Asparagus in Season?
Asparagus spears are actually the young shoots of a fern-like plant that sprout up (and up!) when soil temperatures go above 50˚F. The long, bud-tipped stalks are one of the first locally grown produce items to hit the market in spring. Nowadays, asparagus are available year-round, but spring remains the tastiest (and least expensive) time to buy them. (Fun fact: Modern cooks are not the first to enjoy their extended availability, either. The succulent spears were such a favorite with Louis XIV in the 17th century that his gardener at Versailles devised a greenhouse system the Sun King could enjoy them throughout the seasons.)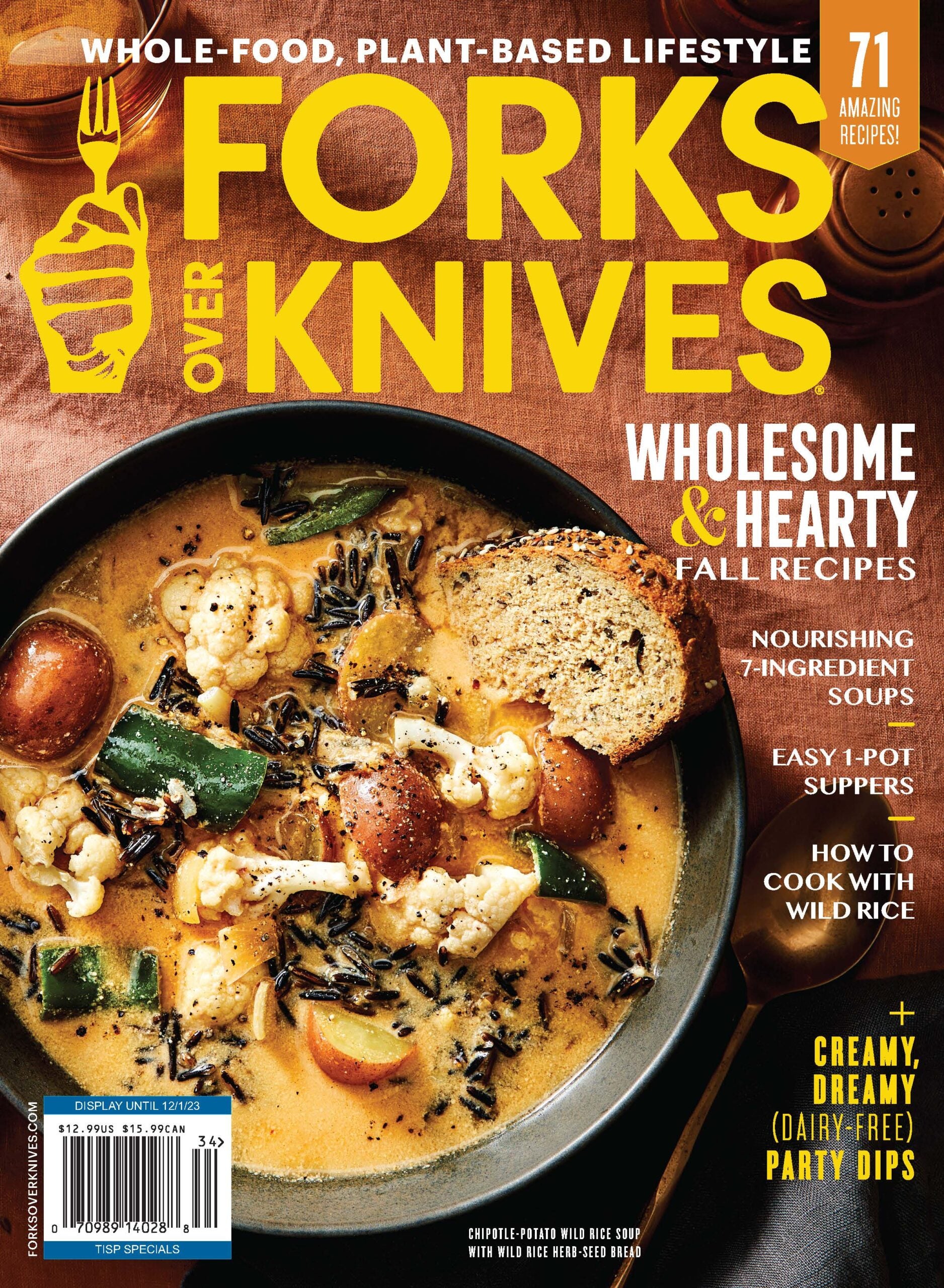 The Fall 2023
Magazine Is Here!
Our gorgeous "bookazine" features expert tips, inspiration, & comforting recipes for fall.
Different Types of Asparagus
Asparagus comes in a range of colors, with slight variations in flavor and texture among them.
Green 
Green asparagus have a mild, grassy flavor and are the most common variety found in the United States. Purple-tinged tips are a sign of freshness and tenderness. 
Purple
These sweet Italian varietals have a sugar content that can be up to 20 percent higher than green asparagus. Their dramatic color is only skin deep, however, and vanishes when the spears are cooked. 
White
White asparagus are cultivated by mounding soil or sand around the stalks as they grow to deprive them of sunlight and prevent them from turning green. The resulting spears have a subtle nutty flavor and creamy texture. 
Pencil 
Pencil asparagus are a marketing term for ultra-thin spears that have been harvested from younger plants. They are usually tender enough to eat raw.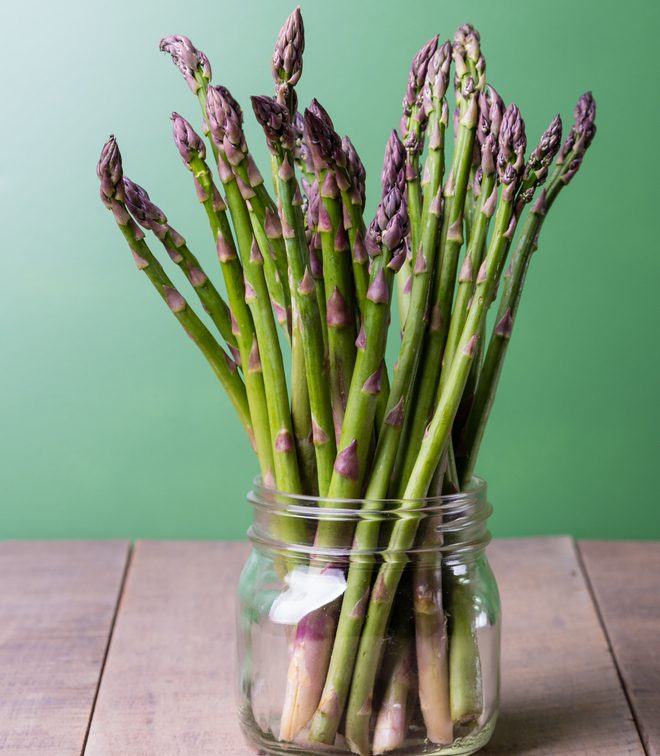 How to Select and Store Asparagus
Look for asparagus with tightly closed tips, firm stalks that don't flop or bend, and ends that seem fresh and moist, not woody or dry. Select bunches of similar-size asparagus so that they cook evenly in a given recipe. 
To store, place spears upright in a vase or pitcher filled with water and store in the fridge. This method will keep the stalks hydrated without exposing them to excess moisture.
Fat vs. Thin Stalks
Stalk size depends on the age of the plant rather than the age of the shoot: The older the plant, the thicker the spear. When harvested and stored correctly, thick asparagus spears can be as tender and are sometimes more flavorful than thinner stalks. Deciding which to buy depends on how you plan to use them. Thin spears work best in lightly cooked dishes and raw salads. Thick asparagus stand up better to the high heat of roasting, grilling, and stir-frying.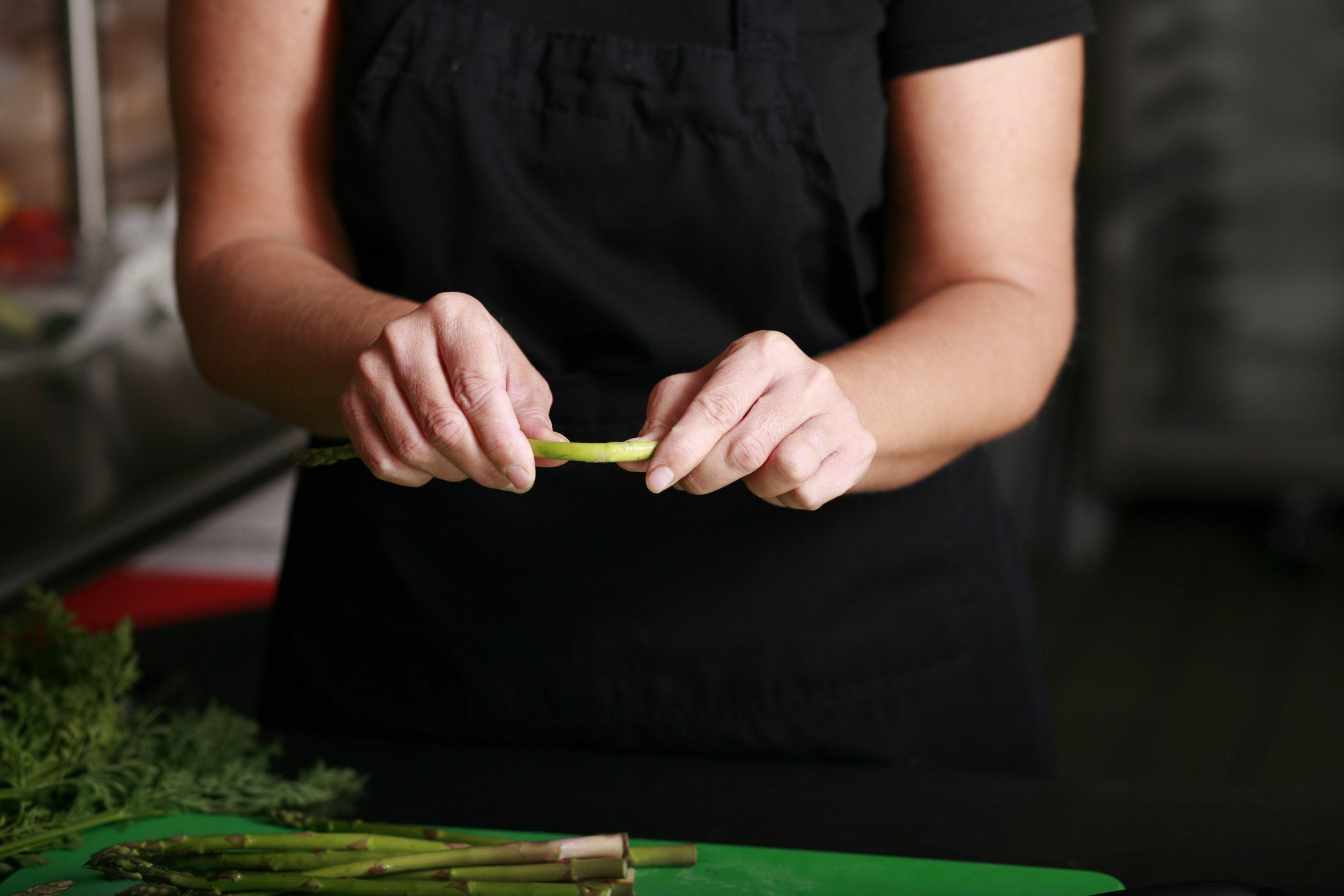 How to Trim Asparagus
Asparagus spears have a natural breaking point between the woody end and the tender stalk. Some cooks will recommend breaking each spear one by one, but since the point is generally at about the same spot for all the spears in a bunch, you can just break one, and then cut the rest with a knife. Simply bend one spear until it snaps to determine the natural break spot; then use it as a guide to trim the remaining spears with a knife.
Can You Eat Asparagus Raw?
All asparagus can technically be eaten raw, but it's often tough and difficult to chew, especially thicker stalks. If you'd like to eat raw asparagus, opt for ultra thin varieties, such as the pencil variety mentioned above. Or use a vegetable peeler to shave it lengthwise into long, thin strips that you can add to salads.
6 Ways To Cook Asparagus
The key to perfect asparagus is not to overcook it. Follow these simple instructions for perfectly crisp-tender stalks every time. 
Boiling 
Drop trimmed asparagus into a large pot of boiling water. As soon as the water returns to a rolling boil, remove from heat, and drain. Best for cooking large amounts and asparagus that will be used in other recipes. 
Skillet Steaming 
Fill a large skillet with ½ inch of water, and bring to boiling. Spread trimmed spears in the skillet, cover, and cook 3 to 5 minutes, or until bright green and tender. Best for cooking a few servings to be eaten right away. 
Microwave 
Roll up to 1 pound trimmed spears up in damp paper towels, and microwave on high power 3 to 4 minutes. Best for cooking smaller amounts. 
Grilling
Toss trimmed spears with desired seasonings, such as garlic, lemon juice, and salt. Place stalks directly on hot grill, perpendicular to the grates. Grill, rotating with tongs periodically, until stalks develop a few blackened spots. (Stalks should still be crispy.) 
Air-Frying
Toss trimmed spears with desired seasonings. Place in a single layer in the air-fryer basket. Air-fry at 400 ℉ for 7 minutes. Best for quick, crispy asparagus.
Roasting
Preheat oven to 400°F. Line a shallow baking pan with parchment paper or a silicone baking mat. Toss trimmed spears with desired seasonings. Place in a single layer on prepared baking pan. Roast 7 to 9 minutes or until just tender. 
Save Those Asparagus Ends!
Don't toss the woody asparagus ends once they've been trimmed. Instead, simmer them in just enough water to cover to make a luscious broth for soup, pasta sauce, and risotto. You can also slice them very thin (this breaks up any tough fibers) and add them to soup, pasta sauce, and risotto.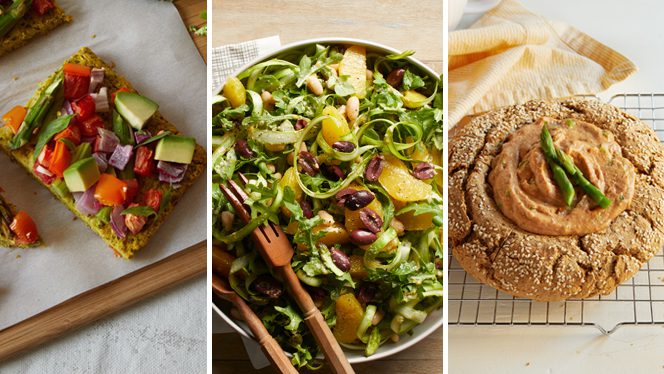 Asparagus Recipes 
Get cooking with these favorite vegan recipes from Forks Over Knives.
For more seasonal recipes, check out Forks Meal Planner, FOK's easy weekly meal-planning tool to keep you on a healthy plant-based path. To learn more about a whole-food, plant-based diet, visit our Plant-Based Primer.