Tahini is best known for its starring role in hummus, to which it adds deliciously nutty flavor. But hummus isn't all that tahini can do. The rich sesame paste is a staple ingredient throughout the Middle East, where it's used to season everything from salad dressings to sweets, including ice cream and fudge (halva).  In the U.S., finding tahini used to mean a trip to a health food store or Middle Eastern grocery, but the smooth seed butter can now be found alongside other nut and seed butters in most supermarkets. And as tahini has become more available, chefs and cooks have found more ways to use it in the kitchen. Read on for everything you need to know about cooking with the all-natural, ultra-versatile ingredient.
What Is Tahini?
Check the nutrition label of a jar of tahini and you'll find just one ingredient: sesame seeds. These have been ground into a smooth paste that is both sweet and nutty, with a pleasant hint of bitterness. 
Because tahini contains no extra ingredients or emulsifiers, it can—and usually will—separate into oil (on the top) and solids (at the bottom), just like an all-natural peanut butter. A quick stir or shake should be enough to return it to a cohesive pourable or spoonable state.
Types of Tahini
The most common type of tahini is a tan paste of hulled, lightly toasted sesame seeds. Unhulled tahini, made with whole seeds, has a darker color along with a more pronounced flavor. Black sesame tahini is a robustly flavored type of unhulled tahini made with black sesame seeds. Raw tahini, made from seeds that haven't been roasted before grinding, has the mildest flavor of all.
As tahini's popularity has grown, so have the selection possibilities. Ultimately, the quality of a tahini depends on the quality of the sesame seeds. Many smaller-batch brands carefully source their sesame seeds to produce tahini with fuller, more complex flavors. Ethiopian sesame seeds are considered the gold standard for making tahini because of their higher fat content and buttery flavor, and some brands will even specify the Ethiopian origin of their sesame seeds.
Selection and Storage
When shopping for tahini, look for brands in clear glass jars that let you see the contents. Fresh, good-quality tahini will have only an inch or so of oil floating on top and the paste on the bottom should look thick but not granular or rock-hard. Avoid brands that have added salt or oil; sesame seeds should be the only item in the ingredients list.
Tahini has a long shelf life (2+ years) and can be stored like other nut and seed butters, either at room temperature or in the refrigerator. Always stir before using to incorporate any solids that have accumulated on the bottom.
How to Use It
Tahini is most commonly added to dressings, spreads, and sauces (see our classic Tahini Dipping Sauce). But for those following a whole-food, plant-based diet, tahini wears many hats in the kitchen. Here's how FOK culinary project manager Darshana Thacker uses it:
Baked goods: Use it in place of butter and oil in dough, batters, and crumble toppings.
Dairy-free cream: It can be used in place of plant milks or blended tofu to add a rich, creamy dimension to soups, stews, sauces, and even casseroles.
Crispy coating: Toss potatoes and vegetables with tahini or a tahini-based sauce before roasting, air-frying, or grilling to give them extra crunch and flavor. 
Nut substitute: The sesame paste's subtle, nutty flavor can stand in for other nuts and nut butters. (Note: The FDA classifies sesame as a major food allergen along with nuts.)
Sesame oil alternative: Tahini may have Middle Eastern origins, but sesame seeds play an important role in many culinary traditions around the globe, especially African and Asian cuisines. Try subbing tahini for sesame oil or Asian sesame paste in stir-fries, noodles, stews, and rice dishes. 
Easy Tahini Pie Crust
Makes one 8-inch crust
This three-ingredient recipe shows how tahini can replace lard in a basic pie crust. Use it with your favorite pie and tart recipes.
1 cup whole wheat flour

1 pinch of salt

2 Tbsp. tahini
In a medium bowl stir together the flour and salt. Add tahini. Use a fork to rub tahini into the mixture until it resembles coarse sand. Stir in ⅓ to ½ cup hot water until a smooth, firm dough forms. Allow dough to cool 10 minutes before using.
Recipes
Tahini brings a touch of nutty, buttery flavor to these whole-food, plant-based recipes from Forks Over Knives.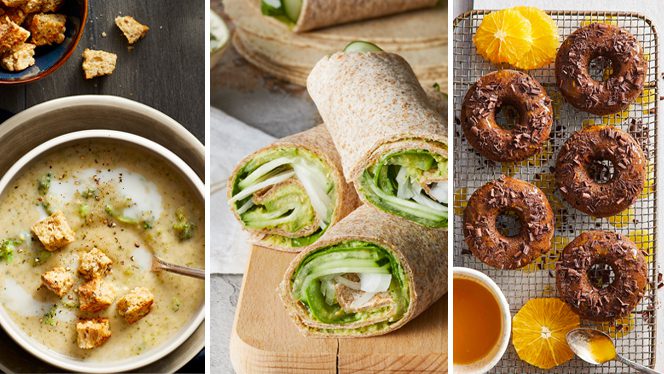 For more guidance in healthy cooking, check out Forks Meal Planner, FOK's easy weekly meal-planning tool to keep you on a plant-based path. To learn more about a whole-food, plant-based diet, visit our Plant-Based Primer.