If there's one bean to keep on hand in your kitchen, it's chickpeas. Rich in fiber and B vitamins, the round, nubbly beans are so versatile that even their cooking liquid (aquafaba) can be used as an ingredient in recipes. Read on for prep tips, recipe ideas, and information on chickpeas in all their forms.  
What Are Chickpeas? 
Like black beans, soybeans, lentils, and peas, chickpeas are a type of legume. They are a staple in Mediterranean, Middle Eastern, and Indian cuisines, and are the base ingredient for falafel, chana masala, and hummus.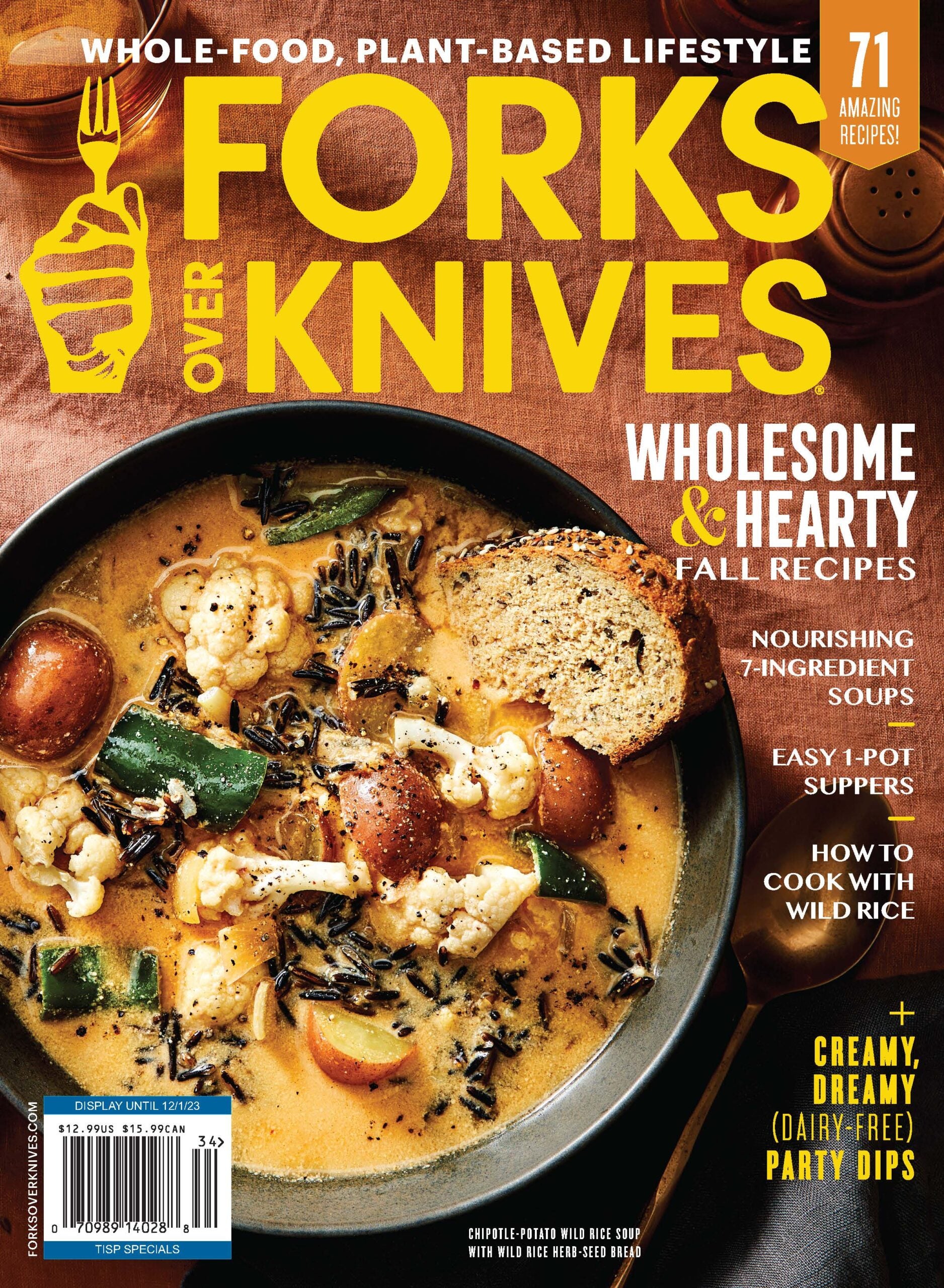 The Fall 2023
Magazine Is Here!
Our gorgeous "bookazine" features expert tips, inspiration, & comforting recipes for fall.
Tan, pebble-like kabuli chickpeas are the most familiar variety, but they can also be red, yellow, or pale brown. In the United States, chickpeas are primarily grown in Northern states (including Washington, Idaho, and North Dakota), but the pulses thrive in all climates. You can even grow them in your own garden. 
Are They the Same as Garbanzo Beans?
Yes, chickpeas and garbanzo beans are two names for the same bean. "Chickpea" comes from the French term pois chiche (pois means pea). "Garbanzo" is derived from garbantzu, the Basque word for the bean. "Garbanzo" was the term adopted by Spanish cooks (the Basque country straddles a region between France and Spain), and spread to Spanish-speaking countries around the world. Chana, gram, and besan are common Indian terms for chickpeas and chickpea products: Chana dal are split chickpeas, while gram and besan are most often used to describe chickpea flour.  
Canned 
Perfectly cooked and ready to use, canned chickpeas are the ultimate convenience food. One 15-oz. can contains 1½ cups cooked chickpeas. Canned chickpeas include a bonus ingredient: their cooking liquid, aka aquafaba. It has the perfect consistency and emulsifying properties for an egg substitute, meringue alternative, sauce thickener, or roasted vegetable coating (because it helps seasonings stick). 
Dried 
Cooking your own chickpeas from dried gives you more control over their final texture. Stick to the average cooking time and you'll have firm-on-the-outside, tender-on-the-inside beans that work well in soups and salads. Extend the cooking time for softer chickpeas that can be blended into smooth hummus or other dips, such as Smashed Chickpea-Avocado Dip.
Cooking Dried Chickpeas
Below are a few ways to cook 1 cup of dried chickpeas. (Once cooked, you'll have about 3 cups.)  Be sure to pick out any stones or shriveled or discolored beans before you start soaking or cooking.
Stovetop
Place chickpeas in a bowl. Cover with 3 cups cold water. Let soak 4 hours, or overnight. (If you don't have time for a multi-hour soak, bring them to boiling in a saucepan, remove from the heat, cover, and let stand 1 hour.) Sort through the dried chickpeas to remove any grit or floating matter, then drain and rinse. Bring the soaked chickpeas to boiling in a saucepan with 4 cups water, cover; reduce heat and simmer 45 minutes to 1 hour, or until tender.
Instant Pot (Multicooker)
Cook unsoaked chickpeas with 4 cups water on high pressure 45 minutes; then allow pressure to release naturally. Pre-soaked chickpeas only need to cook 7 to 10 minutes.
Slow Cooker
Cover unsoaked chickpeas with 2 inches of water; cook on low heat 6 to 8 hours. 
Green (Fresh) 
Fresh or green chickpeas are a specialty produce item at farmers markets in early summer. Their flavor and texture is similar to fava beans—only they're a lot less work to prepare, since all you have to do is shell their fuzzy pods. Cook them 10 to 12 minutes in lightly salted, boiling water.
Storage 
Cooked chickpeas will keep for three to five days in a container in the fridge. They also freeze well. When freezing, pack them in 1½-cup portions (the same amount as in a 15-oz. can) for convenience. 
Chickpea Flour
Chickpea flour, also called bean, gram, or garbanzo bean flour, is made by milling dried chickpeas to a fine powder. It has a sweet, mildly nutty flavor, and it works especially well in flatbreads, pancakes, and pizza crusts. Chickpea flour can also be substituted for up to one-third of the flour in a baking recipe. Because of its high protein content, chickpea flour browns more quickly than wheat flour, so you should watch cooking times carefully when baking with it. 
Chickpea Skins: On or Off?
Cooked chickpeas have a thin, translucent skin that's totally edible; most people don't even notice them, and they are a good source of dietary fiber. Some cooks prefer to remove the skins, especially when making hummus. Peeling cooked chickpeas one by one can be time-consuming, but there is an easier way: the baking soda method. 
It works first by softening skins, then providing a little extra friction when rubbing the skins away. Here's how to do it: Toss 1½ cups cooked, patted dry chickpeas with 1½ teaspoons baking soda in a microwave-safe bowl. Microwave 1 to 2 minutes, or until hot. Pour cold water over the hot chickpeas, and rub them between your hands to loosen and remove the skins. Drain, and repeat two to three times with fresh, cold water until all of the skins have come off. 
The Best Snack: Crispy Roasted Chickpeas
With a nut-like flavor and crunch, roasted chickpeas make a great snack or soup/salad topper. Try our Jordanian Roasted Chickpeas recipe to start, then improvise with your favorite seasonings the next time around. Roasted chickpeas can also be made in an air fryer; simply set the air fryer to 400˚F, and cook 12 to 15 minutes.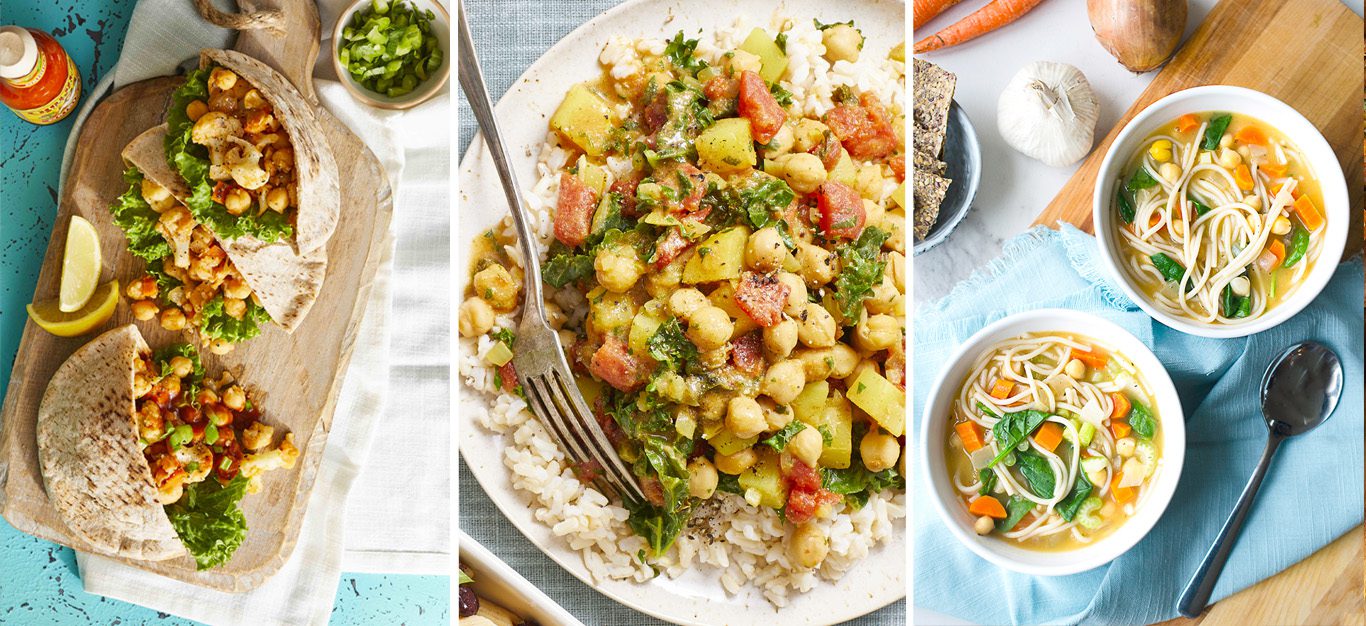 More Chickpea Recipes
Chickpeas can be used in any recipe that calls for beans, and they make a wonderful meat substitute in place of chicken or turkey. Find more recipe ideas in our Top Healthy Chickpea Recipes roundup.