When I was just 13 years old, I developed pain in my elbow. The doctor diagnosed me with tennis elbow, though I hadn't been engaging in the sort of repetitive motion that would cause the condition. That subsided, but aches and pains began flaring up in different joints. I was diagnosed with bursitis many times throughout my adolescence and early adult years, in my knees, elbows, hip, and more. My symptoms usually settled down with medication, and I got used to the routine. 
But in December 2000, my ankles and wrists swelled up, and the usual treatment didn't help.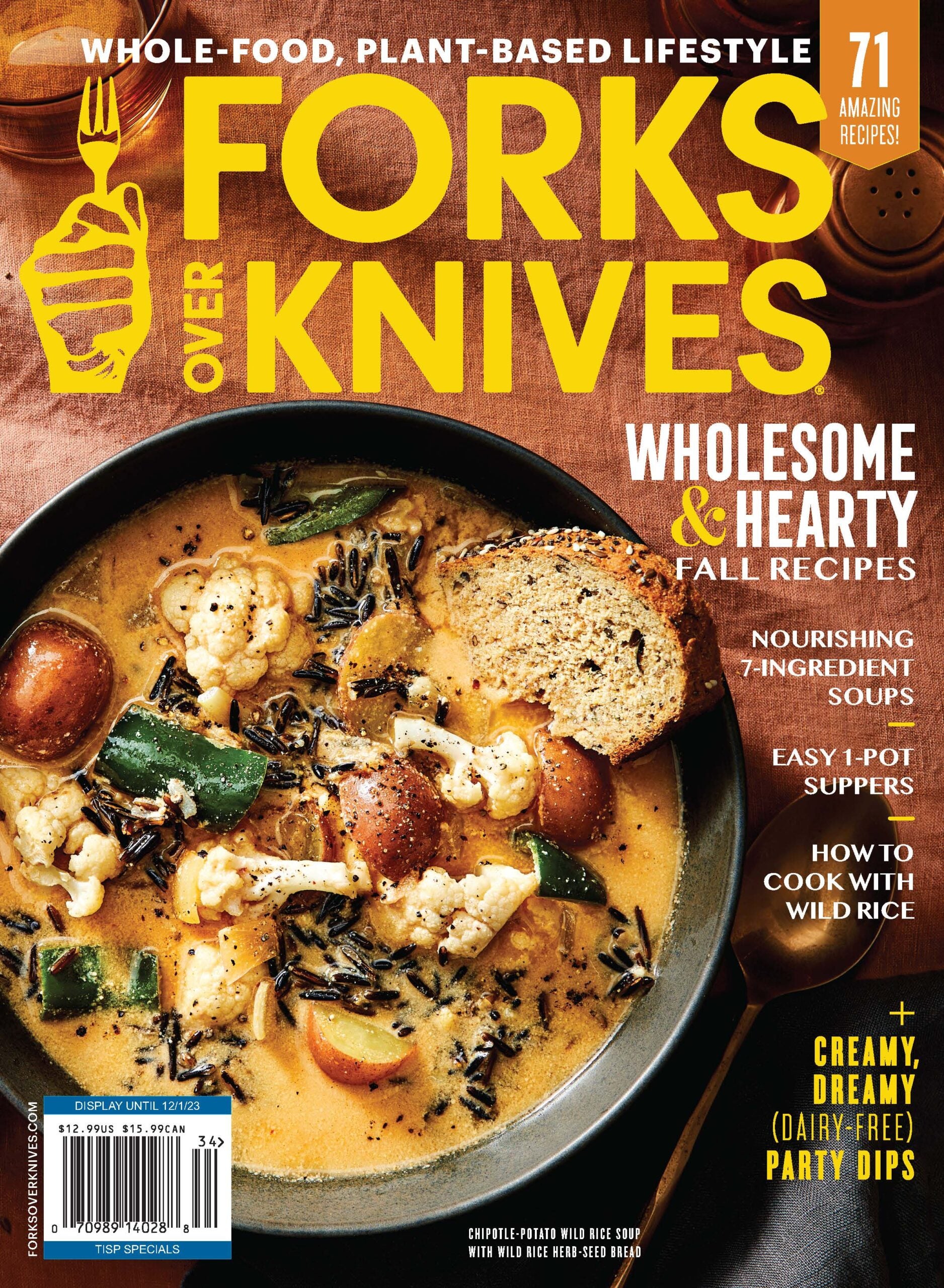 The Fall 2023
Magazine Is Here!
Our gorgeous "bookazine" features expert tips, inspiration, & comforting recipes for fall.
That was when, at 34 years old, I finally received an accurate diagnosis: ankylosing spondylitis, a disease similar to (and treated like) rheumatoid arthritis. 
For three years, my doctors tried to find a medication that would enable me to walk without pain. Eventually, they settled on a regimen that helped somewhat. I wasn't able to do high-impact exercises, such as running, but I was usually able to do lower-impact exercises, such as walking, except during my worst flare-ups. I continued this way for about 10 years.
First Taste of Plant-Based Eating
In fall of 2017, I was looking to lose some weight. I'd always eaten what I believed to be a healthy diet (meat, dairy, and "plenty" of vegetables), and I tried to steer clear of highly processed foods (chips, crackers, etc.). Still, I'd packed on extra pounds over the years and had trouble shedding them. Then I spoke with a dear friend who had lost 100 pounds. She referred me to the Forks Over Knives website, where I learned how a whole-food, plant-based diet could be beneficial for weight loss. I downloaded the FOK recipe app and started making whole-food, plant-based meals right away. 
I didn't go all in on WFPB overnight. Learning to cook without oil and animal products took some time, and I had a really hard time letting go of cheese. For the first few months, I ate WFPB during the week and had one non-WFPB meal every weekend. Gradually, I realized the positive impact that this new way of eating was having on my health, and I began to view it less as a weight-loss diet and more as a permanent lifestyle change. I phased out my "cheat days" and began eating WFPB 100 percent of the time. 
The weight loss came easily. Within 10 months, I lost 40 pounds. Even more incredibly, about a year into eating this way, I realized that my ankylosing spondylitis symptoms had receded completely. My joints weren't bothering me at all. 
A Life Unburdened By Ankylosing Spondylitis
As of this writing, I've been symptom-free from ankylosing spondylitis and any arthritis pain for 1 year and nine months, and I fully credit my recovery to my WFPB diet. 
It is a time commitment to eat this way, but it's worth every minute. I do most of my food prep for the entire week on Sundays. My husband and I love soup, so I make many varieties of that, from veggie chilis to mushroom chowders. I love to eat starchy vegetables, especially sweet potatoes, red potatoes, kabocha squash, and acorn squash, topped with all the wonderful sauces that I've learned to make. We eat a humongous salad every day for lunch, with homemade dressings I've discovered over the years. All our dressings are WFPB, with no oil or added salt. We have several favorites and will never get tired of the salads. We also love Indian dishes, Mexican dishes, vegetable sushi, and oil-free fried rice. I've printed all the recipes that are keepers and have them organized in a three-ring binder, which I share with friends and family when they're curious about my diet. I have no desire to eat anything that isn't plant-based anymore.
Since my joints have been feeling so much better, I've been able to seriously take up exercising and have gotten really into Pilates, yoga, and running. I even ran my first marathon! What started as a weight-loss diet grew into a way of life, and I hope to live as healthy as possible for as long as possible.
Ready to get started? Check out Forks Meal Planner, FOK's easy weekly meal-planning tool to keep you on a healthy plant-based path. To learn more about a whole-food, plant-based diet, visit our Plant-Based Primer.