Sushi is easy to make at home, and it's a super-healthy option for snacks and meals. Plus, you can get creative and max out on your favorite plant-based fillings. Here's how to make and roll your own vegan sushi.
1. Select and Season the Grains 
No, you don't need specialty rice to make sushi. Any short-grain rice type will work, as will other small whole grains such as quinoa, millet, barley, and bulgur.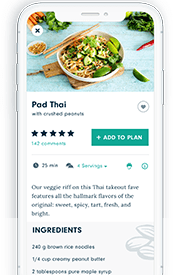 Try Our Award-Winning Meal Planner For Free!
Healthy eating has never been so easy.
The real secret to tasty sushi rice and grains is the seasoning. This master recipe provides that perfect balance of sour and sweetness with a touch of salt—the flavor profile that gives the grains their "sushiness." Be sure to use the optional arrowroot powder or cornstarch with non-rice grains, as it will help them stick together.
Sushi Rice Recipe (or Other Grains)
2 tablespoons brown rice vinegar or distilled white vinegar

1 tablespoon maple syrup

1½ teaspoons arrowroot powder or cornstarch, optional 

¼ teaspoon salt, optional

2 cups hot cooked brown rice or other whole grains
Stir the vinegar, maple syrup, arrowroot (if using), and salt into 2 cups of hot (just-cooked) grains. Cover, and let stand 15 minutes so the grains absorb the flavors. Cool until easy to handle, then use to make sushi.
2. Choose Your Sushi Fillings
The following are some go-to fillings for veggie sushi rolls. Use as many or few as you'd like.
Avocado

Green onions (scallions)

Cucumber

Summer squash

Firm or extra-firm tofu

Leafy greens

Mushrooms

Tomatoes

Carrots

Cabbage

Sweet potato
Use Leftovers
Raid the fridge for roasted and steamed vegetables, beans, and spreads that can be tucked inside your rolls along with fresh veggies. 
Veggies to Skip
Avoid potentially stringy or tough additions such as celery, fennel, or fat asparagus.
3. Prep Your Fillings Strategically
For the smoothest sushi rolling (and eating) experience, it's important to be strategic in the way you prepare your chosen fillings. The best approach depends on the ingredient. 
Slice into Strips
Avocados, green onions, cooked vegetables, cucumbers, summer squash, tofu, and leafy greens are best sliced into long strips so that they can be laid the length of the sushi roll.
Dice Small
Juicy or chewy items, such as mushrooms, tomatoes, and fruit, should be chopped into small pieces so they won't fall out.
Grate
Grating hard vegetables, including carrots, cabbage, and other root veggies helps soften their crunch so they don't upstage other fillings. 

How to Roll Sushi
Set up a sushi-making station with a sushi mat or clean kitchen towel, some nori seaweed sheets, your seasoned grains, a selection of fillings, and a small bowl of water.

Place one nori sheet shiny side down on the mat or towel. Lightly dampen your hands with the water; then spread ⅔ cup seasoned grains on the nori sheet with your hands, leaving a 1-inch border along top and bottom edges. Wet the edges with a finger.

Arrange the fillings in a line across the center of the grains. Don't go overboard: Overstuffed sushi can be hard to roll! Use the mat or towel to tightly roll the nori around the filling, tucking the filling under as you roll so it's not pushed out the top or sides. Press to seal. 

Using a sharp, damp knife, slice the roll into rounds. Serve with soy sauce, wasabi, and pickled ginger.
3 Types of Sushi
When you want to mix things up a bit while still getting your sushi fix, try these alternatives to maki (the nori-wrapped rolls that most people associate with sushi).
Temaki
Temaki, or hand rolls, are rolled like cones around sushi grains and fillings. To make: Cut nori sheets in half. Spread grains over ⅓ of the halved nori sheet, and top with filling choices. Roll the nori into a cone around the grains and fillings, and seal in place with a dab of wasabi, rice, or water.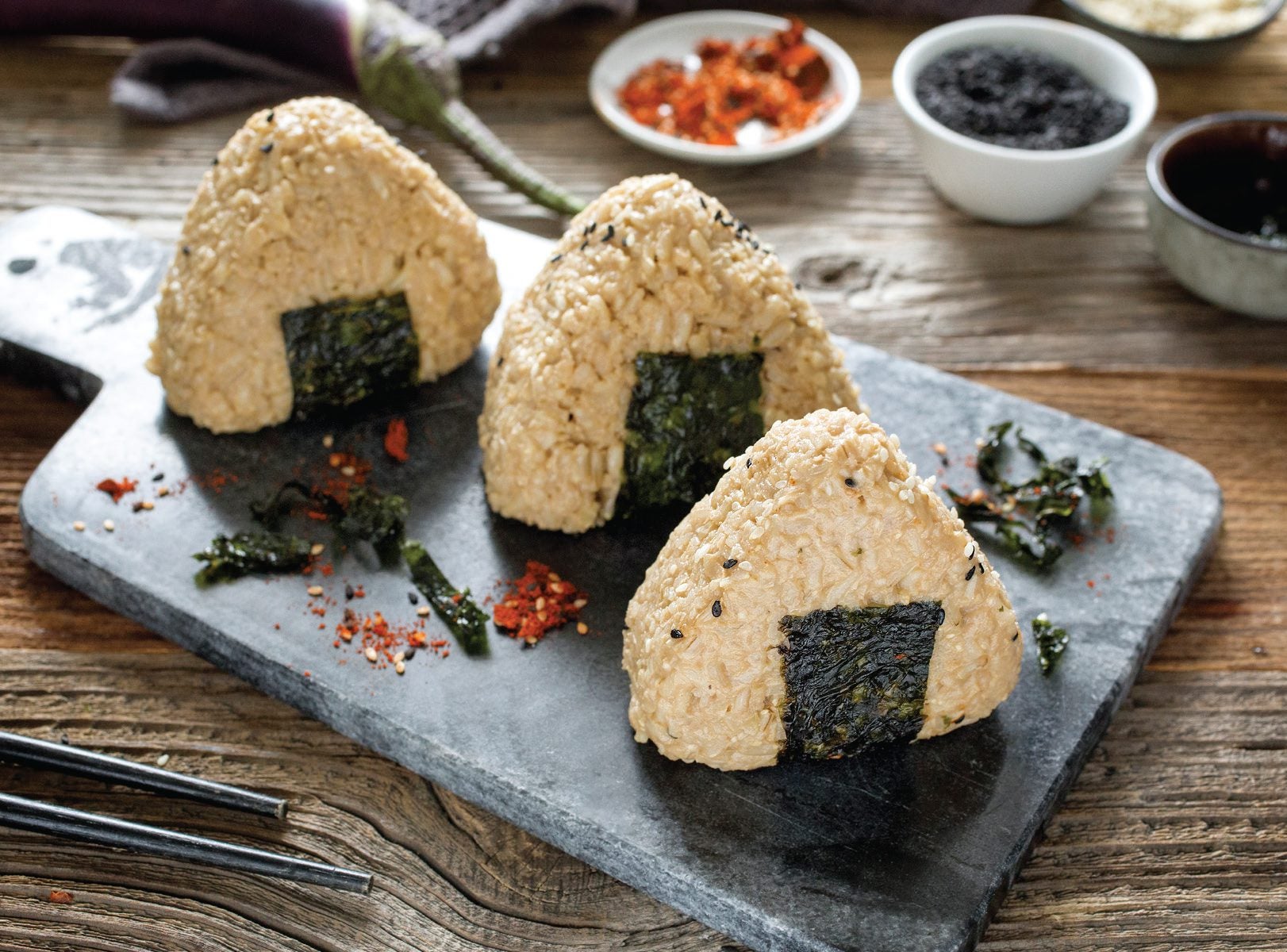 Onigiri 
Onigiri are compact balls of grains rolled around fillings. To make: Scoop ¼ cup sushi grains on a piece of plastic wrap. Make an indentation in the center, fill with small, chopped filling options, then cover fillings with more rice. Twist and squeeze the plastic wrap around the grains to make a tight ball. Garnish with nori sheets, sesame seeds, and pickled ginger, if desired.
Chirashi 
Chirashi—which comes from the Japanese word for "scatter"—is a kind of sushi salad. Simply scatter your favorite sushi fillings over a bowl of sushi grains. That's it!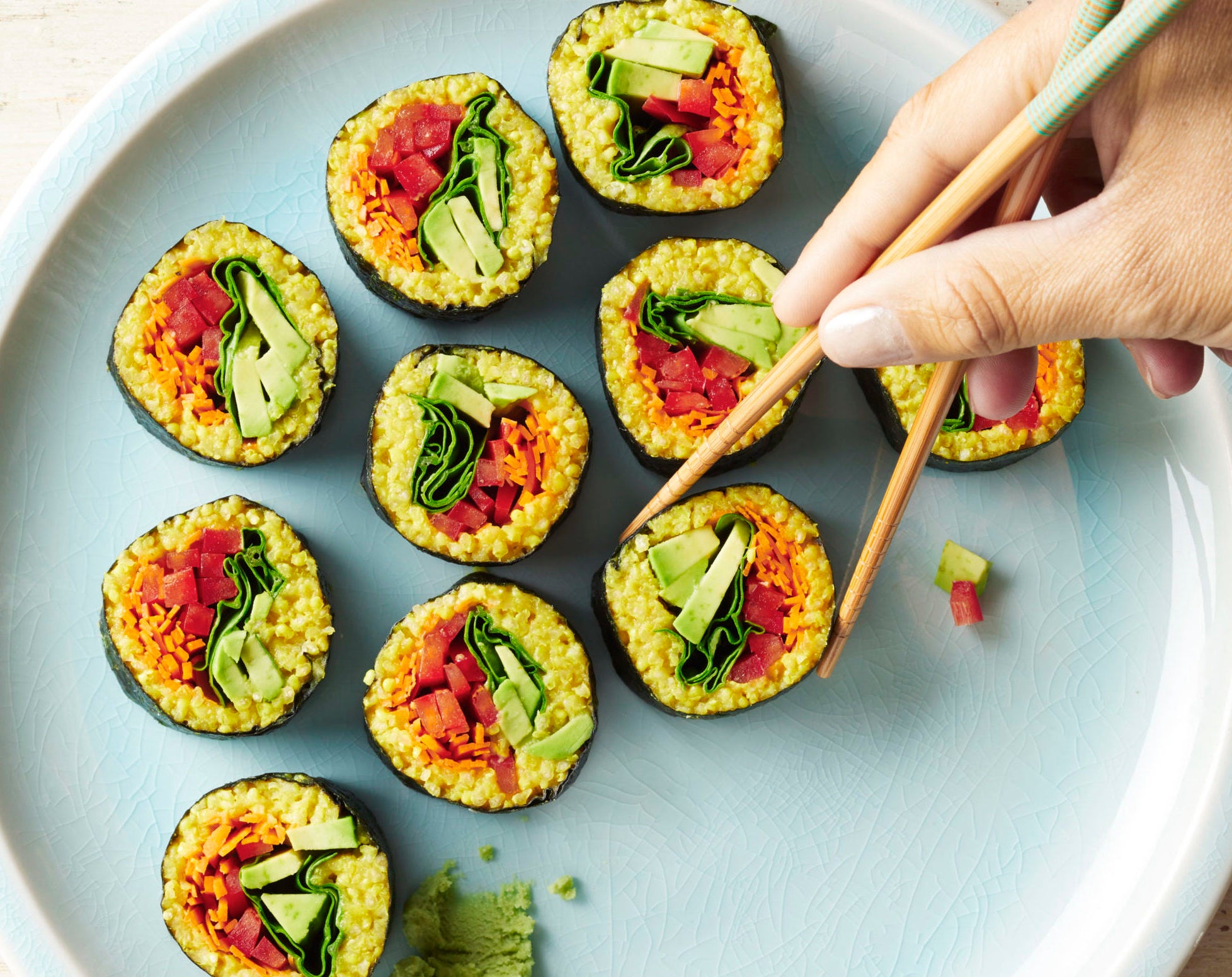 Vegan Sushi Recipes from Forks Over Knives
Looking for sushi ideas beyond your basic freestyle veggie roll? Forks Over Knives has got a bunch to get your creative juices flowing. 
This article was originally published on May 7, 2020, and has been updated.