A whopping 49.1 percent of Americans actively tried to lose weight within the last calendar year, according to the Centers for Disease Control and Prevention. The standard American diet is called SAD for a reason: It's loaded with processed foods that drive many of the standard American diseases, including obesity. While multiple scientific studies have shown the effectiveness of plant-based diets for weight loss, not everyone will automatically lose weight after adopting a whole-food, plant-based diet. If you've been eating this way in the hope of achieving weight-loss goals and haven't seen as much progress as you'd like, read on for strategies from leading plant-based experts. 
Master the Concept of Calorie Density
"Calorie density" refers to the amount of calories per pound of a given food. Foods range from around 100 calories per pound (nonstarchy vegetables) to 4,000 calories per pound (oil).
Get 20% Off!
Get 20% Off!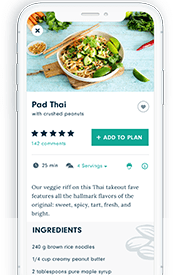 MEMORIAL DAY SALE!
Get our weekly plant-based meal plans for as low as $6.67/month!
"Understanding caloric density is not about counting calories, or memorizing how many calories are in a cup of rice or half a cup of blueberries," says Chef AJ, California-based vegan chef and best-selling author of The Secrets to Ultimate Weight Loss. "When you change the average calorie density of the food you eat each day, you can literally consume twice as much food in terms of volume, yet take in half as many calories. As luck would have it, the healthiest, most nutrient-dense foods on the planet—whole plant foods—are also the most calorically dilute. By understanding and implementing calorie density, you really can eat more and weigh less."
By focusing on low-calorie density foods that are a natural part of a whole-food, plant-based diet, you'll get lots of nutritional bang for your buck.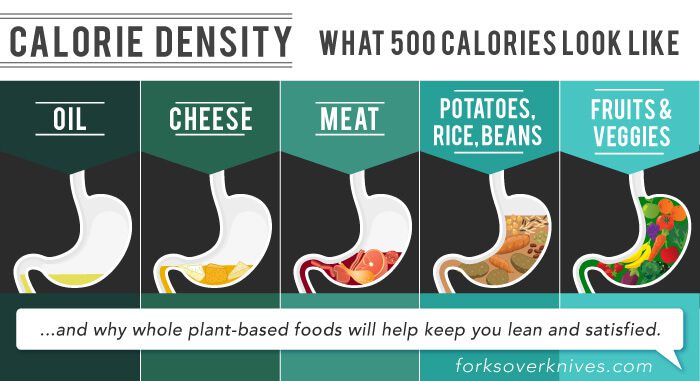 "Foods that are lower in calorie density (fruits, veggies, starchy vegetables, intact whole grains and legumes) are also higher in nutrient density," says Jeff Novick, MS, RD. "Therefore, by following a diet lower in calorie density, one also automatically consumes a diet higher in nutrient density."
Garth Davis, MD, medical director of Mission Weight Management Center in Asheville, North Carolina, and author of Proteinaholic, echoes the sentiment: "Natural, unprocessed foods are loaded with fiber and water, which make you feel full without delivering as many calories." The one caveat has to do with oil. "Watch out with the oils, as people often take a perfectly good salad with low calorie density and then add a ton of oil-filled dressing that's extremely calorie dense," he adds. Which leads to our next tip…
Cut Out Added Oil
Most people who cut added oils find that weight slides off easily, even if they've been on a plateau. Why?
"Oil is the most calorie-dense food by volume," says Micaela Karlsen, PhD, MSPH, director of the Lifestyle Medicine Economic Research Consortium in Ithaca, New York, and founder of SustainableDiet.com, a distance-based, three-month support program to help people transition to plant-based eating.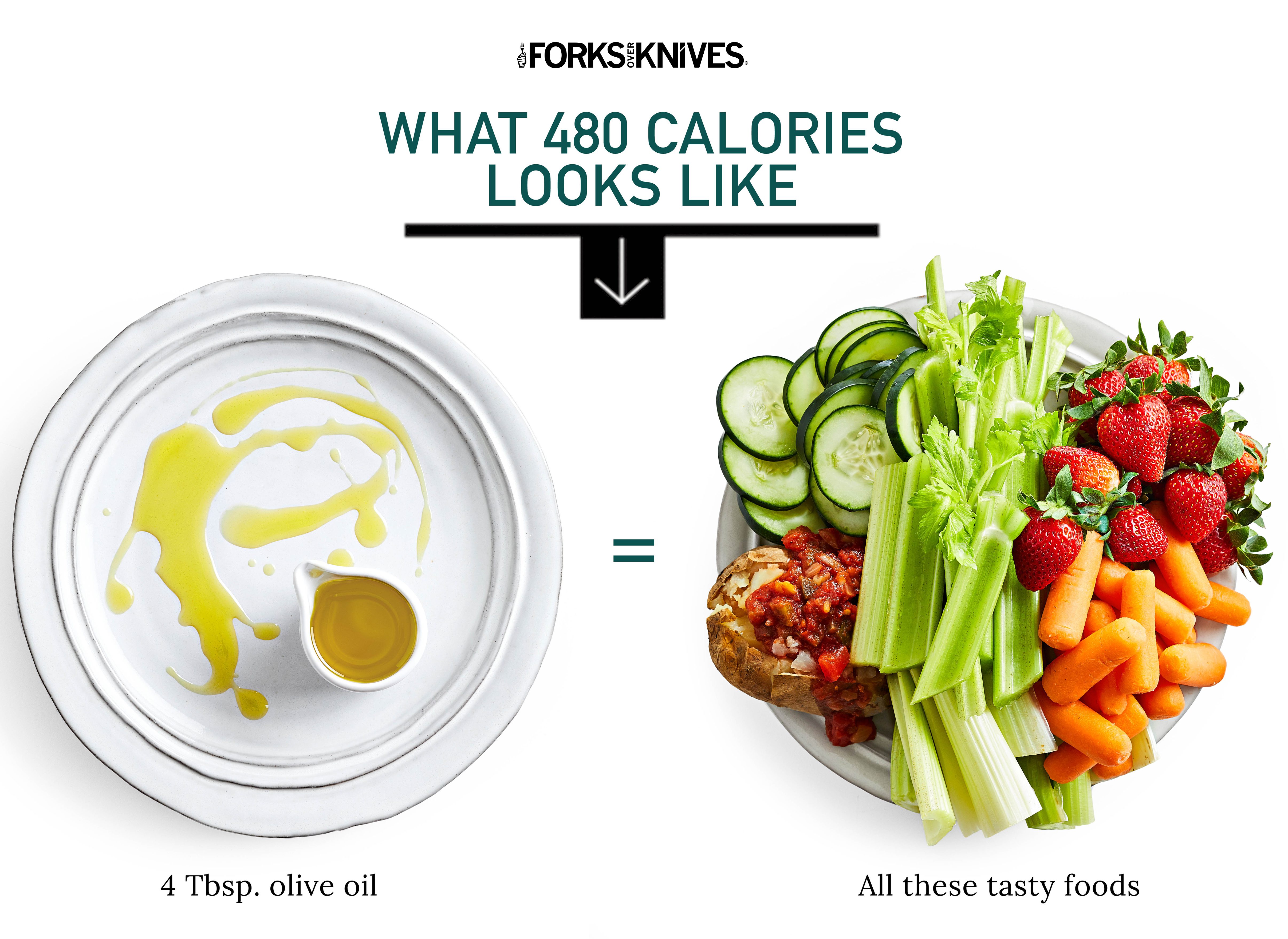 One cup of oil contains almost 2,000 calories. One cup of brown rice has only about 130 calories. (Other plant foods, besides high-fat nuts and seeds, are similarly calorically low.) Another major strike against oil: Because it doesn't contain fiber, it doesn't contribute to satiety. 
All of Forks Over Knives' recipes are designed without oil, and YouTube is packed with videos that can teach you how to sauté with vegetable broth, bake with applesauce or other substitutes, and make oil-free salad dressings with fruit, tofu, or nuts.
Load Half Your Plate With Nonstarchy Veggies
 Turns out, Mom was right in telling you to eat your veggies. 
"Veggies aren't only nutritional powerhouses but also the food group that's lowest in calorie density," says Chef AJ. "Full of fiber and water and averaging only 100 calories per pound, they fill you up without filling you out." 
Veggies such as kale, cabbage, spinach, and lettuce are especially beneficial: A compound in dark green leafies called thylakoid can actually turn off your hunger switch and help fight cravings for unhealthy foods, while a pound of nonstarchy veggies has fewer calories than a tablespoon of olive oil. That's why Chef AJ recommends making 50 percent of your meals nonstarchy veggies. Her favorites are Brussels sprouts and zucchini. For the other half of the plate, fill it with whole foods that will satisfy your hunger, such as grains, legumes, and/or starchy veggies.
Avoid Liquid Calories
Aside from avoiding oil, you should also avoid any calories that come in liquid form, if your goal is to lose weight. "Don't drink your calories, especially in the form of sports drinks, sodas, other sweetened beverages, and alcohol," says Michelle McMacken, MD, director of the NYC Health + Hospitals/Bellevue's Plant-Based Lifestyle Medicine Program. "The calories in these drinks add up fast and don't fill you up. And for weight loss, in my experience, eating whole fruit trumps drinking fruit juice. Water is the only beverage we actually need."
Eat Lots of Fiber-Rich Foods
 One of the healthiest means for weight loss is adopting a lower-calorie, high-fiber, nutrient-rich diet, which means eating more whole, plant-based foods, says Alone Pulde, MD, family medicine physician in Carlsbad, California, and co-author of several books, including The Forks Over Knives Plan and Forks Over Knives Family. That's why her go-to word is: add. 
"Add, add and add more whole, plant-based foods like fruits, vegetables, whole grains and legumes to every meal," she says. Easier said than done? Nope, not when you think about combining these foods to create delicious meals like oatmeal with berries and roasted veggies with pasta. "The variety of foods you can include is limited only by your imagination," she says.
Watch Out for Vegan Junk Foods
 Just because it's plant-based doesn't mean it's healthy. "Many food companies are slapping the plant-based term on numerous foods that are often highly processed, dense in calories, and [low in] nutrients," says Sharon Palmer, RDN, the Los Angeles–based Plant-Powered Dietitian and author of The Plant-Powered Diet and Plant-Powered for Life. This is true of plant-based burgers made by Impossible Foods and Beyond Meat. 
Your best bet is to stick as closely as you can to whole plant foods.  
Get Moving
Last but not least, make exercise part of your regular routine. Opt for physical activities you enjoy, as you'll be more likely to stick to a program. Ideally, you'll find an activity or a combination of activities that covers strength, endurance, balance, and flexibility. But don't hesitate to simply start where you are. "If your time is severely limited or you are unable to undertake a dynamic program, it's still always better to get out and do some activity—even if it's just a short walk each day," says Pulde. See No-Meat Athlete Matt Frazier's 5 Tips for Adding Fitness to Your WFPB Lifestyle for more guidance.
Ready to get started? Check out Forks Meal Planner, FOK's easy weekly meal-planning tool to keep you on a healthy plant-based path. To learn more about a whole-food, plant-based diet, visit our Plant-Based Primer.
This article was originally published on Nov. 7, 2019, and has been updated.