Headed out into the wilderness for an escape from city life? Trade the processed granola bars and sugar-packed s'mores for delicious vegan meals that are easy to make around the campfire. We asked plant-based pros to share their favorite vegan camping meals and snacks for enjoying around a pitched tent or out on the trail. These quick and healthy meals are loaded with tantalizing flavors, fresh produce, and hearty ingredients to sustain you in all your outdoor adventures.
Veggie Burritos
"One of my favorite camping foods is veggie burritos, because you don't need a bowl or plate. Bring beans and quinoa or rice you've cooked at home. If you want to get fancy, you can bring chopped veggies, too. Sauté any veggies in a frying pan over a camp stove, and then add the beans and grains to warm them up. If you'd like to warm your tortillas, you can toast them directly over a burner. Wrap it all together with some salsa. Make extras and wrap them in foil; then you've got lunch ready for tomorrow, too."—Steph Davis, professional rock climber, BASE jumper, and wingsuit flyer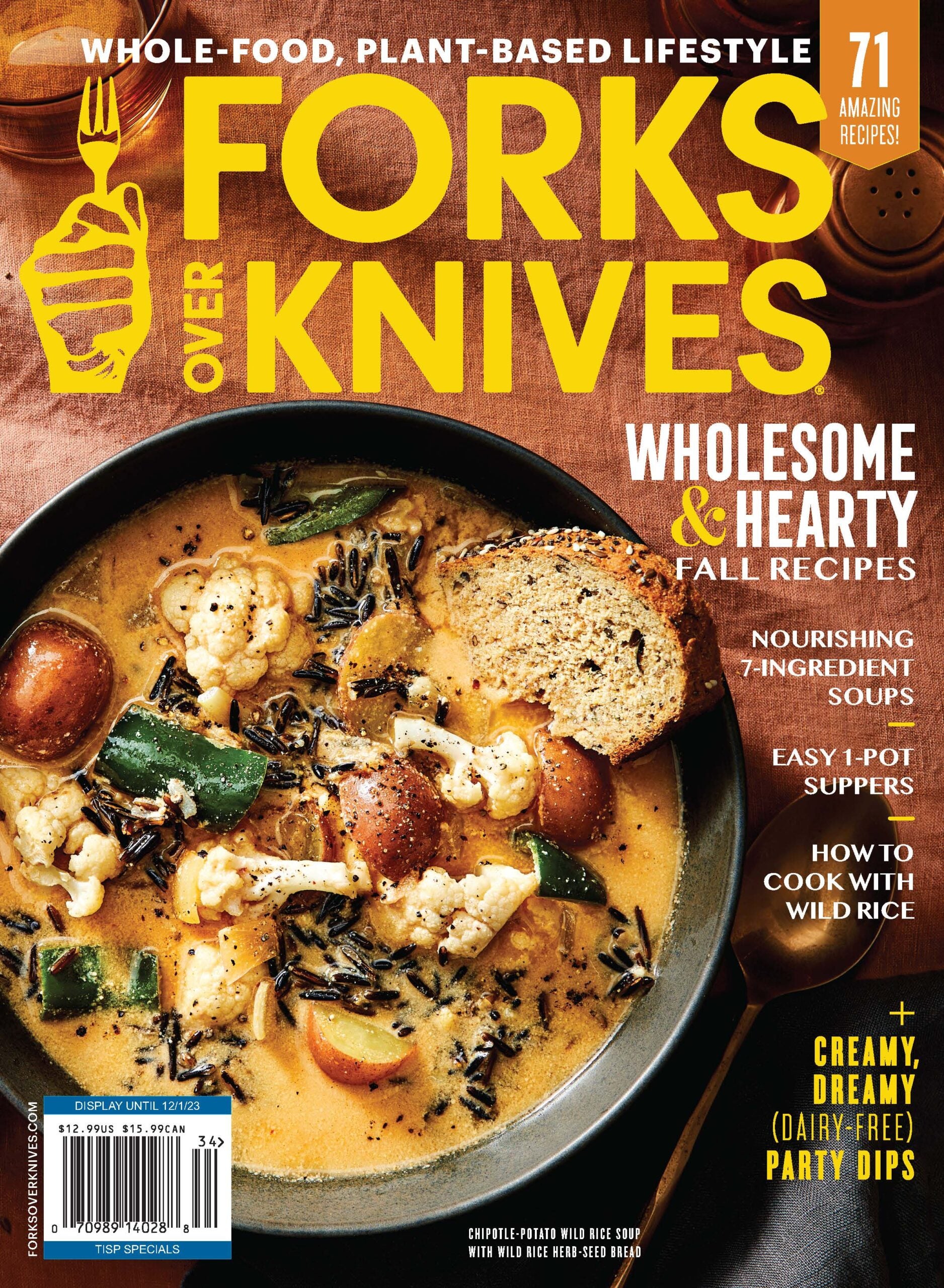 The Fall 2023
Magazine Is Here!
Our gorgeous "bookazine" features expert tips, inspiration, & comforting recipes for fall.
Stuffed Pitas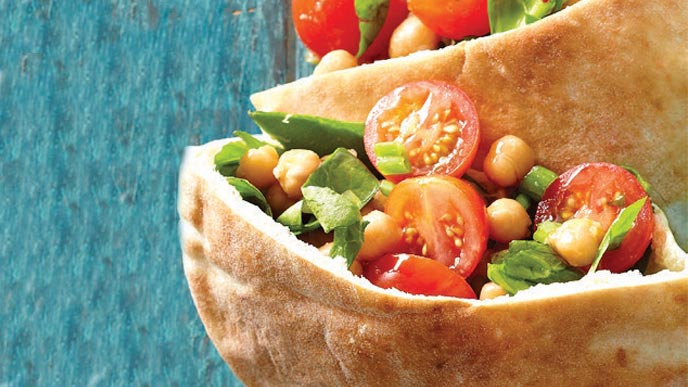 "One go-to is whole wheat pita pockets stuffed with hummus and veggies. (Baby spinach, cucumber, mushrooms, and cauliflower are my favorites.) I love to snack on cucumbers while hiking—I think it's because they're so cool and full of water."—Katie Simmons, Chicago-based personal chef and founder of Plants-Rule
Instant Options
"We like bringing some Dr. McDougall's ready-made soups and small containers of precooked rice. You can just heat a pot of water over the fire and stir it into the soup, and add rice to hearten things up. Dehydrated black beans are also good—just add hot water, stir, and top with salsa." —Matthew Lederman, MD, co-author of The Forks Over Knives Plan and co-founder of WeHeal
Freestyle Foil Packets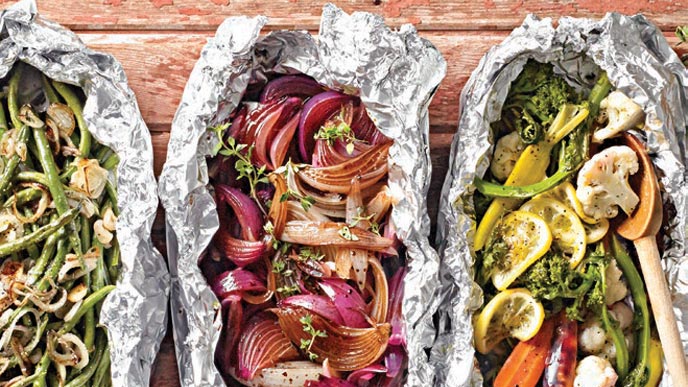 "My family loves seasoned tofu-and-veggie foil packets. They're the furthest thing from fussy while still being tasty, fun, and customizable. Before you leave home, season cubes of tofu to taste (marinades work well because the flavors can meld overnight) and chop some fresh veggies. Store them separately in airtight containers in a cooler. At your campsite, let everyone assemble their own packets, spooning tofu and their preferred veggies onto a square of heavy-duty aluminum foil and folding it up tightly. Throw them on a grill or into hot coals around the campfire. Check on them after about 15 minutes on the grill, and sooner if directly on coals. Long-armed tongs are helpful for safely removing them."—Qadira Ali Huff, MD, MPH, pediatric lifestyle medicine physician and founder of Sprouting Wellness
Sweet Snacks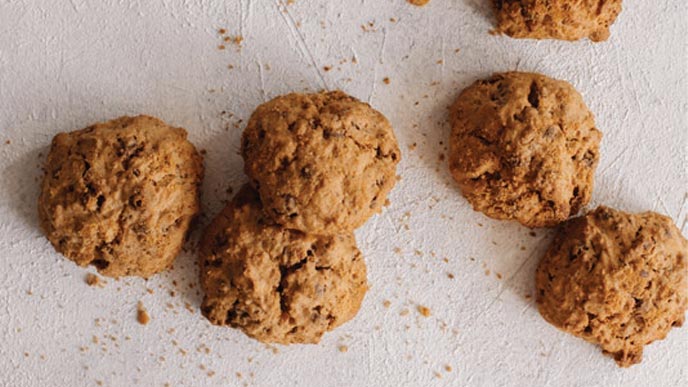 "Oatmeal cookie bites are a yummy snack for camping and hiking. Mash two bananas in a bowl. Stir in 1 cup oats, 2 Tbsp. nut butter, and ¼ cup raisins. Roll about 2 Tbsp. of the mixture into a ball. Repeat with remaining mixture. Bake balls on a parchment-lined baking sheet for 10 minutes at 350°F. Let cool before transferring to an airtight container."—Cleodia Martinez, author of Ay Sus! Whole Food Plant-Based Global Filipino Cuisine
Easy Chili
"Chili is wonderful to dig into beside the fire with whole grain bread and a salad. I do an easy one with canned beans, canned corn, onions, jalapeño, some spices, and canned tomatoes. I like to bring the cans with me (be sure to bring a can opener), as they take no refrigeration before you open them. Sometimes I bring chopped fresh veggies, too, like carrots, bell peppers, and zucchini. Chili seasoning packets are handy, since they're just one-time use."—Sharon Palmer, MSFS, RDN, author of The Plant-Powered Plan to Beat Diabetes
Campfire Spuds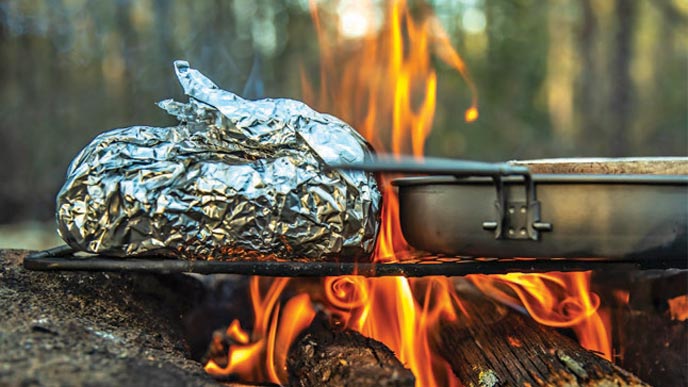 "I like to wrap whole potatoes in heavy-duty foil and stick them right in the campfire pit—not too close to the flame, because they can burn, but around the outside edges. Turn them every 10 minutes or so, with the help of a grill glove and barbecue tongs, until they're tender (about 40 minutes). Also, we like to bring a grill grate, pile up some stones around the fire to rest the grate on top, and grill vegetables directly over the flame. Big slices of red onion are especially delicious that way."—Matt Frazier, ultrarunner, founder of No Meat Athlete, and co-author of The Plant-Based Athlete
More WFPB Camping Tips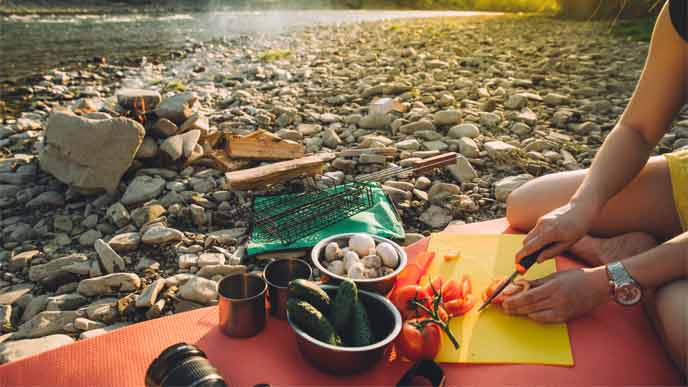 Looking for more help prepping for a successful WFPB camping trip? Check out our complete guide: How to Eat Whole-Food, Plant-Based While Camping.
Our collection of no-cook recipes also offers a treasure trove of tasty meals you can take into the great outdoors when you have limited equipment but don't want to skimp on flavor. Many of the recipes can be made ahead of time so all you need to do is pitch a tent, set up some chairs, and dig into a delicious meal. Happy camping!