Pediatrician and lifestyle medicine physician Qadira Ali Huff, MD, MPH, is on a mission to empower families through nutrition education. Beyond her Washington, D.C.-based medical practice, Huff runs a virtual health coaching platform, Sprouting Wellness, to provide online education and virtual coaching sessions for individuals and families who want to harness the power of a plant-based lifestyle. Forks Over Knives spoke to her about the inception of Sprouting Wellness, why a healthful diet is deeply tied to racial justice, and how to make plant-based snacks your kids will love.
After Eating Plant-Based as a Kid, What Prompted You to Return to This Lifestyle as an Adult?
Qadira Ali Huff: I gained a tremendous amount of weight during my pediatrics training and was living what I call the "anti-lifestyle." I wasn't sleeping well because of the long shifts at the hospital. I was very stressed out. I was eating anything in sight—fast, sugary, fatty foods. I had a couple wake-up calls in terms of small health scares, and I got to a place of reckoning when my husband and I were thinking about starting a family. As a doctor I knew it was risky to enter into pregnancy if I wasn't at my healthiest, so that's when I closely examined my own diet and went back to the plant-based roots of my childhood.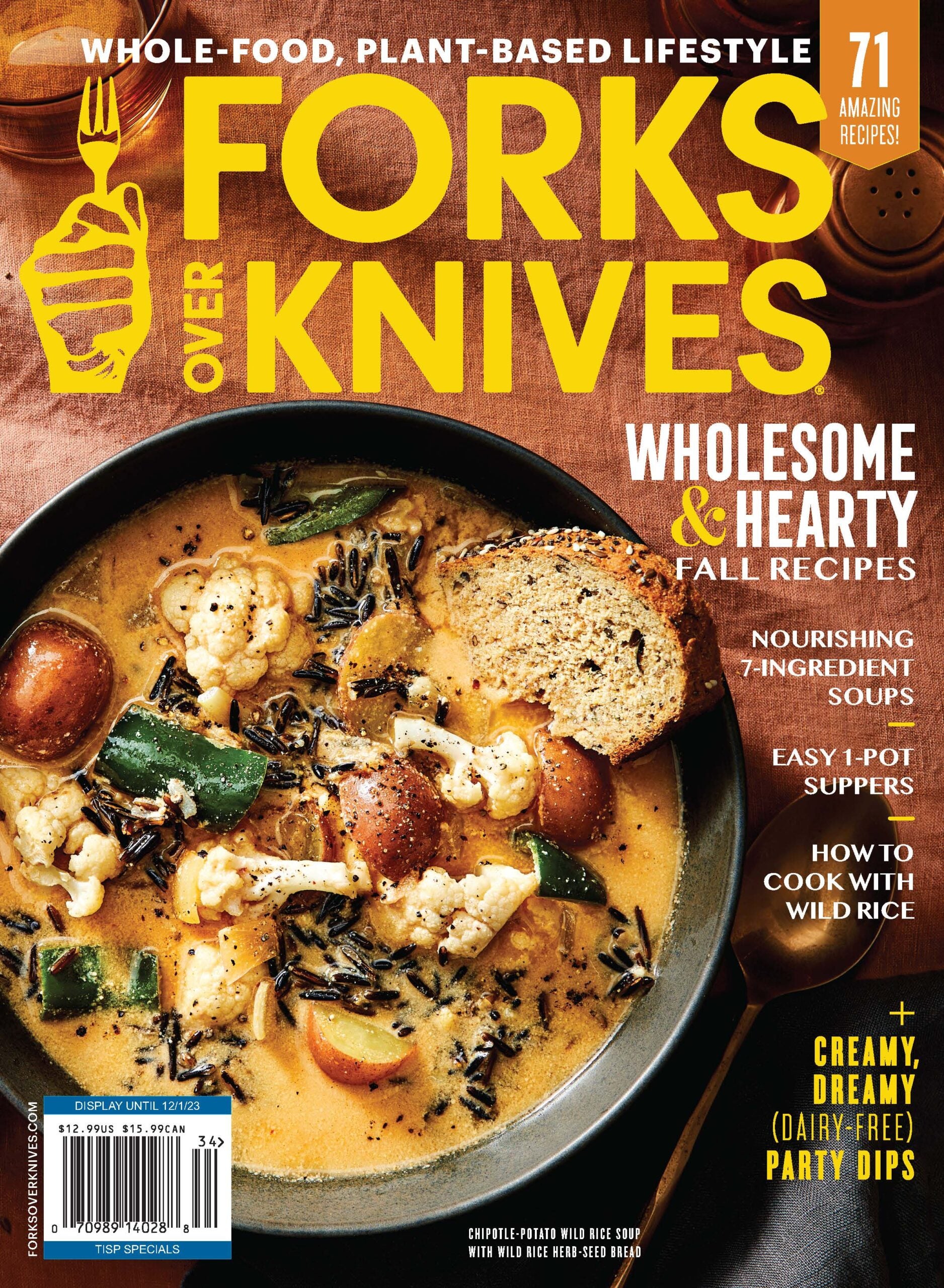 The Fall 2023
Magazine Is Here!
Our gorgeous "bookazine" features expert tips, inspiration, & comforting recipes for fall.
Why Was It Important to Your Parents To Maintain a Plant-Based Household?
QAH: Both my parents were very much into the Black liberation activist community in Washington, D.C. They wanted to contribute to Black community-building … and a huge component of that was food as a pathway toward autonomy and self-actualization. They recognized that we can't blossom into the people we want to be if we're physically sick and tired. So that inspired them to get into a plant-based diet.
How Did You Decide to Launch a Virtual Health-Coaching Platform?
QAH: Sprouting Wellness was born from a desire to dig deeper with parents and kids. It's easy to think of chronic disease as only impacting adults, but what I'm seeing in my primary-care practice is that [it's] starting really early on in life. I'm regularly diagnosing diabetes, high blood pressure, and high cholesterol in my young patients. Those 15- or 20-minute visits in a hospital setting are inadequate [for] empowering parents with the information that they need. With Sprouting Wellness, people can learn from the comfort of their homes and take the time they truly need to be receptive to all the knowledge lifestyle medicine has to offer.
What Exactly Is Lifestyle Medicine?
QAH: It's about empowering the individual to take charge of their health using tools [such as] a plant-forward diet, exploring sources of joyful movement, getting adequate rest, having strong social connections, and viewing stress reduction as a necessity instead of a luxury.
Can You Speak More About the Importance of Equitable Access to Healthy, Plant-Based Foods?
QAH: Plant-forward diets were originally eaten across the whole continent of Africa, and there's a really robust movement right now to recapture and normalize that in the Black community. On top of the dysfunctional relationship with food that slavery imposed on the Black community early on, we're also dealing with [structural] factors like food deserts (areas with low proximity to high-quality, healthy food) and food swamps (areas that have highly concentrated amounts of disease-promoting food). So it's a double whammy for communities of color. But we do have the power of our plates while we work for policy changes to help shift food equity on a more structural level.
3 Healthy Snack Swaps
These easy, healthy, kid-approved snack swaps from Dr. Huff are perfect to tide over hungry tummies.
Cheez-Its → "Cheesy" Kale Chips
Preheat oven to 300°F. Use a knife to carefully remove the thick stems from 1 bunch kale; tear leaves into bite-size pieces and place them in a bowl. Add 3 tablespoons nutritional yeast, 1 teaspoon onion powder, ¾ teaspoon garlic powder, a squeeze of lemon juice, and a pinch of sea salt. Mix to coat. Spread leaves in a single layer on a parchment-lined baking sheet. Bake 20 minutes.
Prepackaged Popcorn → Jazzed-Up Microwave Popcorn
Place ⅓ cup corn kernels in a lidded silicone bowl such as the Cuisinart Collapsible Microwave Popcorn Maker. Microwave 2 minutes or until the sounds of popping begin to slow. In a small bowl whisk together 2 tablespoons nutritional yeast; ¼ teaspoon each garlic powder, paprika, and sea salt; and 1 pinch cayenne pepper or another seasoning of your choice. Toss with popcorn.
Potato Chips → Crispy Roasted Chickpeas
Preheat oven to 400°F. In a large bowl combine one 15-oz. can chickpeas, rinsed and drained; 1½ teaspoons each garlic powder and onion powder; and 1 pinch paprika. Toss to coat. Spread chickpeas in a single layer on a parchment-lined baking sheet. Bake 25 minutes or until lightly browned.