When Brigitte Gemme decided to adopt a plant-based diet, her husband protested. "Sharing foodie meals was a big part of our relationship, and he was worried this new way of eating would drive us apart," says the cooking teacher and founder of Vegan Family Kitchen based in Vancouver, Canada. It took about two years of patience, compassion, and "cooking really good food" for her better half and kids to come around. Can you relate? Read on for expert tips to follow when your family resists a whole-food, plant-based lifestyle.
1. Lead by Example
Forget about being pushy or preachy. "Just because someone is told about the benefits of plant-based diets doesn't mean they are emotionally ready to let go of their old eating habits," Gemme says. Instead, let others take notice of your newfound energy and excitement. Make it about you, not them, she suggests: "Have a heart-to-heart conversation with loved ones (don't do it at mealtime!) to explain why you are making this change for yourself."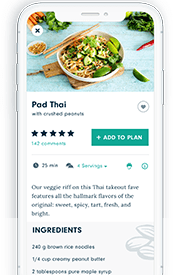 Try Our Award-Winning Meal Planner For Free!
Healthy eating has never been so easy.
2. Cook Together
Research shows that kids who help prepare their own meals are more likely to eat them. Try familiar veg foods and use the kitchen as a classroom. "Explain to your children that everything they are eating came from a plant," says Amy Johnson of the food blog Mrs. Plant in Texas. She recommends starting with quick snacks, such as loaded apple slices. Spread sliced apples with a bit of nut butter and have kids add toppings such as dried berries, raisins, and cinnamon. From there, move on to more involved recipes, such as oil-free spaghetti sauce.
3. Nerd Out
Educate yourself about plant-based nutrition (watching the Forks Over Knives film is a great place to start) so you're ready to field questions. "Explaining to my kids why we eat the way we do helps them stay focused on our family and our personal health goals, and not on what other kids do," says Cory Warren of the Lean Green DAD podcast and website. "We talk a lot about the sugar from fruits versus processed white sugar, and they get it."
4. Meet Halfway
No need to cook two separate dinners or have anyone go hungry. "Make meals that can easily be served to both plant-based eaters and omnivores," Johnson advises. Think loaded baked potatoes and make-your-own pizzas. Or set out beans, rice, grilled vegetables, corn, and the like, and let everyone customize their own burrito bowls with add-ins of their choice. (They might just surprise you by skipping the meat and cheese.)
5. Call in the Experts
Family members who aren't interested in your nutrition wisdom might readily accept it from strangers, especially considered pros, notes Neal Barnard, MD, president of the Physicians Committee for Responsible Medicine. "Give them a book, and to make sure they actually open it, flag a page or two with a Post-It note saying, 'I thought of you as I read this chapter.' They will go over it 16 times to see what brought them to mind," Barnard says.
6. Make It fun
Rather than pressuring little ones into cleaning their plates, use positive reinforcement and occasional "parental marketing," Warren says. "I find that saying things like, 'Wow, look at those muscles, buddy!' after they eat a certain vegetable or fruit really lights them up," he explains. "Or, 'Did you know that Hulk eats green broccoli?' It works every time."
Photo by Tosha Lobsinger
To learn more about a whole-food, plant-based diet, visit our Plant-Based Primer. For meal-planning support, check out Forks Meal Planner, FOK's easy weekly meal-planning tool to keep you on a healthy plant-based path.