Want to know a secret? Eating plant-based doesn't mean you have to kick your sushi obsession to the curb! These delightful vegan sushi recipes swap out fish for fresh produce, white rice for whole grains, and high-sodium dipping sauces for healthy alternatives that pack just as much punch. If you've never made sushi before—let alone vegan sushi—it might take a try or two to nail down the technique of wrapping up your own rolls, but once you get the hang of it you'll be munching on a restaurant-quality meal in no time. Take a look at our roundup of delicious vegan sushi recipes (and a few other types of dishes inspired by the classic flavors of sushi) to level up your WFPB culinary skills.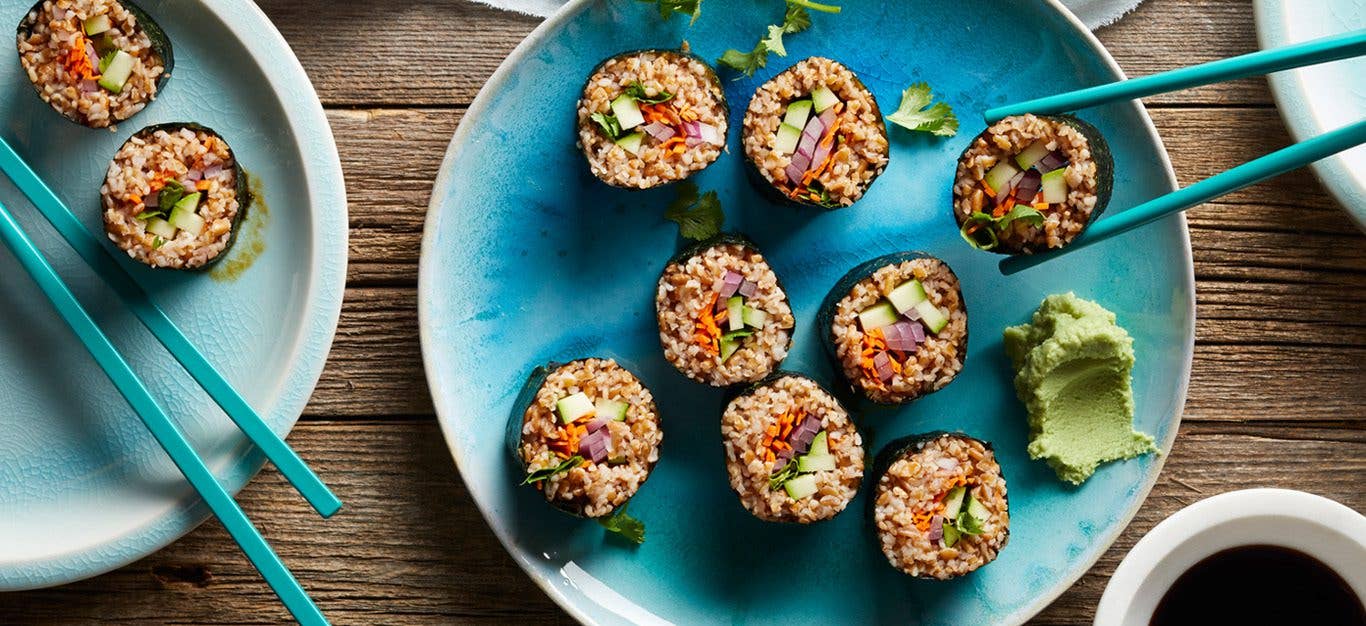 Start your vegan sushi adventures with this simple recipe, which looks just as good as it tastes. Chewy bulgur—a fluffy, short grain originating from Middle Eastern and Mediterranean cooking—is infused with tangy vinegar and sweet maple syrup before being wrapped inside sheets of salty nori. The filling of zucchini, onion, carrot, and fresh cilantro adds a delicious crunch and color to this standout dish.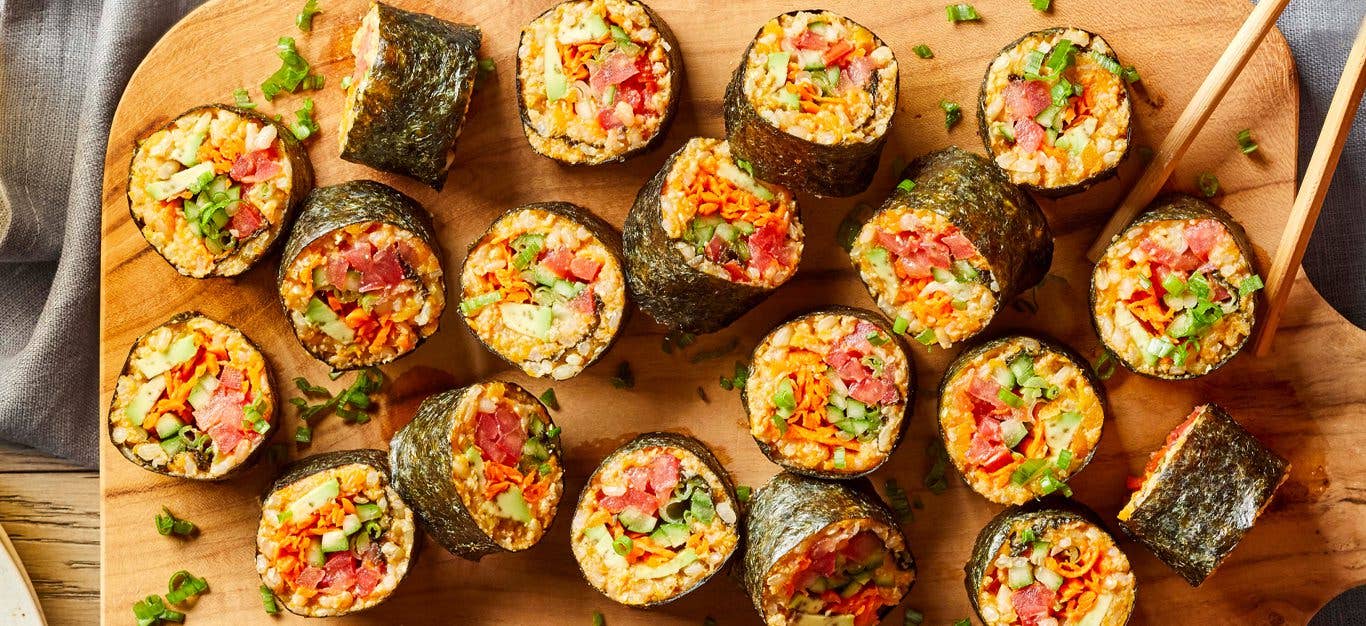 This scrumptious veggie sushi recipe is a fan-favorite due to the explosion of amazing flavors you get with each bite. Shredded butternut squash is mixed into warm brown rice to create a gooey, melt-in-your-mouth base that's wrapped around creamy avocado, crisp cucumber, and spicy tomatoes. One happy reader writes, "These are delicious and the tomatoes make for a wonderful mouth feel instead of meat or fish."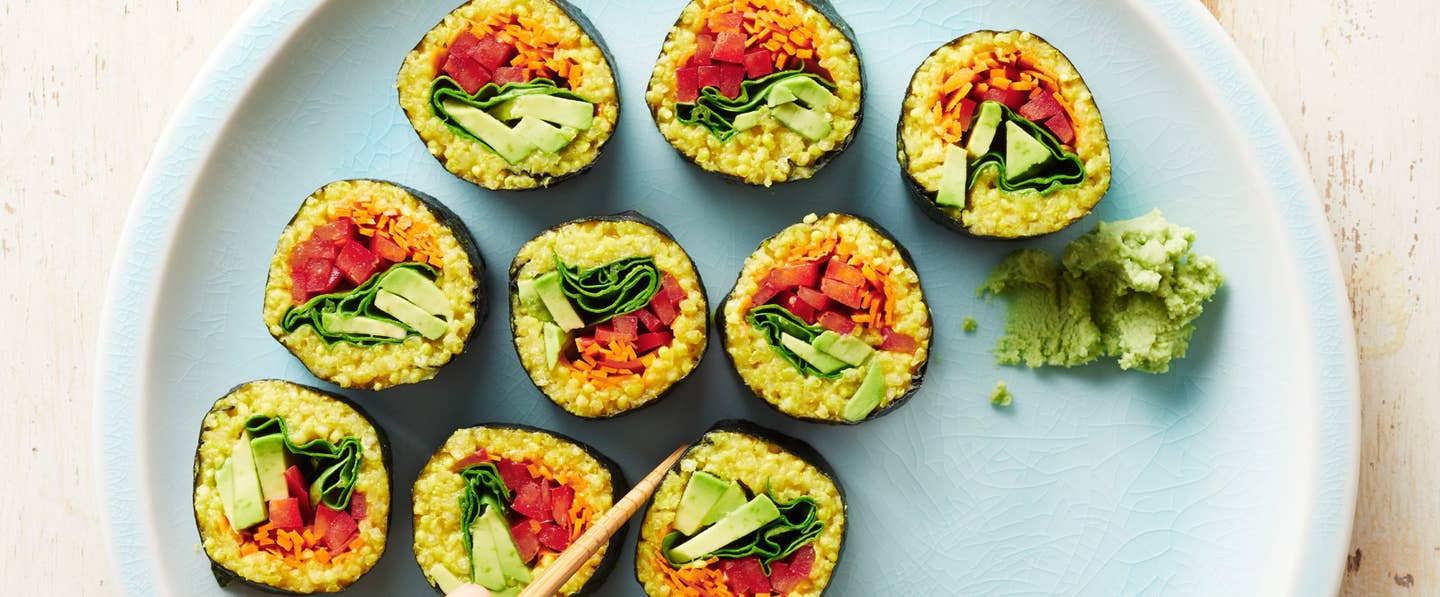 This brilliant fusion recipe combines the familiar packaging of a sushi roll with the irresistible flavors of your favorite curry to deliver an unforgettable dish. Chewy millet turns bright yellow when stewed with fragrant spices and provides a beautiful contrast to the fresh veggies tucked in the center of each slice. Serve with low-sodium soy sauce, wasabi, and a bit of pickled ginger for a culinary crossover that will leave you reaching for a second serving.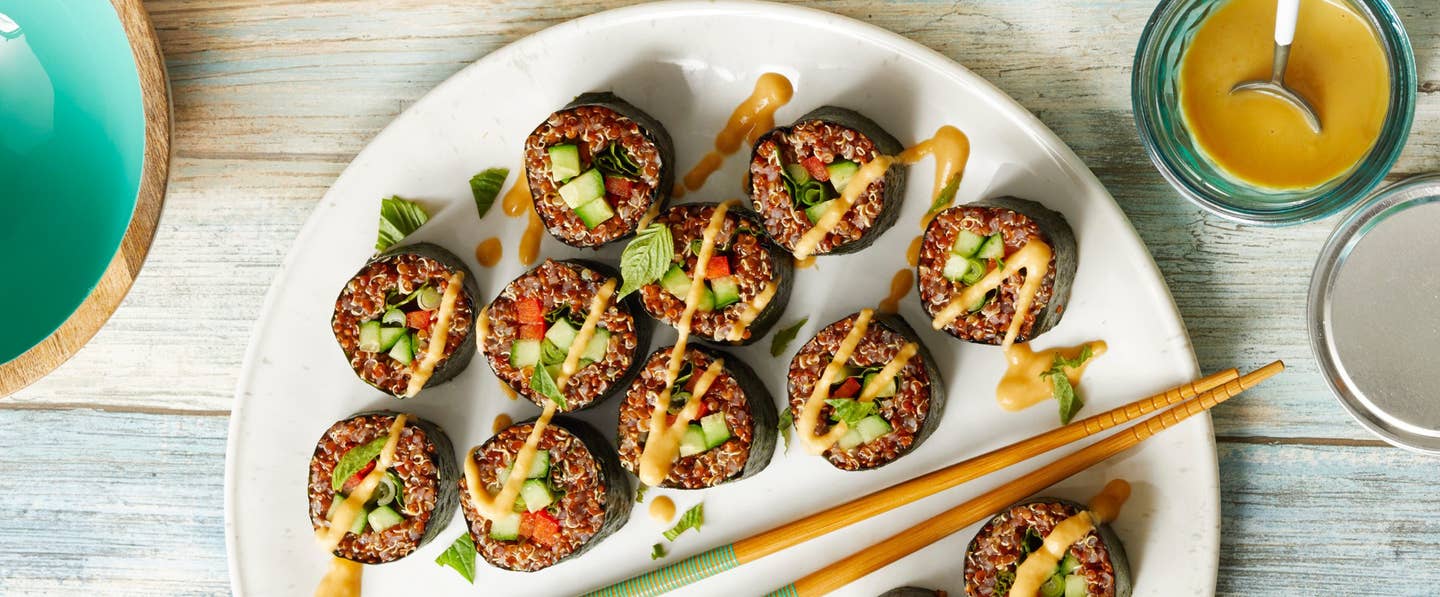 Use up that extra bag of quinoa in your pantry to make this tasty vegan sushi recipe, which gets an extra burst of flavor from a Thai-inspired peanut dipping sauce. Refreshing cucumber, crunchy bell pepper, and tangy scallions are rolled up with the savory quinoa mixture and topped with Thai basil for an aromatic herbal finish. The easy peanut sauce comes together in a matter of minutes, and any leftovers you have can be used as a dip for fresh veggies or sauce for a soba noodle salad.

Deceptively simple but oh-so-delicious, this recipe is ideal for a sushi-making night with family or friends when you want to turn dinner into an interactive activity. Succulent brown rice surrounds crunchy veggies that bring a welcome burst of freshness to the salty nori wrapping. Dip each piece into your favorite sauce and watch how quickly these rolls disappear. One satisfied reader writes, "Very tasty! So glad to find this recipe!"

Get creative in the kitchen with this unbelievably tasty vegan sushi recipe that gets a delightful crunch from crispy rice cereal. The puffed grains mimic the texture of tempura-fried rolls without the oil, and a luscious filling of Japanese yam, avocado, and carrots perfectly complements the sticky brown rice. But perhaps the best part of this dish is the homemade teriyaki dipping sauce: After making this, you'll never go back to the store-bought version again!

Mushrooms are a common meat replacement in the world of WFPB cooking, and this vegan sushi highlights their meaty texture in the most delicious way possible. Trumpet mushrooms are sautéed with garlic and onion powder for a savory filling that contrasts with raw carrots, cucumber, and avocado. Fresh basil adds a pop of sweet peppery flavor, while the nori wrapping brings the classic sushi taste you crave. Dig in!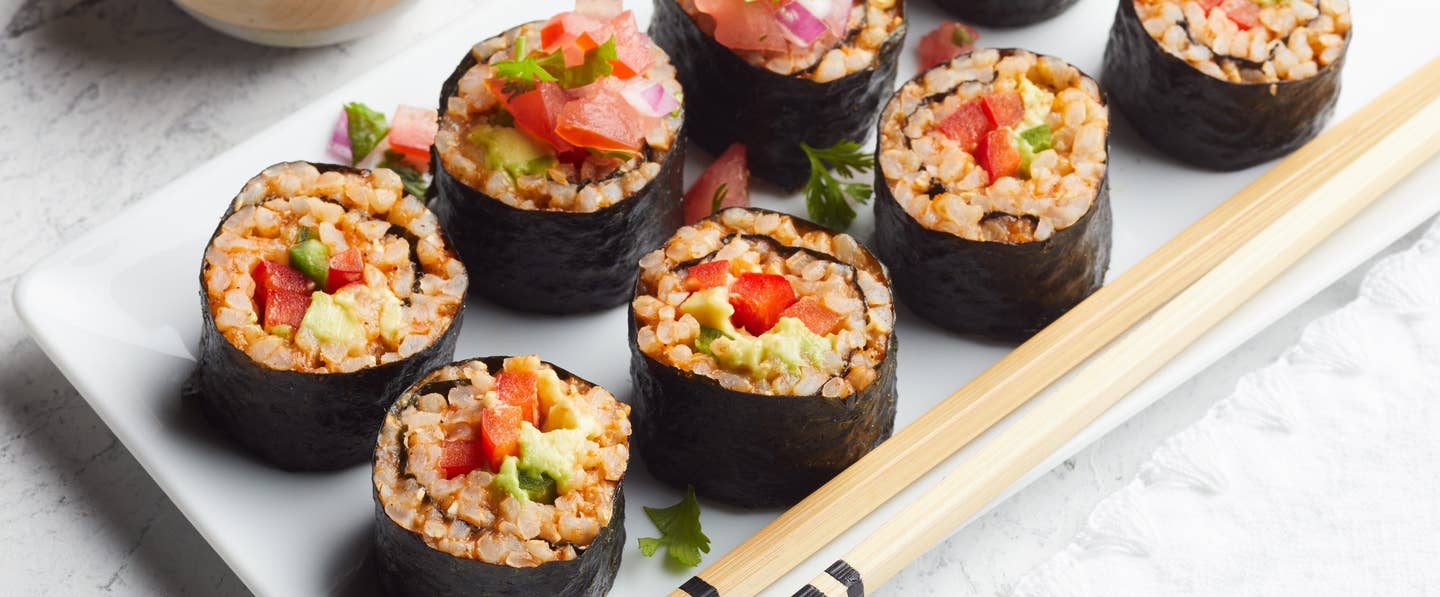 Think of this creative recipe as bite-sized taco bowls instead of traditional Japanese sushi. Trust us: It's delicious! Brown rice is cooked in a smoky tomato sauce to evoke enchilada-esque flavors, while the filling of bell pepper, avocado, and jalapeño serves up serious Southwest scrumptiousness. A fresh pico de gallo salsa takes the place of soy sauce, and we highly encourage you to squeeze extra lime juice on top before indulging. Get ready to be blown away!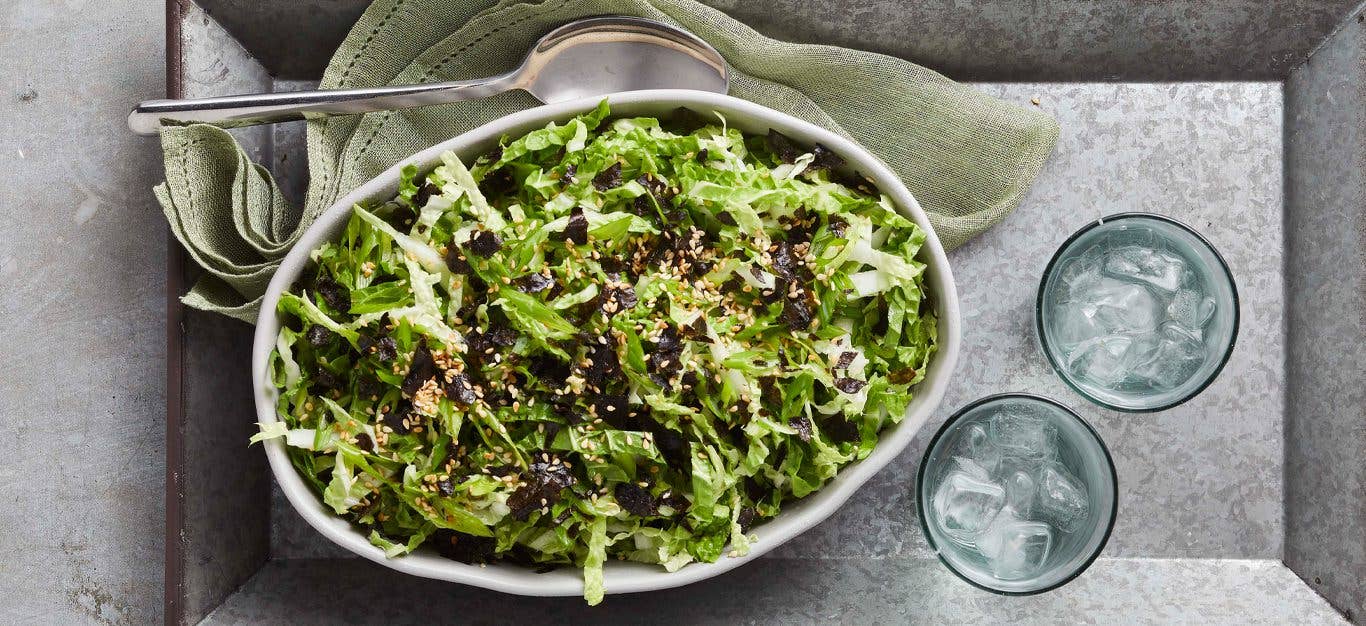 This refreshing sushi-inspired recipe is the perfect side dish to serve at your next potluck or summer BBQ. Crisp napa cabbage is tossed with chopped nori and scallions to create a crunchy bed of greens that's drizzled in a sweet and savory dressing featuring pear juice, soy sauce, ginger, and rice vinegar to invoke classic sushi flavors. A sprinkling of sesame seeds on top adds a delicious finishing crunch. This dish is perfect paired with
Chilled Peanut Noodles
or
Soft Tofu with Black Sesame and Wasabi Sauce
.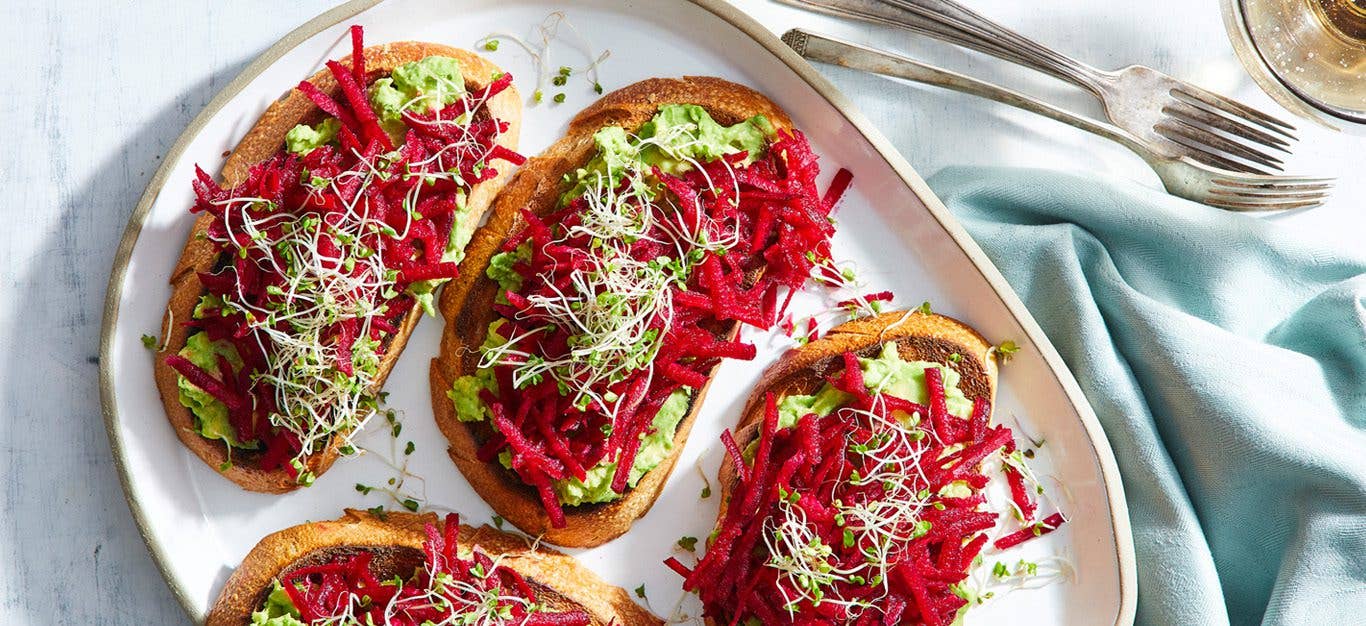 Sink your teeth into hefty tartines that shine a spotlight on the bright flavors of sushi accoutrements. Shredded beets are infused with rice vinegar and ginger to create a delectable tangy topping, while wasabi paste is mixed into mashed avocado for a spicy kick. Thick slices of bread are piled with the sushi-inspired toppings and a sprinkling of alfalfa sprouts for an end product that's filling, flavorful, and full of good-for-you ingredients. One reader raves: "So tasty and easy! My husband said, "Wow! I could eat a million of these!"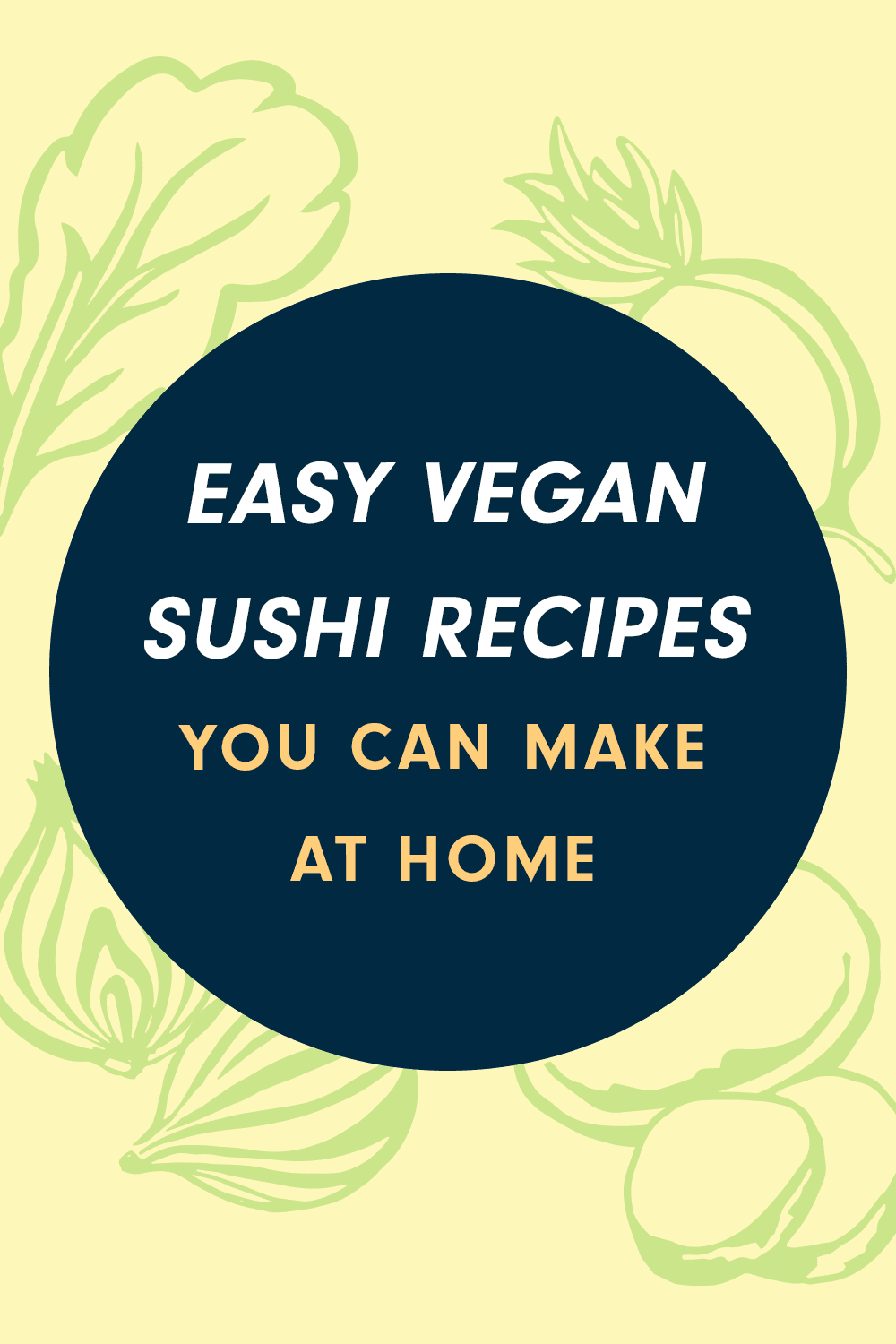 About the Author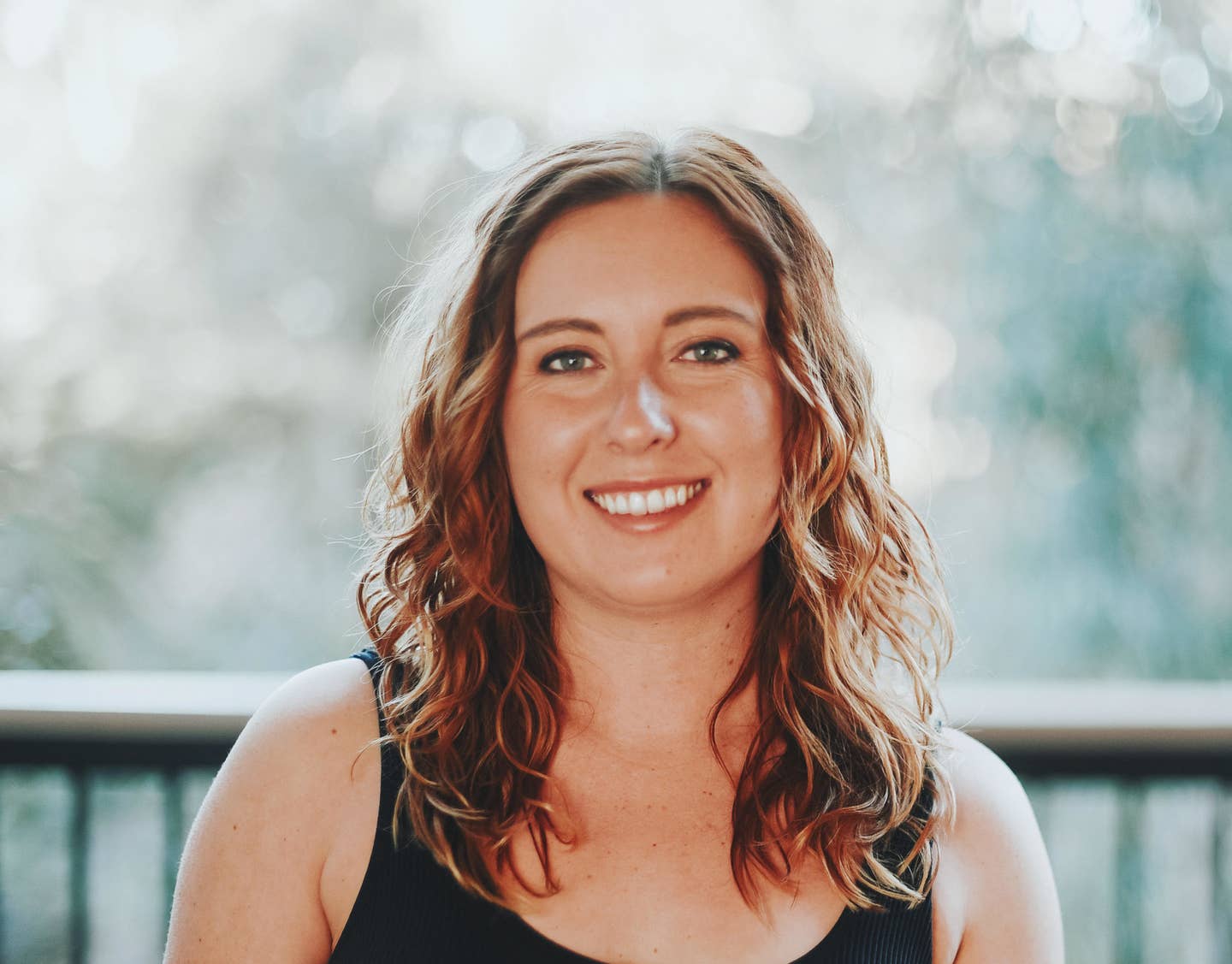 About the Author
Megan Edwards
Megan Edwards is a staff writer and content producer for Forks Over Knives. She is also a certified RYT-500 yoga teacher who is passionate about cultivating holistic wellness through plant-based eating, mindful movement, and meditation. With a background in journalism and marketing, she supports both the online presence and quarterly print magazine for Forks Over Knives.
See More from this Author
Free Download
Free 5-day meal plan!
Get a taste for healthy, fuss-free meal planning with this free five-day meal plan from Forks Meal Planner!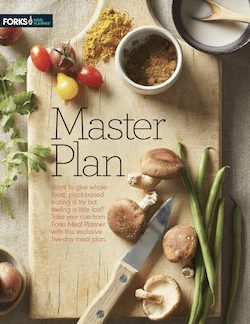 Join our mailing list
Get free recipes and the latest info on living a happy, healthy plant-based lifestyle.