Want to add instant wow to your savory dishes? Look no further than black garlic. Once only available in Asian groceries, the flavorful ingredient can now be found everywhere from small farmers markets to large grocery chains, including Trader Joe's. Here's everything you need to know to get cooking with it today, from what black garlic is and how it's made to shopping, prep, cooking, and storage tips.
What Is Black Garlic?
Black garlic is garlic that has been cured and aged until it turns sweet, tender, chewy, and black. It was originally produced in Asian countries for its medicinal properties. But its skyrocketing popularity elsewhere in the world can be credited to its unique taste, which is similar to aged balsamic vinegar with a hint of roasted garlic.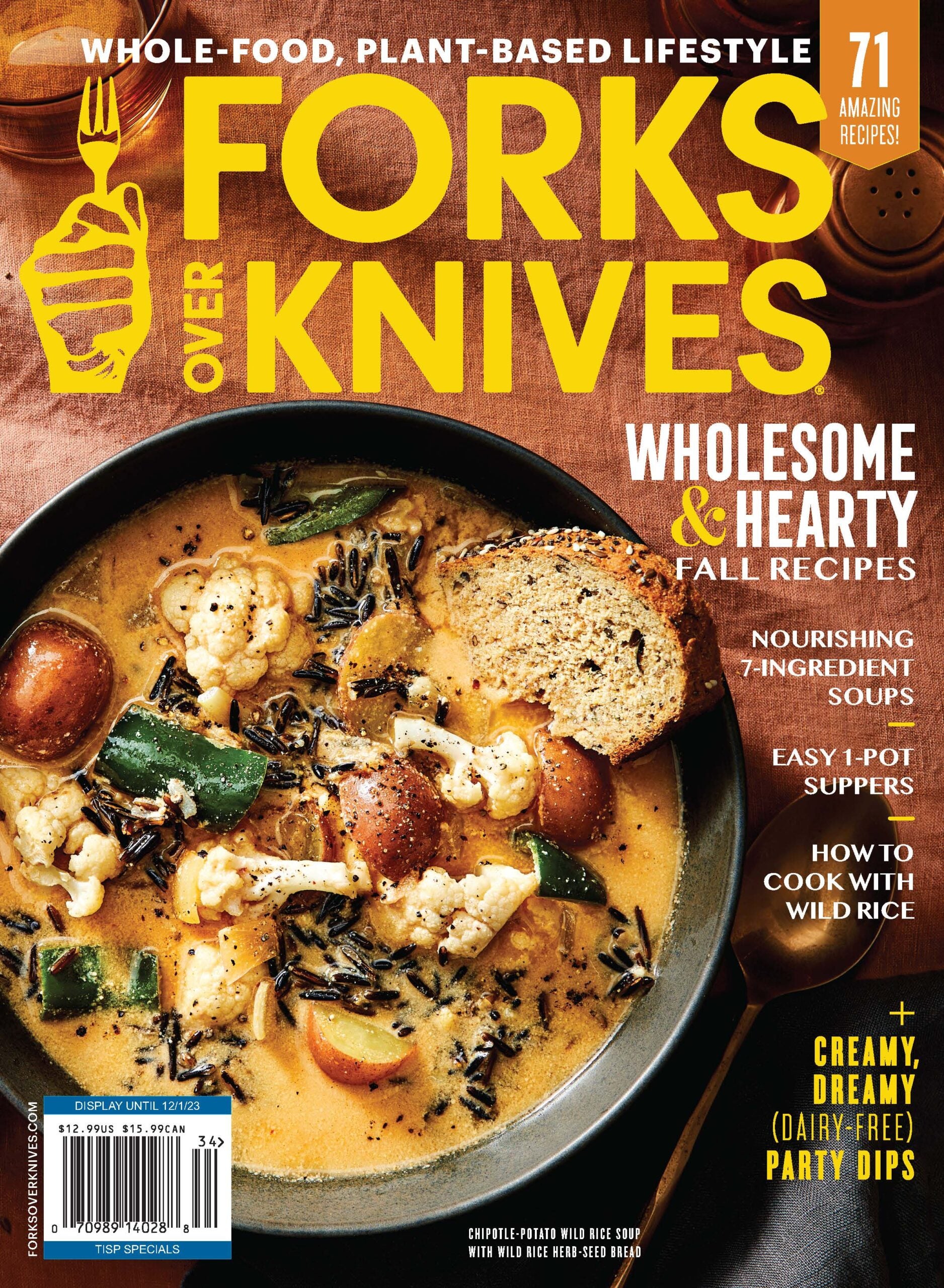 The Fall 2023
Magazine Is Here!
Our gorgeous "bookazine" features expert tips, inspiration, & comforting recipes for fall.
How Is It Made?
To make black garlic, whole garlic cloves are cured in a hot, humid environment (155°F to 175°F and 70 to 90% humidity) for several weeks. During that time, the garlic cloves undergo enzymatic reactions, including the Maillard reaction, which is responsible for the browning and flavor changes in cooked foods. As the garlic cures, reactions between garlic's amino acids and sugars temper its flavors, concentrate its sugars, and turn the cloves from juicy, firm, and creamy white to dense, chewy, and dark brown-black. Because of these changes in taste, texture and color, black garlic is sometimes called "black fermented garlic" even though, strictly speaking, the cloves do not ferment during the curing process.
Commercial producers cure black garlic for four to six weeks in specialized ovens, then age and dry them for several more weeks to prevent spoilage. You can also make black garlic at home in a rice cooker, though it is a long (10-day or more) and smelly process.
How to Select and Store Black Garlic
Black garlic comes in many different forms: whole heads, peeled cloves, smooth purées, and ground seasonings. Here's how to shop for, use, and store each type.
Whole Heads
A whole head (or bulb) of black garlic typically encases six to 10 cloves that require little effort to extract: Simply peel away the papery exterior around each clove. Then slice, dice, or purée according to how you plan to use it (see ideas below). And save those skins! They can be used to season broths and stocks or steeped in hot water for a savory tea.
Shopping: Look for large heads that look plump and firm beneath the dry, sometimes-darkened skin.
Storage: Store whole heads and unpeeled cloves in a cool, dark, dry place until they hit their expiration date, or up to 6 months in the fridge.
Peeled Cloves
Ready-to-use peeled cloves are sold in clear jars, which let you see their size and quality.
Shopping: Give the jar a quick shake to make sure the cloves aren't sticky or damp, and be sure to check the expiration date.
Storage: Store peeled cloves in the fridge for up to 3 months after opening.
Purée (Black Garlic Paste)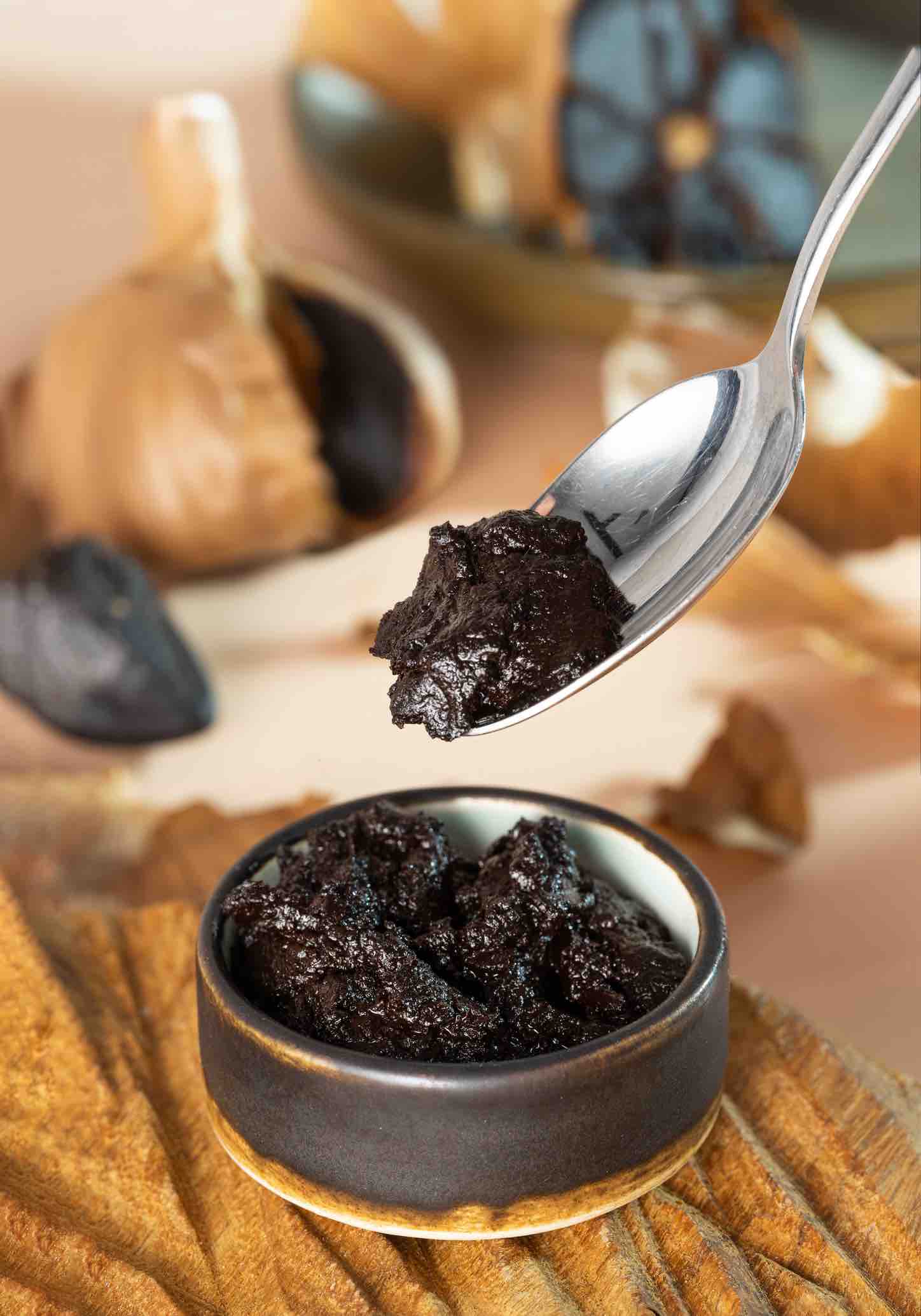 This easy-to-use condiment can be added by the spoonful to soups, stews, sauces, and salad dressings.
Shopping: Black garlic pastes and purées are often made with oil and salt, so check the packaging to be sure the paste you choose is pure black garlic with no additives.
Storage: Refrigerate after opening and use within three months.
Black Garlic Seasoning
Made with dried, ground black garlic, black garlic seasonings are ultra-convenient because they let you sprinkle black garlic flavor into a dish the way you would add any other spice.
Shopping: Read the ingredient label carefully to check the seasoning doesn't contain oil, sweeteners, or excessive salt
Storage: Keep seasoning along with other dried spices in a cool, dark, dry place. For the best flavor use within one year.
How to Slice, Dice, and Purée Black Garlic
Black garlic cloves can be used whole, but most recipes call for slicing, dicing, or puréeing it. The cloves have a dense, sticky consistency like dried fruit, so you'll need a small, sharp knife to slice them widthwise or lengthwise or a large chef's knife to chop them finely. To purée small quantities (1 to 4 cloves), use a mortar and pestle or add the cloves to the other ingredients that are to be puréed in a recipe.
15 Ways to Cook with Black Garlic
Black garlic's sweet-savory taste enhances the flavor of so many dishes that once you've tasted it, you'll want to add it to everything! Here are 15 ideas to get you started.
1. Pasta: Add 1 Tbsp. diced or sliced cloves to pasta dishes like Pesto Pasta with White Beans.
2. Pizza: Sprinkle chopped cloves or ground black garlic seasoning over pizza before baking.
3. Beans and lentils: Enrich the flavor of a basic pot of beans or lentils by adding 1 Tbsp. chopped black garlic or garlic purée with other herbs and spices.
4. Soups: Blend 1 to 2 cloves or 1 to 2 tsp. black garlic purée into smooth soups like Creamy Roasted Cauliflower Soup just before serving. Or sprinkle black garlic seasoning overtop as a garnish.
5. Stews: Boost the hearty flavors of stews such as our Best-Ever Beefless Stew: When adding the vegetables and liquid ingredients to the stew, add 1 to 2 Tbsp. chopped or sliced black garlic or a tablespoonful of purée.
6. Whole grains: Transform a plain batch of whole grains by cooking them with 1 to 2 Tbsp. chopped or puréed black garlic.
7. Hummus: Make black garlic hummus by blending 4 cloves into hummus.
8. Risottos: Add a rich, garlicky note to risotto with 1 to 2 Tbsp. chopped or puréed black garlic in addition to or in place of any garlic called for in the recipe.
9. Dips: Purée 1 to 2 whole cloves or 1 to 2 tsp. chopped or puréed black garlic into simple dips like Moutabal (Eggplant Dip).
10. Sauces: Deepen the flavors of savory sauces like Ultimate Vegan Gravy by blending 1 to 2 cloves or 1 to 2 tsp. chopped or pureed with the other ingredients.
11. Salad dressings: Blend 1 to 2 whole cloves or 1 to 2 tsp. chopped or puréed into salad dressings like Vegan Creamy Italian Dressing.
12. Vinaigrettes: Whisk 1 to 2 tsp. chopped or puréed black garlic into an Oil-Free Vinaigrette.
13. Pestos: Use black garlic cloves in place of fresh garlic in pesto.
14. Mac and cheese: Add rich, roasted flavor by incorporating 2 to 4 cloves (chopped, sliced, or puréed) to your favorite mac and cheese recipe.
15. Maple syrup: Artisanal maple syrup producers have started to flavor their syrups with black garlic. You can enjoy the flavor combo and maximize black garlic's sweeter side by adding 1 to 2 cloves or 1 to 2 tsp. chopped or pureed to maple syrup–based sauces, such as the one used to season Brussels Sprouts with Maple-Mustard Sauce.
Looking for more healthy-cooking inspiration? Check out Forks Meal Planner, FOK's easy weekly meal-planning tool to keep you on a healthy plant-based path. To learn more about a whole-food, plant-based diet, visit our Plant-Based Primer.