The classic recipe for a vinaigrette is pretty simple: one part vinegar to two or three parts oil. So, what do you do when you want to make the savory vegan salad dressing without all that oil?
Understanding Vinaigrettes
To start, you have to understand the role that the oil plays in a vinaigrette. First, the oil tames the tang of the vinegar, which would be too sharp if used in enough quantities on its own for a salad. Oil coats salad ingredients better than vinegar (which is about 95 percent water). It also helps suspend flavorings in the dressing so that they're evenly distributed throughout a salad.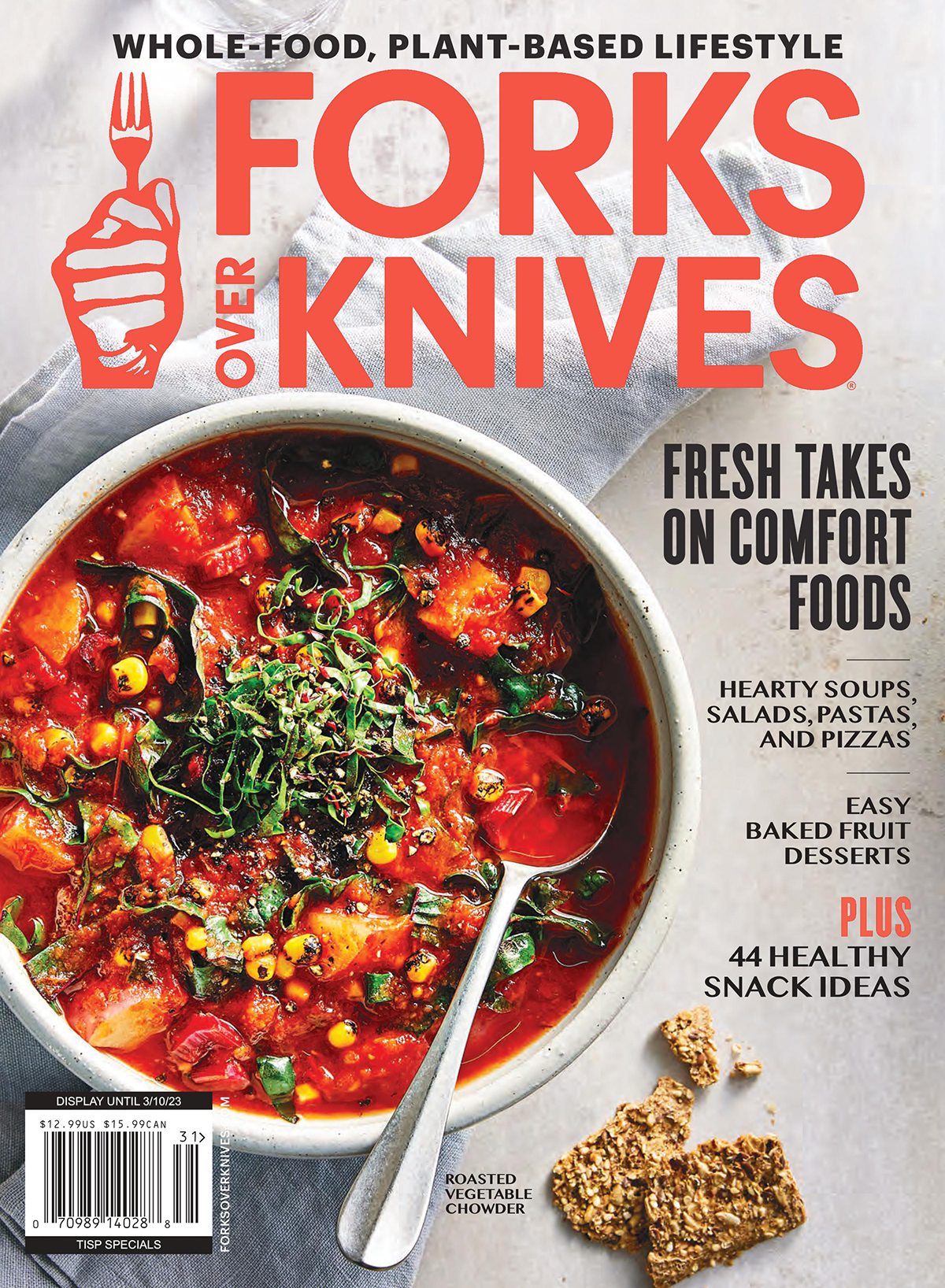 The Winter 2023 Issue
is here!
Our gorgeous "bookazine" features expert tips, inspiration, and 81 comforting recipes for Winter.
Replacing Oil in Vinaigrettes
There are lots of taming-coating-sticking options other than oil that can be used to make vinaigrettes. A spoonful of nutritional yeast mellows a 2-Minute Oil-Free Balsamic Dressing. A touch of maple syrup helps emulsify sauces like our Classic Dijon Dressing. Fruit purées, such as the applesauce in our Magical Applesauce Vinaigrette and the fig purée in our Balsamic Fig Dressing add complex flavor. And fruit juice can be used as a luscious, oil-free base in tangy salad sauces including our Orange Sesame Ginger Dressing and Pomegranate Tarragon Dressing.
One of the easiest ways to replace oil in a vinaigrette is to switch it out for a mixture of water and seeds: specifically, chia, hemp, or ground flaxseeds. Commonly used as egg replacers in vegan baking, these three seeds create a thickened "slurry" when mixed with water. The result is a neutral-tasting liquid that holds other ingredients in suspension—and can be used in a basic vinaigrette that has less than 1 gram of fat per serving.
Basic Oil-Free Vinaigrette
Makes ¼ cup
Ingredients:
1 teaspoon hemp hearts, chia seeds, or ground flaxseeds/flaxseed meal
½ to 1 teaspoon mustard, preferably Dijon
1 to 2 tablespoons vinegar
Sea salt and freshly ground pepper to taste
Instructions:
Whisk together 3 tablespoons warm water and the seeds in a small cup or bowl. Let mixture stand for 5 to 10 minutes to thicken. Whisk in the mustard; then whisk in the vinegar. Season with salt and pepper, if desired.
10 Oil-Free Vinaigrette Variations
Anything goes when it comes to seasoning a basic vinaigrette: Salt, pepper, and mustard are classic additions, and then there are infinite variations to be made with herbs, spices, aromatics, and flavorful condiments. (Because sodium counts can mount quickly, be conservative with the salt grinder, and remember that condiments such as miso, soy sauce, tamari, and prepared mustard already contain salt.) Here are a few flavorings to try.
Use a variety of vinegars. Cider vinegar is a good all-around choice with its mellow tang and hint of fruit. Balsamic vinegar is a salad favorite with its robust flavor and natural sweetness. Distilled and rice vinegars have a clean, crisp taste, while wine vinegars (red, white, sherry, champagne) are more full-bodied—like the vintages they are made from.

Replace the mustard with miso, wasabi, horseradish, tahini, or a nut or seed butter.

Substitute lemon or lime juice for the vinegar.

Use fruit or vegetable juice in place of the water.

Stir in 1 small clove of minced garlic or 1 tablespoon finely chopped shallot or onion.

Blend in 1 to 2 teaspoons chopped fresh herbs (parsley, basil, cilantro, sage, and chives are all good choices).

Flavor with ½ to 1 teaspoon dried herbs (oregano, thyme, marjoram, or rosemary, for example).

Season with ¼ to ½ teaspoon ground spices (cumin, cardamom, paprika, chili powder…raid your spice drawer!).

Add a dash of hot sauce, low-sodium soy sauce, or tamari.

 Sweeten with ½ to 1 teaspoon pure maple or rice syrup or a fruit purée.
Looking for more guidance on whole-food, plant-based cooking? Check out Forks Meal Planner, FOK's easy weekly meal-planning tool to keep you on a healthy and delicious path.