Sushi, ramen, and wasabi, oh my! If you normally shy away from preparing Japanese dishes at home, these plant-based recipes will level-up your kitchen confidence and have you whipping up vegan Japanese cuisine in no time. Learn how to create a full-blown sushi spread, nosh-worthy noodle dishes, and slurpable soups that will transport you straight to Tokyo. Try mixing and matching several of these dishes for your next dinner party to create a feast chock-full of vegan Japanese delicacies.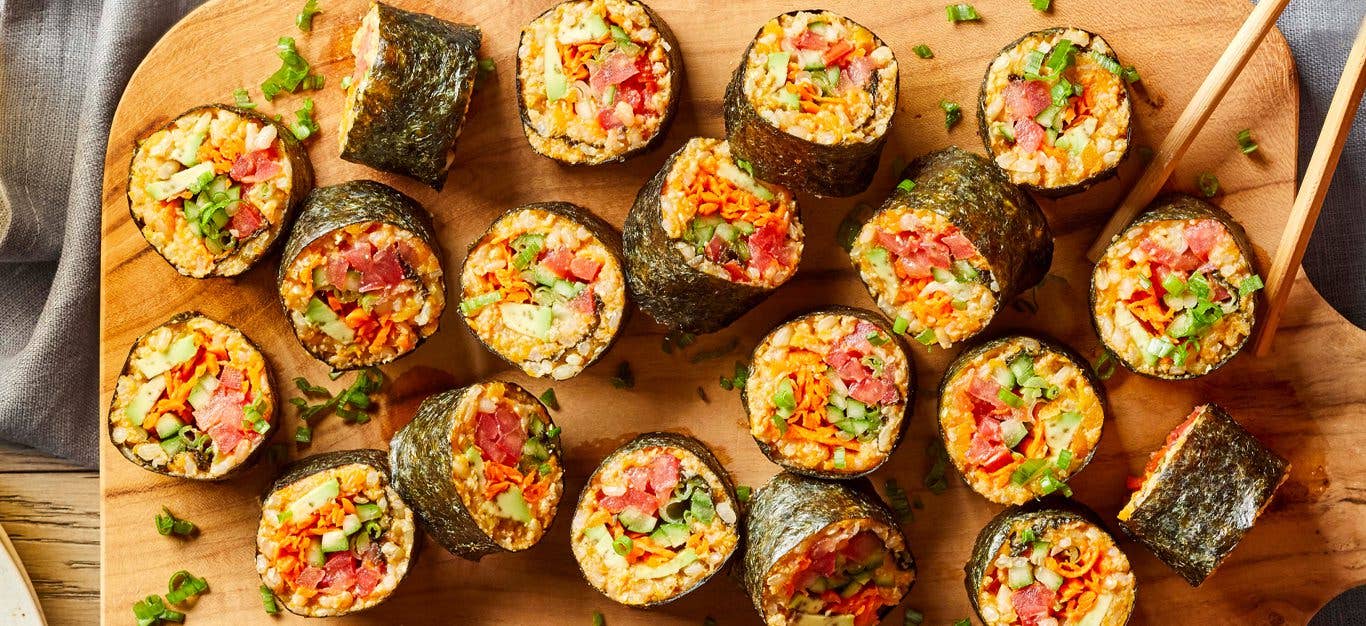 The rice used in these rolls gets an extra-creamy texture from butternut squash, which also gives it a lovely earthy sweetness. Marinated tomatoes take the place of meat and bring bursts of warming ginger and spicy sriracha to your palate. Crisp cucumber, buttery avocado, and herbal scallions bulk up the filling for a perfectly balanced wrap. One happy reader writes, "These are delicious and the tomatoes make for a wonderful mouth feel instead of meat or fish."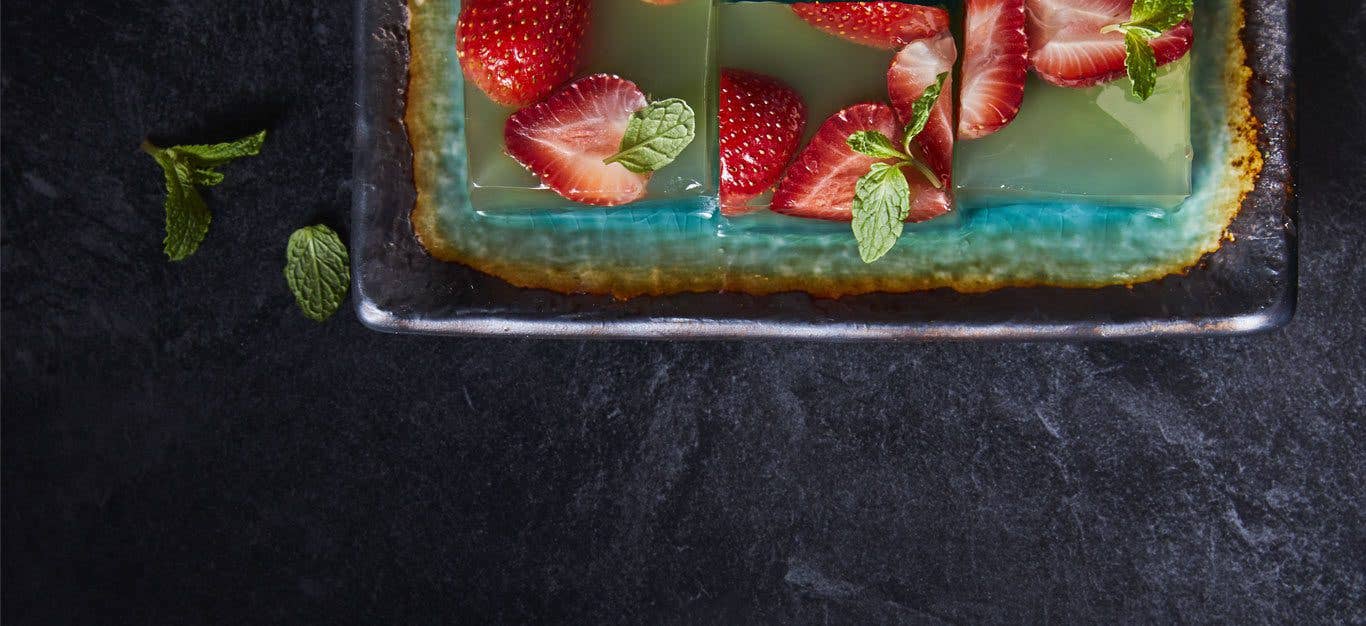 Need a crowd-pleasing dessert that isn't super heavy? These fruity jelly squares have a similar texture to Jell-O but are created with 100% plant-based ingredients. Agar powder (which provides the wiggly texture) is naturally sweetened with grape and apple juice then studded with fresh strawberry slices. The berries appear suspended in the transparent jelly to create a stunning treat for the eyes and the taste buds!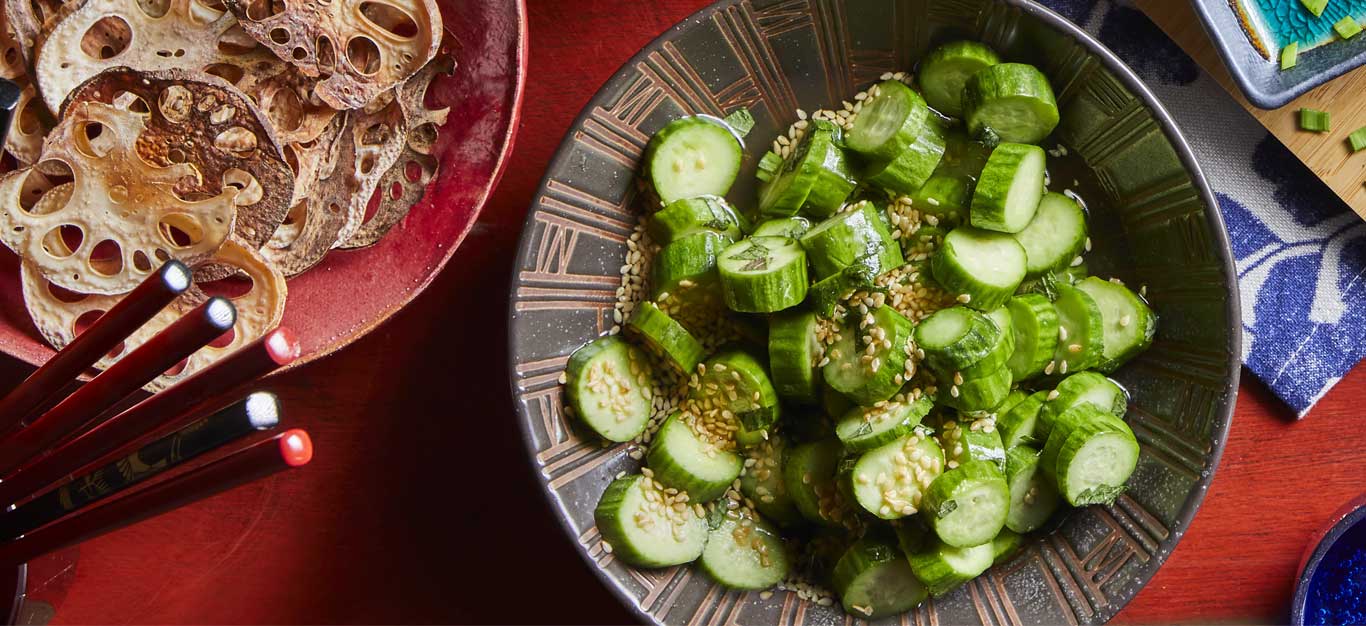 Serve these delicious quick-pickled cucumbers alongside a warm noodle dish or enjoy as a palate-cleansing snack. Simply slice the cucumbers, add a simple brown rice vinegar marinade, top with sesame seeds, and chill everything for 30 minutes. Mashing the slices before pouring on the marinade allows the porous cucumber skins to open up and fully absorb the flavors so each bite bursts with tangy goodness.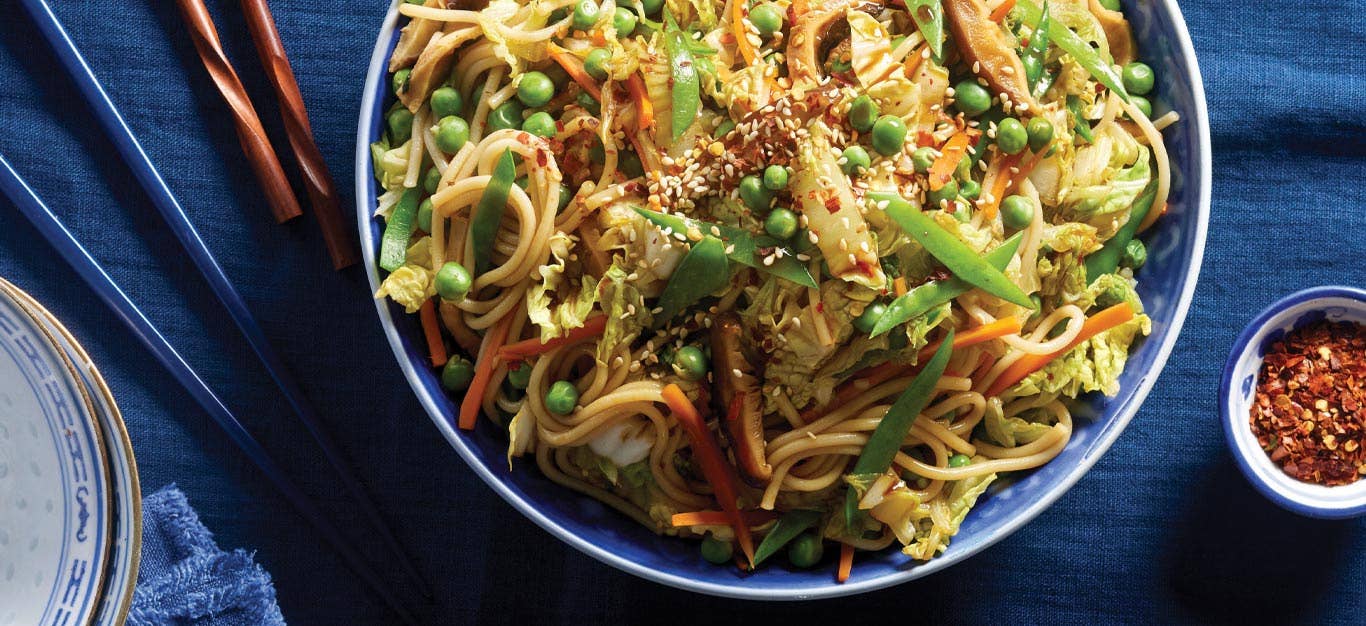 This vegan Japanese recipe is comforting, satisfying, and incredibly easy to throw together on busy weeknights. Start with cooking whole grain udon noodles until they're plump and tender, then sauté an assortment of your favorite veggies in broth until they're soft. Combine the noodles and veggies with a quick stir-fry sauce, and you're all set: Let the slurping begin! One satisfied reader says this dish is "super easy to make and very delicious."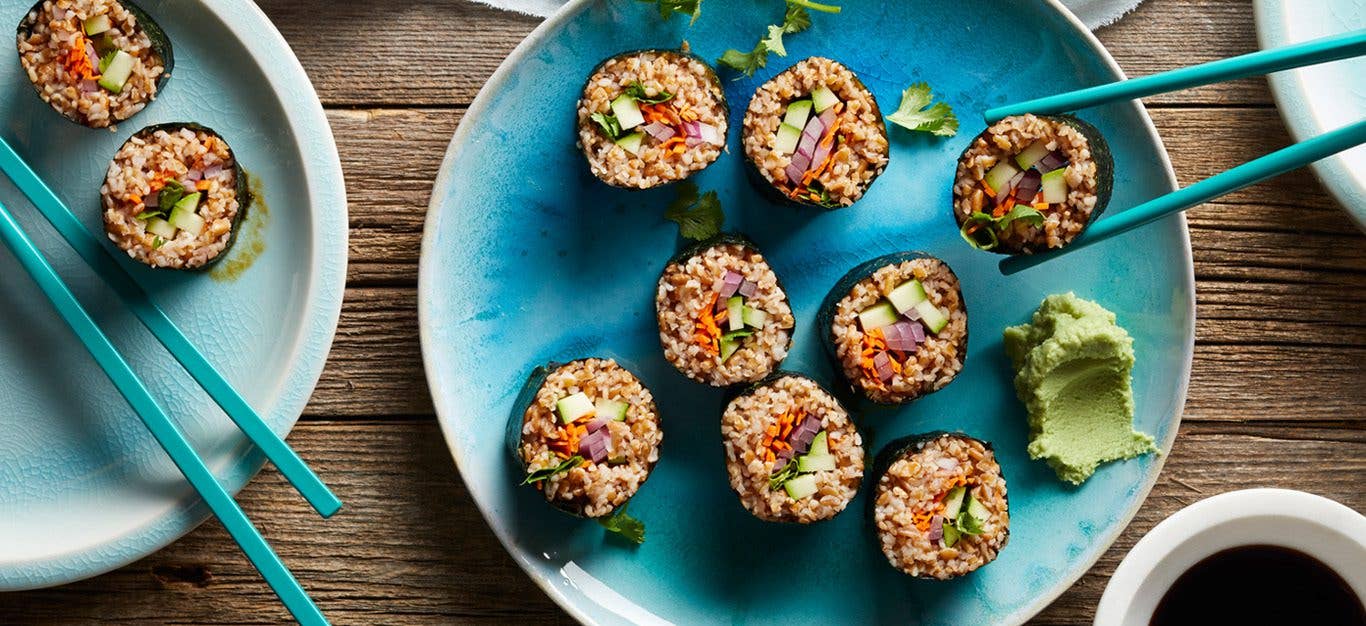 Pack in an extra serving of hearty whole grains with this scrumptious sushi roll, which substitutes rice for bulgur. Its fluffy texture absorbs a simple marinade of rice vinegar and maple syrup to add extra tang to each bite while creating a snug layer around the filling. Zucchini, red onion, and carrots shine at the center of the roll and get a burst of herbal freshness from sprigs of cilantro. Serve with all your favorite sushi accouterments, and enjoy!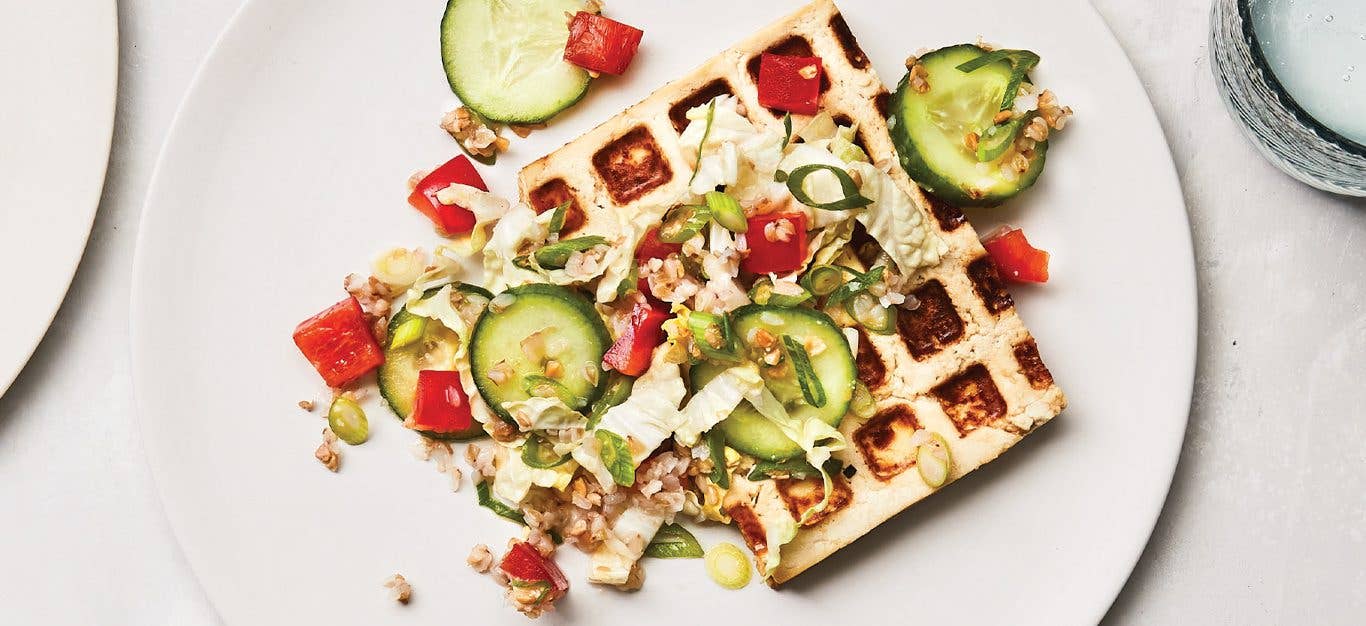 Here's a tasty new way to enjoy tofu: Stick a slab in your waffle iron! Each miso-marinated tofu "waffle" gets deliciously crispy on the outside while maintaining a tender interior when you use this unique cooking technique. Top each waffle with a refreshing salad of cucumber, bell pepper, kasha, and cabbage to turn this dish into a deconstructed stir-fry you'll devour within minutes.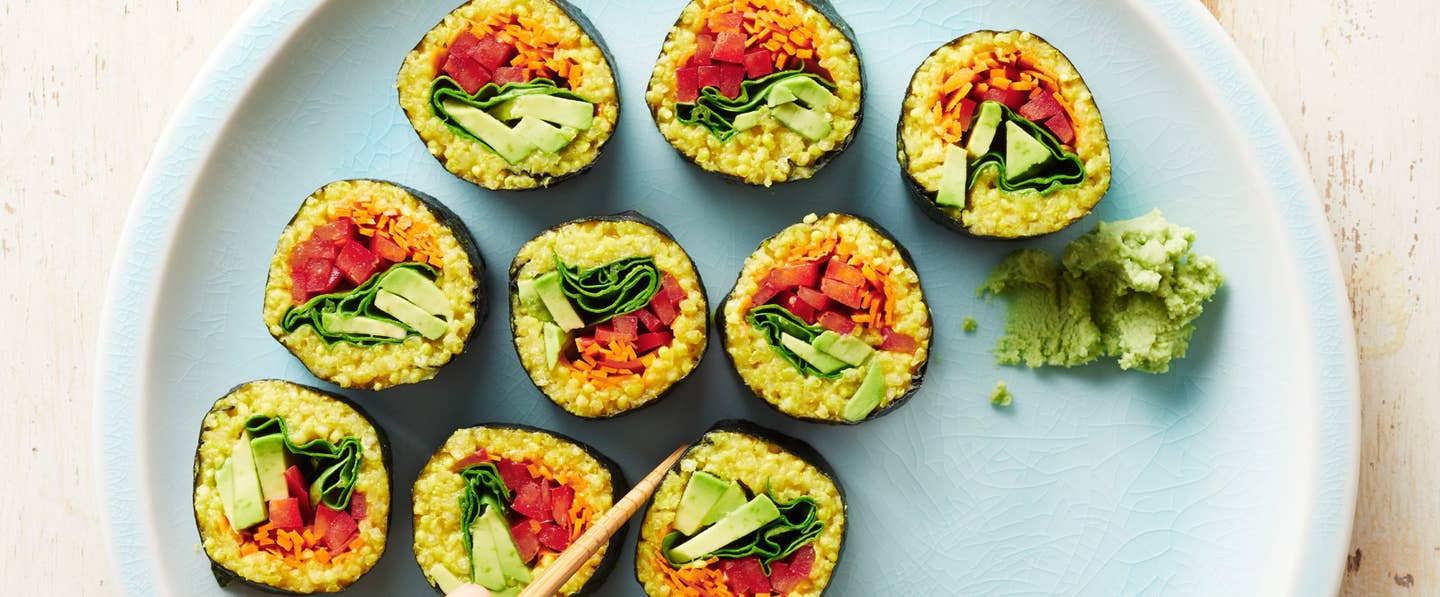 This vegan Japanese recipe receives an intriguing Indian twist by stewing the millet (which replaces sushi rice) in fragrant yellow curry powder. Not only does this add a beautiful golden hue to your roll, but it also adds a warming flavor that perfectly complements the crisp vegetables. Avocado, bell pepper, carrot, and spinach join forces in the filling while the salty nori wrapping ties it all together.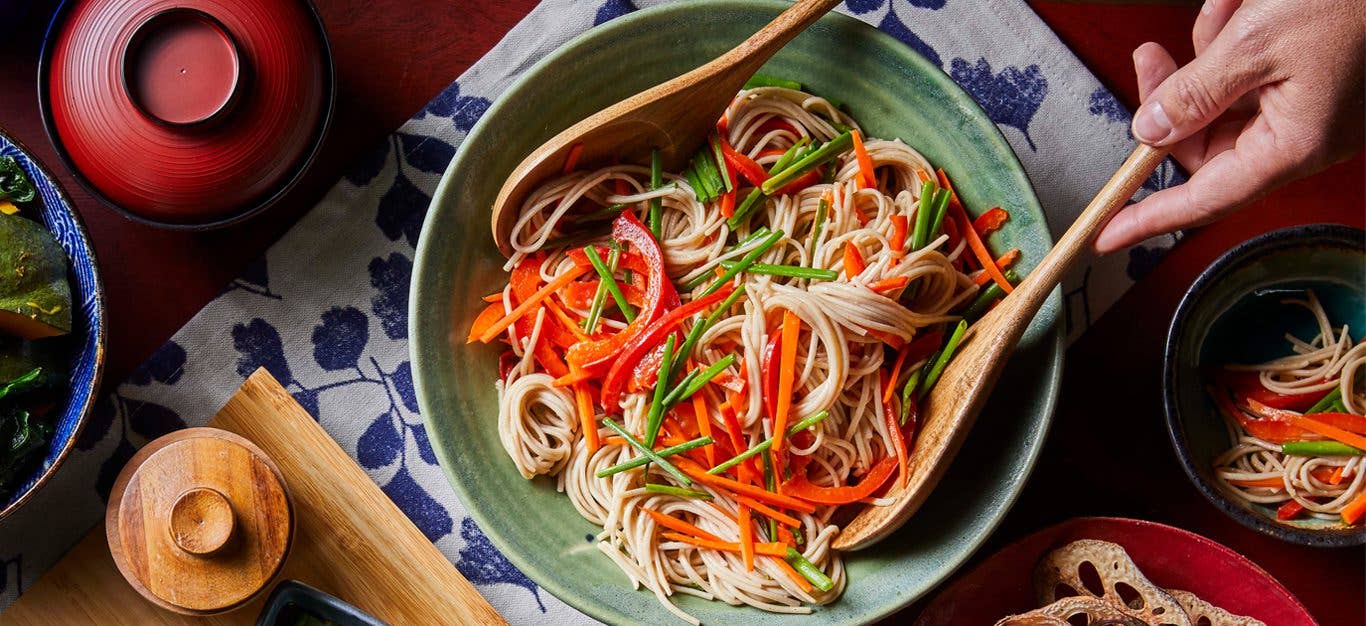 Need a simple dinner that doesn't skimp on flavor? This soba noodle salad comes together in 30 minutes and only uses seven ingredients. Made from buckwheat, soba noodles bring a delicious nutty flavor to this dish and are dressed up in yuzu ponzu sauce infused with fresh ginger. Matchstick-cut carrots and bell peppers add color and crunch, but you're welcome to throw in any other veggies that strike your fancy. Top with chives, and dig in!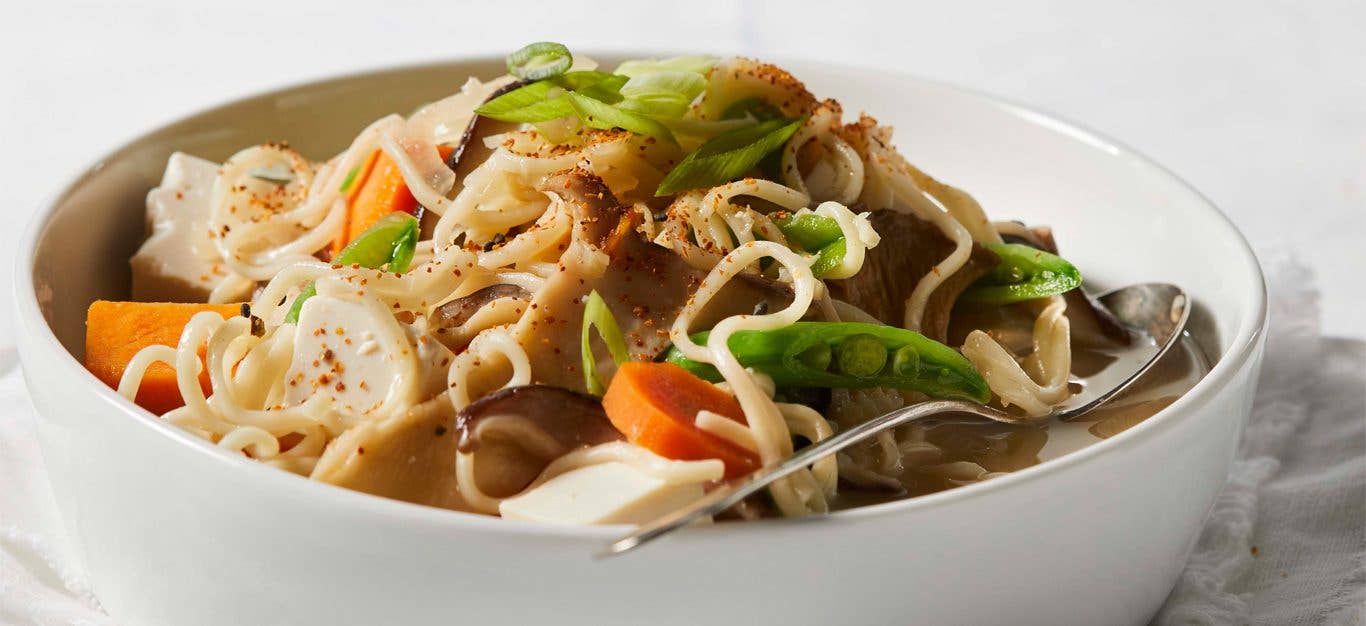 You'll never need to order ramen takeout again once you have this heavenly recipe in your regular rotation. Trumpet and shiitake mushrooms infuse the creamy broth with a rich umami flavor and offer a meaty texture to sink your teeth into. A medley of tofu, carrots, snap peas, and sweet potatoes are mixed into the chewy ramen noodles so each spoonful features a wide range of tastes and textures. Add as much spicy seasoning as you like, and get ready to have your mind blown by this undeniably delicious dish.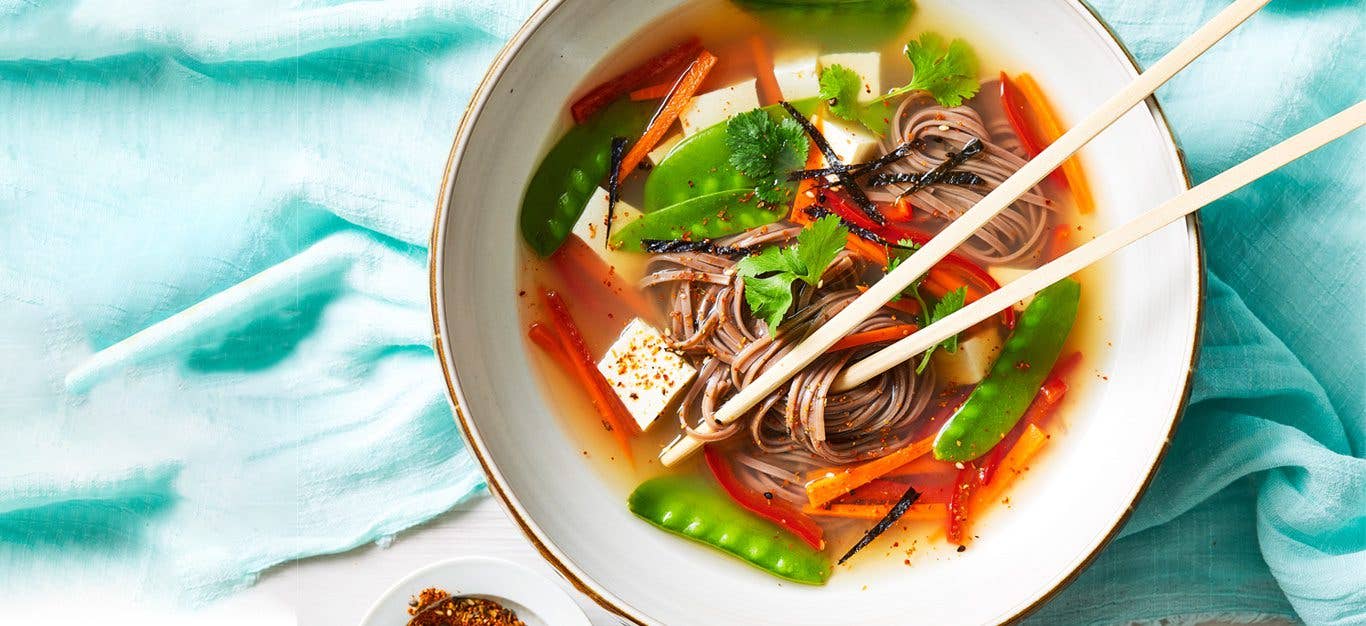 Miso soup is a staple of Japanese cuisine, and our version features chewy noodles, cubes of soft tofu, and tons of colorful veggies to complement the savory broth. Fresh ginger and garlic create an undercurrent of warmth, while kelp granules bring in the salty, briney flavor that's present in so many Japanese dishes. Garnished with cilantro and strips of toasted nori, this recipe takes a classic meal to a whole new level of yum.

The key to a scrumptious oil-free crunchy roll is crispy brown rice cereal. It may sound unusual, but the crackly texture perfectly mimics that crunch of deep-fried tempura without adding unhealthy ingredients. Earthy Japanese yam, creamy avocado, and refreshing cucumber create a crave-worthy filling that tastes even better when dipped in the homemade teriyaki sauce. If you have guests to impress, this is the recipe to make!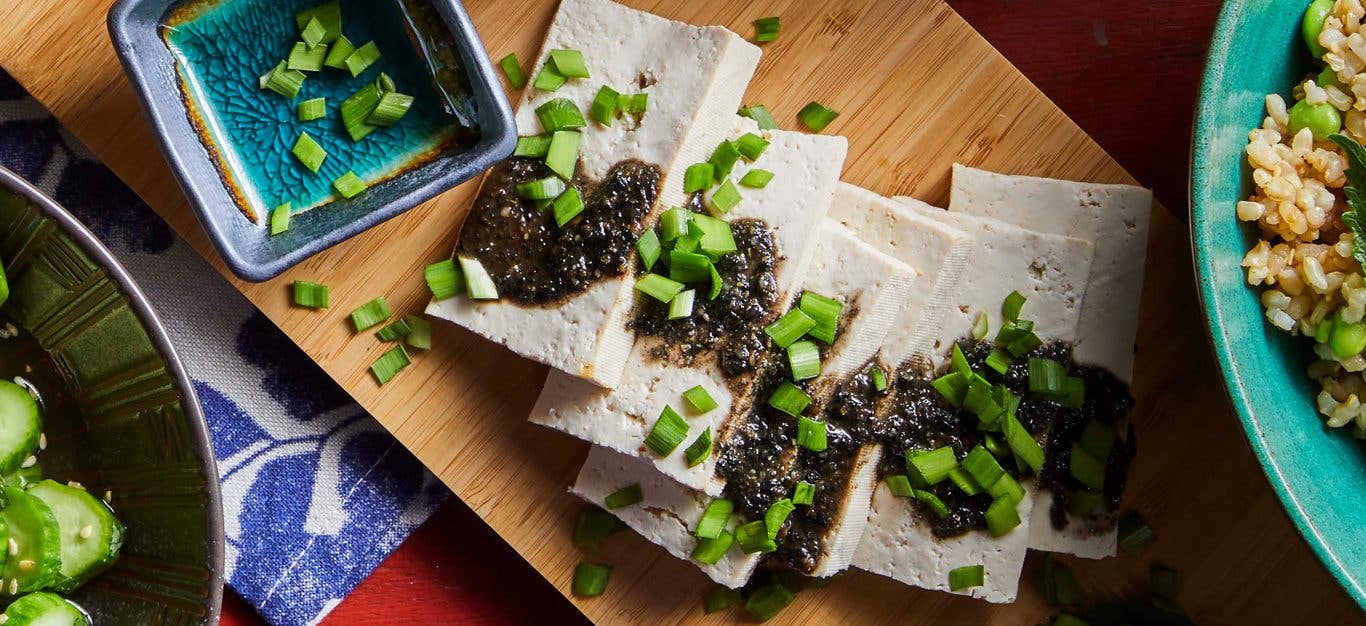 Silken tofu is velvety smooth, delicate on the palate, and oh-so-delicious when dressed up in a savory marinade. To recreate this easy snack simply whisk together umami-rich black sesame paste, spicy wasabi, and salty tamari to pour over slices of cold tofu. A sprinkling of fresh herbs turns this refreshing recipe into an eye-catching meal that's perfect as a light lunch or afternoon snack on a warm day.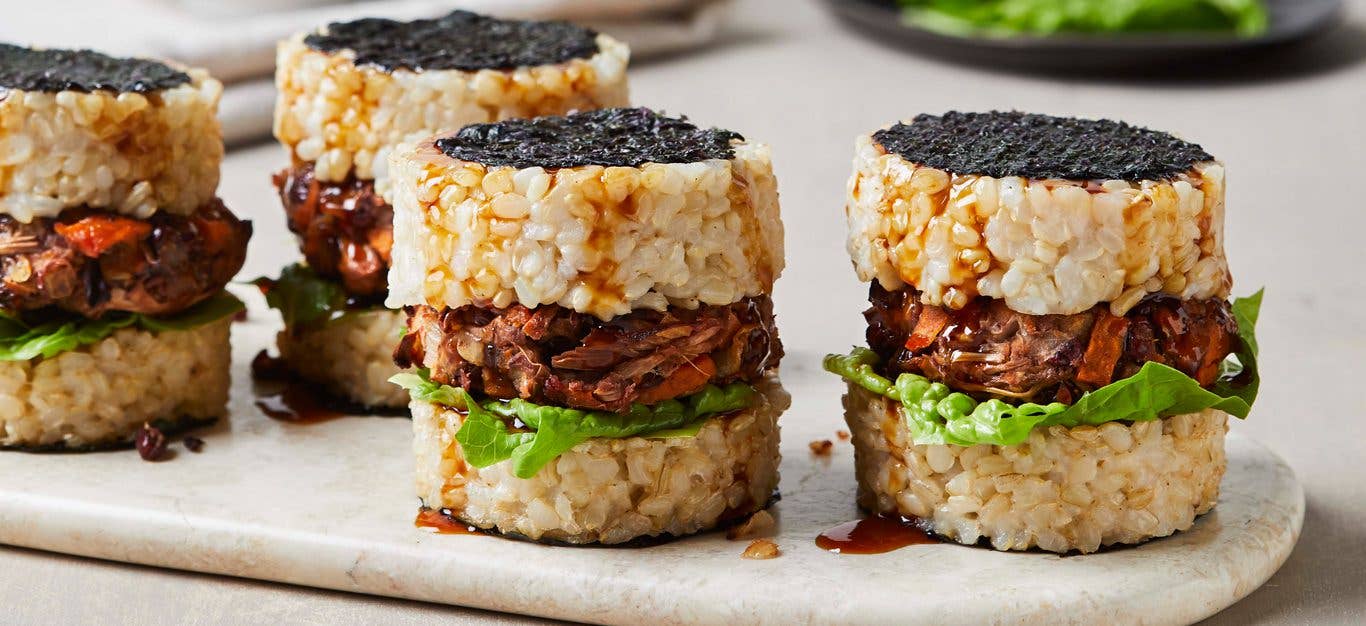 Somewhere in between a sushi roll and a burger slider, these decadent teriyaki jackfruit stacks are a tasty twist on Japanese cuisine. The buns are replaced by small rounds of rice and topped with salty nori to keep the structure intact. Savory-sweet jackfruit offers a meaty texture while nutrient-dense adzuki beans add extra heft. Slip a few lettuce leaves underneath the veggie patties, and you have a fusion meal the whole family will love.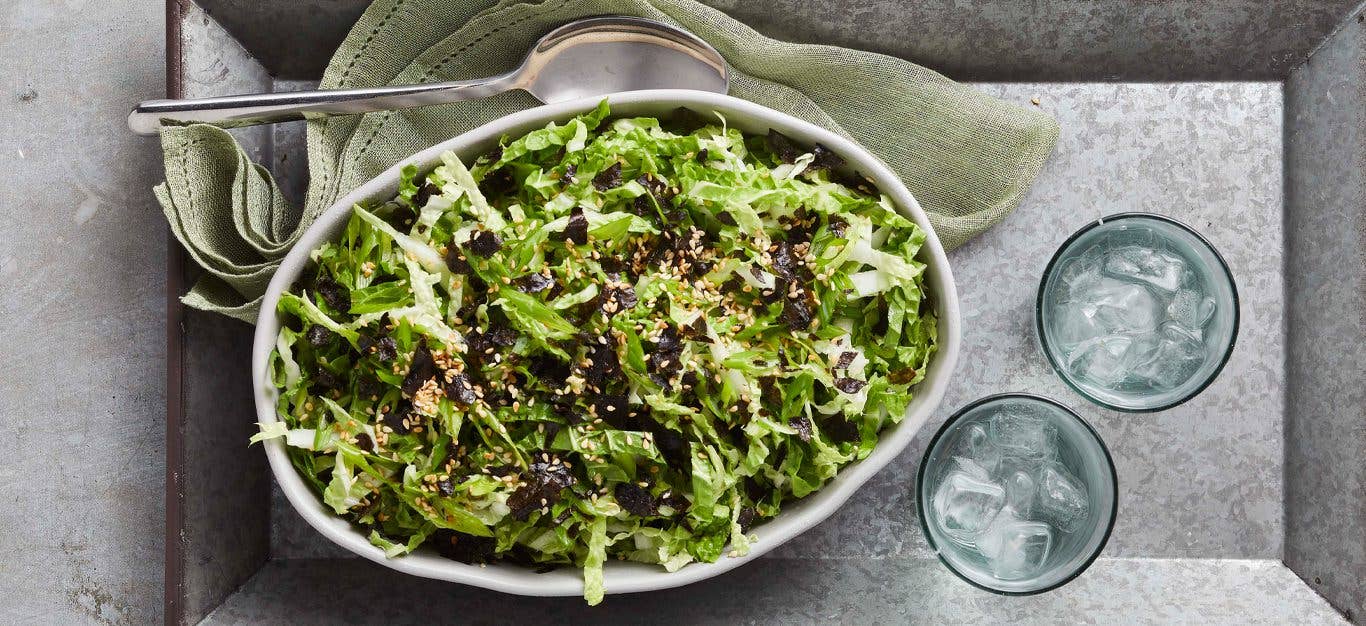 Serve up this special coleslaw when you're craving the flavors of sushi but don't want to put in the work of making your own rolls. Napa cabbage, scallions, and nori join forces to create a crisp and crunchy salad that works perfectly as a stir-fry side dish. Pear juice adds a subtle sweetness to the rice vinegar dressing while fresh ginger brings a spicy warmth. Sprinkle everything with toasted sesame seeds to finish off this simple dish, which celebrates some of the most classic flavors of Japanese cooking.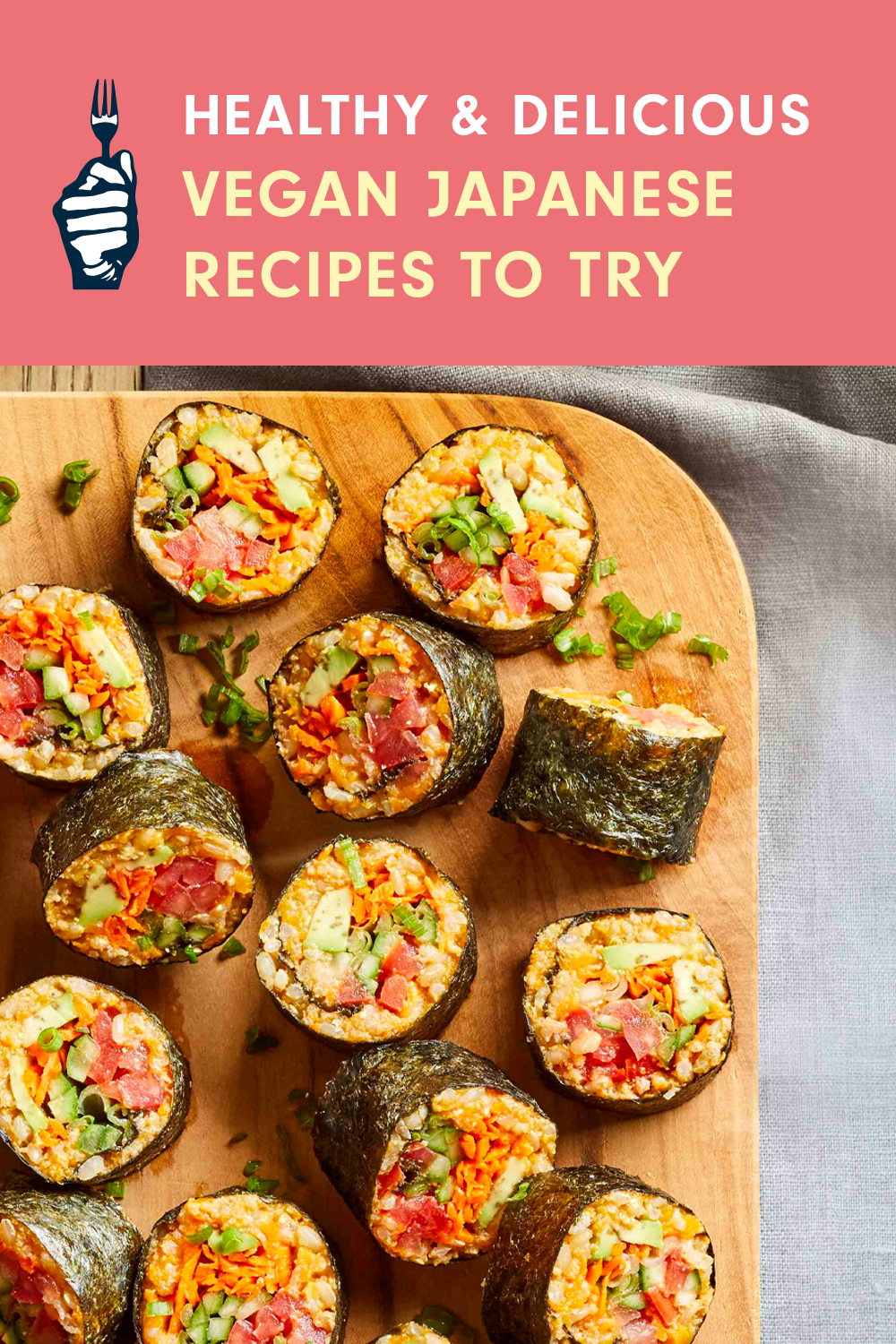 About the Author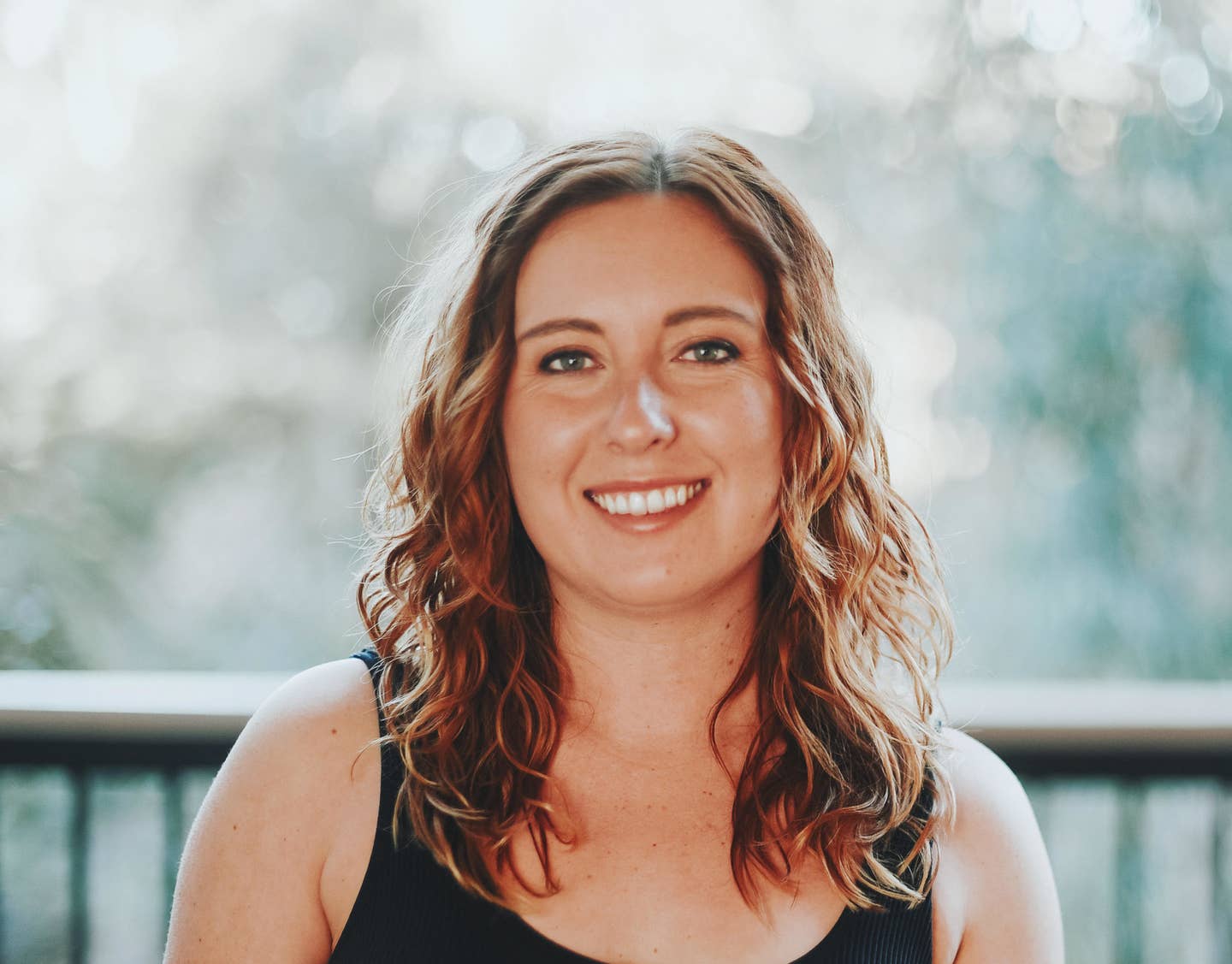 About the Author
Megan Edwards
Megan Edwards is a staff writer and content producer for Forks Over Knives. She is also a certified RYT-500 yoga teacher who is passionate about cultivating holistic wellness through plant-based eating, mindful movement, and meditation. With a background in journalism and marketing, she supports both the online presence and quarterly print magazine for Forks Over Knives.
See More from this Author
Free Download
Free 5-day meal plan!
Get a taste for healthy, fuss-free meal planning with this free five-day meal plan from Forks Meal Planner!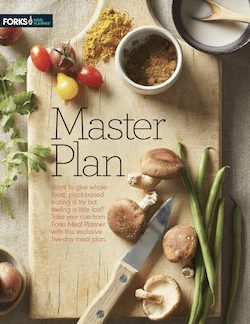 Join our mailing list
Get free recipes and the latest info on living a happy, healthy plant-based lifestyle.