Eating whole-food, plant-based (WFPB) is easy when you've got a well-stocked fridge and pantry at your disposal, and finding vegan-friendly restaurants is easier than ever thanks to apps like HappyCow, which lists more than 2,000 exclusively vegan eateries in the United States. But sometimes you'll find yourself dining at restaurants that don't cater to vegans. What's a WFPB eater to do? We asked plant-based veterans for their tips on getting a healthy restaurant meal—even on a menu with limited vegan options. Read on for their advice, as well as their favorite WFPB-friendly restaurants.
Side Survival
"I skip to the 'sides' section of the menu and order three to six sides depending on whether I'm with my wife. We'll get whatever is plant-based and healthy–carrots, potatoes, broccoli–and look for hidden sides on the menu, too. For example, we recently went to a restaurant and noticed that mushrooms accompanied the steak entree, so we asked the server to bring us a side of mushrooms. They were delicious!" —Shivam Joshi, MD, board-certified internal medicine physician at NYC Health + Hospitals/Bellevue and clinical assistant profession of medicine at NYU Grossman School of Medicine
Ask the Chef
"I've found that chefs welcome the chance to be creative in the kitchen to accommodate my palate and dietary preferences. I simply ask the chef to come up with something that features whole plant foods, skips added oil or incorporates it sparingly, and doesn't have any added salt. Across every cuisine, an absolutely delicious dish can be created with whole grains, gorgeous vegetables, plump beans or hearty legumes, and herbs and spices. I'm rarely disappointed." —Michael Greger, MD, author of How Not to Die and The How Not to Die Cookbook
Call Ahead
"Calling ahead makes your evening more enjoyable. You won't have to worry about trying to explain your preferences to the waiter and holding things up for the others you are dining with. When there are limited options, I order a salad with as many toppings as possible – avocado, nuts, seeds, quinoa, chickpeas, sweet potato. I aim to add a starch and a protein to make the salad a complete meal. If I know that the add-ons will be very limited, I bring my own nuts and seeds to sprinkle on." —Brenda Davis, registered dietitian and nutritionist, speaker, and co-author of Plant-Powered Protein
Go Global
"Try dining at restaurants with global flavors. Mexican, Thai, Indian, and Chinese restaurants tend to have plant-forward menus with lots of interesting flavors. Before going, it's always helpful to look at the menu to give you a sense of what's available so that you can be comfortable asking for special requests–like asking for veggies steamed with water instead of oil and brown rice instead of white. You don't want to be in panic mode when the server is taking orders!" —Chef Katie Simmons, plant-based personal chef and creator of Plants-Rule
Customize Items and BYO
"I look at the menu and see if I can find something to satisfy my hunger, then I'll ask to customize it. For example, I'll order a side of corn tortillas to dip into salsa instead of fried chips, or a burrito—hold the chicken, cheese, and sour cream, and instead prepare it with black beans, rice, pico de gallo, steamed kale, guacamole, and caramelized onion. Sometimes I bring what I want, like a side of finely diced kale and homemade 3-2-1 salad dressing (3 Tbsp. balsamic vinegar + 2 Tbsp. Dijon mustard + 1 Tbsp. maple syrup)." —Rip Esselstyn, host of PLANTSTRONG podcast and author of The Engine 2 Diet and Plant-Strong
Know Your Go-To's in Every Cuisine
"If I go to an Asian restaurant, steamed vegetables and brown rice with a little soy or hot sauce is enough for a flavorful meal–and often you can find steamed tofu, edamame, vegetable sushi or fresh vegetable rolls wrapped in rice paper. New York-style delis usually have vegan soups like lentil or pasta fagioli. Steakhouses always have baked potatoes, steamed vegetables, and salads, ordering the dressing on the side. Even many Wendy's carry baked potatoes and steamed broccoli." —Chef Darshana Thacker Wendel, author of Forks Over Knives: Flavor! and lead recipe contributor to the New York Times bestseller The Forks Over Knives Plan
Keep It Simple
"My go-to order is salad, sweet potato fries, or rice and beans." —Torre Washington, all-natural vegan bodybuilder and coach
Pros Share Their Favorite WFPB-Friendly Restaurants
Check out these restaurants and vegan dishes that have won over the hearts of even the most refined WFPB palates.
Handlebar in Chicago
"Handlebar in Chicago blew my mind when I first went vegan. I love their Black Bean Tostadas, Green Meanie Sandwich, and the Black Bean Maduro is out of this world. Plus, when you're craving vegan cake or oatmeal cookie, their desserts are the perfect treat. It's still one of the places I'll take my non-vegan friends for an awesome meal." —Chef Katie Simmons, plant-based personal chef and creator of Plants-Rule
Love.life in Los Angeles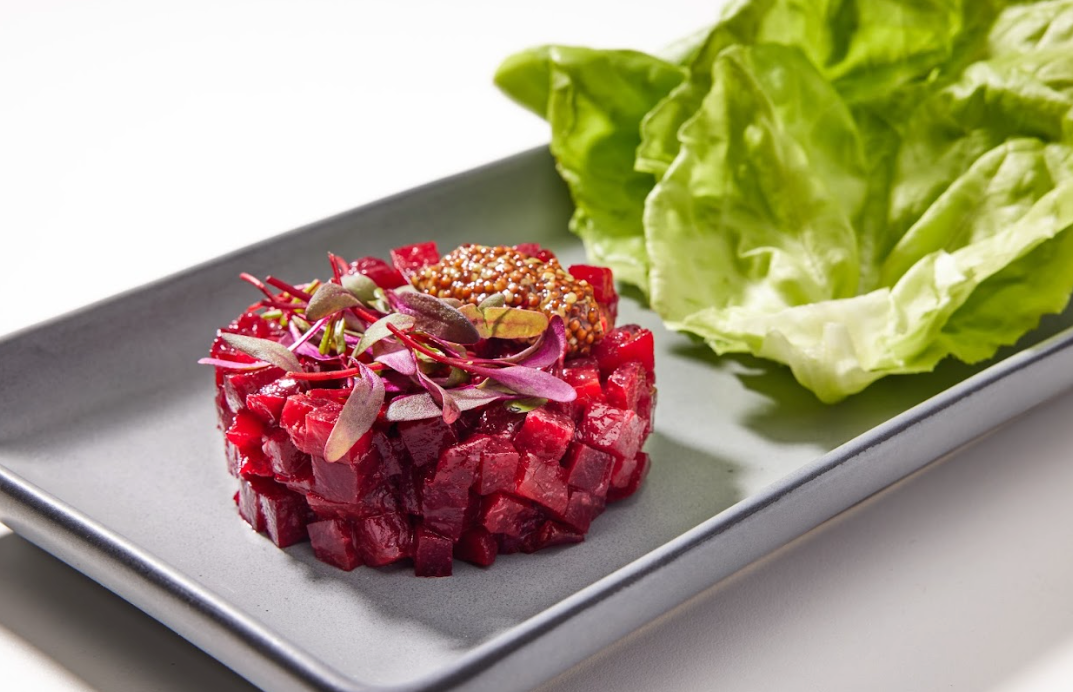 "Love.life is a new Culver City restaurant with tons of delicious oil-free vegan dishes, including some salt-free, refined-sugar-free, and gluten-free options. It's a must-visit for any WFPB eaters in the greater Los Angeles area." —Courtney Davison, managing editor for Forks Over Knives
Star of Siam in Los Angeles
"Star of Siam in Los Angeles. They make vegan pho and we ask that they not put fried onions in it so that it is oil-free." —Chef Darshana Thacker Wendel, author of Forks Over Knives: Flavor! and lead recipe contributor to the New York Times bestseller The Forks Over Knives Plan
Luanne's Wild Ginger in New York City
"One of my favorite places to go after work in Manhattan is Luanne's Wild Ginger on Broome Street in Little Italy. My favorite dish is the Malaysian Curry. It's hearty, delicious, and healthy!" —Shivam Joshi, MD, board-certified internal medicine physician at NYC Health + Hospitals/Bellevue and clinical assistant profession of medicine at NYU Grossman School of Medicine
Casa de Luz in Austin
"My favorite dining-out spot is Casa De Luz, a local macrobiotic community in Austin. I've been going to it since 1991. It has the cleanest SOS (sugar, oil, salt)-free plant-based food in the country, it's affordable, and the ambience is second to none. Every meal starts with the soup of the day, followed by a salad plate and the main course, a combination of grains, beans, and vegetables, with fermented veggies and a spectacular array of sauces."
—Rip Esselstyn, host of PLANTSTRONG podcast and author of The Engine 2 Diet and Plant-Strong
Araya's Place in Seattle
"My all-time favorite is Araya's Place in Seattle with its all-you-care-to-eat Thai buffet that is—are you ready?—all plant-based! What do I eat there? Everything. A favorite is tom yum soup packed with steamed broccoli." —Michael Greger, MD, author of How Not to Die and The How Not to Die Cookbook