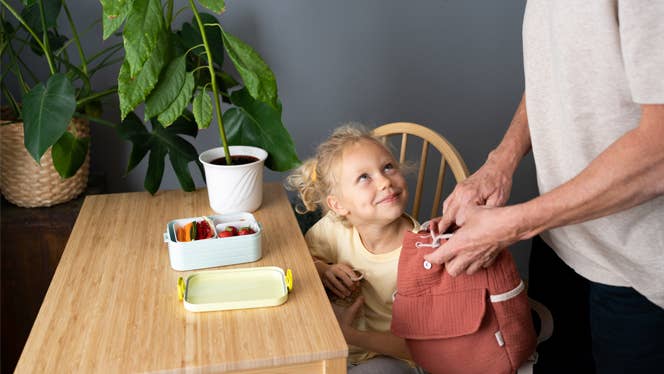 Healthy Lunchbox Tips, Tricks, and Ideas for Back-to-School
These tips and ideas will arm you with so many ideas for healthy lunches, and hopefully shake up any lunchbox ruts. Readers ask me all the time, "What do you give your girls for school lunches?" Now, you have the answers!
Set a Lunch-Packing Routine
Once you establish a routine complete with simple recipes and weekly staples, packing lunches becomes much easier. For parents working outside the home, this is just as handy for packing your own lunches. Here are some strategies that I find useful.
First things first: pick a regular packing time. When are you most productive? Morning? Night? Find a convenient time and make it a habit to prepare lunches at that time. One exception: If packing hot soups (or similar) in a thermos, pack those the morning of school.
Lunchbox Logistics: Containers and Storage
You will need an arsenal of lunchboxes or meal-sized food storage containers, especially if you are making lunches for several children. I find it useful to have a variety of sizes and shapes:
Larger square containers for wraps, sandwiches, pasta, quinoa, veggie burgers, hot dogs, and other main lunch foods
Small to medium containers for muffins and other baked goods
Small to medium containers for fruit, veggies, and other smaller snacks
Small containers for sauces and dips
Thermos containers (if using for heated or chilled foods)
Water bottles
There are many types, from individual containers to compartmentalized lunch kits, made from stainless steel, BPA-free plastics, and other materials. I opt for inexpensive but practical BPA-free containers like those made by Ziploc and Glad. They are durable enough to last a while, but also inexpensive enough to replace frequently misplaced tops and bottoms.
Plan and Prep Ahead of Time
It's very useful to batch-cook staples like grains, beans, and potatoes and also recipes like dips, soups, and muffins. When possible, double or triple recipes that you know are in heavy lunch rotation to ease your food prep through the week.
Embrace "Lunchovers"
Don't discard a leftover spud or a modest amount of hummus; instead, think, "What can I do with it?"
Leftovers make some of the best lunch add-ins. I call them "lunchovers." Kids love to nibble on a variety of foods anyway, and I find these small amounts are perfect for wrap and sandwich fillings, and pasta and rice bowls. Once you think beyond just sandwiches with a spread like PB&J, there's really so much you can do!
Give Your Kiddos Some Input
Occasionally ask them what they'd like packed in their lunchbox. If there is time, they can help pack. If not, they will still enjoy knowing they helped conceive it!
Hummus Is a Food Group!
This is one of my mantras. Jokingly, yes, but in reality I do use hummus like it's a food group! I use not just traditional hummus, but all flavor variations that use different beans and seasonings. We love it as a family, and I enjoy creating different flavor variations.
Some Hummus Tips:
Make hummus from scratch. Not only is it easy and less expensive, but it also tastes far better. Most store-bought varieties have a noticeable citric acid taste, or are too spicy for kids. Make it fresh, and you will also be able to adjust the seasonings as you like.
Make large batches. Refrigerate a portion, then freeze the remaining in portioned containers. Hummus freezes and thaws brilliantly!
Make hummus a meal! It's not just for dipping with pitas and veggies!
Try hummus:
as a sandwich spread
on toast, topped with avocado
in wraps with veggies and other favorite fillings
as a base layer on pizzas
mixed with hot grains such as rice or into hot pasta
dolloped on potatoes or sweet potatoes
spooned in the center of pitted dates for a snack
spread on rice or popcorn cakes for a snack
thinned with a little water for a salad dressing
thinned and mixed through hot pasta or as a sauce for raw (ex: zucchini) noodles
as a dip for steamed and roasted vegetables
layered in lasagna or other casseroles
in "grilled hummus sandwiches," tucking in a few slices of avocado after heating
spread in tortillas with spicy seasoning and cooked fajita-style
5. Find lots of great hummus recipes here.
Grain Bowls
Many vegetarian restaurants have some sort of grain bowl or "Buddha Bowl," where hot rice is topped with steamed tofu or tempeh, and then covered with an irresistible sauce. You can recreate something similar at home, using quinoa, millet, or brown rice. Add some favorite veggies, or even fruits like chopped grapes or berries, along with any other nutrient-dense add-ins like hemp seeds, sunflower seeds, pumpkin seeds, beans, tempeh cubes, etc. Add a zippy sauce and pack in a thermos or an airtight container with a fork or spoon to go! Looking for grain bowl recipes? Look right here.
Pasta Bowls
Much of what you can do with a grain bowl works equally well for leftover pasta. Short shapes (rotini, penne, etc.) work best for lunches.
Soups That Make a Meal
If your kids enjoy soups at school, cook a batch or two every week that can be worked into lunches. If you don't have time to make soups, there are some healthy store-bought varieties. When I use store-bought soups, I always add extra beans, pasta, tofu, grains, or vegetables. They make the soup more satisfying and nutritious, and also stretch one can over several kiddos!
Don't Forget Sauces!
Kids love to dip and dunk, so pack small containers filled with some of their favorite sauces. All these sauces can also be used to mix into whole grains or pasta, along with veggies, seeds, beans, tofu, etc. A sauce can turn something fairly ordinary into something extraordinary, so have a few in your arsenal.
Sandwiches (Savory and Sweet Ideas)
Using whole-grain and sprouted bread, and also whole-grain pita bread and tortilla wraps, try these ideas:
Hummus and bean dips layered with veggies or on their own
Chickpeas or white beans mashed with favorite condiments (use a mini food processor to quickly pulse beans into a mash)
Leftover potatoes sliced and layered with veggies or avocado
Leftover veggie burgers (whole or chopped/mashed)
Our girls love wraps. They are easy to eat, can be filled with some of their favorite ingredients, and are also individualized! Think of using leftover grains, bean spreads and dips, potatoes, sweet potatoes, nuts/seed butters, chopped or grated veggies, nutritional yeast, refried beans or baked beans, and cubed tofu or tempeh. Then, if your kiddos love things like olives or pickles, you can chop some up and add to their individual wrap—they will love it! Use whole-grain tortillas, or if your kids love nori, wrap fillings in those (but don't overstuff).
Try Breakfast for Lunch
Some children love to have breakfast foods at lunchtime, such as pancakes, French toast, or oatmeal.
Quick Fixes
You don't have to make everything from scratch! Busy parents need some quick fixes with wholesome store-bought items as well. If you are fortunate, you might have a health food store with a bakery or deli that offers some plant-based baked goods, salads, dips, and other lunch items. Other quick lunchbox options include:
Energy bars (ex: Lärabars, if nuts are permitted)
Bean dips/hummus
Whole organic fruit bars
Unsweetened applesauce cups
Whole-grain crackers
Popcorn and brown rice cakes
Toasted seaweed snacks
Seasoned pumpkin and sunflower seeds
Dried fruit
Whole-grain cereals (to eat dry)
Granola (opt for ones with less sweeteners)
Roasted chickpea snacks
Raw cookies (ex: macaroons)
Quick Homemade Snacks
Some homemade snacks are just about as quick to pack as a store-bought snack! Here are examples of snacks that don't require baking or cooking, just quick assembling:
Sliced fruit with nut butter or hummus for dipping
Brown rice cake spread with seed or nut butter
Pitted dates filled with nut butter, cashew cheese, or hummus
Whole-grain cereal mixed with seeds or nuts
Whole-grain crackers with hummus or nut butter
Frozen edamame (simply cover in boiling water for a few minutes, drain, and sprinkle with salt)
Baby carrots with dip of choice (nut butter, hummus, etc.)
Leftover cooked potatoes or sweet potatoes, halved and sprinkled with sea salt
Don't Forget the Fruits and Veggies
Always include fruits and veggies in your kids' lunchboxes. I like to include a whole piece of fruit (ex: apple, peach, pear), and also some smaller, cut pieces (especially for veggies). Fruit is plant-powered fast food! It's easy to eat, and most children love "finger fruits" like grapes, strawberries, and blueberries. But other fruits like cubed melon, plums, kiwi wedges (kids can eat them like an orange), and half a mango (scored) are welcome changes. Try replacing raisins with other dried fruit, such as apple slices, mango, or apricots. (Choose unsulfured and organic whenever possible.)
Also, try making it easier for kids to eat these fruits—sometimes they only have 10 or 15 minutes to eat! So, peel and segment their oranges. Put cubes of melon or pineapple in a small container, and pack a fork. Add cut grapes to their nut or seed butter sandwiches instead of jam. Make veggies convenient, too (ex: baby carrots, cherry tomatoes, sliced bell peppers, sliced cucumbers).
Free Download
Free 5-day meal plan!
Get a taste for healthy, fuss-free meal planning with this free five-day meal plan from Forks Meal Planner!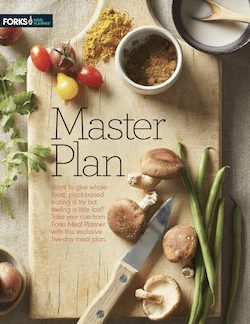 About the Author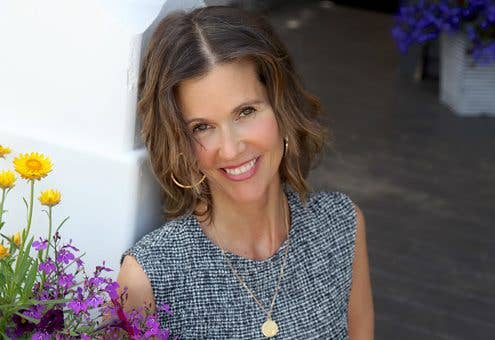 Join our mailing list
Get free recipes and the latest info on living a happy, healthy plant-based lifestyle.