Growing up in Southeastern Pennsylvania, I was a pretty active kid. I lived for playing outdoors with my brothers, Bryan and Bobby, and our friends. I loved playing baseball and ice hockey. I started working out in my late teens and carried that into my 20s. But in my 20s is when I began abusing my body, learning to "cope" with stress through poor dietary choices and overconsumption of alcohol. I went from being a fit 21-year-old at 175 pounds to being an unhealthy and depressed 25-year-old at 230 pounds. 
In 2014, my brother Bobby introduced me to the Forks Over Knives documentary film. A few weeks prior, after watching that film and Food Inc., he had decided to try a whole-food, plant-based diet. Even though he'd been on the diet only a short time, he'd already begun to swear by it. I wondered how it could be so much healthier than a standard American diet. Plus, how could you live without meat? How could you live without dairy? And where would you get your protein?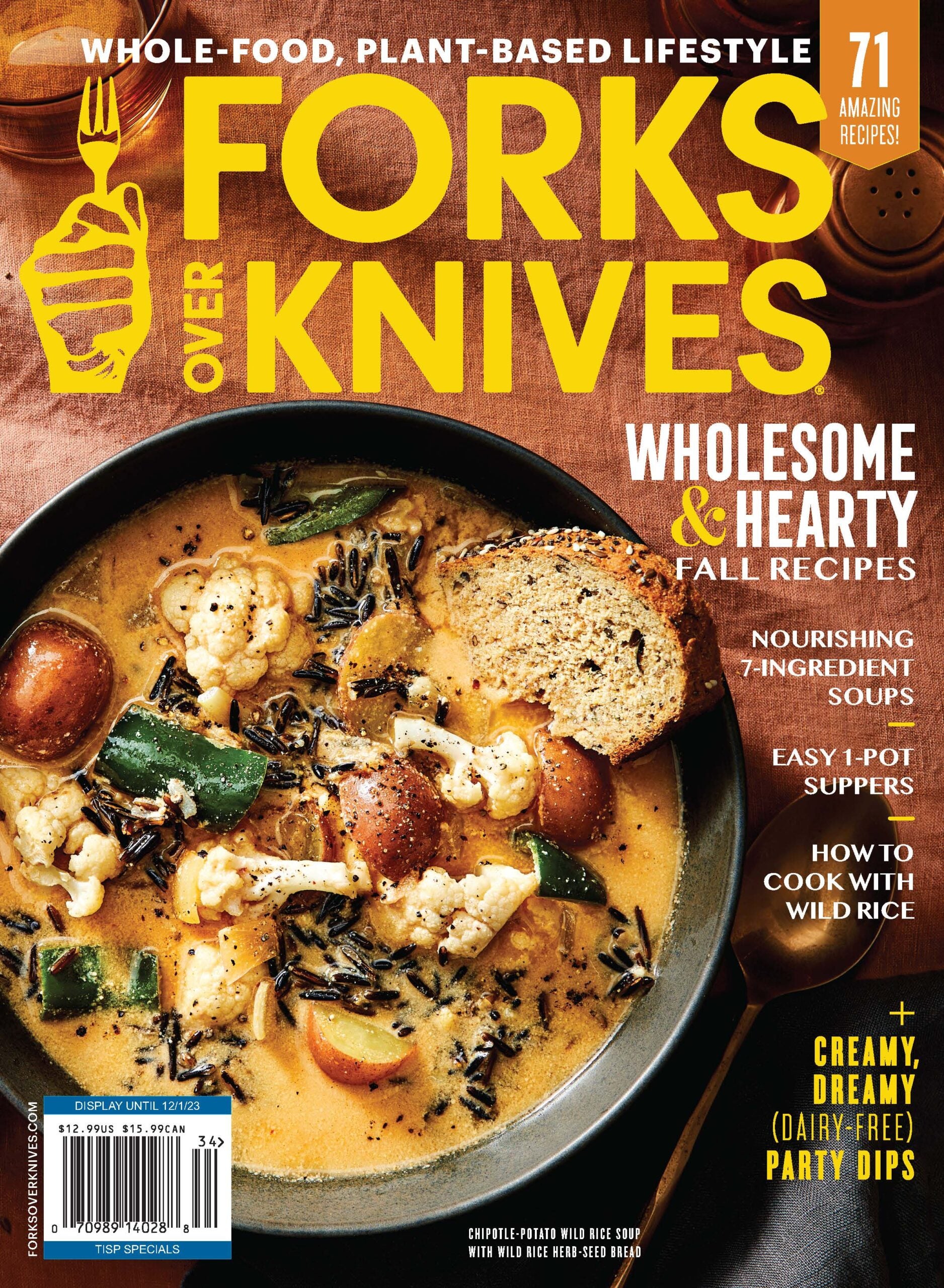 The Fall 2023
Magazine Is Here!
Our gorgeous "bookazine" features expert tips, inspiration, & comforting recipes for fall.
I brushed off my brother's suggestion, instead trying supplements, Bulletproof coffee, keto, and other diets that ultimately led me down a darker path. My weight went up and down as I tried all these different methods for weight loss. 
At one point, I read The Omnivore's Dilemma by Michael Pollan, which opened my eyes to the problems with factory-farmed meat. I started eating grass-fed meat, thinking it was healthier. I even went so far as to start working in the butcher shop at a farm-to-table restaurant. Although I'd started to be more mindful of what I ate and tried to incorporate more fruits and vegetables into my diet, my meat intake probably tripled at that point.  
In 2017, I moved away from my family and relocated to Florida for work. I started to become a little more active, taking up yoga and mountain biking more frequently. Unfortunately, I also started overeating, binge-drinking, and spending eight to 12 hours most days sitting at my desk and stressing out. I was not putting my health first, and my family knew it. But I just wasn't ready to make the changes that my body was screaming at me to make. I still felt that I was young enough to get away with it. 
Stroke, Seizure, and the Aftermath
On Oct. 13, 2019, I developed an intense headache. It was strange—I don't normally get headaches—but I shrugged it off as a seasonal allergy. (Side note: If you ever have an abnormal headache like this, go see your doctor immediately.)
A week later, on Sunday, Oct. 20, I went to pick up dinner from a local Turkish restaurant. As I put my credit card back into my wallet after paying, my left arm started to shake uncontrollably. I was having a seizure. 
I remember everything vividly until a few seconds after I hit the ground. There happened to be a server working that night who knew what to do for someone having a seizure, fortunately, so she rolled me on my side and put a pillow under my head. Despite her efforts, I still aspirated, but there's a very good chance that I might have died on the scene if it weren't for her. (I also might have died had the seizure happened just a few minutes earlier, when I was behind the wheel of my car. I undoubtedly had someone watching over me that night.)
I was rushed to the ICU, where I was hooked up to a ventilator and given a series of tests. The doctors determined that the seizure was the result of an ischemic stroke, which they concluded was from "lifestyle": poor diet, too much alcohol, too little physical activity, and a high-stress job. 
My family rushed from Pennsylvania down to Florida as quickly as they could so that they could be at my bedside, coming to grips with the fact that I might be dead by the time they got there. If I did survive, would I have to live with permanent damage to my brain or organs? Would I have more seizures? Could I ever be healthy? Could I even live on my own again? So many overwhelming questions. It was the lowest point of my life, no doubt. 
A Plant-Powered Recovery
I am blessed to have two amazing sisters-in-law and even more fortunate that one of them, Elaine, is a top trauma surgeon and functional medicine practitioner. Elaine oversaw and managed my care during my five-day stay in the ICU. 
After being discharged, Bobby, Elaine, and my mom joined forces to facilitate my recovery. They got me to start eating more whole plant foods and to cut out coffee (to help lower my blood pressure). My body started to respond immediately. After a couple of weeks, they convinced me to go to Asheville, North Carolina, to begin my rehab under the guidance of Elaine and Bobby. The idea was to walk away from daily-life stresses, and focus on relaxing and learning to eat well. That's when I first opened up to the idea of eating a WFPB diet. I figured that I'd commit to it for a month or so. I felt I owed it to my family as a way to show my appreciation for their support. 
Much to everyone's surprise, I was feeling well enough to go mountain biking within a week on my new diet. This was just three weeks after my stroke. It was truly shocking—especially given how hilly the Asheville area is! I was even outdoing Bobby on the trails.
After that first amazing ride, I realized how blessed I was to be alive—to be able to talk, walk, do yoga, and mountain bike. I couldn't put my family through another near-death experience. I never wanted to have another stroke. I was done with filet mignon, coffee, cheese, Chick-fil-A, alcohol, and all the other stuff that had made me sick. I'd always thought that I couldn't live without them, but it turned out that I almost died because of them. I committed to making a whole-food, plant-based diet a permanent fixture in my life.  
Two Years Later, Plant-Based and Thriving
I've been WFPB for about two years now. I am happy to report that I'm now down to 150 pounds (from 200 at the time of my stroke), and I'm thriving. This experience has brought me closer to my loved ones and given me a deep sense of gratitude for life and the things I enjoy doing. I competed in my first mountain bike race in June and finished in 13th place. (Aiming for the top-10 next year!) On top of all of the physical benefits, this journey led me down a path that helped me find the girl of my dreams, Rachel. I don't know where I'd be without her support, her care, her smile, her inspiration, or her cooking.  
I wish that it didn't take a stroke for me to stop ignoring the red flags and abusing my body. If you're reading this and struggling with poor lifestyle habits, I hope this inspires you to take your self-care more seriously and that you make a change before you and your family have to go through something like what my family and I did.
I'm deeply grateful to the company that I work for, my friends, my girlfriend, and my family. With their love and support, I've journeyed from the lowest point in my life to the highest.  
Ready to get started? Check out Forks Meal Planner, FOK's easy weekly meal-planning tool to keep you on a healthy plant-based path. To learn more about a whole-food, plant-based diet, visit our Plant-Based Primer.