Packed full of flavor, curry dishes are some of the most satisfying and comforting meals you can make.
And did you know the word "curry" is a broad term made up by Westerners to refer to Indian-spiced dishes or other dishes served over rice? Which makes about as much sense to people from India as calling all egg dishes an "omelette." (To read more on this, check out this article from Little Global Chefs.)
But one thing we all agree is that they're delicious! Here are 12 fabulous, plant-based curry dishes from around the world.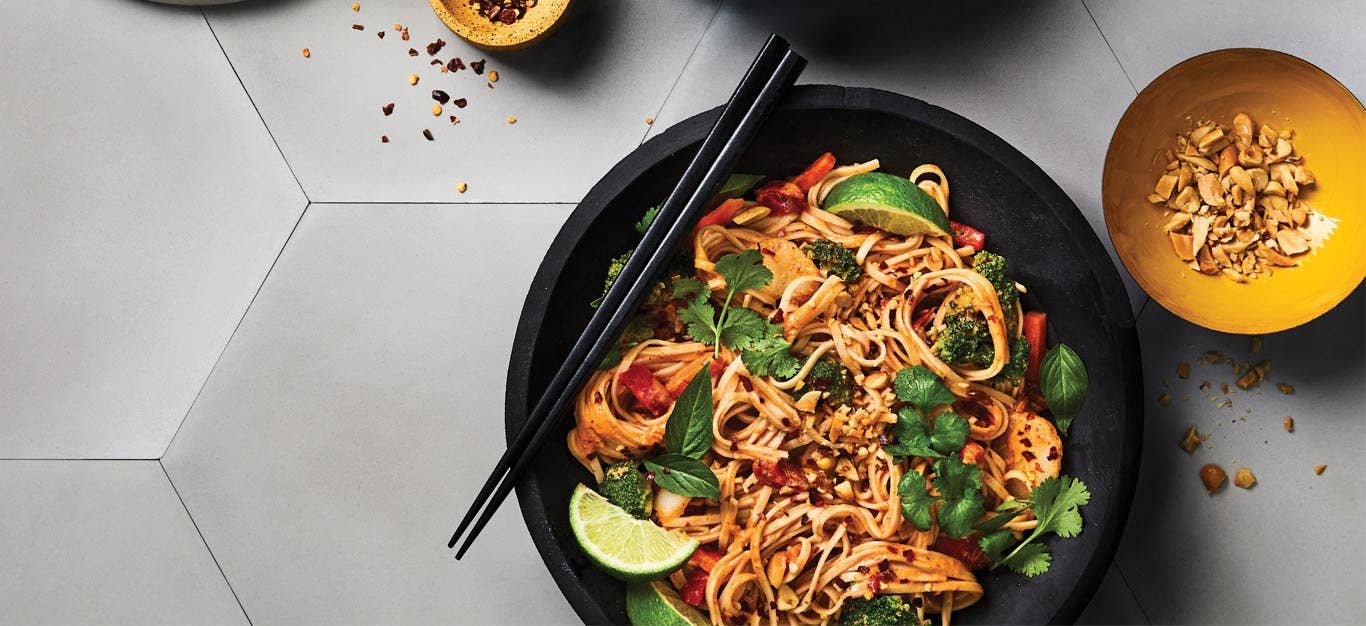 A dollop of
Thai Red Curry Sauce
is every cook's best friend when it comes to making healthy, tasty meals in a hurry. In this vibrant recipe, mixed frozen veggies and brown rice noodles combine with curry sauce, a tablespoon of crushed peanuts, and fresh snipped basil or cilantro leaves.

This recipe is based on an Ethiopian soup with a rich, deep curry flavor and complex textures. (Shorba means stew, and Addis is the capital of Ethiopia.) It only takes 15 minutes to prepare, then put your feet up for 45 minutes while it cooks.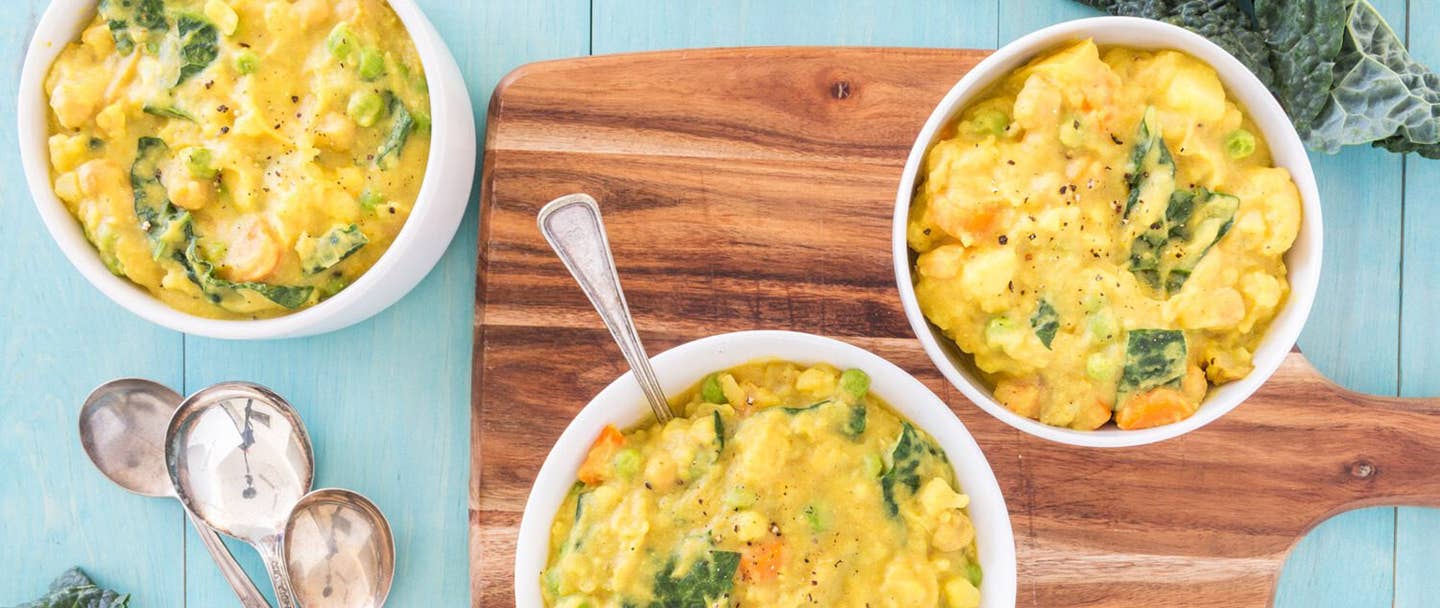 With a thick and creamy texture and irresistible flavor, this curry potato recipe is the ultimate comfort food. The creamy quality comes from soaking the cashews for at least 30 minutes—try not to skip this step as the longer they soak, the more creamy it is!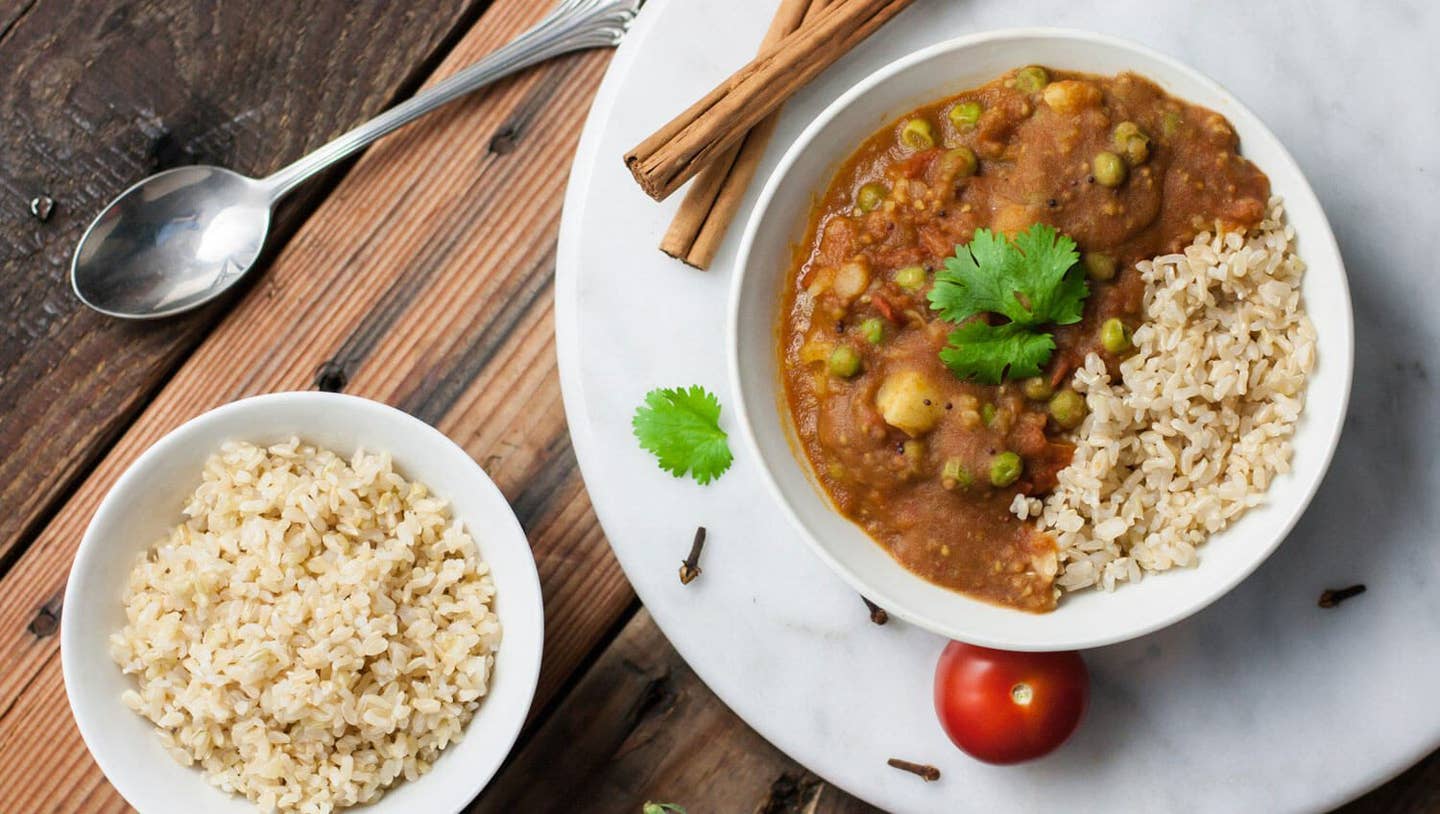 Aloo Mattar is one of the most popular North Indian dishes, and most households have their own recipe. This is 
Chef Darshana's
 family recipe, handed down from her mother. The secret lies in dry roasting the special blend of spices for a couple of minutes at the start.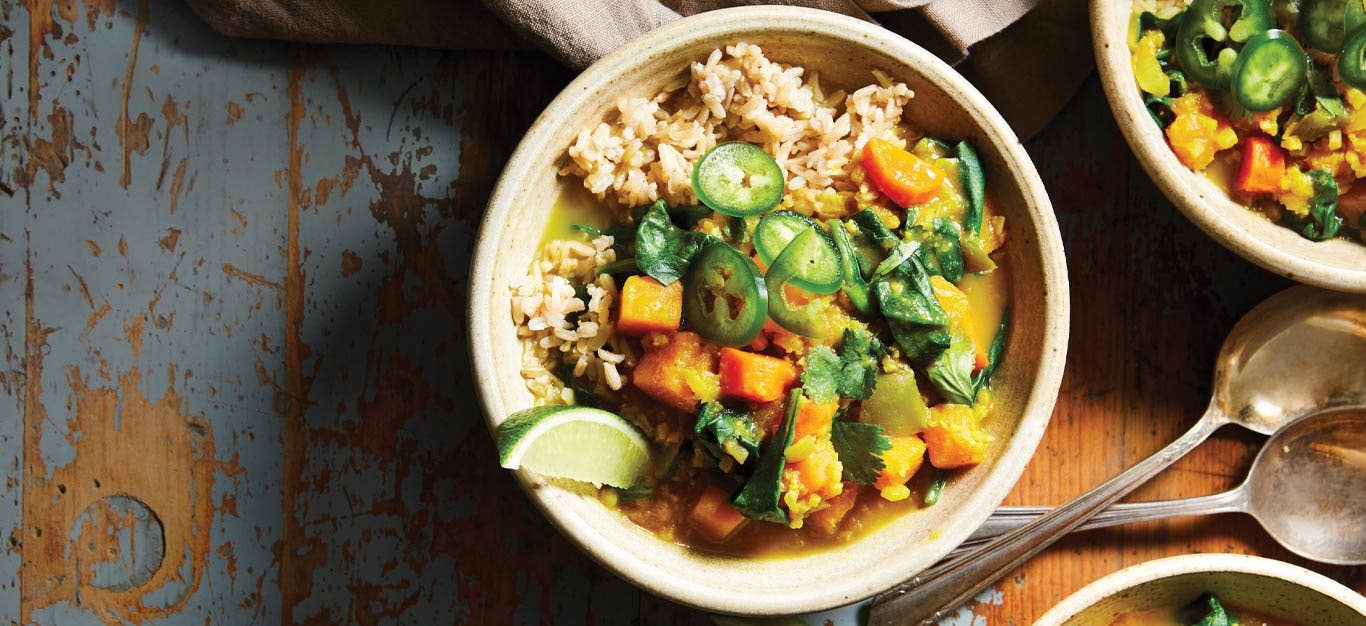 Store-bought curry powder is all you need to give bold curry flavor to this hearty stew. The gold hue and sweet flavor of butternut squash works well with vegetables such as green bell pepper and spinach, while riced cauliflower and coconut plant milk (not coconut cream) give a creamy flavor with minimal added fat. Serve as it is, or over basmati rice or another whole grain.

This yummy curry bowl only takes 15 minutes to cook! The frozen mixed vegetables make it the perfect "grab" meal. And because it uses curry powder—if you don't have the individual spices, you're covered.

An East Indian comfort food dish of rice, lentils, and split peas, with a delicious combination of herbs and spices that'll fill your kitchen with wonderful aromas. There are a lot of ingredients, so allow extra time to prepare this one.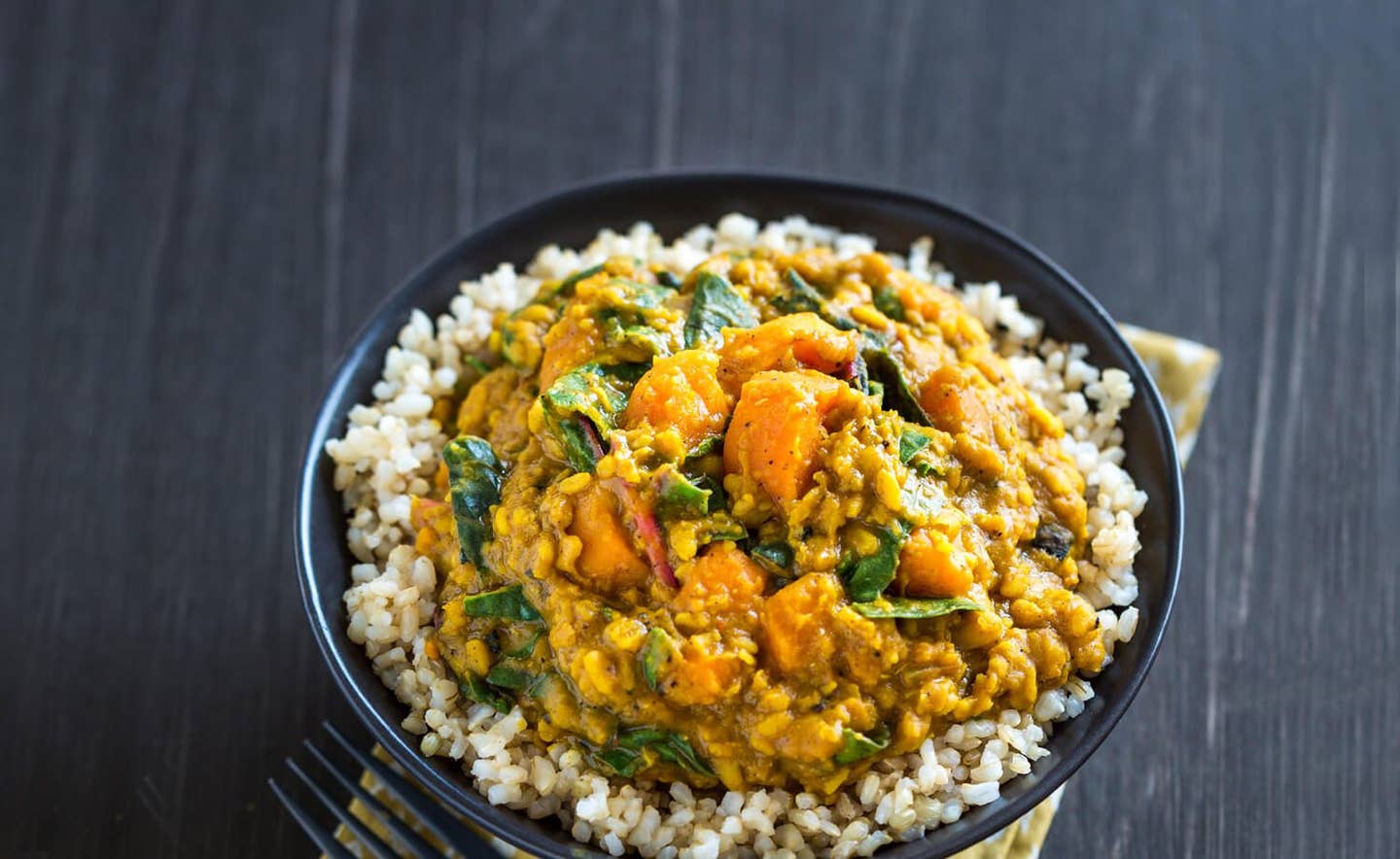 Serve this gluten-free, soy-free, nut-free dish on top of rice or quinoa, or alongside a piece of vegan chapati, naan, or crusty French bread. It's one of our most popular recipes, enjoyed by over tens of thousands of readers!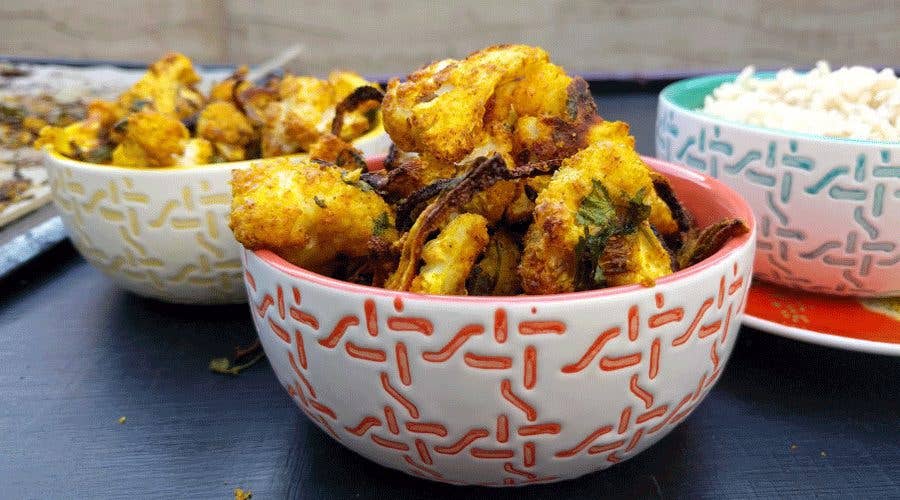 What a simple and delicious recipe from whole-food, plant-based blogger 
Molly Patrick.
These cauliflower bites make a great side dish, perfect for when friends come over or you want something special. They're crispy and so full of flavor. (Note: when you get to Molly's website, scroll down to see the recipe itself.)

Let's head East with this recipe from 
Mary McDougall
, co-author of 
The Starch Solution
. It uses a mild Thai green curry paste, which you can get from most Asian food markets—you can swap red paste if you like it extra spicy. And for an especially colorful dish, use Thai purple rice in place of the brown rice.

This is another super quick and tasty recipe! The spice mix brings the tomatoes, chickpeas, and sweet potatoes to life. Serve on its own or over rice, quinoa or a baked potato.
This article was originally published on April 27, 2017, and has been updated.
About the Author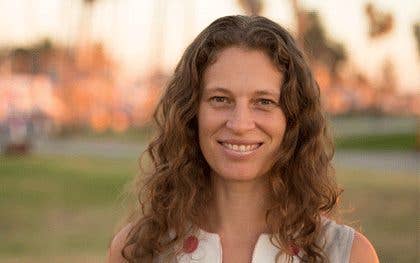 About the Author
Lisa Esile, MS
Lisa Esile is an author, illustrator, blogger, vegetable gardener, and whole-food enthusiast with a special fondness for potatoes. She has a master's degree in human nutrition and is passionate about showing people how to live happier, healthier lives. She is the author of
Reach Your Big Calm
and the co-author of
Whose Mind Is It Anyway?
Find her on
Facebook
.
See More from this Author
Free Download
Free 5-day meal plan!
Get a taste for healthy, fuss-free meal planning with this free five-day meal plan from Forks Meal Planner!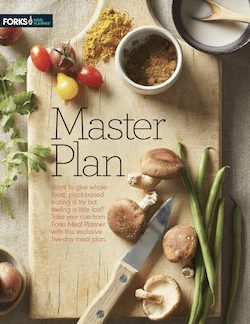 Join our mailing list
Get free recipes and the latest info on living a happy, healthy plant-based lifestyle.