Kabobs, kebabs, koftas, souvlaki, yakitori, satay, grill sticks: Threading foods on skewers for easy grilling is a cooking technique that's used around the world. Most have origins in meat-based skewers such as shish kabobs (grilled lamb), but the term and the method can be applied to plant-based combinations—with spectacular results. Here's a rundown of kabob basics, from prep tips and success secrets to tasty combinations and easy marinades. 
Choosing Your Vegetables
The key to a truly great kabob is a balanced combination of ingredients. A good rule of thumb is to pair milder components (e.g., zucchini, eggplant, extra-firm tofu, mushrooms, broccoli, and potatoes) with zesty ones (e.g., onions, peppers, and cherry or cocktail tomatoes).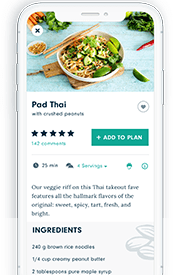 Try Our Award-Winning Meal Planner For Free!
Healthy eating has never been so easy.
Here are a few kabob combinations that work especially well together (marinade recipes can be found below):
Zucchini chunks, onion wedges, cherry tomatoes, and your favorite

vinaigrette

-style salad dressing as a

marinade

Baby potatoes (par-boiled), diced red bell pepper, cremini mushrooms, whole shallots, miso marinade

Carrot chunks (par-boiled), red onion wedges, diced yellow bell pepper, peanut marinade

Eggplant chunks, diced yellow squash, red onion wedges, tahini marinade

Brussels sprouts (par-boiled), sweet potatoes (par-boiled and cut into chunks), leek rounds, tangy mustard marinade

Extra-firm tofu, mini bell peppers, broccoli florets, soy marinade
Prepping and Assembling Kabobs: 7 Success Secrets
Prepping and assembling kabobs is simple. Just follow these tips.   
1. Don't Peel
Leave skins on fruits and vegetables whenever possible to help them remain intact and prevent sticking. 
2. Cut Ingredients into Large, Uniform Pieces
Cut all ingredients into 1½- to 2-inch chunks so that they can be threaded onto skewers without splitting and will cook evenly. (Leave smaller fruits and veggies, such as cremini mushrooms and cherry tomatoes, whole so that they don't fall apart.)
How to Cut Onions for Kabobs
Smaller onions work better for kabobs. To ensure they won't fall apart on a grill, use this technique: Peel outer layer; then trim the root ends of onions without cutting the root all the way off. Cut each onion into eight separate wedges. The remaining root bit will hold the layers of a wedge together. You can also sub in whole, peeled shallots or leek rounds for fuss-free onion-y flavor.
3. Pre-cook Tougher Veggies
Longer-cooking vegetables such as sweet potatoes, carrots, cauliflower, and fennel should be par-boiled until just tender (5 to 10 minutes) beforehand so all the ingredients cook in the same amount of time. Added bonus: This pre-cooking step makes them easier to thread on skewers.
4. Use Thin, Sharp Skewers
Whether you opt for wood skewers or stainless steel, look for options that are thin but sturdy and have sharp tips that can easily pierce ingredients. Metal skewers have the added advantage of conducting heat right to the center of kabob ingredients to help them cook all the way through. Wood skewers should be soaked in water for at least 30 minutes to prevent singeing and burning. 
5. Alternate Elements so Flavors Mingle
Threading different ingredients one after the other makes for colorful kabob combinations and allows the various components to season each other with their juices.
6. Don't Overcrowd
Leave at least 1 inch of space at both the top and the bottom of kabob skewers so that they are easy to pick up and turn. Thread ingredients onto the skewers snugly, but not tightly, to allow heat to circulate around all sides of each piece. Resist the urge to add an extra layer or two if there's a little room left; heavy kabobs are harder to turn, especially when you use wooden skewers.   
7. Maximize Flavor with Marinades 
Marinating kabobs once they're assembled infuses them with flavor and keeps the ingredients moist and tender. Marinating time can be anywhere from a few minutes to 24 hours. If you're short on time, you can brush marinades over kabobs just before cooking, the way we've done with our Veggie Fajita Kabobs. Salad dressings, pestos, and other prepared sauces make great kabob marinades when diluted with a little vegetable broth or water. Read on for other easy marinade ideas.
Easy Marinades for Veggie Kabobs
Below are a few stir-together marinades to juice up your veggie kabobs. Simply mix these up in resealable containers or bags, add assembled kabobs, and refrigerate until ready to use, shaking the containers occasionally to ensure the kabobs ingredients stay coated in the marinade. Drain the kabobs well before cooking, and reserve extra marinade for a sauce, if desired. (Amounts are enough to coat eight plant-based kabobs.) 
Tangy Vinaigrette-Style Marinade
2 tablespoons vinegar (balsamic, apple cider, or white)

2 tablespoons chia seeds, hemp seeds, or ground flaxseeds 

2 teaspoons Dijon mustard

⅓ cup vegetable broth or water
Tahini Marinade
2 tablespoons tahini paste

1 tablespoon lemon juice

1 teaspoon minced garlic

½ cup vegetable broth or water
Miso Marinade
1 tablespoon miso paste

2 teaspoons rice vinegar

⅓ cup vegetable broth or water
Soy-Ginger Marinade
2 tablespoons reduced-sodium soy sauce

1 teaspoon lemon juice or white vinegar

1 teaspoon grated ginger

1 teaspoon minced garlic

⅓ cup water
Peanut Marinade 
2 tablespoons peanut butter

1 tablespoon lime juice

1 tablespoon reduced-sodium soy sauce

2 tablespoons finely chopped shallot

⅓ cup broth or water 
How to Cook Plant-Based Kabobs
Kabobs require high, dry heat to hold their shape and texture. Grilling is the obvious cooking method of choice, but you can also cook kabobs in a nonstick grill pan, a countertop grill (e.g., a George Foreman), or under the broiler. Whichever method you choose, be sure to preheat well. Leave kabobs to cook 3 to 4 minutes without turning to start, then turn every 2 to 3 minutes to sear on all sides. Total cooking time will be about 10 to 12 minutes depending on the ingredients you use. 
Extra Credit: How to Make Dessert Kabobs with Fruit
The high heat of kabob cooking softens fresh fruit to pie-filling tenderness and caramelizes the fruit's natural sugars. Simply thread firm fruit slices or cubes onto skewers; brush with a little citrus juice or maple syrup, if desired; then grill or broil 6 to 8 minutes until lightly browned and tender. Or skip the grilling and serve them cold for a sweet, refreshing treat with a fun presentation, as in our Thai Fruit Skewers.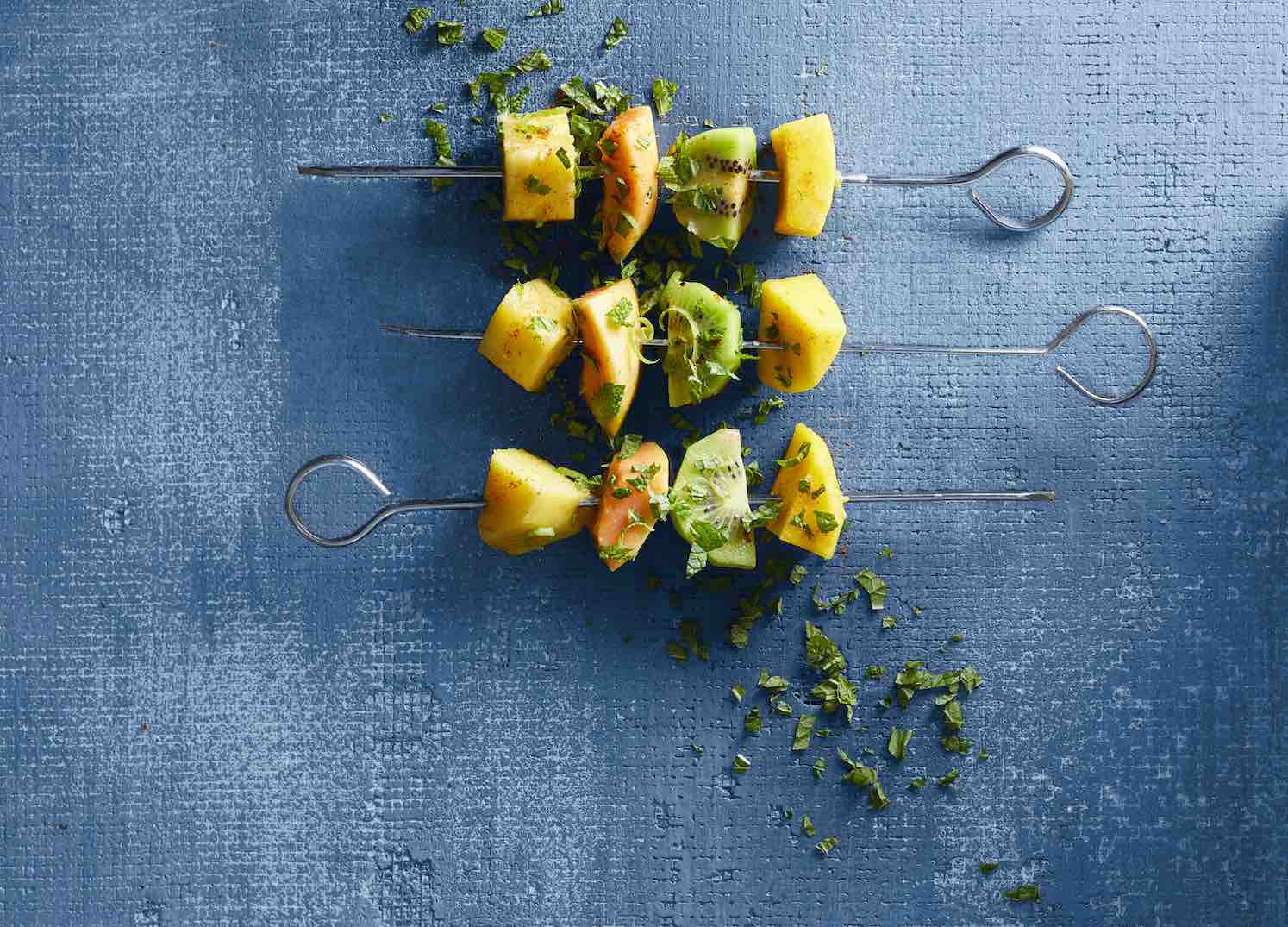 For more guidance in healthy cooking, check out Forks Meal Planner, FOK's easy weekly meal-planning tool to keep you on a plant-based path. To learn more about a whole-food, plant-based diet, visit our Plant-Based Primer.