In the most comprehensive analysis to date of dietary patterns and their climate impact, researchers have found that vegan diets create 75% less greenhouse gas emissions than meat-heavy diets.
The study, published recently in Nature Food, analyzed the diets of more than 55,000 people in the United Kingdom and integrated data from 38,000 farms across 119 countries to assess how food sourcing and production methods impacted environmental factors. While previous studies linked vegan diets with lower environmental impact, most of the research relied on modeled diets, which might not accurately reflect true eating behaviors.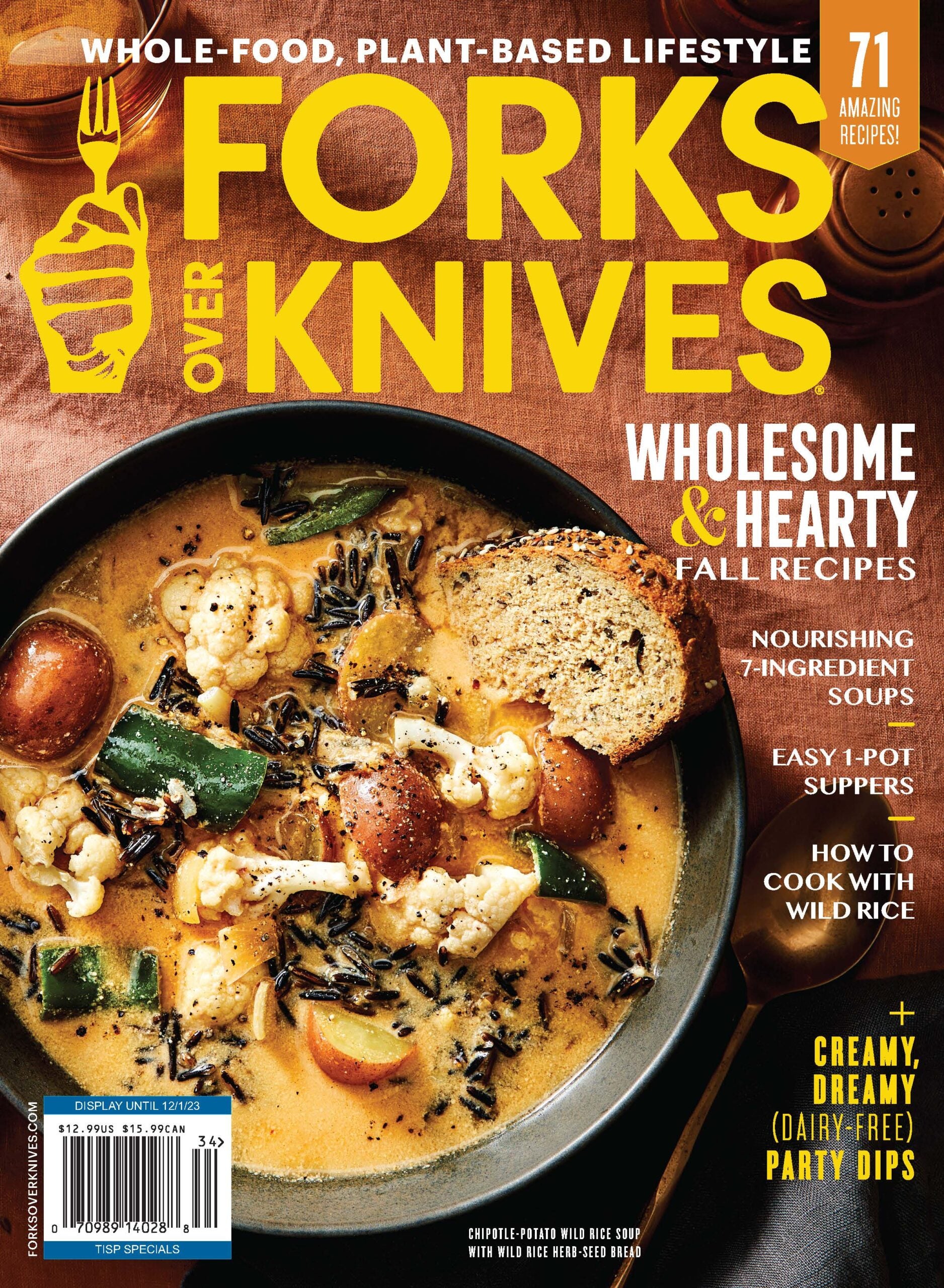 The Fall 2023
Magazine Is Here!
Our gorgeous "bookazine" features expert tips, inspiration, & comforting recipes for fall.
Apart from drastically reducing greenhouse gas emissions, vegan diets used 75% less land, required 54% less water, and had a 65% lower impact on environmental biodiversity than meat-heavy diets, which were defined as eating at least 3.5 oz of meat per day. (For reference, that's equivalent to about a palm-size serving of chicken.) Improvements in environmental impact were also found between high-meat diets and low-meat diets, with low-meat diets producing only 43% of the dietary carbon dioxide emissions of high-meat diets.
"Encouraging high-meat-eaters to reduce meat consumption and encouraging vegetarians to become vegans should result in lower emissions," said Richard Tiffin, professor of applied economics and chief science officer for agrimetrics at the University of Reading, in a statement from Science Media Centre.
The researchers also examined the different diets in relation to their 20-Year Global Warming Potential (GWP), which looks at the impact of different gases in the atmosphere and how much heat they retain. High-meat diets created a GWP footprint 5.1 times greater than vegan diets, further emphasizing the heavy impact of animal products on our short-term climate goals.
The researchers note that the current global food system is responsible for 34% of worldwide greenhouse gas emissions, 70% of the world's freshwater use, and 78% of the pollution in lakes and rivers. Nearly 75% of the world's inhabitable land has been affected by agriculture, which squashes biodiversity and interrupts delicate ecosystems. A primary driver of this environmental destruction is the vast amount of land used to raise livestock, including the crops planted to feed livestock. A 2020 study discovered that even the lowest-impact meat product, organic pork, is responsible for eight times more climate damage than the highest-impact plant product, oilseed.
"Our dietary choices have a big impact on the planet," said Peter Scarborough, professor of population health at Oxford University and the lead researcher on the study. "Cutting down the amount of meat and dairy in your diet can make a big difference to your dietary footprint."