Mark Reinfeld has been at the forefront of the plant-based revolution from the very beginning. In his more than 25 years as a plant-based chef, author, and instructor, he's shared his vision via cooking classes, teacher training programs, community outreach, and eight award-winning cookbooks. In 2017, he was inducted into the Vegetarian Hall of Fame. We checked in with him to see what he's been up to and what's up next—and what he recommends cooking for Passover.
FOK: How did you get your start as a vegan chef?
MR: I always loved cooking as a child. So, after a brief stint at NYU Law School, I returned to that first love. I started working in kitchens in the early '90s and my cooking style continued to evolve as I cooked in different restaurants. I became a vegetarian while I was on a kibbutz in Israel and went vegan shortly thereafter. Ever since, my whole career has been based around plant-based foods.  
FOK: Both of your recent cookbooks, Healing the Vegan Way and The Ultimate Age-Defying Plan: The Plant-Based Way to Stay Mentally Sharp and Physically Fit, include oil-free versions of every recipe in them. Why do you feel it's important to highlight oil-free options?
MR: There is compelling evidence that a whole-food, plant-based diet that's oil-free helps prevent and reverse cardiovascular disease. In the training courses I conduct around the country and at the Vegan Summerfest, where I've been the executive chef for the past eight years, there's been a big increase in oil-free food requests. At Summerfest, we even have an SOS-free (sugar-, oil-, and salt-free) food station for attendees.
FOK: How has collaborating with your wife, naturopathic doctor Ashley Boudet, changed the way you cook and create recipes?
MR: Now there's even more of an emphasis on the healing qualities of foods and optimizing nutrition. One concept that we used in our latest book is the "Plus One" idea. Basically, it involves thinking of just one little thing you can do to enhance your meal's nutrition, like adding fresh berries to breakfast or toasted nuts and seeds to salad. Then doing it!
FOK: Since you made the switch to a plant-based lifestyle on a kibbutz, you're probably a good person to ask about cooking for Passover. What can you recommend?
MR: A lot of traditional Passover dishes have eggs in them, so first I would say replace those eggs with chia or flaxseed. For the meal, you can serve Matzo-Encrusted Portobello Mushrooms with Roasted Asparagus and Parsley Pesto and a Sweet Potato Kugel. And if you sub breadcrumbs for the matzo meal, the recipes make a great ham-free Easter dinner, too.
FOK: Do you have any tips for being plant-based during holidays and family gatherings in general?
MR: If you're committed to a certain lifestyle and eating a certain way, you should do your thing and bring foods that you can eat and share with others. That way, everyone can sit at the same table and enjoy the time together regardless of differences in diet preferences.
FOK: Finally, what's up next for you?
MR: I've been doing some plant-based corporate consulting and training culinary teams in a national supermarket chain. I'll be back at Vegan Summerfest for its 45th year this July. But my biggest news is that I'm working on creating a state-of-the-art, plant-based culinary academy in Boulder, Colorado. It will be an extension of the Vegan Fusion online teacher training program that shows people how to share their enthusiasm and love of a plant-based lifestyle with their local communities.
Chef Mark Reinfeld's Tricolor Sweet Potato Kugel Recipe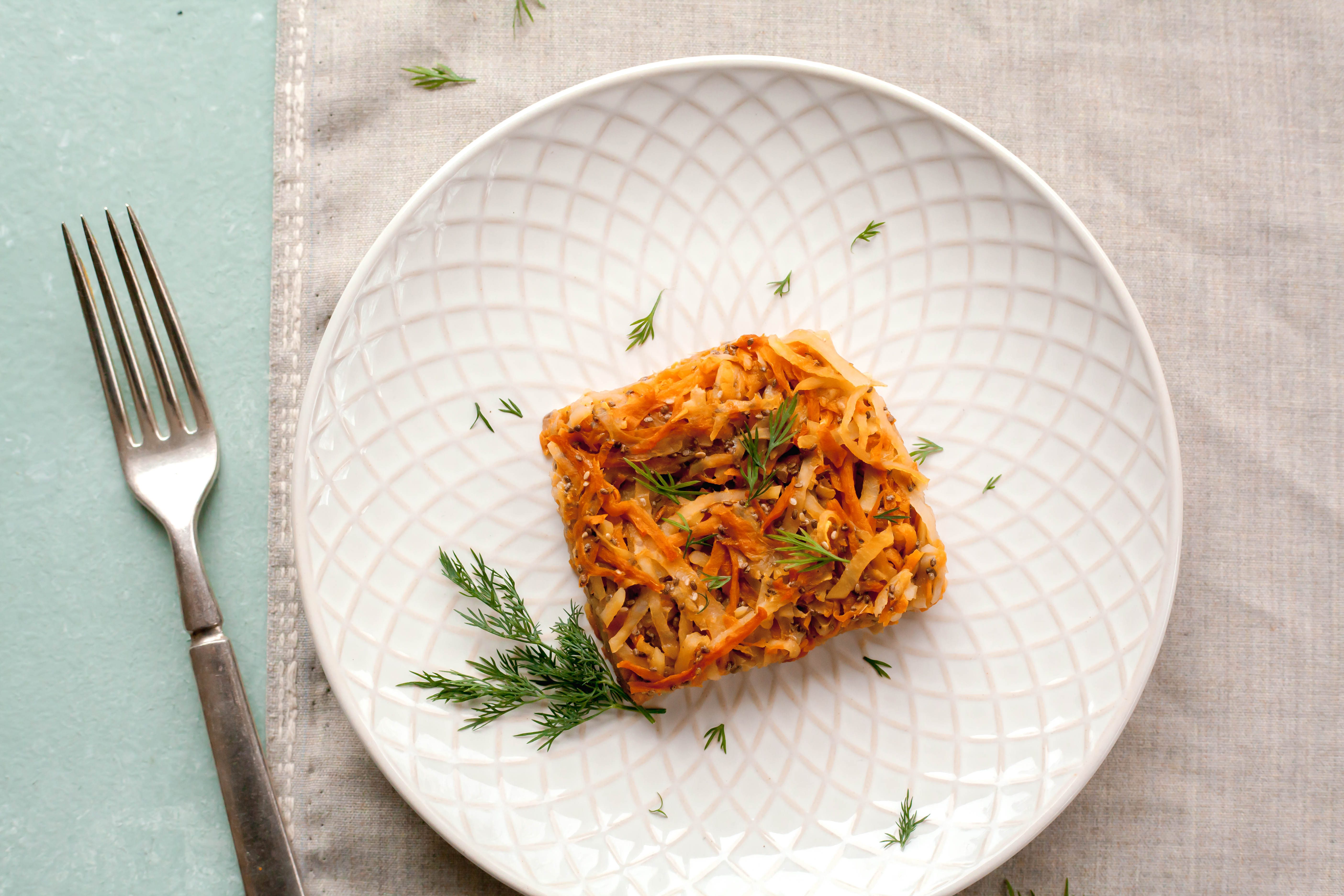 Commemorate Passover with a vegan version of one of the holiday's classic dishes. Full recipe here.