My father has type 2 diabetes. In the summer of 2013, he switched to a whole-food, plant-based diet to manage his disease and attempt to get off his medications. He experienced rapid weight loss and was able to discontinue many of the medications he'd been on. My dad's experience made me curious to look into how safe and sustainable this diet was: At the time, I was obese and suffering from debilitating migraines. I had no energy and felt exhausted all the time. I blamed it on being in my 30s, having small kids, working too much, etc.—I had endless excuses for why I was feeling bad, but I hadn't considered my diet. 
As a nurse, I had taken courses in nutrition, but I had never learned about a whole-food, plant-based diet, so I started doing my own research. In March 2014, at 33 years old, I watched the Forks Over Knives documentary. Afterward, I decided that I would go whole-food, plant-based for Lent, which started the next day. The plan was to see how I felt after those 40 days were up. At this point, I knew that WFPB was the healthiest way of eating. But I didn't know if I had the willpower to stick with it. Junk food was my tool for coping with all the stress I was under, and I didn't know that I'd be able to give it up for good. 
No More Migraines, Lots More Energy on Plant-Based Diet
I don't know what I expected of myself or of the diet, but after the first month of this new way of eating, my migraines disappeared, and that right there was enough to commit me to this new way of eating for the rest of my life. Migraine relief wasn't the only benefit: I had energy for the first time in years, and I was able to not just survive my hectic life but to thrive in it. 
I had enjoyed running in my 20s, but before I went plant-based, I didn't have the energy to do so in my 30s. After I made the switch and began fueling my body with whole plant foods, I was able to go out and train for my first half marathon. My dad and children were very supportive of my lifestyle change, as were my friends.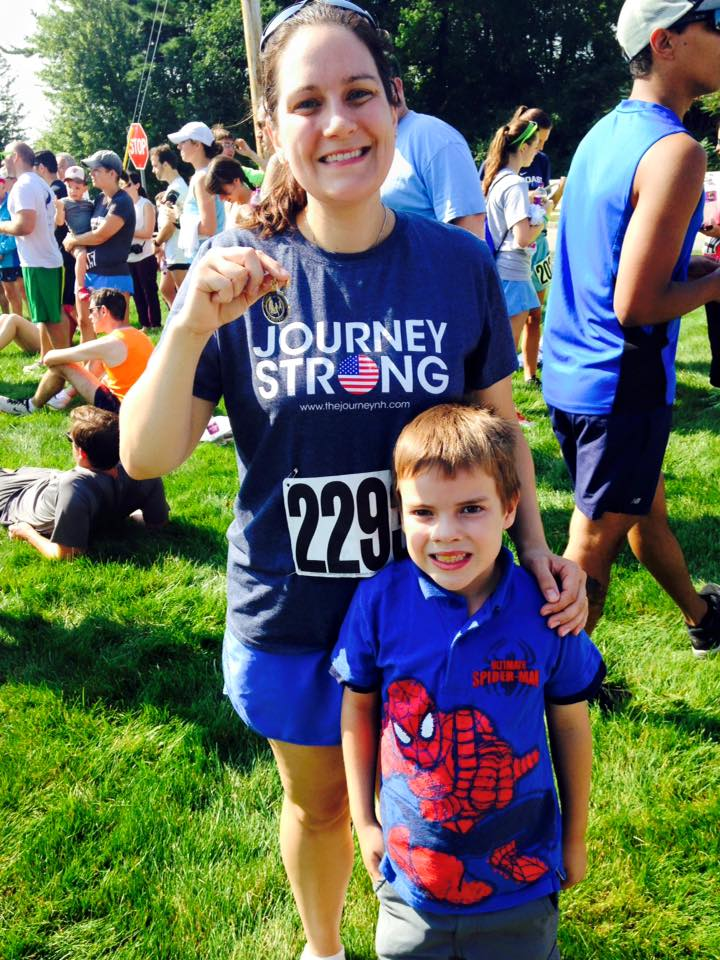 I don't know exactly how much weight I lost, as I was not very good about weighing myself before I changed my diet. (I didn't want to see those numbers on the scale.) But I would have to guess I weighed somewhere in the neighborhood of 200 pounds. I went from a size 14 to a size 6. The weight loss was a huge boost to my self-esteem.
Feeling Stronger, Inside and Out
I made this change almost seven years ago. It's been more than just a dietary switch: I've become healthier and stronger both physically and mentally. My sense of self-worth has grown exponentially, and I left an abusive marriage. I felt capable of keeping up with the demands of single parenthood thanks to the health benefits of a WFPB diet.    
Every time I go to the doctor she tells me how proud she is of my ability to maintain my weight loss. My blood pressure and heart rate are very low, and my total cholesterol is usually about 120mg/dL. An added bonus is that I feel like I have stopped aging. At 40 years old I look and feel younger than I did at 33, when I first adopted this way of eating. My kids like to joke that I am a vampire, because I don't seem to age.   
I remarried a few months ago, and my husband is WFPB, too. Our health is a huge priority in our marriage. We love that we are able to go out and do active things together, such as running, biking, and hiking.
We love trying new WFPB recipes and modifying old recipes to make them WFPB. I enjoy making healthier versions of favorite restaurant foods. I love Mexican food, and lately I've been making a portobello mushroom and black bean burrito. For snacking, I usually enjoy seasonal fruits and veggies.   
Helping Friends and Co-Workers Eat Healthier
Over the summer I worked on a different floor of the hospital than usual. While there, I shared my plant-based story with a fellow nurse and encouraged him to watch Forks Over Knives. Just last week, I found out that this nurse has since gone WFPB and lost a considerable amount of weight, and he's feeling better than he has in a long time. 
I think we all know that eating plant-based is healthier and are looking for encouragement and validation that we're making healthy choices. A lot of friends say they'd like to go plant-based but have trouble giving up meat. I encourage them to just try eating WFPB for a few meals a week.  
Maintaining this way of eating has been a journey, but I've become experienced at listening to my body and feeding it the whole-food nutrition I know that it needs. Though I may not be perfect, I'm plant-powered, and, after all these years, plant-strong.
Ready to get started? Check out Forks Meal Planner, FOK's easy weekly meal-planning tool to keep you on a healthy plant-based path. To learn more about a whole-food, plant-based diet, visit our Plant-Based Primer.