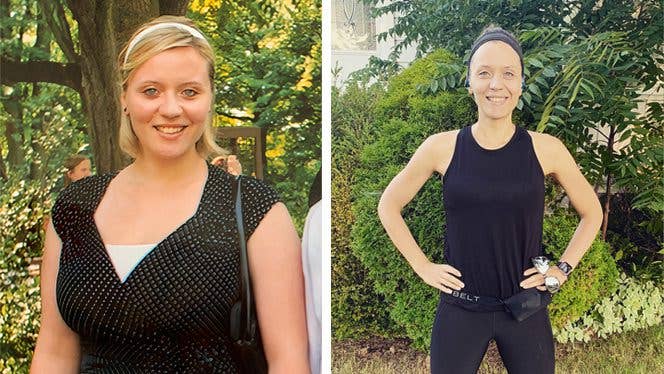 After Years of Severe Asthma and Chronic Pain, I'm Breathing Easier on a Plant-Based Diet
My plant-based journey began when I'd been cancer-free for 10 years and had a newborn son. I came to the grim realization that despite my cancer-free status, I was not healthy. I had several persistent ailments, including severe asthma, chronic pain, and fatigue. I was cancer-free and surviving, rather than cancer-free and thriving.
On top of this, my husband and I had lots of questions as new parents: What was the best diet to feed our son? And how could we increase our chances of living long, healthy lives?
With all of these thoughts swirling in my head, I had a deep desire to become a healthier, stronger, happier version of myself but had no idea how to go about achieving those goals.
Going Vegan
I started watching documentaries about health and wellness. One of the first ones I watched was Forks Over Knives. Learning how the standard American diet was harming my health, the environment, and animals, I decided to go vegan.
I started by planning out what my meals would look like for the following week. I decided to keep things simple by removing the meat and animal products from recipes I already made and enjoyed. I continued to plan my meals out week by week and slowly tried new recipes to replace old favorite dishes. To stay motivated, I continued educating myself about nutrition, watching documentaries and YouTube videos.
Within a few weeks, I felt stronger and more energized. After a few months, I took up running. Before going vegan, I wouldn't run to catch a bus! I continued to eat some highly processed foods, but I thought that I could get away with it and still manage to improve my health.
Transitioning from Vegan to Whole-Food, Plant-Based
Unfortunately, my symptoms kept cropping back up, and sometimes I was in so much pain that exercise was difficult. Despite the ups and downs I had been having with my health, I decided to register for a yoga teacher-training program and a therapeutic yoga intensive program. Yoga helped with the chronic pain and to calm my worried mind. I was able to relieve tension in my body that I didn't even realize I was holding. I found myself breathing more fully. However, I was still taking medications and having flare-ups with my chronic illnesses.
After a particularly bad flare-up, I sought the advice of a plant-based doctor, who recommended trying a mostly raw vegan diet. It helped a lot. As the weather got colder, I found myself missing cooked foods, so I started transitioning to a whole-food, plant-based diet. My symptoms stayed at bay, and I was able to start exercising again. Soon I was feeling stronger and healthier than ever.
Finally Thriving
Today I continue to eat a WFPB diet, free of oil, with minimal added sugar and salt, and I'm feeling better than ever. Since adopting this lifestyle, I've completely regained my health. I've lost 80 pounds and been able to discontinue all medications. I'm running again, doing calisthenics (including handstands), learning how to skateboard, and having a great time being active with my family!
I earned my certificate in plant-based nutrition through the T. Colin Campbell Center for Nutrition Studies at eCornell. I've also become a certified healthy weight-loss coach. I'm thrilled that I have the opportunity to inspire and coach others to improve their health by adopting a WFPB diet and making other lifestyle changes.
Ready to get started? Check out Forks Meal Planner, FOK's easy weekly meal-planning tool to keep you on a healthy plant-based path. To learn more about a whole-food, plant-based diet, visit our Plant-Based Primer.
Has a whole-food, plant-based diet impacted your life?
We would love to hear about it!
SHARE YOUR STORY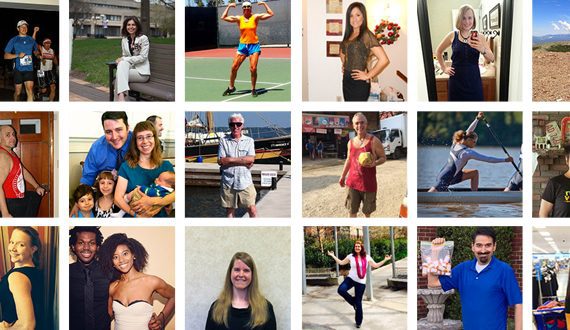 Free Download
Free 5-day meal plan!
Get a taste for healthy, fuss-free meal planning with this free five-day meal plan from Forks Meal Planner!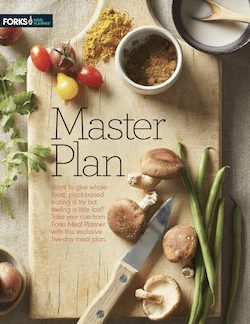 Join our mailing list
Get free recipes and the latest info on living a happy, healthy plant-based lifestyle.