While oil is often the first thing people reach for to whip up a full-bodied salad dressing, there are lighter, healthier (and more flavorful!) ways of achieving the same effect. Read on for easy oil-free recipes for a range of salad dressings, from creamy to nutty to fruity, plus a primer on making and customizing your own oil-free vinaigrettes. Once you've given these a try, you'll wonder why you ever relied on oil in the first place. Drizzle greens, grain bowls, and more with these delish oil-free dressings to ensure your meal is dense in nutrients, not calories. Click below to jump to a specific recipe, or read on for the full guide.
Tarragon Grapefruit Dressing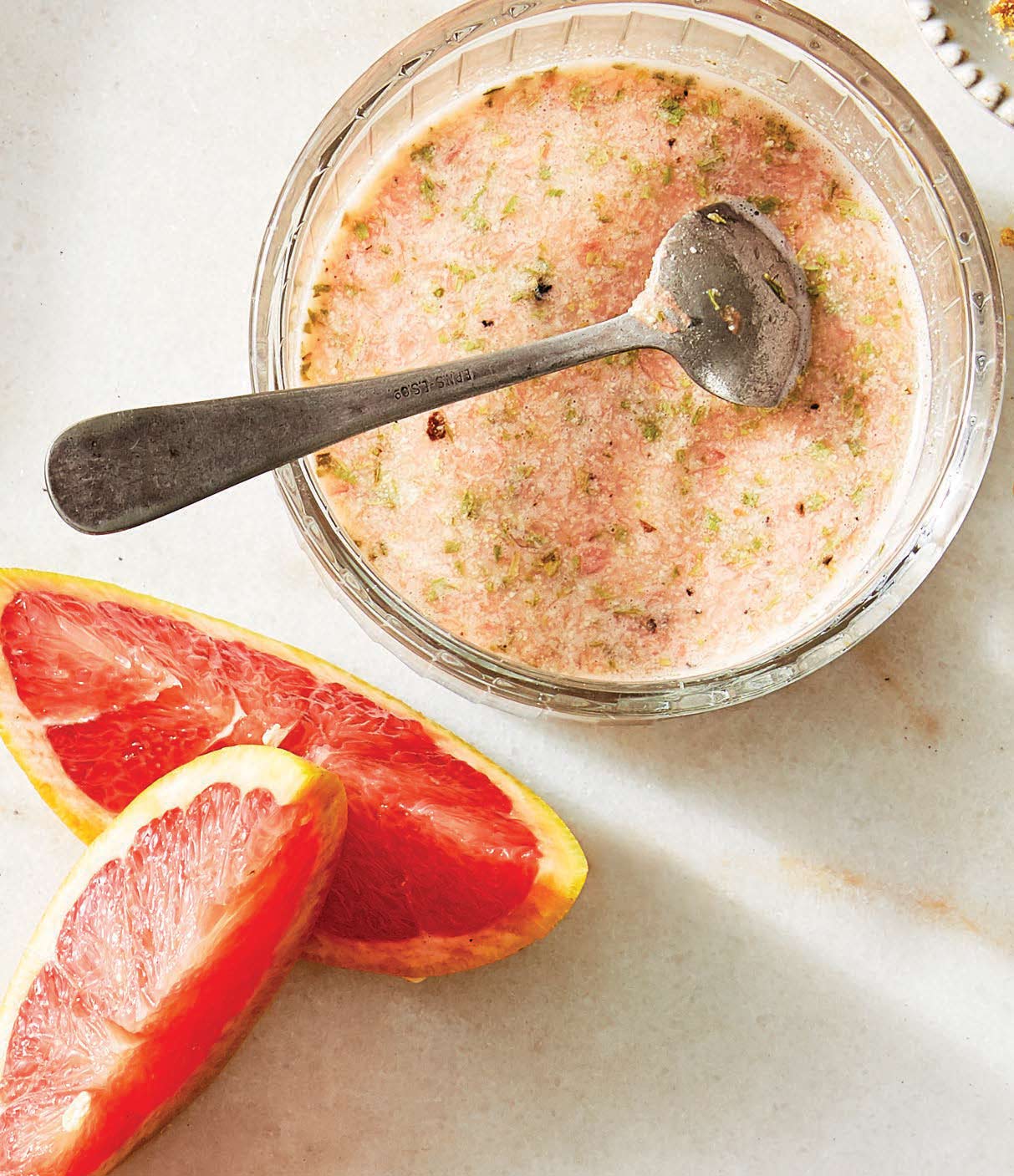 Scoop the flesh from half of a grapefruit (as if you were eating it for breakfast) into a mini food processor. Add 1 tablespoon almond flour. Process until smooth. Stir in 1 teaspoon dried tarragon and ⅛ teaspoon freshly ground black pepper. Store in the refrigerator up to 1 week. Makes ½ cup.
Smashed Garlic and Herb Dressing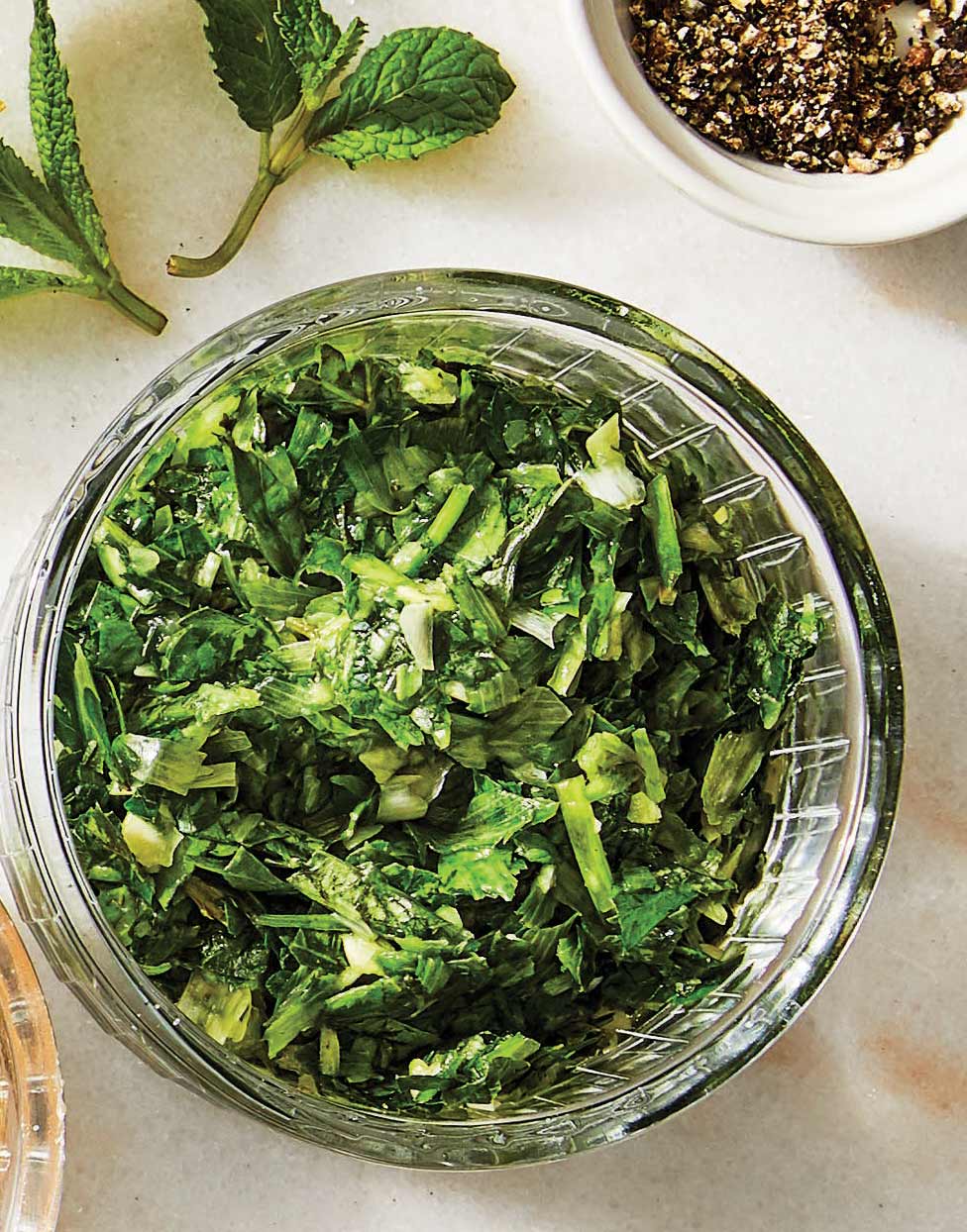 With a large mortar and pestle, mash 1 cup fresh basil, cilantro, parsley, and/or mint; the white parts of 4 scallions; and 1 peeled garlic clove until the scallions and garlic are fully crushed. (If you don't have a mortar and pestle, you can also do this on a cutting board using the base of a sturdy jar.) Add 2 tablespoons lemon juice and mash until a coarse paste forms. Season with sea salt. Use immediately. Makes ½ cup.
Classic Vegan Ranch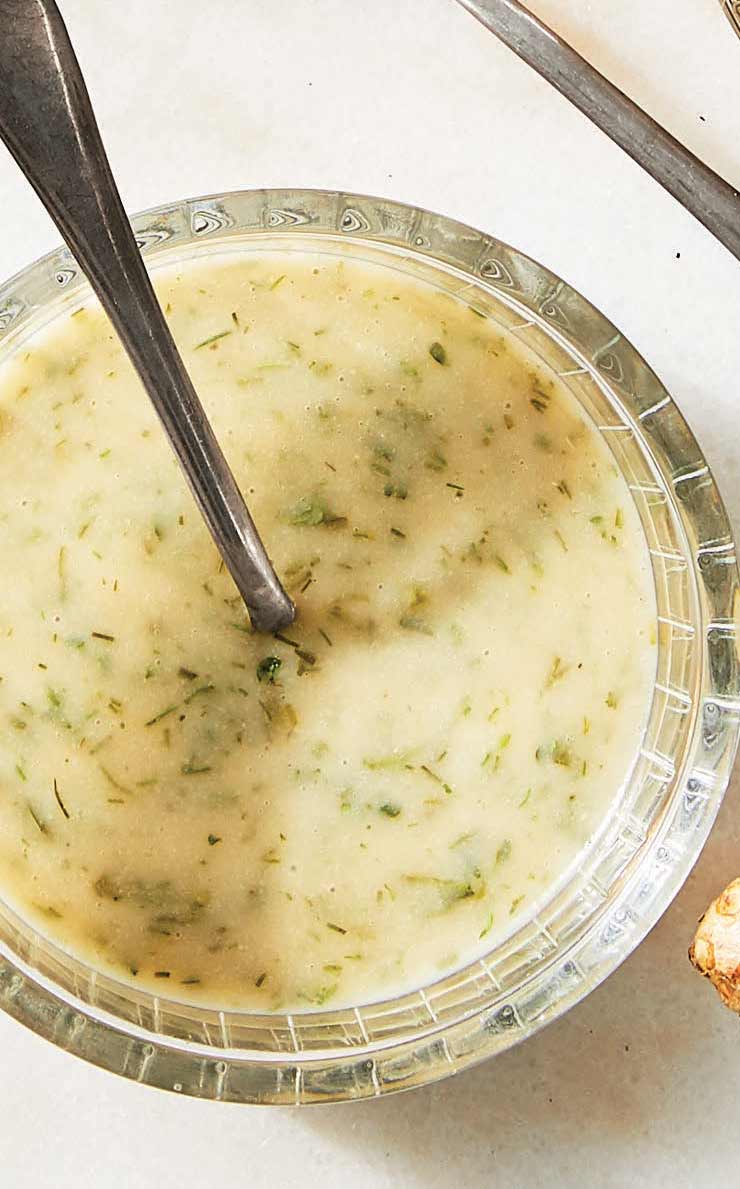 In a blender combine one 15-oz. can no-salt-added cannellini beans, undrained; 2 tablespoons white vinegar; 1 tablespoon white miso paste; and ¼ cup water. Blend until smooth. Strain through a fine-mesh sieve; discard solids. Stir in 1 tablespoon each dried chives, parsley, and dill; 1 tablespoon onion powder; and 1 teaspoon garlic powder. Let stand 30 minutes to allow flavors to develop. Store in the refrigerator up to 3 days. Makes 1 cup.
Spicy Peanut Dressing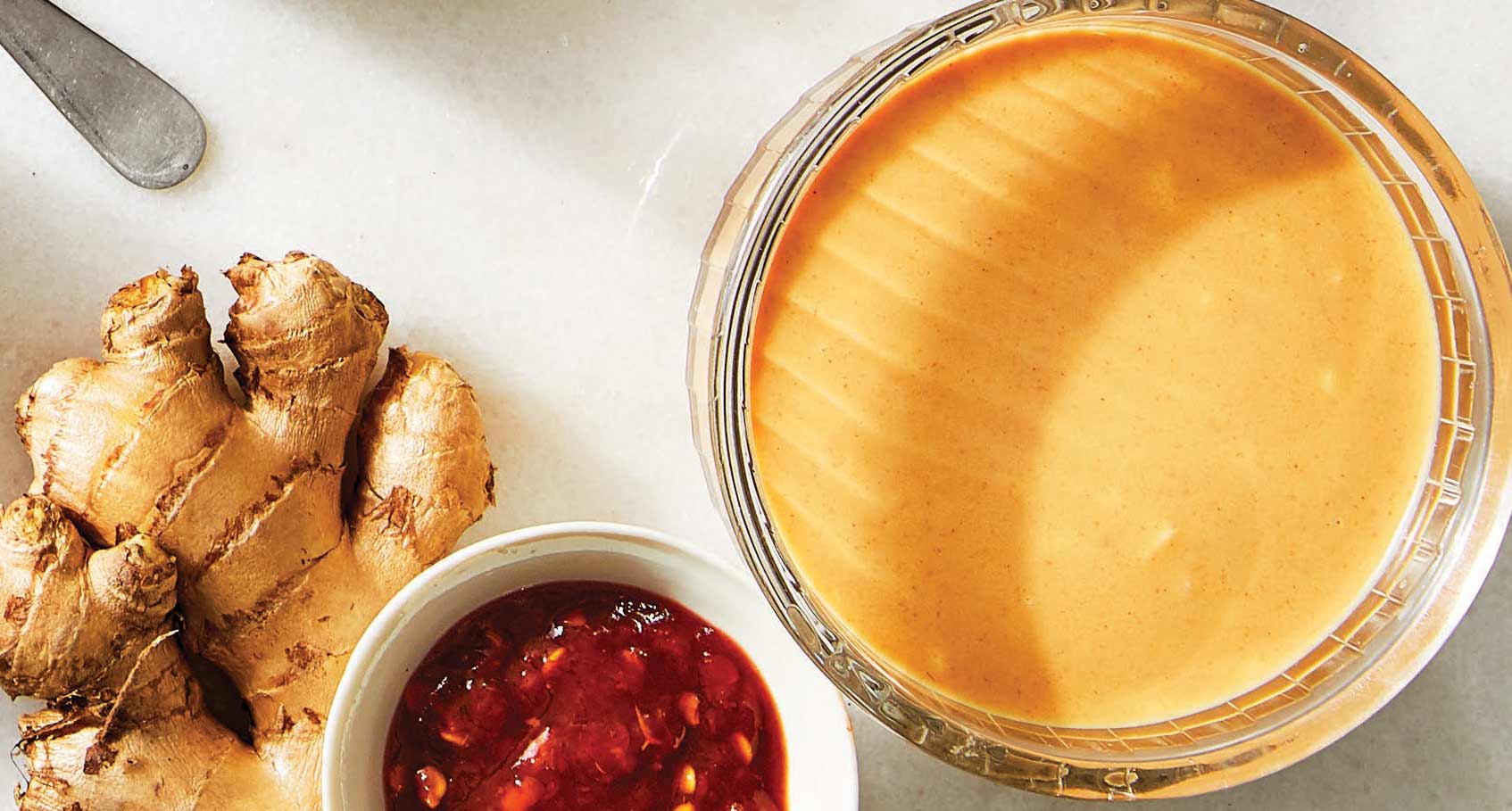 In a bowl stir together ¼ cup creamy peanut butter, 1 teaspoon minced garlic, and 1 teaspoon grated fresh ginger. Add ⅓ cup boiling water and stir with a fork until smooth. Stir in 1½ teaspoons lime juice and ¼ teaspoon sambal oelek chile paste. Store in the refrigerator up to 1 week. Makes ½ cup.
Oil-Free Vinaigrettes
The classic recipe for a vinaigrette is pretty simple: one part vinegar to two or three parts oil. So, what do you do when you want to make the savory salad dressing without all that oil?
To start, you have to understand the role that the oil plays in a vinaigrette. First, the oil tames the tang of the vinegar, which would be too sharp if used on its own for a salad. Oil also coats salad ingredients better than vinegar (which is about 95 percent water). It also helps suspend flavorings in the dressing so that they're evenly distributed throughout a salad.
Replacing Oil in Vinaigrettes
There are lots of taming/coating/sticking options other than oil that can be used to make vinaigrettes. A spoonful of nutritional yeast mellows a 2-Minute Oil-Free Balsamic Dressing. A touch of maple syrup helps emulsify sauces like our Classic Dijon Dressing. Fruit purées, such as the applesauce in our Magical Applesauce Vinaigrette and the fig purée in our Balsamic Fig Dressing, add complexity to their flavor profiles. And fruit juice can be used as a luscious, oil-free base in tangy salad sauces including our Orange Sesame Ginger Dressing and Pomegranate Tarragon Dressing.
One of the easiest ways to replace oil in a vinaigrette is to switch it out for a mixture of water and seeds: specifically, chia, hemp, or ground flaxseeds. Commonly used as egg replacers in vegan baking, these three seeds create a thickened "slurry" when mixed with water. The result is a neutral-tasting liquid that holds other ingredients in suspension—and can be used in a basic vinaigrette that has less than 1 gram of fat per serving.
Basic Oil-Free Vinaigrette
Whisk together 1 teaspoon hemp hearts, chia seeds, or flaxseed meal and 3 tablespoons warm water in a small cup or bowl. Let mixture stand for 5 to 10 minutes to thicken. Whisk in ½ to 1 teaspoon mustard (preferably Dijon); then whisk in 1 to 2 tablespoons vinegar. Season with salt and pepper to taste, if desired. Makes ¼ cup.
Balsamic Vinaigrette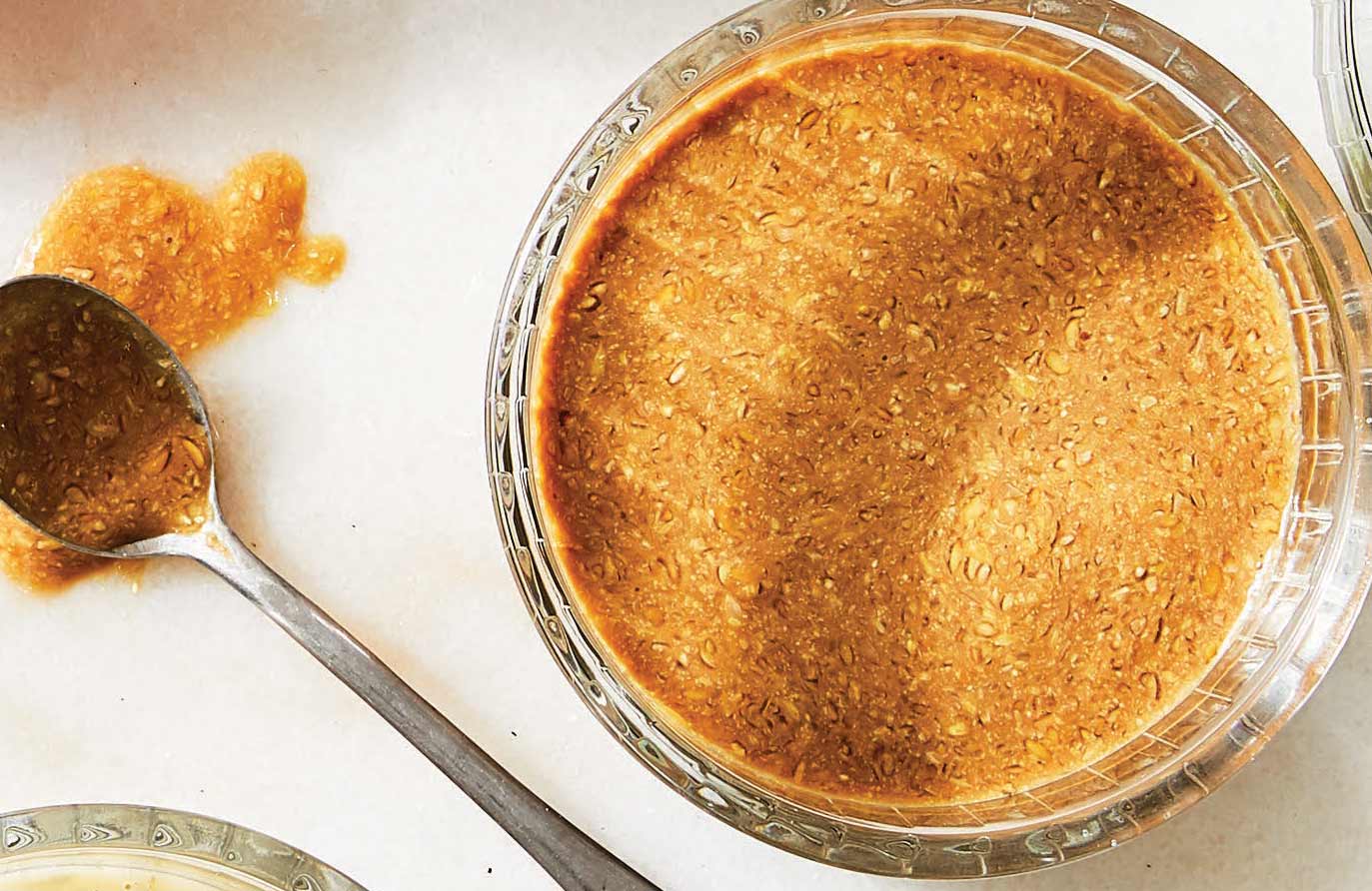 In a small bowl stir together ¼ cup hot water and 1 tablespoon flaxseed meal; let stand 15 minutes. Stir in 1½ teaspoon Dijon mustard, then add 1½ tablespoon balsamic vinegar. Store in the refrigerator up to 2 weeks. Makes ½ cup.
10 Oil-Free Vinaigrette Variations
Anything goes when it comes to seasoning a basic vinaigrette: Salt, pepper, and mustard are classic additions, and then there are infinite variations to be made with herbs, spices, aromatics, and flavorful condiments. (Because sodium counts can mount quickly, be conservative with the salt grinder, and remember that condiments such as miso, soy sauce, tamari, and prepared mustard already contain salt.) Here are a few flavorings to try.
Use a variety of vinegars. Cider vinegar is a good all-around choice with its mellow tang and hint of fruit. Balsamic vinegar is a salad favorite with its robust flavor and natural sweetness. Distilled and rice vinegars have a clean, crisp taste, while wine vinegars (red, white, sherry, champagne) are more full-bodied—like the vintages they are made from.
Replace the mustard with miso, wasabi, horseradish, tahini, or a nut or seed butter.
Substitute lemon or lime juice for the vinegar.
Use fruit or vegetable juice in place of the water.
Stir in 1 small clove of minced garlic or 1 tablespoon finely chopped shallot or onion.
Blend in 1 to 2 teaspoons chopped fresh herbs (parsley, basil, cilantro, sage, and chives are all good choices).
Flavor with ½ to 1 teaspoon dried herbs (oregano, thyme, marjoram, or rosemary, for example).
Season with ¼ to ½ teaspoon ground spices (cumin, cardamom, paprika, chili powder…raid your spice drawer!).
Add a dash of hot sauce, low-sodium soy sauce, or tamari.
Sweeten with ½ to 1 teaspoon pure maple or rice syrup or a fruit purée.
More Salad Dressing Recipes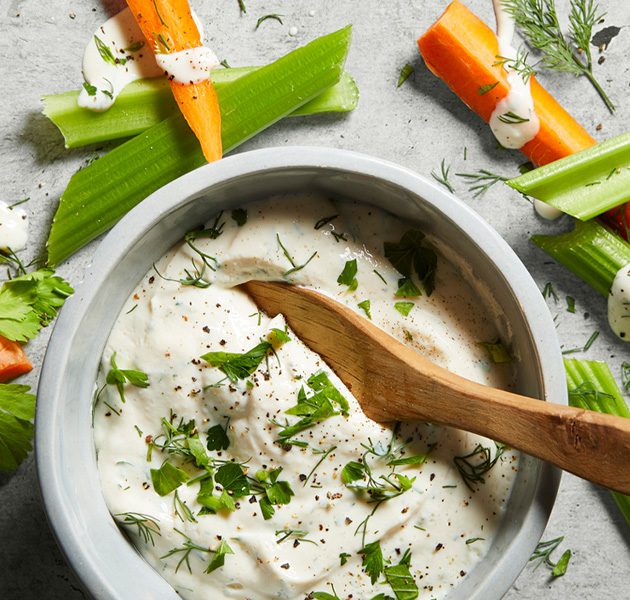 Looking for more inspiration? Check out our roundup of some more favorite oil-free salad dressing recipes (all vegan)!