As nice as it is to catch the farmers' market every week, sometimes it just doesn't happen. And for those weeks, Trader Joe's is a popular source of wallet-friendly produce, pantry staples, and healthy convenience foods such as ready-to-eat steamed lentils, pre-cooked frozen grains, and riced fresh cauliflower. In the spirit of discovery, we asked the Forks Over Knives Facebook community to share their favorite Trader Joe's vegan finds. Their suggestions were full of tasty surprises. "Honestly, I can't believe how many items Trader Joe's has for someone who eats WFPB," wrote FOK follower Michael Crosby on Facebook.
This list doesn't include every WFPB item sold at Trader Joe's, but we're confident this list will point you in the right direction the next time you go hunting for vegan Trader Joe's products. Bonus tip: Most products are clearly labeled with the word "vegan," or have a black square with a 'V' on the label, making them easy to spot, points out FOK follower Julie Brydon.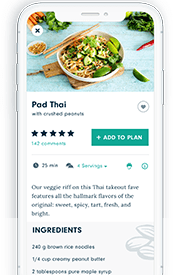 Try Our Award-Winning Meal Planner For Free!
Healthy eating has never been so easy.
We've organized the article by store section so you can follow along on your phone as you shop: