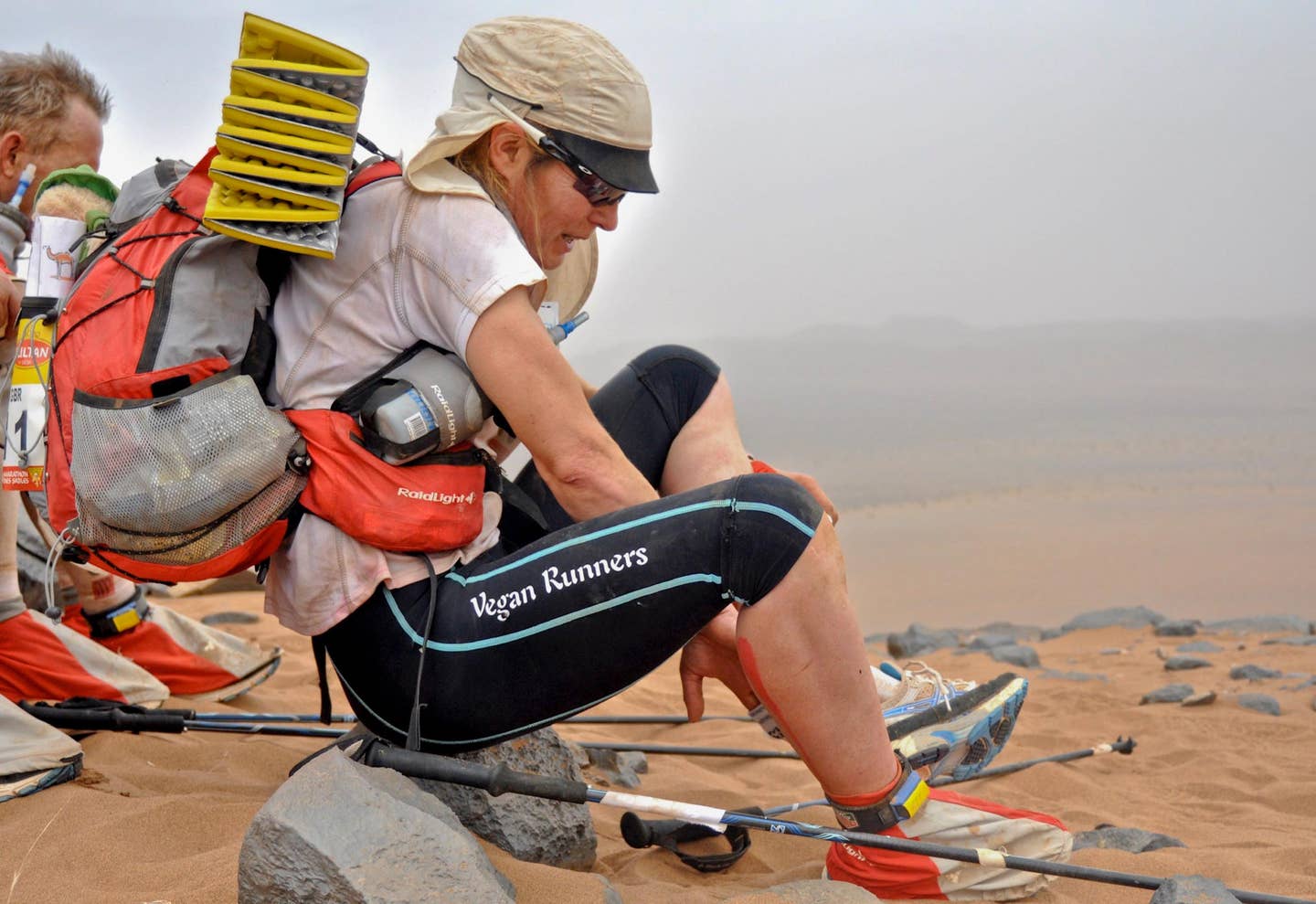 Vegan Athlete Fiona Oakes on Her Remarkable Journey from Orthopedic Surgery to World-Record Marathons
Photo by Kirsten Kortebein
Fiona Oakes has completed marathons on every continent, setting four world records along the way. The world-class British runner does it all for one purpose: to encourage people to eat plants. Forks Over Knives spoke with Oakes about her early involvement in animal welfare, why she took up running marathons with no previous experience, and how her passion for a vegan lifestyle fuels her athletic pursuits.
You changed your diet when you were young. Why?
Fiona Oakes: I stopped eating meat at 3 and became vegan when I was 6. I had never heard the word vegan, but I was completely aligned with and passionate about the concept of a cruelty-free lifestyle, where nothing and no one suffers on my behalf. My mother was supportive— my father and grandparents, far less so. In their defense, this was back in the 1970s, when there was no literature, research, or role models available to describe what veganism actually meant. The issue came to a head when I had orthopedic knee surgery as a teen [to remove a tumor], and medical professionals [likened] my veganism to an eating disorder. My mother was accused of child abuse for consenting to it. Her argument was that the real cruelty would be to force a child so committed to something to turn away from it because of pressure from others. My mother has always been so supportive, and I am so blessed that she is still at my side to this day.
How did you get into running?
FO: I started around 2002. I had been concentrating all my efforts on the Tower Hill Stables Animal Sanctuary; I started that in 1993, and it remains my priority and passion today, with around 500 rescued animals. But after a few years, I realized that [there was a limit to the number] of animals I could help by providing a loving forever home. So I was trying to find a way to get the vegan message into the mainstream. Then "marathon" became the buzzword, after Paula Radcliffe ran a world's-best marathon time in London [in 2002]. Doing a marathon could offer the credentials I needed to prove that as a vegan, you could not only survive but thrive in the most brutal of endurance events. I didn't know if I would be able to run with my knee condition, but two years later, I qualified to line up with Radcliffe on the elite start of the London Marathon.
What achievement are you most proud of?
FO: Co-founding the Vegan Runners Club. My main aim through running has been to promote veganism, and when I realized I would have an opportunity to get high profile, positive publicity by wearing "Vegan" on my vest during races, another runner and I decided to start Vegan Runners in 2004. It's not only a running club but also a worldwide community of passionate animal advocates who are ambassadors for plant-based living.
What are your future goals for running?
FO: I want to keep running to show people what is possible. That even one person might see what I have done—and continue to do—on a completely plant-based diet and consider following suit is the biggest prize my sport could offer me.
Fiona Oakes' Record-Breaking Career
Despite losing her right kneecap to a tumor as a teen, Fiona Oakes has established herself as one of the greatest distance runners of our time. Here's a timeline of her record-breaking career.
2002 - Takes up running.
2007 - Sets course records for the Halstead Marathon and Ruska Marathon.
2011 - Sets a course record for the Dartmoor Vale Marathon.
2012 - Completes the 150-mile ultra-marathon Marathon des Sables.
2013 - Wins the Antarctic Ice Marathon, setting a course record, and the North Pole Marathon. Completes a marathon on every continent, earning three Guinness World Records in the process.
2014 - Completes the Marathon des Sables for a second time.
2015 - Undertakes a personal challenge of running a marathon a day for seven consecutive days, each on a different continent. She completes six. Bad weather prevents her plane from landing in Antarctica, forcing her to forgo the seventh.
2017 - Completes her third Marathon des Sables.
2018 - Sets a Guinness World Record at the Midnight Sun Marathon for the fastest half-marathon run in an animal costume. Running for Good—a documentary about Oakes' life and career, directed by Keegan Kuhn of What the Health and Cowspiracy—premieres.
2020 - After the Marathon des Sables is postponed due to the COVID-19 pandemic, Oakes runs the 150-mile distance at home.
To learn more about a whole-food, plant-based diet, visit our Plant-Based Primer. For meal-planning support, check out Forks Meal Planner, FOK's easy weekly meal-planning tool to keep you on a healthy plant-based path.
Free Download
Free 5-day meal plan!
Get a taste for healthy, fuss-free meal planning with this free five-day meal plan from Forks Meal Planner!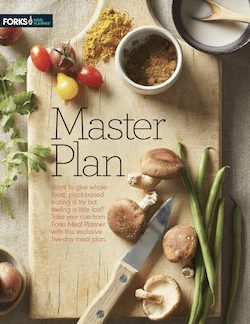 About the Author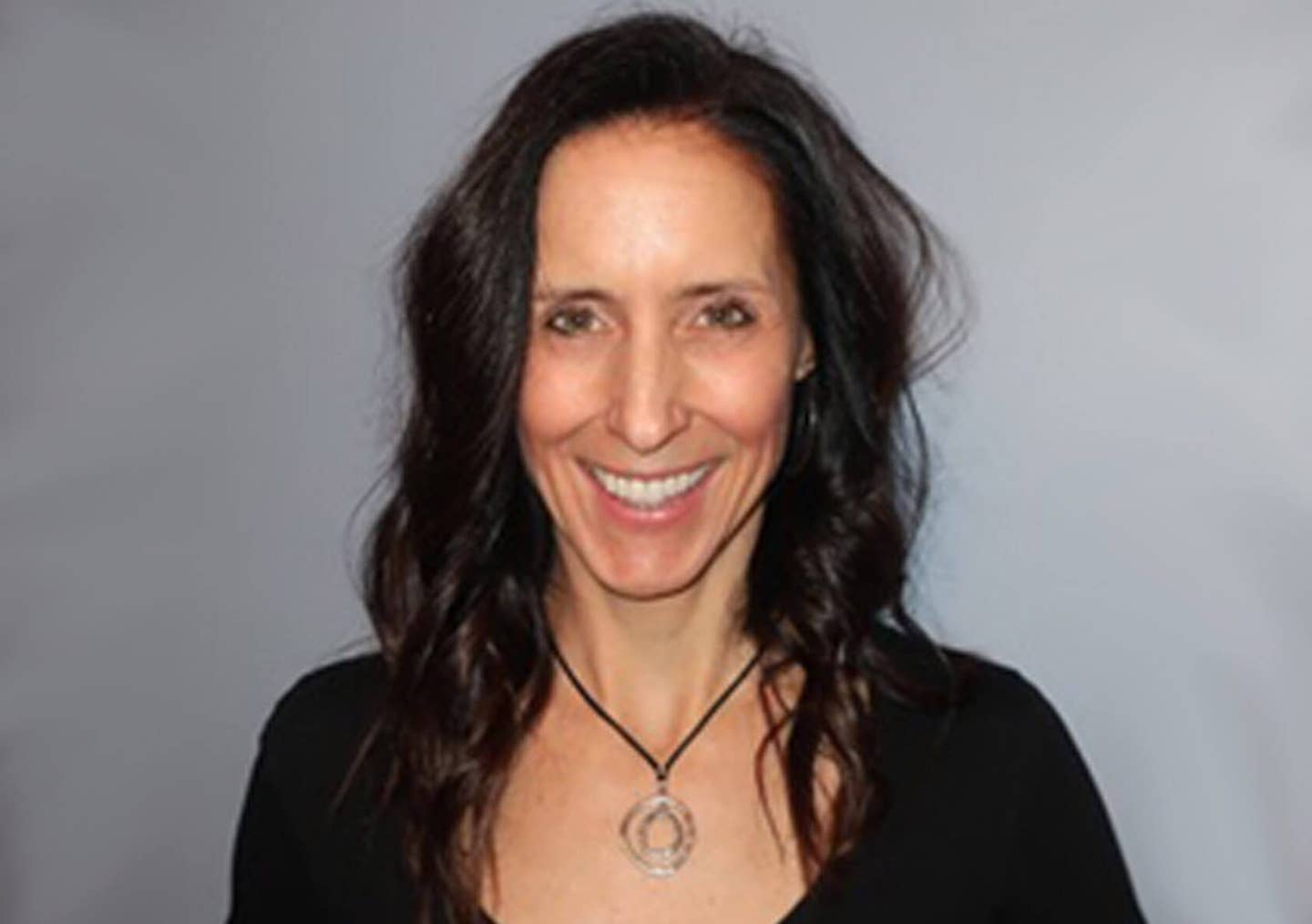 About the Author
Karen Asp, MA, CPT, VLCE
Karen Asp is a journalist and author who covers fitness, health, nutrition, animals, and travel. A former
Woman's Day
contributing editor, she writes regularly for dozens of publications, including
Better Homes and Gardens
,
Clean Eating
,
Eating Well
,
Martha Stewart Living
,
O
, Oxygen,
Prevention
,
Real Simple
, Sentient Media,
The Beet
(as contributing health editor),
USA Today
,
VegNews
(as contributing writer) and
Women's Health
. She is the author of
Anti-Aging Hacks: 200+ Ways to Feel—and Look—Younger
. Asp is also a certified fitness trainer, vegan lifestyle coach and educator, and a plant-powered athlete with several Nordic walking world records. She earned a certificate in plant-based nutrition through eCornell. Find her on
Twitter
and
Instagram
.
See More from this Author
Join our mailing list
Get free recipes and the latest info on living a happy, healthy plant-based lifestyle.