Going plant-based is easier than you'd think, especially once your fridge and pantry are abundantly stocked with healthy vegan foods and staple ingredients. While whole grains, fruits, and vegetables are the foundation of a healthful plant-based diet, that doesn't mean you have to make everything from scratch. We've put together a vegan grocery list of the minimally processed products that the Forks Over Knives team relies on. Read on for the full list of oil-free vegan brands, or click to jump down to a specific category.
Editor's Note: Companies frequently change their ingredients and recipes. If you see something on this list that is no longer compliant with a whole-food, plant-based diet, please let us know.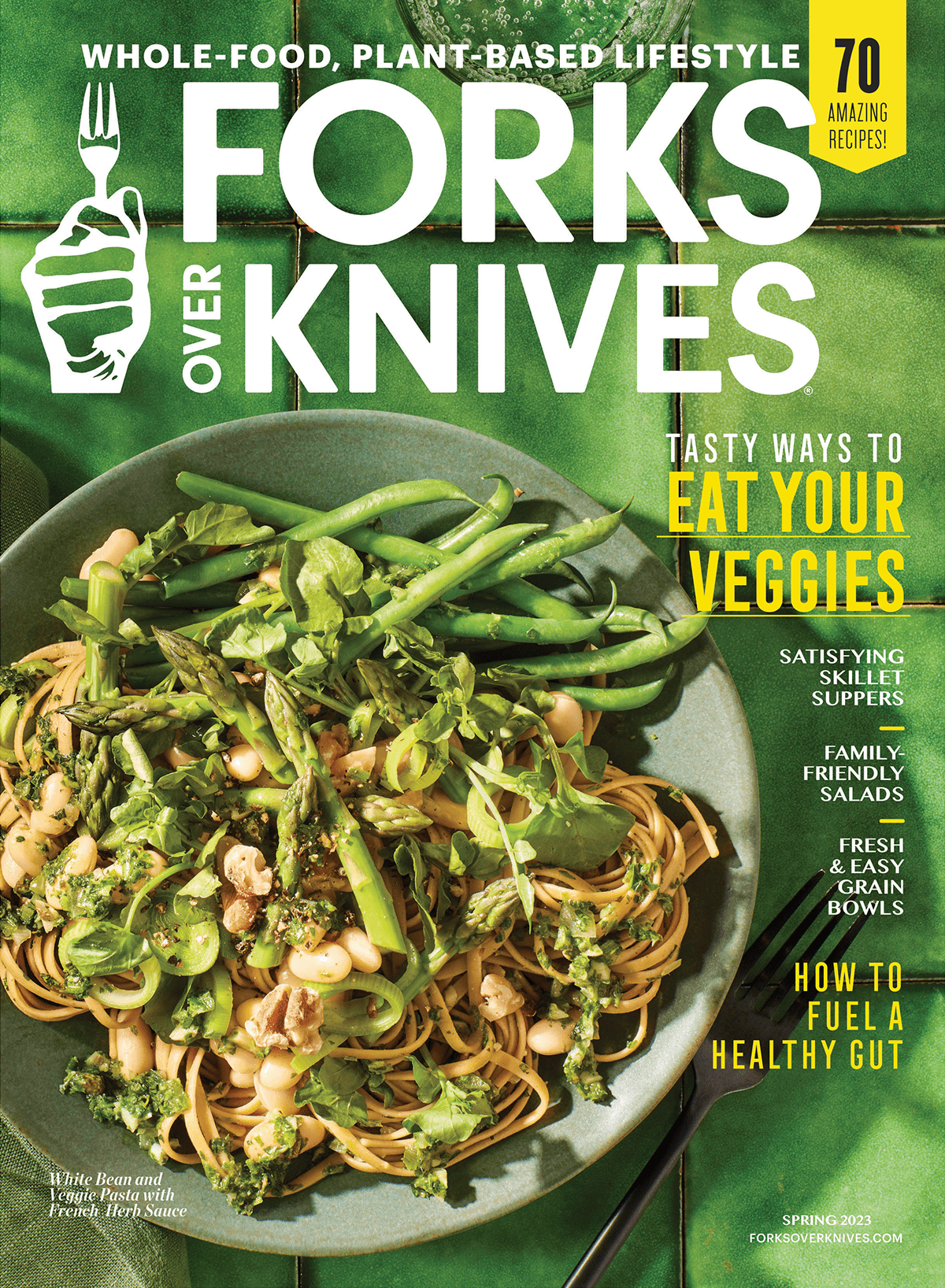 The Spring 2023 Issue
is here!
Our gorgeous "bookazine" features expert tips, inspiration, and 70 fresh and delicious recipes for Spring.
Baking
Steer clear of excess sodium, fat, and sugar with these healthier takes on baking staples.
Breads and Tortillas
Breads are often loaded with sodium and refined sugar, and some contain whey, a milk derivative. Fortunately, you can find wholesome alternatives at most supermarkets (sometimes in the freezer aisles).
Crackers
Most store-bought crackers are long on calories and short on fiber and other health-promoting nutrients. Snack smarter with these brands.
Hummus and Dips
Dips are often loaded with oil and sodium, and sometimes they contain dairy. These dips are all low in sodium, free of animal products, and free of oil!
Instant Grains
Many manufacturers add oil, salt, and animal-derived ingredients (such as chicken fat) to pre- or par-cooked grains. These products keep it simple.
Nondairy Milks
When it comes to plant milks, the fewer ingredients, the better, so shop accordingly. These are some of our favorites, organized by type.
Soymilk
Oat Milk
Nut Milks
Sauces, Condiments, and Broth
While some of the sauces on this list are less pure than homemade, they are all vegan, oil-free, and substantially lower in sodium than competing products. And the Worcestershire sauce is vegan.
Seasonings
Keep these salt-free seasoning blends on your spice rack to add flavor without adding sodium.
To learn more about a whole-food, plant-based diet, visit our Plant-Based Primer. For meal-planning support, check out Forks Meal Planner, FOK's easy weekly meal-planning tool to keep you on a healthy plant-based path.
This article was originally published on March 3, 2016, and has been updated.