Diabetes has plagued my family for generations. I have early childhood memories of my grandma eating chocolate cake and saying, "I'll just increase my insulin." So, when I was diagnosed with type 2 diabetes at age 48, I wasn't surprised. My doctor prescribed three medications and told me to eat healthy and exercise. 
My exercise routine included a two-mile walking commute to work and an occasional run, but I was still obese. To increase my activity, I tried running more, but I couldn't complete a full mile without walking.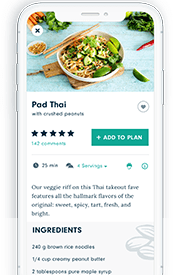 Try Our Award-Winning Meal Planner For Free!
Healthy eating has never been so easy.
So, I looked at our diets. We ate pescatarian. I wasn't much of a cook, so convenience foods were part of our daily lives. Our favorite meals included pizza, fish tacos, and sandwiches of cheese and canned tuna. I took a diabetes nutrition class, where I was taught to count carbs (i.e., to limit potatoes, corn, and fruits) and add more protein through eggs and cheese. 
Mounting Health Crises Force a Change
With medication, my glucose levels dropped. I accepted that these medications would be with me for life. But after two years on the diabetes medications, my weight was unchanged, and I had pain in my hands, wrists, shoulders, and neck. My doctor diagnosed me with polyarthritis (inflammation in three or more joints), and my medication list grew. At this point, I knew something needed to change. I was too young and active to be in this much pain. I had heard about the benefits of a whole-food, plant-based diet from a good friend of ours. But my family wasn't interested in changing, and I didn't have the willpower to do it on my own. 
Then, my husband, Rod, suffered a widowmaker heart attack at age 52. Luckily, he made it to the hospital in time for a stent to correct a 100 percent blockage. Afterward, he, too, was ready for a change. 
Making the Change to a Plant-Based Diet
Transitioning to a WFPB diet required rethinking what we knew about nutrition. Having been told to avoid carbs in my diabetes nutrition class, at first I was afraid to eat fruit, whole grains, and starchy vegetables. But I quickly realized that I could eat an abundance of these foods each day without blood sugar spikes. We thought giving up cheese would be difficult, but after a week, the cravings were gone. I began to spend more time at the grocery store reading labels and understanding nutrition. 
After two weeks on the diet, we began to savor the wonderful flavors of food without all the butter, oil, and rich sauces. We found sustenance through potatoes, rice, beans, and corn, and discovered a wide variety of greens to enjoy with vinegar-based dressings. Quickly, our energy levels increased, and we didn't feel the need to nap in the afternoon anymore. The surprise really came when we stepped on the scales each week and saw the weight loss. 
As much as I didn't enjoy cooking before, after going plant-based it became a fun challenge. I remember making my own hummus for the first time (to avoid the added oil found in most store-bought hummus). I had to watch a YouTube video to learn how to peel garlic. If I can learn to prepare and cook a WFPB diet, so can you! 
Surprising Lessons from Our New Lifestyle
We've maintained a whole-food, plant-based lifestyle for nearly two years now. We've lost more than 40 pounds each, and our BMIs are now in the normal range. Friends who we haven't seen in a while have walked right by us, not recognizing us because of the weight loss. 
I run 15 to 20 miles a week and ran my first half-marathon. I was able to eliminate all diabetes medications, and my joint inflammation is far reduced with less medicine. My husband is off all heart medications as well. To say it simply, a WFPB lifestyle gave us our lives back. 
Rod and I have both learned a lot about food and nutrition since adopting this way of eating. In reflecting back on our journey, here's what stands out.
We didn't go hungry.

So many other diets throughout our lives left us hungry, but not this one. By eating the right foods, we filled our stomachs and still lost weight. 

Our energy skyrocketed.

We used to need daily naps, but not anymore! 

Our medication needs changed.

We were amazed how quickly eating WFPB changed our medication needs. We worked closely with our doctors to reduce medications as our health improved.

It pays to read nutrition labels.

We never realized how many processed foods include oil, sugar, and salt. We were surprised to find that oil is added to many canned foods. (If there is less than 0.5 g of oil in a product, the FDA approves rounding down the fat grams to zero on the label. So now we read the ingredient list as well to avoid all added oils.) 

Whole plant foods are flavorful.

After a couple weeks eating this way, we couldn't believe how rich and flavorful food tastes without all the excess salt, sugar, oil, and other fats.  
Ready to get started? Check out Forks Meal Planner, FOK's easy weekly meal-planning tool to keep you on a healthy plant-based path. To learn more about a whole-food, plant-based diet, visit our Plant-Based Primer.