The Instant Pot's enduring success can be chalked up to the drastically slashed cooking times, easy cleanup, and set-it-and-forget-it peace of mind it lends to home cooking. Despite the hundreds of Instant Pot cookbooks on the market, many cooks don't know how simple it is to adapt their own stovetop recipes for the Instant Pot. Here's a quick guide to Instant Pot conversion, from determining which recipes will work (and sometimes work better) to figuring out the cook times and settings.
Why Convert Recipes to an Instant Pot?
Strapped for time? Got several different dishes to prepare all at once? Looking to keep the kitchen cool? Maybe you just want to do something else while dinner's cooking. These are all great reasons for making the switch from stovetop to Instant Pot. Another one is results. The high-pressure cooking environment inside an Instant Pot yields meltingly tender veggies, lusciously creamy beans, and perfectly cooked whole grains.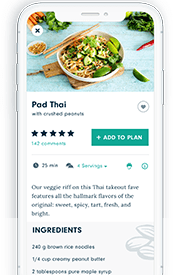 Try Our Award-Winning Meal Planner For Free!
Healthy eating has never been so easy.
What Types of Recipes Are Best to Adapt for an Instant Pot?
Any dish that requires 30 minutes or more on the stovetop will usually work well cooked in an Instant Pot. Soups, stews, bean dishes, and whole grain recipes all fit that bill. All you have to do is use the sauté function as you follow the beginning of the recipe as written, then lock the lid into place and set the pressure cooking function when it's time for the recipe to simmer or boil.
The Instant Pot's three non-pressurized settings, "Sauté," "Slow Cook," and "Keep Warm," also let you use the appliance like a saucepan. This is a handy thing to remember around the holidays when you need an extra burner or want to keep foods warm. The Instant Pot slow-cooker setting means the countertop cooker can also be used to slow-cook recipes and steam cakes.
When NOT to Use the Instant Pot
Because the Instant Pot's high-pressure environment breaks down vegetable fibers and its tight-sealing lid doesn't let you monitor doneness, it's best to stick to the stovetop for veggie dishes with cook times under 15 minutes. The Instant Pot insert's high sides and relatively small base also make it hard to brown, sear, or cook ingredients until crispy, so recipes that call for these techniques work better in a skillet or saucepan.
3 Pro Tips for Converting a Recipe for the Instant Pot
Once you've determined a recipe should work in an Instant Pot, the main thing you have to figure out is how long to set the timer. Here are three ways to figure that out.
1. Look online for a similar recipe that uses the Instant Pot or another multicooker.
The internet is your friend when it comes to Instant Pot conversions! A quick recipe search will give you lots of options to study and let you benefit from others' experience. For example, our Instant Pot Golden Root Vegetable Soup can be used as a template for converting any creamy, blended vegetable soup. You could also model a favorite rice dish on our Herbed Instant Pot Rice Pilaf, which uses the "Rice" preset program to get the texture just right.
2. Use the Instant Pot preset cooking functions.
When converting straightforward recipes, Instant Pot preset buttons are fast, foolproof ways to get the cooking time just right. They're also self-explanatory: "Soup/Broth" for soups and stocks, "Multigrain" for whole grain dishes, and "Beans/Chili" for bean recipes.
3. Try this Instant Pot cheat sheet.
You don't need a comprehensive list of cook times to convert a recipe on the fly. Here's a quick rundown of basic time conversions from conventional (stovetop) cook times to Instant Pot timer settings. We've thrown in the cook times for slow cookers, as well, in case you want to go that route. One thing to remember: When converting a recipe, always start with the lowest timing option. You can always continue to cook dishes that are underdone, but there's no turning back when ingredients are overcooked.
Stovetop
Pressure Cooker
Slow Cooker

(on High Heat)

1 hour or more
30 to 45 minutes
4 to 6 hours
30 to 45 minutes
10 to 15 minutes
2 to 3 hours
20 to 30 minutes
5 to 10 minutes
2 hours
15 minutes or under
0 minutes
NA
Instant Pot Conversion Troubleshooting
When you make a stovetop recipe in an Instant Pot, the multicooker's high-temperature, pressurized cooking may result in differences in texture, consistency, and doneness. Here's how to fix the most common pitfalls.
Undercooked Food
Use the "Sauté" or "Slow Cook" function to continue cooking until ingredients have reached the desired doneness. These settings give you more control than re-cooking foods under pressure.
Too Much Liquid
When a recipe turns out a little too saucy, you can ladle out some of the liquid, or cook it off using the "Sauté" or "Slow Cook" function. Then, the next time you make the recipe in an Instant Pot, reduce the liquid by ½ to 1 cup.
Too Little Liquid
This one's easy: Just add a little water or broth to adjust the consistency.
Learn more essential kitchen skills and become a plant-based home chef in 90 days with the Forks Over Knives Cooking Course!