Editor's Note: In January 2019, the Institute of Culinary Education launched the Natural Gourmet Center, a plant-centric and wellness-driven culinary arts program. We'll be featuring plant-based cooking tips from their instructors here.
With their distinctly sweet taste, chewy texture, and crunchy seeds, figs are truly delicious. Read on for tips on selecting, storing, and cooking with the fruit, as well as how to dry it for long-term storage. 
What Are Figs?
The fig is a member of the mulberry family that grows on the ficus tree and is native to the Mediterranean and the Middle East. They were introduced to North America in the 1500s. They can be traced back quite far, with references to the fruit in the Bible and other ancient writings. California figs are in season from June through September, while European figs are available throughout the fall. 
Tips for Selecting and Storing 
When choosing figs, look for fruit that is plump and tender with a rich, deep color and no bruises or mushy areas. Once home, store them in the refrigerator on a paper towel-lined plate for up to two days. Do not wash the fruit until you plan to eat it.
How Long Are Figs Good For?
Fresh figs are delicate and extremely perishable, so they are best eaten within one to two days after purchase. 
Freeze for Longer Storage
When you have a huge batch of fresh figs and not enough time to eat or cook them, you can freeze them. Wash and dry them, set them on a baking sheet in a single layer, and then place in the freezer. Once frozen, transfer the fruits to a resealable freezer bag for up to six months. Frozen, they are a great addition to smoothies, baked goods, jam and ice cream. 
Dried Figs
Dried figs will generally stay fresh for several months. Store dried figs in a cool, dark place or in the refrigerator and do not expose them to too much air, which will dry them out. You can purchase dried figs or dry fresh figs yourself using one of the methods below. 
Dehydrator: Wash the fruits then lay them on a dish cloth and gently pat dry. Cut fruits in half. Place in dehydrator on the "Fruit" setting or at 135°F for at least eight hours, until dry but still chewy. 
Oven: Preheat oven to 135°F. Wash the fruits then dry them with a dish cloth. Cut fruits in half. Line a baking sheet with parchment paper. Place a cooling rack on top. Place figs cut-side up on rack. Bake for at least eight hours, turning pan occasionally. 
Sunlight: Because figs are so fragile, you can dry them using sunlight exposure on hot, sunny days. To do this, wash the fruits then dry them gently with a dish cloth. Cut the fruits in half. Line a wooden or wire rack with cheesecloth. Place fruits cut-side up on rack. Cover with additional cheesecloth, tucked underneath the edges of the rack so that insects cannot get inside. Place outside in the sun for two days. 
Types of Figs
Figs vary in color and texture depending on the variety but can be used interchangeably in most recipes. Some of the more popular kinds include:
Adriatic:

pink-tan flesh and light green skin. Ultra sweet.

Black Mission:

pink flesh and purplish-blackish skin. Extra chewy texture.

Brown Turkey:

red flesh and brownish-purplish skin. Less sweet than other varieties. 

Calimyrna:

amber flesh and greenish-yellowish skin. Honey notes. 

Kadota:

Silky purple flesh and green skin. Slightly less sweet than other varieties.

Sierra:

Creamy reddish flesh and green skin. Mild taste.
Health Benefits
Like other whole plant foods, the fig is rich in nutrients, especially dietary fiber. Because they are naturally sweet, they're a delicious and nutritious treat. (See also: Is The Sugar in Fruit Good or Bad for You?)
How to Use Figs
Fresh figs should be rinsed in cold water prior to eating. The stems should be gently removed. Dried figs can be eaten on their own or used in a variety of recipes.
Here are some quick-serving ideas:
Slice fresh figs into halves or quarters and add to salad.

Puree fresh figs and use as a sandwich spread or as a topping for roasted vegetables. 

Add chopped dried figs to baked goods or jam.

Add chopped fresh or dried to oatmeal.

Poach fresh or dried fruits in red wine or pomegranate juice and serve with

nice cream

or

nut yogurt

.
Fig Recipes to Try

These sweet fruit-topped crackers are just the thing to nourish you past that midafternoon lull.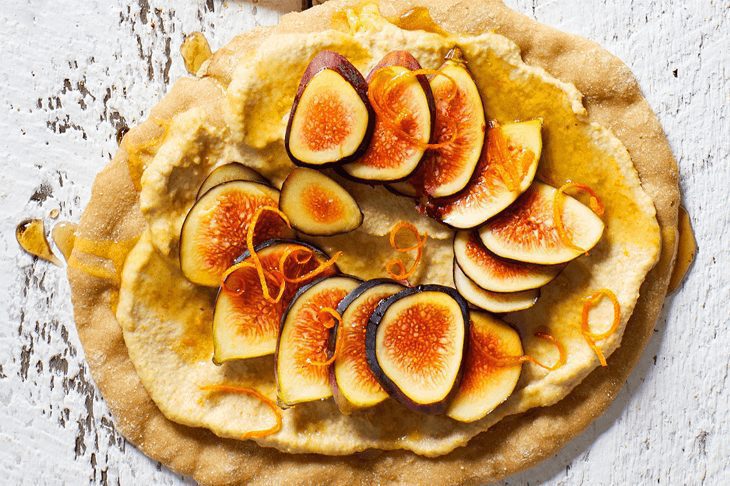 Both fresh and dried figs work in this delicious flatbread topping, which also features orange zest and a creamy, vanilla-infused bean spread.

Get your chocolate fix in a wholesome way with these raw gluten-free bites.