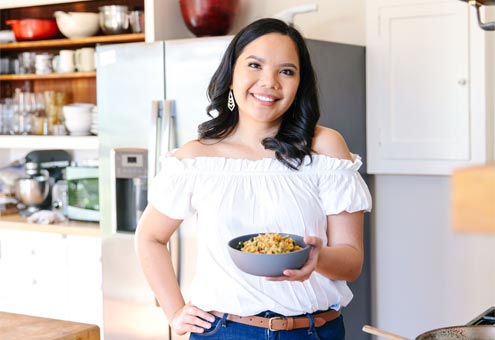 Cleodia Martinez
Cleodia Martinez is an entrepreneur and whole-food, plant-based nutritionist and the author of Ay Sus!: Whole Food Plant-Based Global Filipino Cuisine. She helps people around the world feel healthier and eat more plants by combining nutrition science with cooking and practical lifestyle skills to create lasting habit change. She is a first-generation Filipina-American currently living in the SanFrancisco Bay Area. She is the co-owner of Absolute Catering & Events, Inc. together with her husband, Ryan.
Motherhood, along with personal wellness concerns, led her to focus on holistic health and drove her to earn her certifications in nutrition and healthy living as well as plant-Based nutrition. She also holds a bachelor's degree in Economics & Business Administration from Saint Mary's College ofCalifornia. Her mission is to shine a light on the benefits of a whole food, plant-based eating habit while making it approachable, accessible, and desirable in everyday life.
Visit her website cleodiamartinez.com and follow her on
Instagram
for more information.