Vegan chili is the perfect meal for warming you up from the inside out, and there are plenty of creative possibilities for enjoying its fiery flavors outside of serving it in a bowl. We've created a smoky, satisfying bean chili recipe that can be transformed into six alternative recipes to showcase its wholesome ingredients in fresh new ways. From tacos to soup to mac and cheese, you'll love how easily this versatile recipe will freshen up your weeknight dinners with minimal effort. Hungry yet? Let's dig in!
Note: The base recipe makes four generous 1½ cup servings, so depending on how many people you're cooking for, you may want to double the recipe. It also freezes well, so be sure to keep a batch tucked away for nights when you're short on time.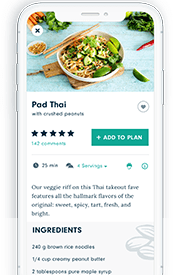 Try Our Award-Winning Meal Planner For Free!
Healthy eating has never been so easy.
Base Recipe: Smoky 2-Bean Chili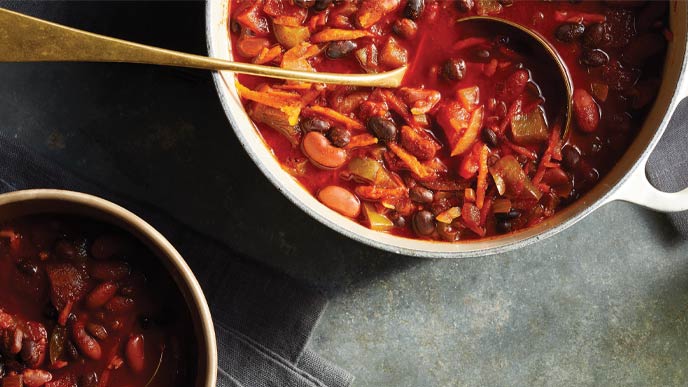 1 hour l Makes 6 cups
This bold-flavored chili is thickened with grated carrots, which also lend a hint of natural sweetness. Simmering the sauce ingredients and spices before adding the beans allows the flavors to develop, giving you the depth you expect from a top-notch pot of chili, without having to fry or sauté anything.
Ingredients
1 15-oz. can no-salt-added diced tomatoes
2 cups chopped onions
1 cup chopped green bell pepper
1 cup grated carrots
3 cloves garlic, minced
3 tablespoons chili powder
2 teaspoons ancho chile powder
1 15-oz. can kidney beans, rinsed and drained (1½ cups)
1 15-oz. can black beans, rinsed and drained (1½ cups)
Instructions
In a large saucepan or Dutch oven combine the first seven ingredients (through ancho chile powder) and 3 cups water. Cover and bring to boiling over medium; reduce heat. Simmer, covered, 30 minutes. Stir in kidney beans and black beans. Cover and simmer about 20 minutes more or until chili is thick.
What to Do With Leftover Chili
After you've enjoyed that first cozy bowl of chili, use next-day leftovers to create something totally new. These six tasty meal ideas show you how to make the most out of your extra portions.
1. Oven-Roasted Breakfast Hash
Bored with your breakfast routine? Roast seasoned potatoes to crispy perfection and pour leftover chili over the top for the last few minutes of roasting time. The result: a hearty morning meal that will give you plenty of energy to face the day.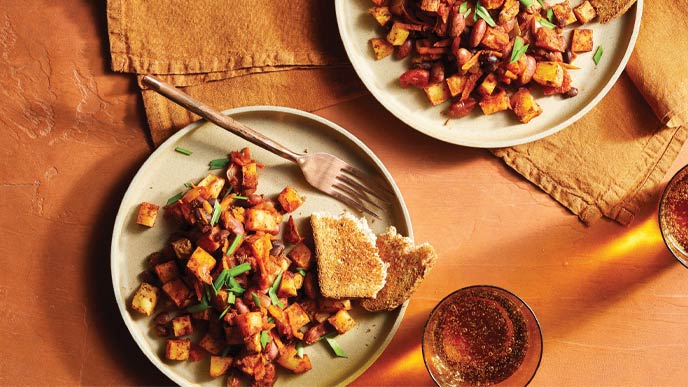 Instructions
Preheat oven to 400°F. In a bowl toss 1½ cups diced raw potatoes with 1 teaspoon paprika and ½ teaspoon garlic powder. Spread potatoes on a parchment-lined baking sheet; roast 25 to 30 minutes or until crisp and browned, stirring once or twice during roasting time. Pour 1 cup hot chili over potatoes on baking sheet, stir to coat, then roast 5 to 10 minutes more or until most of the chili moisture has evaporated and potatoes crisp up again. Makes 2 cups.
2. Baked Chili Mac
Combine hearty macaroni noodles with your leftover chili to create this super-tasty casserole. The cheesy garlic-breadcrumb topping adds an extra layer of flavor and satisfying texture.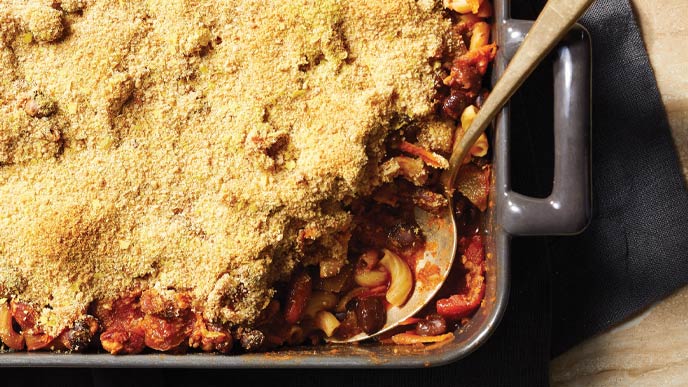 Instructions
Preheat oven to 350°F. In a 2-quart baking dish stir together 2 cups chili and 1 cup cooked whole wheat macaroni; spread evenly. In a small bowl stir together ½ cup whole wheat bread crumbs, 2 tablespoons nutritional yeast, and 1 teaspoon garlic powder; sprinkle over chili mixture. Bake, uncovered, 30 minutes. Makes 3 cups.
3. Easy Chili Fries
This variation is perfect for game day or a quick dinner for one—simply air fry some potato wedges, top with chili, and add fresh herbs for a punch of zesty flavor.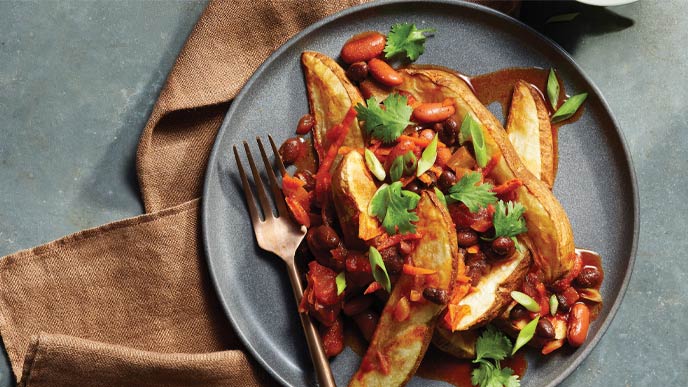 Instructions
Cut 1 large unpeeled russet or sweet potato lengthwise into wedge-style fries. Soak wedges in water 10 minutes; drain and pat dry. Preheat an air fryer to 375°F. Air-fry potato wedges 10 to 12 minutes or until browned. Serve topped with ½ cup hot chili, 2 tablespoons sliced scallion, and 2 teaspoons chopped fresh cilantro. Makes 2 cups.
4. Chili Tacos
Taco Tuesday just got a whole lot better with this spicy Southwest combo. Grab a few corn tortillas and fill them with your chili then add fresh tomatoes, creamy avocado, crunchy cabbage, and hot sauce.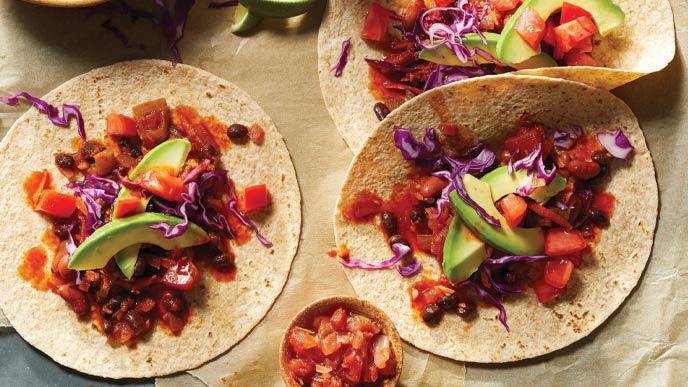 Instructions
Fill each of two 6-inch whole wheat or corn tortillas with ⅓ cup hot chili, 3 tablespoons diced tomatoes, 2 slices avocado, and 2 tablespoons thinly shaved red or green cabbage. Serve with salsa and hot sauce. Makes 2 tacos.
5. Zesty Chili Bowl with Cucumber-Mint Relish
This refreshing recipe balances out the smoky flavors of the chili with an herbaceous cucumber-mint relish. Steamed cauliflower adds extra veggie goodness while a bed of brown rice delivers satisfying heft.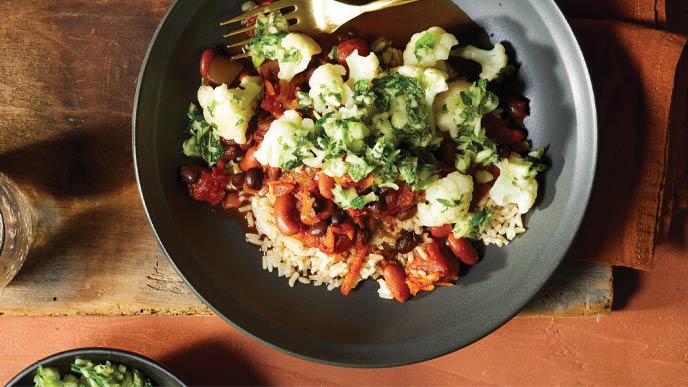 Instructions
For relish, in a blender combine 1½ cups chopped peeled cucumber; 1 cup fresh mint leaves;
4 scallions, roughly chopped; and 1 teaspoon lemon or lime juice. Cover and pulse until chunky. Fill each of two large bowls with ½ cup hot cooked brown rice or other whole grain, ½ cup steamed cauliflower, and ½ cup hot chili. Top with relish. Makes 2 bowls.
6. Southwest Vegetable Soup
This lip-smacking soup is perfect for using up straggler chili leftovers: Simply toss the chili in a pot with some low-sodium vegetable broth, chopped or frozen veggies, and a whole grain of your choice. This soup has a flavor profile similar to minestrone and is great paired with a side of crusty whole wheat bread.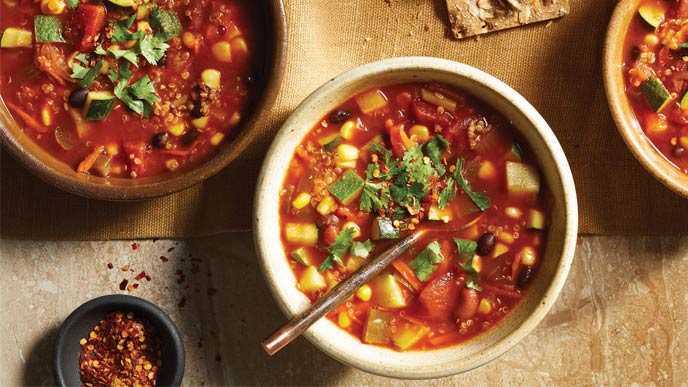 Instructions
In a large saucepan stir together 2 cups chili, 2 cups vegetable broth, 1 cup chopped zucchini, 1 cup fresh or frozen corn, and ½ cup cooked quinoa or other whole grain. Bring to a simmer; cook about 20 minutes or until zucchini is tender. Serve garnished with fresh cilantro. Makes 4 cups.