New research suggests that older women may be able to dramatically reduce their risk of age-related frailty by eating more plant-based protein and less animal-based protein, even in modest amounts.
The large-scale study, published in the ​​Journal of Cachexia, Sarcopenia, and Muscle, analyzed data from more than 85,000 women aged 60 and older over the course of two decades to determine whether the type of protein they consumed impacted their likelihood of developing frailty—a common and sometimes very dangerous condition in older adults. Frailty greatly increases the risk of infections, falls, surgical complications, and illnesses that require hospitalization. For the study, researchers defined frailty as meeting at least three of the following five criteria: fatigue, low strength, reduced aerobic capacity, five or more chronic illnesses, and weight loss of 5% or more. Food intake questionnaires provided data on the womens' diets.
Get 20% Off!
Get 20% Off!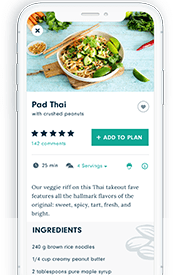 MEMORIAL DAY SALE!
Get our weekly plant-based meal plans for as low as $6.67/month!
Over the course of the study, researchers recorded more than 13,000 cases of frailty and found that women who ate the most animal-based protein (red meat, poultry, fish, seafood, eggs, and dairy) experienced the highest rates of frailty, while the women who consumed the most plant-based protein (bread, cereals, pasta, nuts, beans, and legumes) experienced the lowest rates.
After adjusting for variables such as baseline body mass index, alcohol intake, and smoking status, the study found that swapping just 5% of protein intake from animal-based sources to plant-based sources could drastically reduce frailty. Researchers further discovered that the level of frailty reduction differed based on the specific type of animal protein that the plant protein replaced:
Replacing overall animal protein reduced the risk of frailty by 38%
Replacing dairy protein reduced the risk of frailty by 32%
Replacing nondairy animal protein (including meat, fish, and eggs) reduced the risk of frailty by 42%
"Plant-based foods are associated with lower risks of chronic diseases, such as diabetes, high blood pressure, cardiovascular disease, and certain cancers," says Vanita Rahman, MD, clinic director at Barnard Medical Center in Washington, D.C. "They are also associated with less inflammation and improved joint health. By collectively decreasing the burden of chronic disease, plant-based foods support lower rates of frailty."
While previous research has suggested that eating more protein in general can reduce the risk of frailty, this latest study found that only plant-based protein seemed to offer protective benefits, with the authors noting that "habitual long-term intake of total protein, animal protein, and dairy protein was not associated with lower risk of frailty."
"Although we need definitive research evidence, I suspect that the more women move towards a plant-based diet, the more improvements they can expect in their health and frailty scores," says Rahman.
Apart from mitigating the physical symptoms of frailty during old age, a 2019 study published in Advances in Nutrition found that a plant-based diet could also slow cognitive decline in elderly adults. Researchers found that polyphenol-rich foods such as citrus, berries, nuts, and cocoa improved specific regions of cognition in the brain, particularly the frontal lobe which controls executive functioning. Eliminating animal products has also been shown to reduce cancer risk, increase your lifespan by more than a decade, and lower medication usage for older adults.
To learn more about a whole-food, plant-based diet, visit our Plant-Based Primer. For meal-planning support, check out Forks Meal Planner, FOK's easy weekly meal-planning tool to keep you on a healthy plant-based path.