People who stick to a plant-based diet have a 23 percent lower risk of developing type 2 diabetes, according to a report published this week in JAMA Internal Medicine. What's more: The quality of the plant-based diet mattered. People who focus on whole plant foods and eat fewer refined sugars and carbohydrates can further reduce their risk by 30 percent.  
Presenting one of the most comprehensive reports of its kind, researchers from the Harvard T.H. Chan School of Public Health analyzed the results of nine studies that pertained diet and diabetes risk, with a total of 307,099 participants (23,544 of whom had type 2 diabetes). The study's authors found that, overall, the higher the adherence to a plant-based dietary pattern, the lower the risk of developing type 2 diabetes. This association was stronger when researchers defined the plant-based dietary pattern as emphasizing fruits, vegetables, whole grains, legumes, and nuts.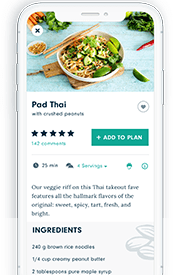 Try Our Award-Winning Meal Planner For Free!
Healthy eating has never been so easy.
"Overall, these data highlighted the importance of adhering to plant-based diets to achieve or maintain good health, and people should choose fresh fruits and vegetables, whole grains, tofu, and other healthy plant foods as the cornerstone of such diets," says the study's senior author Qi Sun, MD, ScD, associate professor in the Department of Nutrition at the Harvard T.H. Chan School of Public Health.
The report notes that healthful plant foods contain fiber, vitamins and minerals, antioxidants, and unsaturated fatty acids, which might explain why consuming them could help prevent diabetes. The report also notes that plant-based dieters avoid red and processed meats—foods that have been shown to increase the risk of type 2 diabetes, possibly due to their higher heme iron or dietary cholesterol content.
While studies were observational and relied on responses from dietary questionnaires, the report supports previous findings. Prior studies have demonstrated that diet can play a role in reducing insulin sensitivity, blood pressure, weight gain, and inflammation—all of which can contribute to diabetes risk. And a plant-based diet may be more effective in managing type 2 diabetes than the diets currently recommended by several diabetes organizations. 
"This study adds to what we already know from a wealth of scientific literature: Eating more plants, fewer animal foods, [and] fewer highly processed foods is a great recipe for the health of our species as well as other species and the planet as a whole," wrote Michelle McMacken, MD, assistant professor at NYU School of Medicine and director of Bellevue Hospital Weight Management Clinic, in a post on Instagram. "What's not to love?" 
Learn more about how a vegan diet impacts diabetes.