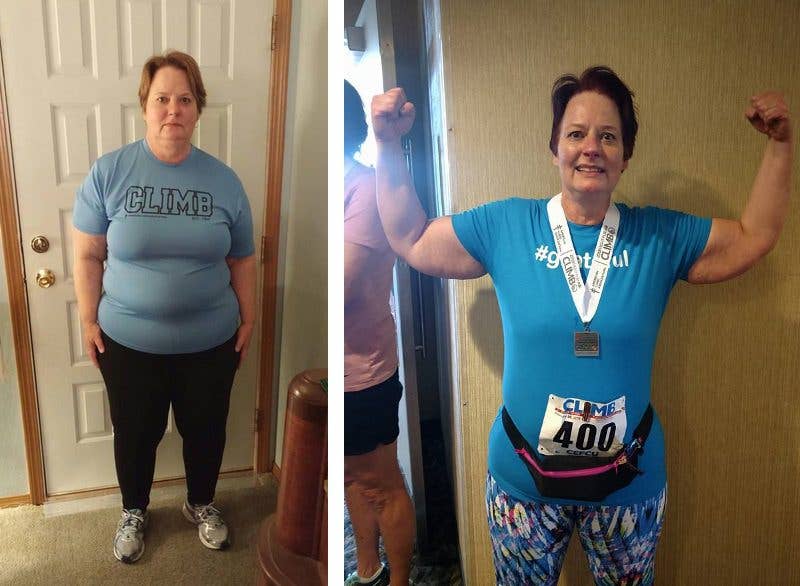 How I Went From an Obese Couch Potato to Healthy and Fit at Age 57
Lorraine Zenge shares her plant-based success story of how she lost 80 pounds, lowered her cholesterol, and ditched prediabetes by "crowding out the bad food with the good."
A bit over two years ago, I was a 57-year-old morbidly obese couch potato. I was unhappy, unhealthy and I hurt all the time. I decided one day that I couldn't take it anymore. I went to spin class and nearly threw up because I was so out of shape. I came home, and still sitting in my sweaty clothes, signed up for a triathlon to keep myself motivated to go to the gym.
My Journey Back to Health
I immediately started eating more healthfully. I cut out excess sugar, fast food of any type, alcoholic beverages, and processed "foods." I added in more fresh fruit and vegetables. I adopted the "crowd out the bad food by adding more of the good food" technique. I made it my business to learn more about nutrition, but was still eating meat (though a lot less of it) to accommodate my meat-eating family. I restricted my animal proteins to grass-fed beef, wild-caught salmon, and cage-free chicken and eggs. In six months, I lost 80 pounds, and I completed the triathlon I'd signed up for.
A bit over a year ago, my husband had a heart attack and 5-way bypass surgery as a result of his uncontrolled type 2 diabetes. I continued my healthy eating and ate even cleaner. However, I knew that I wanted to go full-on plant based. I had watched the Forks Over Knives documentary several times and knew that that lifestyle was the most beneficial for my long-term health, especially since I had abused my body for so long with the standard American diet (SAD).
Turning the Corner on Plant-Based Eating
In February, I went to a yoga and meditation retreat and used that weekend as my opportunity to totally turn the corner to plant-based eating. I told my family that this would be how I'd prepare food now, because I knew it was the healthiest way of eating. I decided to try the free trial of the Forks Meal Planner, which I have continued using because it is so convenient.
My energy has been amazing. In February, my cholesterol dropped to within a healthy range, and since then, it's dropped another 20 points. I am no longer pre-diabetic. My doctor is so amazed and supportive of the changes that I have made. And I continue training for my next triathlon.
It would be an understatement to say that I feel like a new person. I tell people all the time that if I can improve my health, anyone can. I am truly alive. I am happy. I am grateful.
Ready to get started? Check out Forks Meal Planner, FOK's easy weekly meal-planning tool to keep you on a healthy plant-based path.
Has a whole-food, plant-based diet impacted your life?
We would love to hear about it!
SHARE YOUR STORY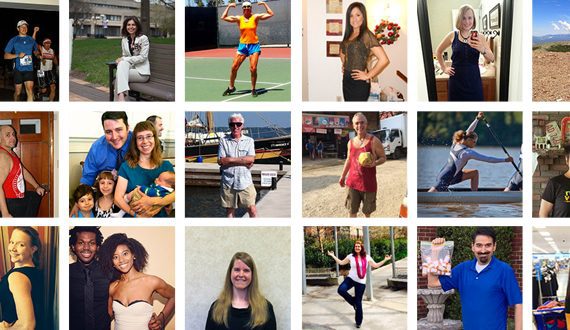 Free Download
Free 5-day meal plan!
Get a taste for healthy, fuss-free meal planning with this free five-day meal plan from Forks Meal Planner!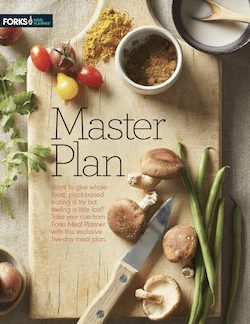 Join our mailing list
Get free recipes and the latest info on living a happy, healthy plant-based lifestyle.