My husband, Tim, started on his plant-based journey in 2011 for his health. He was very sick and desperate—and honestly I was worried he wouldn't live another year. But now he is in incredible health, and I have seen firsthand the lifesaving results from his new way of eating and other healthy habits.
When Tim made the switch, I fully supported him. I ate more plant-based foods, but for some reason I never went completely plant-based.
In 2014 I was diagnosed with a uterine fibroid that was bigger than a grapefruit. The fibroid was putting pressure on the ureter to my right kidney, so it had to be removed. In 2015 I had a total hysterectomy. During the surgery and hospital stay I had flashbacks to my mother's long days and nights at the hospital as she battled leukemia. My dear mother had lost her battle with cancer, and I vowed the day after my own surgery that I would never set foot in a hospital again if I had anything to do with it. While I couldn't control everything that happens to me, I could control what I put in my body. I flipped the switch and went 100 percent plant-based and never looked back.
As a result of making my health a priority, I have lost 85 pounds over the past three years, and I have become a competitive runner. The running began when my husband asked me to run a 5k with him. Then we did a 10k. After my first half marathon I really fell in love with running and being outside. Running makes me feel free. I love the time away from all the distractions around us, listening to my music, and reflecting on everything I'm blessed with. I love setting goals to become better and I never would have dreamed I would become an ultramarathoner. The finish lines and medals are fun, but the best part is spending time with my husband and enjoying the running community.
Now that Tim and I are both plant-based and active together, our marriage is thriving. We feel like teenagers, and we're enjoying life to its fullest. We are passionate about showing others how to transition to a plant-based lifestyle through our classes, social media, and potlucks.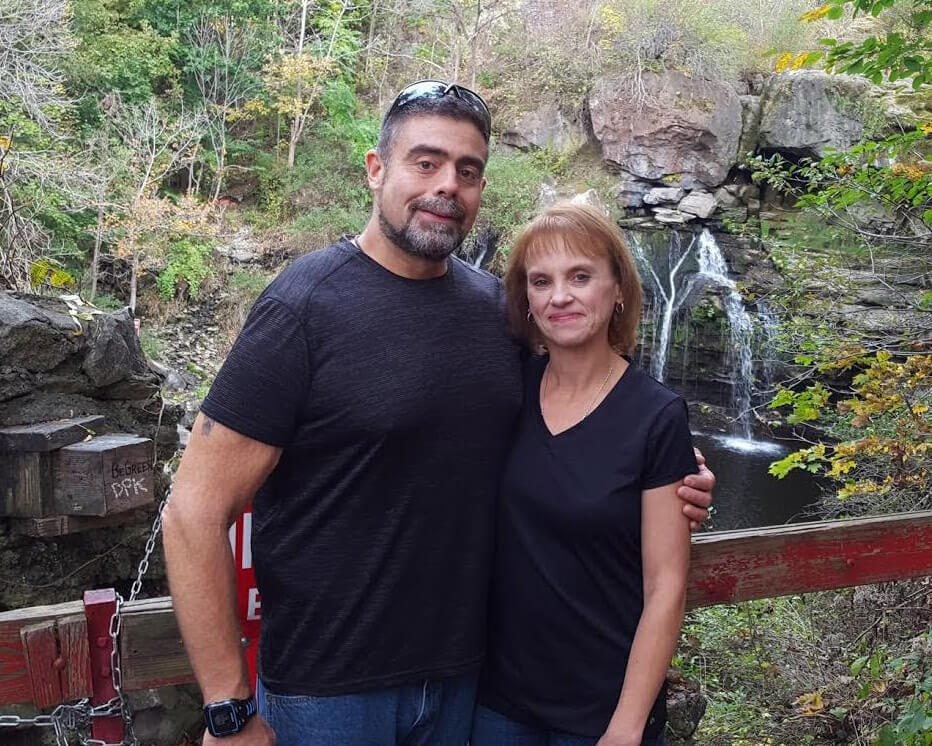 I thank God for the second chance for both of us, and I am grateful for every day we're given. I can't put into words how much I appreciate the Forks Over Knives film. It saved my husband's life and gave us a completely new life together. I am convinced that without it I would not have my husband, and my children would not have their father. Thank you for all you hard work and please keep putting this message out there until everyone knows how powerful a plant-based lifestyle can be.