In 2010, Eric O'Grey weighed over 300 pounds, had type 2 diabetes, high cholesterol, high blood pressure, and took over $1,000 in medications per month. When his doctor told him he would be dead within five years unless he got his health under control, Eric found a naturopathic doctor (Dr. Preeti Kulkarni) to help him. She put him on a whole-food, plant-based diet and encouraged him to adopt a dog from an animal shelter. He went to his local Humane Society and asked for an obese, middle-aged dog.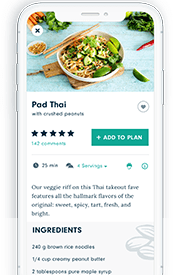 Try Our Award-Winning Meal Planner For Free!
Healthy eating has never been so easy.
When we shared Eric's health transformation story last year, many readers asked to hear more about his dog. So we're happy to share this moving short film about Eric and Peety by the Humane Society of Silicon Valley.