A classic American snack, watermelon is more than just a sweet treat on hot summer days: The versatile fruit's bright red flesh soaks up savory flavors much like tofu or eggplant do.
With smoky, tangy, or spicy seasonings, you can transform watermelon from an afternoon nibble into a memorable main course or scrumptious side dish. Check out these five savory watermelon recipes to get inspired and use up that extra fruit before melon season ends.
Pickled Watermelon Balls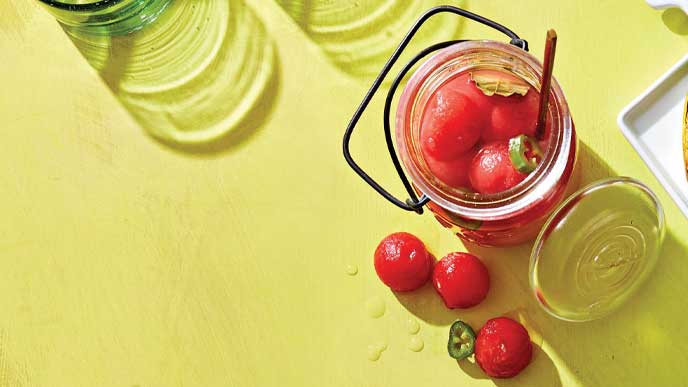 Makes 2 cups
In a 1-pint canning jar combine 2 cups watermelon balls, 3 slices fresh jalapeño chile, 1 small clove garlic, and 1 bay leaf. In a small saucepan combine ¾ cup vinegar, ¾ cup water, and ½ teaspoon sea salt; bring to boiling. Pour vinegar mixture over watermelon balls, seal jar, and let cool. Refrigerate at least 24 hours before serving.
Grilled Watermelon Steaks With Dill Gremolata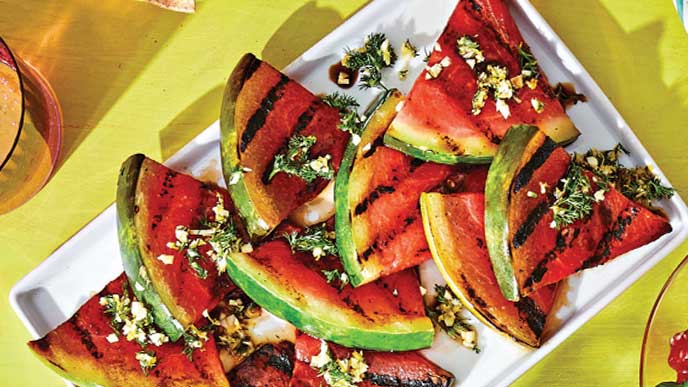 Makes 12 steaks + ½ cup gremolata
For gremolata, in a bowl stir together ½ cup chopped fresh dill, ¼ cup lemon zest (from about 4 lemons), and 2 tablespoons minced garlic. Slice six 1-inch-thick half moons from a halved baby watermelon, then cut each half-moon into two wedges. Grill watermelon wedges, uncovered, over medium 3 to 4 minutes per side or until grill marks appear. Lightly drizzle wedges with balsamic vinegar and top with a spoonful of the gremolata. If you like, sprinkle with crushed hazelnuts.
Corn and Watermelon Salsa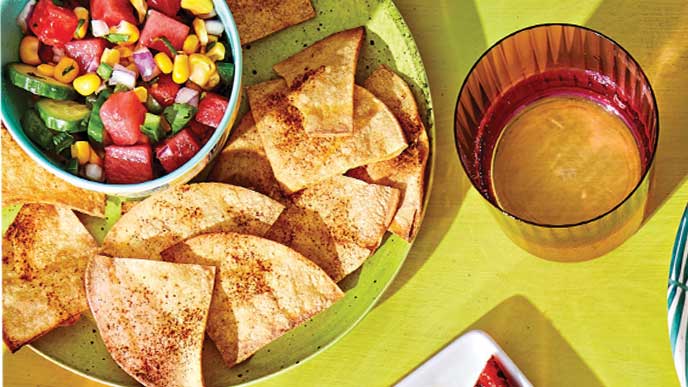 Makes 2½ cups
In a medium bowl combine 2 cups finely chopped watermelon, ½ cup chopped onion, ¼ cup finely chopped Persian cucumber, ¼ cup fresh or thawed frozen corn kernels, 2 tablespoons chopped fresh cilantro, and 1 tablespoon finely chopped fresh jalapeño chile. Cover and chill at least 30 minutes before serving. Serve with baked tortilla chips, over grain bowls, or any other way you enjoy salsa.
Watermelon "Tuna" Poke Bowl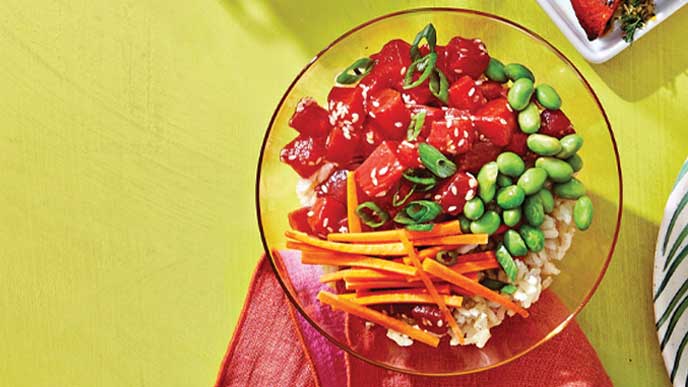 Makes 4 bowls
In a large nonstick skillet cook 4 cups ½-inch watermelon cubes over medium-low 20 to 25 minutes or until all liquid evaporates and the cubes turn translucent. In a large, shallow bowl stir together 3 scallions, chopped; 2 tablespoons reduced sodium soy sauce; 1 tablespoon brown rice vinegar; 1 tablespoon sesame seeds; and ¼ teaspoon sambal oelek. Add watermelon to bowl and stir gently to coat. Cover and chill 2 hours. When ready to serve, drain watermelon, reserving marinade. In four bowls arrange watermelon with warm brown rice, steamed edamame (warmed or chilled), and shredded carrots or veggies of your choice. Top with a sprinkle of sliced scallions, sesame seeds, and a drizzle of reserved marinade.
Watermelon Gazpacho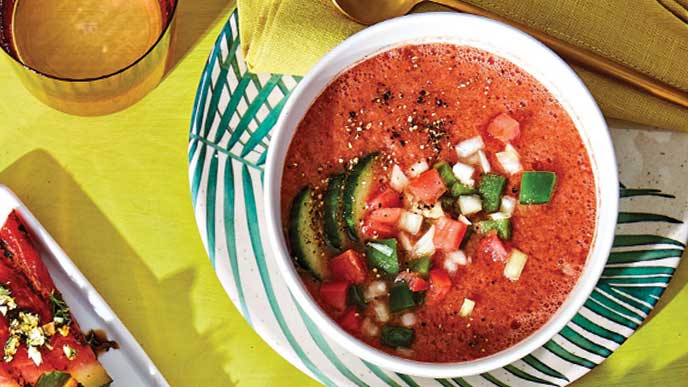 Makes 4 bowls
In a food processor or blender combine 4 cups cubed watermelon, 2 cups chopped tomatoes, 1 cup chopped onion, 1 cup chopped green bell pepper, 2 tablespoons red wine vinegar, and 1 teaspoon smoked paprika; process until smooth. Transfer to a bowl. Cover and chill at least 2 hours. Garnish servings with 1 tablespoon each chopped tomato, cucumber, green bell pepper, and onion.
More Recipes to Try
For more vegan watermelon recipes, check out these tasty ideas: