Like many of us, Alicia Long never fully looked at the ingredient label on the plant-based milk she bought every week. But after becoming pregnant and committing to a healthier lifestyle, she decided to pay closer attention to the quality of food going into her body. Long was shocked by the amount of added oil, sugars, and preservatives that were present in her favorite brands. After a frustrating hunt through the supermarkets to find an option with whole-food ingredients, she went home and noticed the Nespresso machine on her counter. It sparked an idea: What if there was a machine that could quickly make plant milk at home? A year later, Long and her husband created the Nutr.
Since hitting the market in 2021, Nutr's sleek countertop milk makers (which run between $170 and $190) have taken the plant-based community by storm. At its core, the Nutr is a high-speed blender with added heating capabilities that can make all manner of beverages, sauces, soups, and batters. Its small internal chamber is designed to produce a single serving of milk at a time, between 8 oz. and 13 oz., so your milk is always as fresh as possible. A few tablespoons of nuts, seeds, or oats and a little bit of water are all you need to make preservative-free plant milk in minutes.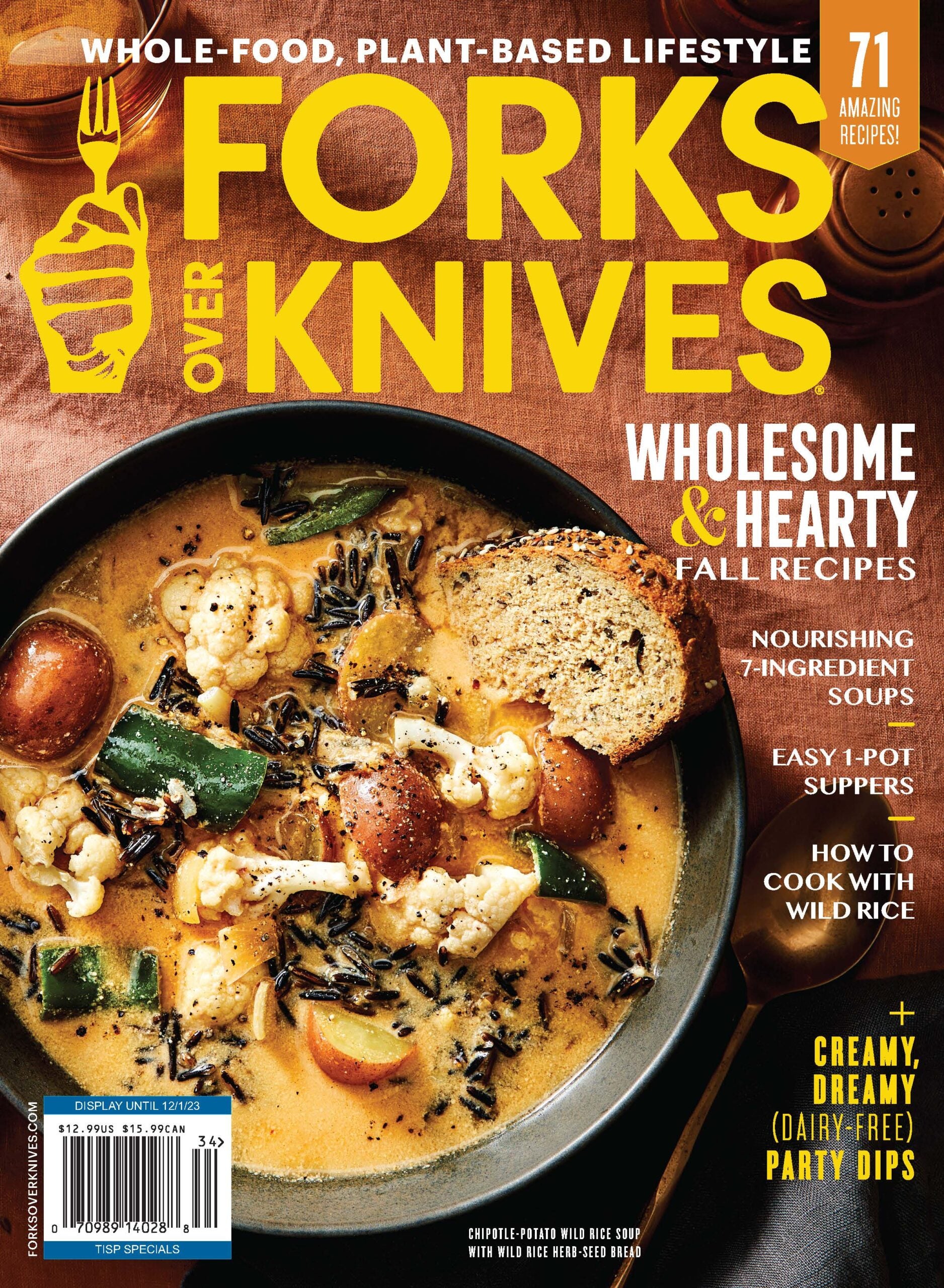 The Fall 2023
Magazine Is Here!
Our gorgeous "bookazine" features expert tips, inspiration, & comforting recipes for fall.
The Forks Over Knives team was curious about this new gadget, so I gave it a thorough test to see whether its quality lived up to the hype we'd seen on social media.
Nutr Machine Review
To give the Nutr a proper go, I tried four recipes from the Nutr recipe collection to see how it handled different tasks. While I was skeptical over the fact that I didn't have to soak the nuts before blending, I have to say I'm completely smitten with this little machine. Before jumping into the taste test, let's take a closer look at the Nutr's overall functionality and user experience.
To start, the ergonomic handheld pitcher design is small enough to fit on any countertop and light enough to easily maneuver with one hand. Its sleek aesthetic will look good in the most design-oriented households and won't cramp the style of your kitchen. A single button interface allows you to choose between the different settings (cool, warm, boiling, keep warm, and self-clean) and while it was a little funky to navigate at first, I quickly got the hang of selecting my desired setting. Each machine comes with a sturdy measuring spoon, a metal strainer, and a booklet of basic milk recipes to make the process as seamless as possible from start to finish. The Nutr isn't dishwasher compatible, so I particularly appreciated the self-clean function that saved me the effort of hand washing.
Each blend cycle runs three to five minutes and alternates between high intensity blending and periods of rest. When I made my first batch of oat milk, I didn't enjoy how loud it was for such a small machine (though it's important to note that I'm typically more sensitive to loud sounds than most people). But the more I've used it, the more I've gotten used to the noise. I found a decibel meter app to measure the Nutr against my Nutribullet blender and found the Nutr was 10 decibels quieter than the blender.
Apart from the slight decrease in noise, the main difference between the Nutr and your standard high-speed blender is that the Nutr doesn't require soaking the nuts before blending. While some high-end Vitamix and Blendtec blenders don't require soaking, they'll cost you a pretty penny. Cheaper options, like the Nutribullet, require soaking, so a Nutr would be a useful addition to your kitchen if you want a convenient and time-efficient way to make nut milk. But if you've already invested in a fancy blender, then it probably doesn't make sense to purchase a Nutr as well.
Now, to the main question: Is Nutr plant-based milk any good? The short answer: Yes. Honestly, I was shocked by how much tastier it was than the store-bought stuff in my fridge. Each recipe I tried was creamy, flavorful, and called for just a few simple pantry staples. None of the recipes required oil or refined sugar, and while I used maple syrup as my sweetener of choice, I'd probably choose a date next time for a subtler flavor.
Oat Milk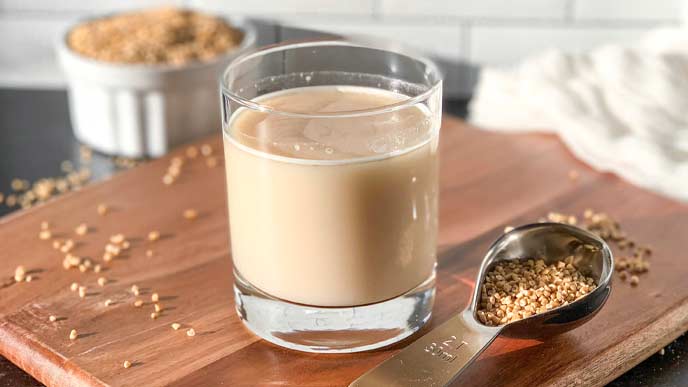 Personally, oat milk is my favorite plant milk, and I was excited to test out a homemade version. Two tablespoons of oats, 1 cup of water, ¼ teaspoon pure vanilla extract, 1 tablespoon of maple syrup, and a pinch of salt was all it took to produce the smoothest, yummiest milk I'd ever tasted. Unlike store-bought milk that's often watery and lacking in flavor, this was dense, smooth, and full of oaty goodness. It would be perfect for swirling into some herbal tea or for dunking vegan chocolate chip cookies. I'm a big fan of overnight oats, and this recipe has become my go-to soaking liquid to create the perfect batch of creamy breakfast oats.
Almond Milk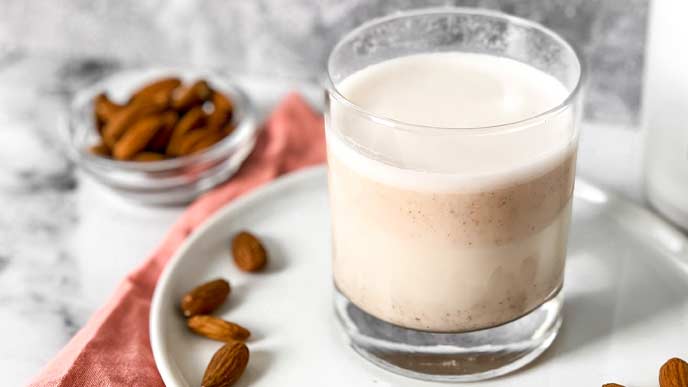 In my hierarchy of plant milks, almond comes in second, so I experimented with the almond milk recipe in the booklet that comes with the Nutr. Aside from calling for almonds instead of oats, the recipe was exactly the same as the oat milk recipe—but this one turned out far sweeter. It was almost as if I was drinking an almond cookie, which was absolutely delicious for a few sips but too sweet for me to enjoy a whole glass. The sweetness factor was easily remedied by dialing down the maple syrup by half, and I even tested a batch where I omitted it altogether. The batch without sweetener was a little bland for my liking, but it was still creamy and full of almond flavor, so you could definitely cut the added sugar if it's important for your diet.
I noticed there was more pulp when using the almonds than the oats, and I had to strain it twice to remove most of it. However, I enjoyed the texture when I tasted it after its first pass through the strainer, because the fine pulp added to the rich nutty flavor and made it feel more like a milkshake than a normal glass of milk. I let the glass sit in the fridge for a few hours and noticed the milk separated a bit over time, which is normal, so I gave it a good stir before tasting it again. It was just as delicious as when it was first made, so don't worry if you notice separation; that's a sign it doesn't have any preservatives or stabilizers in it! Overall, the almond milk was totally tasty and far superior to store-bought options.
Cashew Creamer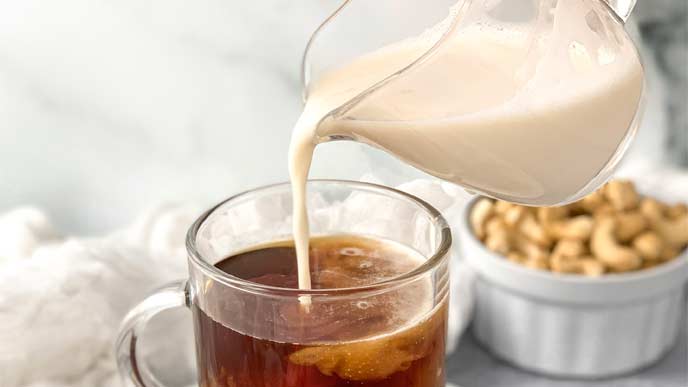 Extra thick and creamy, the cashew creamer recipe was incredibly decadent without any unhealthy ingredients. The trick to turning a Nutr recipe from milk into a heavier creamer is to cut the amount of added water by half. Cashews delivered the smoothest results out of all the base ingredients I tried and produced very little (if any) pulp to strain out at the end. Simple and rich, this recipe would be perfect for drizzling over a blended soup as a creamy garnish to create a restaurant-worthy meal.
Queso Dip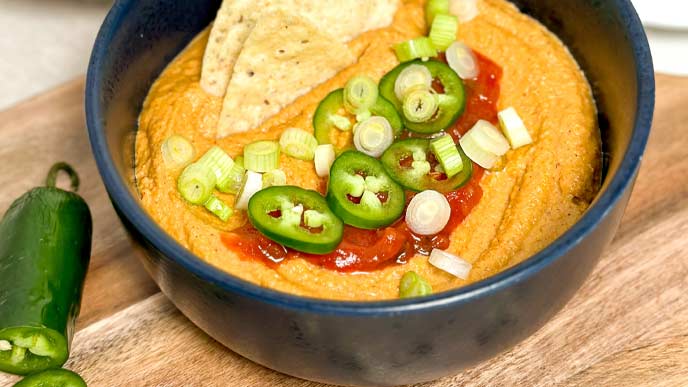 As I perused the Nutr website I was intrigued by their featured recipes for savory dips and sauces. I wanted to see what else this little machine could make, so I spent a few minutes loading it up with the ingredients for a vegan, oil-free queso sauce. I'm not kidding when I tell you this was probably the most delicious plant-based queso I've ever tried. The balance of seasonings, thick-but-creamy texture, and visually appealing orange hue made it perfect for dipping crackers and veggies into. While it wasn't flawlessly smooth like a dairy-based nacho cheese sauce, it completely satisfied my craving for "junk food" despite having only healthy, whole-food ingredients. It came together in just five minutes with the click of a button, and it's now going to be my secret weapon recipe when I'm hosting a party and want to serve a scrumptious dip.
Pros and Cons of the Nutr
Pros:
Makes delicious, smooth, and healthy plant-based milk
Can heat beverages to a perfectly warm temperature or even boil water
Powerful enough to process thick sauces and soups
Comes equipped with a measuring spoon and strainer so you don't have to buy extra equipment
Cheaper than other high speed blenders that don't require soaking the nuts in advance have the capacity to make nut milk
Cons:
Small capacity: Only makes 8 to 13 oz. per recipe, so you'd have to run it every day if you frequently use plant milk or have a large family
Most milks require straining to get rid of pulp (also true of high-speed blenders)
Isn't dishwasher safe
Overall satisfaction: 9/10
Long is currently working on the next generation of Nutr machines, which include internal straining mechanisms and a "family size" version that can produce larger batches of plant milk. But for the average whole-food, plant-based eater who uses nondairy milk more sparingly, the classic Nutr machine is a fantastic tool to add to your arsenal and elevate the quality of your cooking. With the power of homemade plant milk in your hands, there are endless ways to be creative in the kitchen—so get blending!