I tend to behave horribly at lunch. When noon rolls around, I ask my poor, work-ravaged, sedentary body, "Now what do you really want to eat today? What would make you happy?"
Fast-forward an hour later, weighed down by fries and the juicy burger I regretted even as I was bolting it down, and it would take all the tea in China to revive me to full productivity as the afternoon drags on.
Get 20% Off!
Get 20% Off!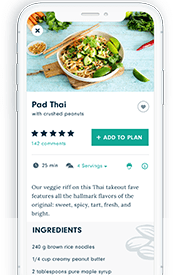 MEMORIAL DAY SALE!
Get our weekly plant-based meal plans for as low as $6.67/month!
Well, the best part of doing lunch prep at night this week was that I'd just spent the day making three too many indulgent decisions and was eager to course correct. Superstar, I said dotingly to myself—the way I congratulate my daughter when she returns her blocks to their basket—as I chopped red onion and celery for my No-Tuna Salad Sandwich, one of this week's recommended Fresh Start recipes. "What's that?" asked my husband from the couch. "Just talking to Mae!" I said brightly. Wow, that was really impressive evasion. Attagirl!
The No-Tuna Salad Sandwich recipe received some adjustment as I considered my own fridge and pantry. No pickles, but I had cornichons, those eensy pickled cucumbers the French adore for the additional level of tartness. And I've always found that tahini, a sesame paste that I like in any dish (it's even great in cake icing!), takes quite a lot of stirring before it's smooth enough to blend with a mixture. But not enough stirring, and you're left with gritty tahini clumps. So I braced myself for an arm workout as I reviewed the ingredient list.
But it was all a small price to pay for having a healthy, yet interesting, lunch. (Seriously, not to spoil things, but rest assured it all tastes just like tuna salad. More on that next post…)
Editor's Note: This month is the second annual Forks Over Knives Fresh Start Challenge, our free 21-day program for adopting a plant-based diet one meal at a time. Food writer Lucie Monk Carter is taking the challenge, and we've asked her to document her experiences with whole-food, plant-based cooking and eating in this series.
Looking for some practical support on your whole-food, plant-based journey? Check out Forks Meal Planner, FOK's easy weekly meal-planning tool to keep you on a healthy plant-based path.