A plant-based diet may be more effective in managing Type 2 diabetes and promoting overall well-being than the diets currently recommended by several diabetes organizations, according to a new report published in BMJ Open Diabetes Research & Care.
Researchers at the University of London, the University of Northampton, and the Department of Cardiology at East Sussex NHS Healthcare Trust reviewed 11 controlled studies on dietary interventions for Type 2 diabetes patients. Their report examines both the physical and psychological indicators of well-being, citing the World Health Organization's assessment that depression is two to three times more common in people with diabetes than in those without.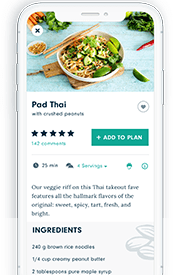 Try Our Award-Winning Meal Planner For Free!
Healthy eating has never been so easy.
The report's authors found consistent evidence for the efficacy of plant-based diets in promoting patients' overall health and quality of life. "Plant-based diets were associated with significant improvement in emotional well-being, physical well-being, depression … general health, HbA1c levels, weight, total cholesterol, and low-density lipoprotein cholesterol, compared with several diabetic associations' official guidelines." They also found that plant-based diets showed a potential to improve diabetic neuropathic pain and triglyceride levels in Type 2 diabetes patients.
The study's findings are consistent with diabetes research over the past two decades. A 2006 study found that a low-fat vegan diet "improved glycemic and lipid control in Type 2 diabetic patients" better than a diet following the American Diabetes Association guidelines did. A 2010 review of multiple studies examined the "usefulness of vegetarian and vegan diets for treating Type 2 diabetes" and found that "carefully planned vegan diets can be more nutritious than diets based on more conventional diet guidelines." A 2011 study published in Diabetic Medicine found that a vegetarian diet was better than a conventional diet at improving insulin resistance and oxidative stress markers in subjects with Type 2 diabetes. Plant-based diets are also associated with a significantly lower risk of developing Type 2 diabetes in the first place, as shown by a 2016 study published in PLOS Medicine and a 2014 study published in Nutrition, Metabolism, & Cardiovascular Diseases.
Diabetes rates have reached record highs in recent years. According to World Health Organization estimates, more than 422 million people live with diabetes, including more than 30 million people in the United States. The Centers for Disease Control estimates an additional 84.1 million Americans have prediabetes, a condition that, left untreated, will likely progress to diabetes within five years.
Ready to get started? Check out Forks Meal Planner, FOK's easy weekly meal-planning tool to keep you on a healthy plant-based path.