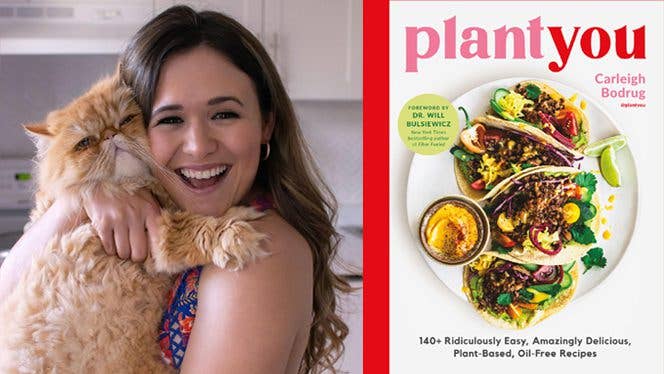 How Carleigh Bodrug's Oil-Free Plant-Based Instagram Posts Became a Bestselling Vegan Cookbook
Boasting nearly 1 million followers on Instagram, a recipe website, and a popular podcast, plant-based wunderkind Carleigh Bodrug just released her most ambitious project yet—a gorgeous, easy-to-follow, and totally oil-free vegan cookbook. PlantYou: 140+ Ridiculously Easy, Amazingly Delicious Plant-Based Oil-Free Recipes is packed full of bright graphics that help both seasoned veg-heads and plant-based newbies alike feel confident in the kitchen so they can take full control of their plates. Forks Over Knives chatted with Bodrug about how a small social media following grew into an empire and why you don't have to give up your favorite foods when you go plant-based.
WHAT SPURRED YOU TO GO PLANT-BASED?
Carleigh Bodrug: I grew up on a hobby farm and ate meat and dairy for basically every meal of the day. I distinctly remember not being allowed to leave the table until I finished my glass of milk! And it wasn't until 2015, when I was in my early 20s, that news came out from the World Health Organization that said red and processed meat were now classed as Group 1 and Group 2 carcinogens. I was incredibly shocked to learn this, mostly because when I was 11 years old my father was diagnosed with stage 2 colon cancer. My dad was my hero growing up, and while he's now a cancer survivor, he had to go through very traumatic treatments to get there. While he was sick he continued eating dairy and meat, and I remember how angry my dad got after hearing this new information from the WHO because he had taken all the measures he could to beat cancer. But in reality, those foods he thought were healthy could have been the very thing that caused it or at least prolonged his sickness.
SO WHAT DID YOU DO AFTER LEARNING ABOUT THIS LINK BETWEEN ANIMAL PRODUCTS AND DISEASE?
CB: I like to say it was like opening Pandora's box. The first thing my family did was watch Forks Over Knives, and we collectively had the thought, "Oh my goodness. We need to start eating more plant-based food." But I had a problem: I was living in a bachelor apartment up in Northern Ontario and had absolutely no cooking experience. I remember going on Pinterest and looking for plant-based meals and seeing a never-ending stream of "nourish bowls" and thought to myself, "I can't do this." I'd grown up eating chicken wings while we watched new episodes of Survivor and always did pizza nights on Fridays! The prospect of having to give up all my favorite foods was disheartening. So at that point I just started slowly veganizing the food I had grown up eating and used the oil-free, whole-food principles I learned from Forks Over Knives. I started documenting the journey on my Instagram account PlantYou, probably around 2016. And what do you know, it resonated with a few people! I think my following grew so quickly because people who wanted to go plant-based were really missing the simplistic recipes that emulated the food they grew up eating and felt nostalgic.
WHAT INSPIRED YOU TO EXPAND YOUR SOCIAL MEDIA CONTENT INTO A COOKBOOK?
CB: My Instagram account really built its following on the infographic recipes I shared. I would show each individual ingredient that went into a recipe in addition to the finished dish to help showcase just how easy it is to make the end product. Because if you've never cooked plant-based I think it's easy to look at a beautiful pasta dish or stir-fry and think that a lot of work went into it. But if you actually break down the individual components from a bird's-eye view, it really takes the intimidation out of it. Those infographics started going viral, and I was eventually approached by a literary agent about writing a cookbook. As I brainstormed for the book I kept trying to figure out how to make plant-based cooking as simple as possible for people like the 2015–2016 version of myself who was just beginning to transition to a plant-based lifestyle. And then one day it just struck me that my book needed to be full of infographics to help take the intimidation out of plant-based meals.
APART FROM THE INFOGRAPHIC BREAKDOWNS OF EACH RECIPE, WHAT ELSE IS UNIQUE ABOUT THE PLANTYOU COOKBOOK?
CB: My sister's a Type 1 diabetic, and when she's eating it's best for her to know the exact macronutrient breakdown of her food so she can track her insulin. At the same time, I'm not the type of person that wants to have the nutrition breakdown in my face as I'm preparing a meal. My personal mantra is "count plants, not calories," even though I know that information is incredibly valuable to some people. So all of the [nutritional] information, including protein, fiber content, carbohydrates, etc., is placed at the back of the book for anybody who finds it useful, but if you're someone who wants to eat a meal without seeing that, it's not directly next to the recipe. This format allows both types of people to get the cooking experience they need, which isn't something I've seen in many other cookbooks.
WHY IS YOUR COOKBOOK OIL-FREE?
CB: It was really important to me that oil-free recipes were the foundational element of this book because in North America we use oil in such unnecessary and unhealthy quantities. My book equips you with not only 140 oil-free recipes but also a complete guide on how to cook oil-free, which I promise is not nearly as intimidating as it sounds. This can be as simple as using vegetable broth to sauté onions and garlic or using silicone baking sheets when you make cookies. Since I believe a whole-food, plant-based, and oil-free diet is the healthiest way to eat, I wanted people to have a cookbook they could truly lean on to embrace that lifestyle.
WHAT HEALTH CHANGES DID YOU NOTICE WHEN YOU FIRST TRANSITIONED TO A PLANT-BASED LIFESTYLE?
CB: Hopefully this isn't TMI, but when I was a kid I was extremely constipated. My mom actually took me to the doctor and they prescribed me a laxative and Metamucil when I was 12 years old. I lived for 20 years in pain with a bloated stomach, and when I transitioned to a plant-based lifestyle it completely resolved itself. I was recently on a call with gastroenterologist Dr. Will Bulsiewicz, who wrote the foreword for my book, and he said that 98 percent of the population in North America does not meet their daily recommended intake of fiber. So as a population we're walking around constipated because we're not eating enough plants! Meat and cheese are completely devoid of fiber, and if those are making up the bulk of your diet you likely have a slow digestive system. So that shift was very dramatic for me, because I had always thought there was something wrong with my body. And then on top of getting my digestive health back on track, switching to a plant-based diet gave me so much more energy and vibrancy in general.
WHAT DO YOU HOPE PEOPLE TAKE AWAY FROM YOUR COOKBOOK?
CB: I hope that people can lean on it as an ultimate resource. That's why we have tacos, burgers, wings, lasagna, pastas, salads, BLT—everything that you ate as a meat eater, you can find the plant-based, whole-food, oil-free version of it that is equally delicious. As a recipe creator I'm always getting asked questions like, "Can I replace the bell pepper for mushrooms in this recipe?" And the answer is almost always yes. You are supposed to have fun with plant-based cooking! I fell in love with cooking after I went plant-based because it opens you up to an entire world of incredible plants and how they can be used in different cuisines. So, have fun with it. Use these recipes as a base to empower you to fall in love with plant-based cooking the same way that I did.
Free Download
Free 5-day meal plan!
Get a taste for healthy, fuss-free meal planning with this free five-day meal plan from Forks Meal Planner!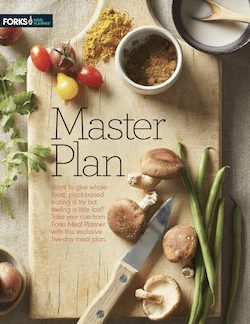 About the Author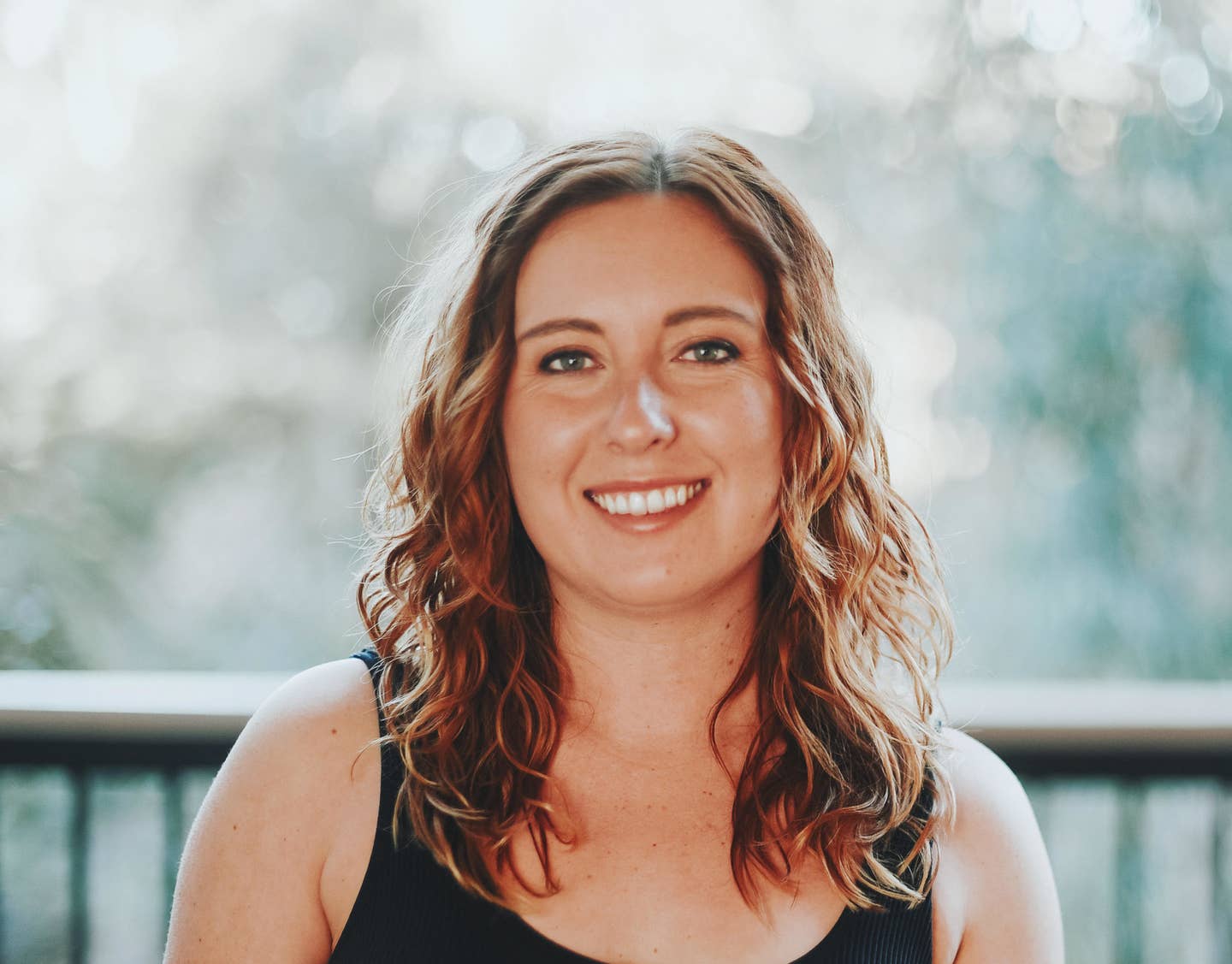 About the Author
Megan Edwards
Megan Edwards is a staff writer and content producer for Forks Over Knives. She is also a certified RYT-500 yoga teacher who is passionate about cultivating holistic wellness through plant-based eating, mindful movement, and meditation. With a background in journalism and marketing, she supports both the online presence and quarterly print magazine for Forks Over Knives.
See More from this Author
Join our mailing list
Get free recipes and the latest info on living a happy, healthy plant-based lifestyle.