In 2011, I hit rock bottom with my health. I was in an abusive relationship, and my self-esteem had steadily plummeted while my weight had steadily skyrocketed. I didn't have a scale that went high enough to weigh myself and didn't want to, but I'm pretty sure I weighed over 500 pounds at my heaviest. I couldn't walk without crutches and I couldn't drive, because I couldn't fit behind a steering wheel. I was mostly homebound, partly due to the difficulty in getting around and partly because I wanted to avoid people's unkind stares.
I had a lot of physical issues, including edema in my left leg, which was massively swollen and purple and so sensitive that even a blanket couldn't touch it. I couldn't breathe well, couldn't sleep well, and I suffered from constant headaches and depression. I also had to have emergency gallbladder removal surgery. I was a cheese and dairy addict. I ate a lot of processed food, fast food, turkey, and bacon, and I guzzled Dr. Pepper and coffee.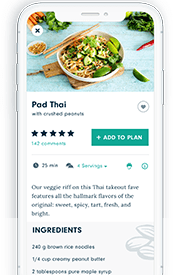 Try Our Award-Winning Meal Planner For Free!
Healthy eating has never been so easy.
I was only 36 years old and feared that I was close to death. My health made it hard to be the mother I wanted to be to my three children, so I knew that I needed to get myself together. I left the abusive relationship and moved back to Colorado to be closer to my family. With their help and support, I changed my life. My father was a hunter and had grown up a big meat eater. His mother had died from diabetic complications, and he was quite sick himself, having been recently diagnosed with type 2 diabetes. He was also obese and and on multiple meds. We met a nutritionist who advised him that eliminating meat and dairy would improve his health significantly, whereas his meds weren't helping much at all. Just as predicted, as soon as he cut out the meat and dairy, all his risk factors started dropping.
My mother had also become obese and we decided to follow Dad's lead, starting with a 42-day juice fast. Then I went vegetarian for about a year. After that, I cut out dairy and went full vegan three years ago. I probably dropped more than 100 pounds in the first year. The weight just kept coming off, and I started to feel better quickly. So did my Dad and my mother.
Now four years later, I've lost over 300 pounds and I've never felt better! My health problems are gone, and I feel like a new person. I can walk just fine, and am even getting ready to try High Sierras backpacking with some friends that think I can do it! My Dad lost a lot of weight, his diabetes disappeared, and he got off all his medications. My mom lost 130 pounds and my older brother dropped 100+ pounds. And recently, my younger brother went plant-based and lost 30 pounds in his first month. I am thrilled to watch the ripple effect, as my children, too, are now choosing health. Having witnessed the power of food and good nutrition firsthand, my 13-year-old wants to be a vegan athlete, and my 16-year-old wants to be a vegan chef!
A whole-food, vegan diet has changed my family's lives so profoundly that we just can't stop talking about it! I feel like I've gotten a second chance at life. It's wonderful and exciting, and I hope my story will inspire others that it's possible to take control at any stage, and change the course of your life. As long as you are breathing and your heart is beating, it is never too late to restore your health, your life, and your hope!